NEWS
Oli Rockberger - new album and UK tour, October 2017.
Thursday, August 10, 2017
We have received the following press release from Whirlwind Recordings;

PRESS RELEASE

Oli Rockberger
SOVEREIGN
Whirlwind Recordings – WR4714
Album release: Friday 20 October 2017

Album launch at Pizza Express Jazz Club, High Holborn, London
19 & 20 October 2017

& UK tour dates (please see below)

Oli can conjure up echoes of Randy Newman, Todd Rundgren and Peter Gabriel, yet still inhabit a sound world all of his own…" Jazzwise

Pianist, vocalist, songwriter and producer Oli Rockberger's fourth studio release, Sovereign (his first for the Whirlwind label and following on from his self-release Old Habits), takes its title from the viewpoints of transition, growth and independence. The music for this album came together from a decision to return to his native London after sixteen years in the United States where, following successful graduation from Berklee College of Music attended as a Full Tuition Scholarship recipient, his hugely formative New York career developed as sideman to big-name jazz instrumentalists including Randy Brecker, Will Lee (with Steve Gadd) and Nathan East, to working alongside acclaimed singer-songwriters Carly Simon, Jesse Harris and John Mayer. Now based in the UK capital, Rockberger continues to work internationally as an in-demand sideman, with recent collaborations including Becca Stevens, Richard Spaven, Fridolijn and Louis Cole, in addition to his ongoing work with acclaimed UK songstress Laura Mvula, as a member of her touring band (keys/vocals).

Sovereign features ten, intelligently-crafted songs, with stories and lyrics drawn from life experiences. Rockberger's music is grounded in a love of soul, jazz, gospel and R&B and, at times, may suggest Steve Winwood or Peter Gabriel, Colin Blunstone or Bon Iver. Yet there's a personal, affecting integrity to Rockberger's work that marks it out distinctively, due in part to his compositional detailing and a strong empathy with his personnel. Working closely as a trio with drummer Jordan Perlson and bassist Jordan Scannella, he also invites further trusted names from his "New York family" – album co-producer Chris Abell, guitarists John Shannon and Ryan Scott, vocalist Hannah Read, while 'The Garden' (track 7) features bass from Owen Biddle and drums/programming/co-production from Zach Danziger (Rockberger, Biddle and Danziger have put out three albums as collaborative experimental electro-soul group Mister Barrington).

Recorded predominantly as live-in-studio takes, Sovereign's visceral dynamic, combined with the richness of judicious overdubs, is key to the "perfect marriage" that the pianist hears in his favorite albums. From the country-blues Wurlitzer hook of 'Let's Stay Home', through the buoyant, gospel-infused outpourings of 'Burned', to the edgy, soulful groove of 'My Old Life', here are songs that explore the push-pull emotion of human relationships, alongside an ever-present sense of leaving places behind and treasuring memories.

As a vocalist, Rockberger leans so meaningfully on his lyrics and drives them with impressive, pianistic fervour – American-rock ballad 'Right Through Me' communicating sincerity through the added dimension of Hannah Read's pure vocal, and reverberant 'The Garden' tenderly expressing perseverance. Randy Newman-style 'Ridiculous' drolly envisages the heightened-reality 'what if' of an imagined coffee-shop encounter, while 'Vertigo's pacey vibe becomes underpinned by a darker, unknown quality. 'Is Anybody Out There' and tender pop-ballad 'Let Go' express themes of searching, moving on and belonging; and broad, rallying Hammond anthem 'Justify' is so gloriously uplifting.

Discussing the importance of the project, Rockberger explains: "I absolutely love and am proud to record and tour with other artists; but it's also essential to have my own identity and creative voice – it feeds my soul in another way, as a songwriter, arranger and producer. Ultimately, I want to make music that gives people a warmth, or a feeling of being understood in some way. For me, songwriting is about making sense of what is going on in your life at that time; and, hopefully, other people that listen to it… can make sense of what they're doing in their life, or what they're going through, as well."

UK Tour Dates 2017;
11 October: The Brook, Southampton
12 October: Soundcellar, Poole
13 October: Birmingham Conservatoire
15 October: Jazz at The Albert, Bristol
18 October: The Jazz Bar, Edinburgh
19 & 20 October: Pizza Express Jazz Club, High Holborn, London (Launch)
22 October: Alexander's Live, Chester
23 October: Ropetackle Arts Centre, Shoreham by Sea
14 November: Pizza Express Jazz Club, Soho, London (part of the EFG London Jazz Festival)

Oli Rockberger: http://www.olirockberger.com/
Whirlwind Recordings: http://www.whirlwindrecordings.com/
Proper Music Distribution: http://www.properdistribution.com/classical-jazz-division/
---
blog comments powered by

Disqus
JAZZ MANN FEATURES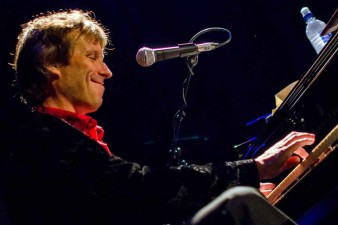 Ian Mann on the final, family friendly day of the Festival with performances by Samba Galez, Budapest Ragtime Band, Chris Moreton, Kitty & The Purramours and the Red Stripe Band.
---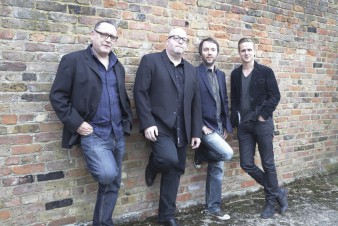 Ian Mann enjoys a day of wall to music including performances by three of the great entertainers of British jazz, vocalist Ian Shaw, saxophonist Gilad Atzmon and electric bass specialist Shez Raja.
---
JAZZ MANN RECOMMENDS
---