NEWS
Ronnie Scott's Jazz Club, Soho, London - listings and news for January 2018.
Friday, November 24, 2017
We have received the following press release;

Ronnie Scott's JANUARY '18 news & listings

JANUARY 2018
LISTINGS & NEWS

NEWS
Ronnie Scott's Charitable Foundation's second Musical Instrument Amnesty held on October 27 was a resounding success collecting over 150 instruments - check

[email protected]'s resident, 'Ruby Sings' will host 'Rebuild, Rise Up' on 7 Jan, a charity event in aid of the Anguila Foundation featuring Morcheeba, Ayanna Witter-Johnson and Bankie Banx with more artists to be announced.

Coming Up: Next month's highlights include bad boy Nigel Kennedy playing Gershwin, electronica influenced trumpeter Nils Petter Molvaer, rare groove legends Cymande and top Brit pianist, Andrew McCormack.

Don't Forget: Stuck for Xmas gift ideas? Ronnie Scott's Memberships are on sale. Remember some of the clubs most notable shows go exclusively to members- Benson, Cullum, Misch not to mention the 'secret' Prince concert! http://bit.ly/2zgivGq

Ronnie's on the Road: Ronnie Scott's hosts a 4-night residency at London's Jazz Café between Dec 4-7 that includes a triple bill of Afro-spiritual, improv jazz and broken beat, featuring Maisha, Binker Golding Qrt and Joe Armon Jones' idiom + JTQ and Absolute Earth Wind and Fire.

WHAT'S ON –JANUARY LISTINGS

Mon 1 – Weds 3 January
EFPI RECORDS presents
BEATS & PIECES BIG BAND with
Johnny Hunter Quartet, Let Spin and Paradox Ensemble
Forward-thinking Manchester-based label Efpi Records presents an early opportunity to hear new music from its roster, all to be released in 2018. Headlining the residency on its opening night is the Beats & Pieces Big Band. Led by composer and conductor Ben Cottrell, Beats & Pieces Big Band see themselves as a band that happens to be big, rather than your average 'big band'. 2018 sees the band celebrate ten years since first playing together having met as students, growing and developing individually and collectively within Manchester's exciting scene. These fourteen musicians are a tight knit bunch and it is this familiarity that sets them aside from other big bands today. Cottrell's inspired writing reflects band members varied musical backgrounds and the diversity of music that their generation are surrounded by; influenced as much by Michael Jackson, Björk or Radiohead as they are Duke Ellington, Gil Evans or Loose Tubes.
Also performing in this three day residency is in-demand drummer/composer Johnny Hunter and his quartet who bring their 1960s hard bop, post-rock and middle eastern music on 1st January, UK jazz supergroup Let Spin (Ruth Goller, Chris Williams, Moss Freed, Finlay Panter) on 2nd January and on 3rd January, Manchester/London nonet Paradox Ensemble led by Beats & Pieces Big Band trumpeter Nick Walters – 'kind of "Kind Of Blue" for the 21st Century'.
Doors: 6.00pm / £15-£35

Thurs 4 – Sat 6 January
ALICE RUSSELL
Alice Russell is a natural born soul-singer, a natural presence, a force of nature. Her stop-you-in-your-tracks powerful, soulful, husky voice is the real deal. Whether on a big stage with her 16 piece Quantic Soul Orchestra or performing an intimate club set with a stripped down 6 piece band, she's a singer who demands attention. Indeed, her voice has attracted rave reviews from across the media and won praise from fans as diverse as Gilles Peterson, David Byrne, Dennis Coffey, Massive Attack's Daddy G, and Groove Armada. Alice has worked with some of contemporary music's most renowned producers including Mr Scruff, Quantic and Nostalgia 77, the latter pairing producing the brilliant 'Seven Nation Army' cover that demolished clubs for years and provided one of her signature tunes. Yet it's her records with longtime producer and bandleader TM Juke that she's best known for. From their debut album 'My Favourite Letters' , the live -tinged 'Pot Of Gold' to their most recent release, 2013's acclaimed 'To Dust', they have made some of the most arresting blues soul since the glory days of Aretha. Expect a roof raising show of big bluesy soul and driving groove.
Line-Up: Alice Russell vocals, Alex Cowan guitar, Jack Baker drums, Dan Swain bass, Ben Jones keys, Mike Simmons violin, mandolin & backing vox
Doors: Thurs 6pm; Fri-Sat 6pm & 10.30pm/ £25 - £50

Sun 7 January
"Rebuild, Rise Up!" Hurricane Benefit Concert
Feat: MORCHEEBA AYANNA WITTER-JOHNSON AND BANKIE BANX
Morcheeba are possibly one of the most influential, successful and best known bands that broke through the mid-90's electronic, trip-hop scene. Fronted by vocalist Skye Edwards whose blissed out sweet, fluid voice is one of the most recognisable on the planet, Morcheeba's hypnotic grooves and loose, dreamy melodies saw them selling over 10 million albums. With co-founder Ross Godfrey's psychedelic guitar, their laid-back sound is an unforgettable, spellbinding experience. They make a very special and rare appearance at Ronnie Scott's in support of the Anguila Foundation.
Hurricanes Irma and Maria delivered some of the most powerful Atlantic basin storms ever recorded and left cities, and some islands almost entirely in ruins. Pummeled by wind and rain, some will never recover. For the island of Anguilla, one of the hardest-hit, a slow and arduous recovery lies ahead. Damage and repairs on Anguilla are coupled with the huge surge in unemployment, making it difficult for those families trying to piece together their lives from the devastation caused. 'Rebuild, Rise Up' is the brainchild of Ada Ologbosere, host of long standing [email protected] night, 'Ruby Sings' and is a special event to raise money for those families most greatly displaced by the hurricanes. Join the likes of Morcheeba, Ayanna Witter-Johnson and Bankie Banx (plus more artists to be confirmed very shortly) for an unforgettable, uplifting evening of music and positivity. This one-off collaboration will see musicians come together to re-establish that energy that can often only be found in the Caribbean. "Live Up, Love Up, Live On"!! All proceeds to the Anguila Foundation.
Doors: 6.30pm / £100 - £150

Mon 8 Jan
DOUBLE BILL:
DINOSAUR + ELLIOT GALVIN
Laura Jurd and Elliot Galvin are two of the leading lights on the UK jazz scene and tonight is a great opportunity to see them both at the helm of their individual projects as well as playing together in Jurd's Dinosaur. Dinosaur is considered one of the most vital and creative new ensembles in Europe today. Led by BBC New Generation Artist, trumpeter and composer Laura Jurd, Dinosaur, featuring Elliot Galvin on keys and the exciting young rhythm section of Conor Chaplin and Corrie Dick, are described by All About Jazz as 'a new British Jazz supergroup'. In 2016, they released 'Together, As One' on Edition Records to widespread critical acclaim including a rare 5 star review from The Guardian characterising the music, written by Jurd, as 'impressionistic electric-jazz moodiness seamlessly wrapped around Celtic folk melodies'.
Elliot Galvin is a maverick musician, his bold and idiosyncratic approach building him a reputation as one of the rising stars of European Jazz and improvised music. Tonight Galvin and his trio will perform tracks from their new album The Influencing Machine out on Edition Records in January 2018. Named after a book by Mike Jay about an eccentric historical figure called James Tilly-Matthews, the album sees Elliot step forward in his sonic approach, incorporating a number of electronic sounds to add to his already considerable acoustic pallet, including analogue synths, Hammond organ and self-hacked children's toys. His long-time collaborator, bassist Tom McCredie, will also be playing electric guitar, with the inimitable Corrrie Dick bringing it all together on the drums.
LINE UP: Dinosaur - Laura Jurd (trumpet, synth), Elliot Galvin (keyboards), Ruth Goller (electric bass), Corrie Dick (drums)
LINE UP:Elliot Galvin - Elliot Galvin (piano), Tom McCredie (double bass), Corrie Dick drums)
Doors: 6.00pm / £15-£28.50

Tues 9 – Weds 10 January
NATIONAL YOUTH JAZZ ORCHESTRA
Under the direction of Mark Armstrong, NYJO returns to Ronnie Scott's for its annual January residency, bringing two nights of thrilling big band jazz to the world's most famous jazz club. Classics from the big band canon sit alongside brand new commissions and arrangements in this world-class band featuring the next generation of the UK's finest jazz musicians. The National Youth Jazz Orchestra (NYJO) is Britain's leading ensemble for young people up to 25, playing big-band jazz. Its mission is to perform exceptional music to excite audiences and engage with young people of all backgrounds around the country. The organisation has helped launch the careers of many of the UK's most-renowned musicians including Guy Barker, Amy Winehouse, Mark Nightingale, Laura Jurd and Gwilym Simcock. NYJO is a registered charity and celebrated its 50th anniversary in 2015
Doors: 6.00pm / £20 - £40

Thurs 11 – Sun 14 January
BRUBECKS play BRUBECK with Dave O'Higgins
The Brubeck family is unique in the world of music. Seldom has an entire family been as prolific and talented. Four of the late, great Dave Brubeck's five children are professional musicians taking off in different directions, coming together at special times. Darius, the eldest Brubeck son, is a jazz pianist, composer and band-leader. Chris is a multi-instrumentalist, award-winning composer and superlative bassist and Dan is a renowned, Grammy-nominated percussionist, acclaimed for his exciting drum solos. For these very special shows they are joined by UK saxophonist Dave O'Higgins for a unique 'Brubecks play Brubeck' show in which they'll explore the repertoire of their late father, Dave Brubeck, one of jazz's most iconic composers who sadly passed away in 2012. Since their debut performance at Ronnie's, 'Brubecks Play Brubeck' has become an unmissable annual event with music from the family repertoire being continually added, so chances of hearing something new are good.
Line-Up: Darius Brubeck(piano), Chris Brubeck (bass and trombone) Dan Brubeck (drums) Dave O'Higgins (sax)
Doors: Thurs 6pm; Fri-Sat 6pm & 10.30pm; Sun 6.30pm / £30-£55
Sunday Jazz Lunch: Brubecks play Brubeck
Combining superb jazz with a top notch Sunday roast (not essential) with music ranging from boogie-woogie, jive and classy jazz vocalists there is music to suit every taste. With a kids menu and concessions, it also offers parents a great opportunity to introduce their children to jazz in a setting that is informal yet retains the ambience expected from the great iconic Soho venue.
12 noon £15 - £20

Mon 15 January
KURT ROSENWINKEL
With a career spanning almost twenty-five years, American guitarist and keyboardist Kurt Rosenwinkel has collaborated with a host of dynamic artists including peers Brad Mehldau, Brian Blade, Mark Turner, Joshua Redman, Chris Potter, as well as esteemed jazz elders like Joe Henderson, Paul Motian and Gary Burton. He made his debut as a leader in 1996 with East Coast Love Affair, followed by Intuit. He then signed to Verve where he produced several highly acclaimed albums before moving on to independent label Wonmusic in 2009. His most recent album Caipi was released in 2017 on his own record label Heartcore Records and features a series of Brazilian influenced compositions and on which he plays almost all of the instruments.
Doors 6.00pm / £25-£45

Tues 16 – Weds 17 January
BEN WATERS BAND
Ben Waters is recognised as one of the UK's supreme boogie piano players. Inspired by the early boogie woogie piano of Fats Domino, Jack Dupreee, Ray Charles and Professor Longhair for the New Orleans sound, Ben learned his craft by simply watching videos of his heroes. At eighteen he joined the Shakin' Stevens band, and has gone on to work with the likes of Ray Davies, Chuck Berry, Jools Holland, PJ Harvey, Bobby Womack, Mick Hucknall, Charlie Watts, The Ronnie Wood Band, Paul Weller, Dave Gilmore, Dave Stewart and many more. His energetic boogie piano-led band focusses on rock 'n roll standards interlinked with boogies and heart rending songs straight from the Prohibition era as well as inspirational original material which is much in demand by other artists!
Line-Up: Ben Waters (Piano/vocals), Richard Hymas (bass guitar/vocals), Ady Millward (Drums/vocals), Tom Waters (Alto Sax), Adam Davy (Alto Sax), Micky Biggs (Guitar/vocals), Denise Gordon (vocals), Amy Mayes (vocals)
Doors 6pm/ £20-£40

Thurs 18 – Sat 20 January
LUCKY PETERSON: THE JIMMY SMITH SONGBOOK
Hailed by The New Yorker as "a master of the guitar, organ and microphone", contemporary blues icon, Lucky Peterson was discovered by blues legend Willie Dixon when he was just three years old. He released his first record at five and incredibly, scored a US hit at the age of 6 earning him a slot on The Tonight Show and The Ed Sullivan Show. By the age of eight he was doubling on guitar earning his child prodigy status. Mentored by keyboardists Bill Doggett and Jimmy Smith he went on to play behind the likes of Little Milton, Bobby "Blue" Bland, Etta James, Otis Rush and others, honing his craft to become one of the finest blues musicians in the world. In October 2017, Peterson released his twentieth recording – 'Tribute to Jimmy Smith' - in a catalogue that has seen him record gritty acoustic roots-blues and mix contemporary rock, R&B, gospel and soul into his simmering blues stew. Peterson returns to Ronnie's to perform the music of his mentor, jazz legend Jimmy Smith that includes classics such as The Sermon, the Champ and more. Performing on the Hammond B-3 organ, expect the songs of gospel the hymns of soul the pulsation of jazz, the groove of rhythm'n'blues and the energy of rock'n'roll!
Line-Up: LUCKY PETERSON (vocals/keys/guitar), Shawn Kellerman (guitar), Tim Waites (bass), Raul Valdes (drums).
Doors: Thurs 6pm; Fri-Sat 6pm & 10.30pm; Sun 6.30pm / £25-£50

Sun 21 Jan
RONNIE SCOTT'S JAZZ ORCHESTRA
Celebrates Benny Goodman at Carnegie Hall 80th Anniversary
On 16 January 1938, Benny Goodman and his band claimed a new place for jazz on the American cultural scene, in what has come to be seen as the most important jazz concert in history - they played at New York's legendary Carnegie Hall. Although Goodman was at the height of his career when his publicist first suggested they book Carnegie Hall, it was still considered an outlandish suggestion. However, once he'd warmed to the idea, he threw himself into it and it's now the stuff of legend. It wasn't until over a decade later that the recording was released - as a double album in 1950. For this special show, dedicated to the genius of Goodman, the Ronnie Scott's Jazz Orchestra will be performing tunes from this legendary show, as well as other big band classics. The Ronnie Scott's Jazz Orchestra is one of the UK's finest Big Bands teeming with the cream of UK jazz talent and appears under the Musical Directorship of award winning bandleader Pete Long.
Doors 6.30pm/ £25-£45

Monday 22 – Weds 24 Jan
RUBY TURNER
Ruby Turner is one of the UK's finest soul singers and one of Britain's most loved performers and a national treasure. "Soul, Gospel, and R&B : Ruby Turner is truly the genuine article" says the Guardian, " Blessed with a voice that can breathe life and meaning into any song, whether it be a passionate ballad or a fast groove". Ruby Turner has released 17 albums and scored huge hits with 'I would Rather Go Blind,' 'If You're Ready' (Come Go With Me)' and It's Gonna Be Alright (one of the few British songs to top the American R&B Charts). She's been guest judge on Gareth Malone's, 'The Choir; and 'Songs of Praise Gospel Choir Comp' and is a regular with the Jools Holland Rhythm and Blues Orchestra. She can breathe life and meaning into a song whether it is a passionate soaring ballad or a soulful up-tempo groove and her Ronnie Scott's shows are amongst the club's hottest tickets.
Ruby also performs at Ronnie's Feb 19 - 21
Doors 6 pm/ £35-£55

Thurs 25 – Fri 26 January
SCOTTISH NATIONAL JAZZ ORCHESTRA
The Scottish National Jazz Orchestra (SNJO) is considered by many to be the Europe's foremost contemporary big band and was founded by Tommy Smith in 1995 as a not-for-profit organisation with a crystal clear artistic vision and core values of versatility, discipline and expression. The SNJO is dedicated to promoting jazz as a pre-eminent art form through performances, original compositions, recordings, and educational outreach programmes. The SNJO repertoire has included re-imaginings of works by the great, the good and the gigantic and for these three shows they take on the music of Ellington, Bernstein, Gershwin, Mingus, Mancini and Mandel with some very special guests.
Thurs 25 American Jazz Masters: Gershwin, Ellington, Bernstein
Fri 26 Jan (1st show) The Music Of Mancini And Mandel Featuring Joe Locke Vibes
Fri 26 Jan (2ndshow) Jazz Legacy Of Charles Mingus Featuring Arild Andersen
Doors Thurs 6pm; Fri 6pm & 10.30pm / £25 - £45

Sat 27 Jan
RONNIE SCOTT'S BLUES EXPLOSION!
Ronnie Scott's monthly blues show co-led by pianist/vocalist Paddy Milner and explosive funk, blues and jazz guitarist Tony Remy (Incognito, Annie Lennox and Craig David). This electrifying band also features superb guitarist/vocalist Marcus Bonfanti and specialises in blues music from Chicago to the Delta, West Coast and British. Expect blues classics from Eric Clapton, BB King, Freddie King, Buddy Guy, Muddy Waters, Albert King, Peter Green, Howlin' Wolf, Robert Cray amongst others
Doors 6.00pm & 10.30pm / £25 - £50

Sun 28 Jan
NATALIE WILLIAMS SOUL FAMILY
Now in its eleventh year, Natalie Williams Soul Family is Ronnie Scott's most successful residency. Hosted by Mobo nominee vocalist Natalie Williams, the monthly event features an incredible group of regular musicians and singers with an-ever changing cast of special guests from the world of UK R&B, soul and jazz, that have in the past included Jamie Woon, Jamie Cullum, Lalah Hathaway, Omar, Alice Russell, Krystle Warren, Terri Walker and Shaun Escoffery to name a few. Whether she's belting out badass funk, singing heart-rending ballads, funky originals or deft swing, she is an authentic soul singer with enviable stage presence and oodles of charisma. At the heart of the 'Soul Family' night is the informal, welcoming open-mic feel she creates that keep audiences returning for more.
Doors 6.30pm / £20 - £45

Mon 29 January
LARRY CARLTON
Larry Carlton is quite possibly one of the world's most accomplished, admired, and imitated guitarists. During a career spanning almost 50 years, the nineteen-time Grammy nominee, four-time Grammy winner has explored a myriad of musical styles. As one of the world's most in-demand session musicians he appeared on up to 500 albums a year through the 70's and 80's working with the likes of Steely Dan, Joni Mitchell, Michael Jackson, Sammy Davis Jr., Herb Alpert, Quincy Jones, Bobby Bland, Dolly Parton, Linda Ronstadt and literally dozens of others. In 1971, Carlton joined the Crusaders remaining with them until 1976 developing his signature, highly rhythmic, often bluesy style and replaced Lee Ritneour in the multi-platinum contemporary jazz outfit Fourplay in1998. Carlton has dozens of albums to his credit. He has received a Lifetime Achievement Award from Guitar Player magazine, has been presented the "Titan of Tone" award from Premier Guitar Magazine and received a star on the Rock Walk of Fame. Carlton performs two shows in one night at Ronnie's in what is an extremely rare club date. Expect an evening of tasteful, sophisticated jazz balanced by a sweet blues sensibility from a true jazz master.
Doors 5.30pm & 9.30pm / £30-£60

Tues 30 January
DJANGO BATES BELOVÈD
Following last year's reimaging of the Beatles Sgt. Pepper's Lonely Hearts Club Band the ever-unconventional pianist and composer, Django Bates returns, this time with Belovèd, his trio with Swedish bassist Petter Eldh and Danish drummer Peter Bruun. All three musicians, who came together a decade ago, are highly individual players, subtly challenging the conventions of the jazz piano trio. The trio perform music from their most recent release The Study of Touch (ECM, rel Oct 17), inspired reconstructions of music associated with Charlie Parker - a formative influence for both Bates and Eldh - with respect, a contemporary sensibility and joy. Some of Django's own tunes have also become core pieces in Beloved's repertoire, continually remodeled by this trio of improvisers. Bates, who has been making music since the late 70's has played with a host of names including drummer Bill Bruford, fellow free thinking percussionist George Russell and ECM label mate Tim Berne. An extraordinarily skilled composer and arranger with a freewheeling, free-flowing virtuosic melodic sense, expect a performance of humour from a trio that has developed a sound all its own.
Doors 6pm / Tickets tbc

Weds 31 January
ORPHY ROBINSON ALL STARS
Presents… The Music Of Bobby Hutcherson
Winner of the 'Live Experience of the Year' at the 2017 Jazz FM Awards, vibraphonist and multi-instrumentalist, Orphy Robinson is one of the major figures on the British jazz scene today. Coming up through the UK's 1980s jazz revival, he has played with a wide range of musicians including Courtney Pine, Derek Bailey and Nigel Kennedy. For this show he pays tribute to one of his musical heroes - and one of jazz's greatest vibraphonists - Bobby Hutcherson, who died in 2016. Hutcherson, a prodigy who was already taking to the stage with first-rank musicians in his native California at the age of 15, spent his early 20s in New York, where he was quickly accepted into the Blue Note label's distinguished repertory company, establishing his reputation on recordings alongside the saxophonists Jackie McLean and Eric Dolphy, the guitarist Grant Green, the pianists Herbie Hancock, McCoy Tyner and Andrew Hill, and others. Hutcherson's legacy is a vast repertoire with many cherished classic recordings, particularly for Blue Note Records, which will make up the majority of tonight's show. The band will play music from albums like 'Components', 'Stick up!', 'San Francisco', 'Montara' and 'Knucklebean' as well as reflecting Hutcherson's work with Eric Dolphy and more.
Line up: TBC
Doors 6pm / £20-£37.50

PLUS
Every Monday – Saturday
THE RONNIE SCOTT'S LATE LATE SHOW
"We haven't had anything like this in New York for over twenty years". Wynton Marsalis
Following the evening's main performance, doors re-open for a late night after-show session with a more informal vibe than the earlier show. Londoners spill into the buzzing room to hear some of the finest UK talent while enjoying a late night hang with friends. Occasional 'Late Late show Specials' see headline acts and rising stars making exclusive, intimate appearances – Snarky Puppy, Nai Palm (Hiatus Kaiyote) Hypnotic Brass Ensemble and Richard Spaven (drummer with Flying Lotus and The Cinematic Orchestra) have all appeared on the late night stage. Often the night's headline act or big names performing elsewhere will drop by and sit in- Wynton Marsalis, Marcus Miller, Mos Def, Lady GaGa and Stevie Wonder have all thrilled audiences with their impromptu appearances. And with a cheaper ticket price it provides first-timers the perfect opportunity to sample an iconic club steeped in history having played host to some of the greatest legends in jazz.
£12 on the door, £10 in advance (pre-booking available Mon - Thurs only£6 Students/MU (with valid card), FREE entry to club members and main show ticket holders
Monday – Thursday, 11pm - 3am / Friday & Saturday 1am - 3am

Ronnie Scott's
47 Frith St, London, W1D 4HT
Box office 020 7439 0747
http://www.ronniescotts.co.uk
LINKS:
Show Times http://bit.ly/2qAySKi
Club History http://bit.ly/2p76cqB
---
blog comments powered by

Disqus
JAZZ MANN FEATURES
Ian Mann witnesses the future of British jazz at the NYJO Jazz Jam and the JazzNewBlood showcase and loses himself in a spectacular Norwegian double bill featuring Sinikka Langeland and Jaga Jazzist.
---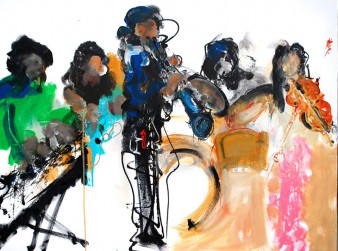 Eclectic, Iklectik, Elektrik - Ian Mann on the penultimate day of the EFG London Jazz Festival.
---
JAZZ MANN RECOMMENDS
---