NEWS
Rudy Royston, August 2019 Newsletter.
Monday, August 05, 2019
Rudy Royston writes;

Rudy Royston Music
August 2019 Newsletter

Hello all,
I hope this newsletter finds all of you well.

June and July were two amazing months of music. I am so grateful to have performed two tours with the Bill Frisell trio, a gig with Tim Armacost quartet at Smalls, with Myra Melford at The Stone, recording with Pete Rodriguez, Dave Lopato quintet at Kitano, Dave Pietro quintet at Provincetown Playhouse, with Black Art Jazz Collective at Sarasota Jazz Festival, Linda May Han Oh quintet at Montreal Jazz Festival, Michelle Lordi at Smoke Jazz Club and to end the month of July off with the Antonio Hart quintet in Hartford playing music in tribute to Roy Hargrove.

I am looking forward to music in August. I have started the month with a performance with the great Helen Sung at the Chicken Bone Jazz Festival in Atlantic City followed by a performance at the Newport Jazz Festival with the amazing Darcy James Argue Secret Society Big Band. Later that night I performed with my soulful friend Mike DiRubbo at Smalls Jazz Club. I am really looking forward to two weeks at the Village Vanguard with the amazing Bill Frisell Trio the first week and the unmatched Greg Tardy with join us the second week. I will leave following the Vanguard for a week in Vietnam with the extraordinary composer and pianist Myra Melford and will end the month with a performance at Mezzrow with the great bassist Santi Debriano.

I look forward to playing with these musicians and friends as fellow leaders and sidemen on these gigs: Thomas Morgan, Bill O'Connell, John Ellis, Brian Cherette, Emma Dayhuff, Jason Palmer, Uganno Okegwo, Luques Curtis, JD Allen and more.

Again, it is an honor and blessing to play for you and to perform with these great leaders and all the awesome bandmates with whom I will share the stage.
I hope to see you at these performances.

Love,
God bless
Rudy Royston

This Month's Performances
(more scheduled performances HERE http://www.rudyroyston.com

August 6-11
VILLAGE VANGUARD
w/Bill Frisell Trio
Manhattan, NY
8:30pm, 10:30pm

August 11
ZINC BAR
w/Mike DiRubbo
Mahattan, NY
4:00pm

August 13-18
VILLAGE VANGUARD
w/Bill Frisell Quartet
Manhattan, NY
8:30pm, 10:30pm

August 19-26
VILLAGE VANGUARD
w/Myra Melford
Ho Chi Min City, Vietnam
8:00pm

August 30
MEZZROW
w/Santi Dibriano
Manhattan, NY
8:30pm
---
blog comments powered by

Disqus
JAZZ MANN FEATURES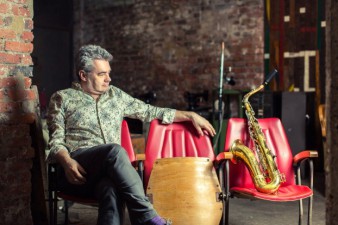 Guest contributor Trevor Bannister previews a performance of saxophonist and composer Mark Lockheart's "Days On Earth" suite at the Wilde Theatre, South Hill Arts Centre, Bracknell on 27/09/2019.
---
Ian Mann on the final day of the Festival, and performances by Ross Stanley, Karen Sharp, Stochelo Rosenberg, Rory Ingham and the Celtic Jazz Quartet. Photography by Bob Meyrick.
---
JAZZ MANN RECOMMENDS
---