NEWS
Rudy Royston, January 2019 Newsletter.
Sunday, January 06, 2019
Rudy Royston writes;

Rudy Royston Music
January 2019 Newsletter

FLATBED BUGGY out and receiving great reviews!**

My latest CD Flatbed Buggy is now available on all platforms for purchasing and downloading. The CD has been featured in I-Tunes, Rolling Stone Magazine and more. Be sure to get your copy!

Order on Apple Music, Bandcamp, I-tunes, or Amazon
(Bandcamp also includes an exclusive bonus track, "I Wanted To Be Home Soon," from the recording session!)

My third album as a leader on the Greenleaf Music label, the album features John Ellis on bass clarinet and saxes, Gary Versace on accordion, Joe Martin on bass and Hank Roberts on cello

Thanks to Dave Douglas and the crew at Greenleaf Music for this outstanding label. And , for my publicist Chris DiGirolamo at Two for the Show Media: Chris is truly the best in the business.

Be sure to visit Dave Douglas and Greenleaf Music's, "A Noise From The Deep," for a special podcast review of the record, as well as many other compelling podcast episodes.

I hope you enjoy the music!...so grateful.

"FLATBED BUGGY REVIEWS"

I find this music to be enormously appealing, perhaps because it reminds me of my favorite jazz album of all time—Sonny Rollins' Way Out West. Rollins adopted western-style themes in his compositions, especially in regards to Shelly Manne's use of wooden blocks and cowbells. That trio wasn't playing country music or Americana as much as a vivid new form of jazz that added an unusually descriptive language to standard jazz themes. Royston uses that same subtlety to infuse these original compositions with, well, originality.
The Vinyl Anachonist

"Flatbed Buggy is a true masterpiece sure to elate the most discerning of jazz aficionados with its unorthodox and novel ideas and its unparalleled level of musicianship."
Nextbop, Sebastian Helary

"Flatbed Buggy is one of those albums to listen to all the way through. There's so much to "hear", so many stories and histories embedded in this music that it's impossible to appreciate what Rudy Royston has so majestically created on one pass through. At times stunning, at others times, joyful yet always melodic and rhythmically rich, this album deserves your full attention!"
Step Tempest , Richard Kamins

NEWS:

Happy New Year Everyone!!

December was a great month of music. I had a great mini tour with Helen Sung and her Sung With Words project, a great gig at Jazz Standard with Marcos Varela, some awesome Zinc Bar performances with Misha Piatigorski and a really amazing recording session with Noah Preminger recording the music of composer Steve Lampert. I ended the month and year with some amazing food and music with Gregg August and Manuel Valera at Daniel Restaurant.

I am looking forward to this January, the new year and more music adventures forthcoming. I will begin the month with a CD release performance for the great Art Hirahara at Mezzrow Jazz Club in Manhattan. I will be playing with the amazing vocalist Emily Braden at 55 Bar and a performance at Zinc Bar with the outstanding Misha Piatigorski, before going into a couple performances at Winter Jazz Fest with the outstanding Amina Figarova at Zinc Bar and at Soho Playhouse with the remarkable Jon Irabagon. I am really looking forward to a west coast tour with my hero the legendary Bill Frisell, followed by a night at Jazz Standard with the soulful Nabate Isles; these before embarking on a first time, couple of performances in Colombia with the great David Sanchez—so honored to have this opportunity.

I look forward to playing with these musicians and friends as fellow leaders and sidemen on these gigs: Joe Martin, Tim Hagans, Donny McCaslin, Danton Boller, Linda May Han Oh, Petra Haden, Thomas Morgan, Dezron Douglas, Rez Abbasi, Bart Platteau and more.

Again, it is an honour and blessing to play for you and to perform with these great leaders and all the awesome bandmates with whom I will share the stage.

I hope to see you at these performances.

Love,
God bless
Rudy Royston

LIVE DATES:

January 10
ZINC BAR
w/Misha Piatigorski
Manhattan, NY
8:00pm

January 12
ZINC BAR
w/Amina Figarova
Manhattan, NY
10:00pm

January 12
SOHO PLAYHOUSE
w/Jon Irabagon
Manhattan, NY
11:00pm

January 22
PEPPERDINE UNIVERSITY, SMOTHERS THEATER
w/Bill Frisell Quartet
Malibu, CA
8:00pm

January 23
USCD PRICE CENTER EAST BRIDGE
w/Bill Frisell Quartet
La Jolla, CA
8:00pm

January 24
LOBERO THEATER
w/Bill Frisell Quartet
Santa Barbara, CA
8:00pm

January 25
KUUMBWA JAZZ
w/Bill Frisell Quartet
Santa Cruz, CA
8:00pm

January 26
BARLEY THEATER
w/Bill Frisell Quartet
Fallon, NV
8:00pm

January 27
PLACER PERFORMING ARTS CENTER
w/Bill Frisell Quartet
Auburn, CA
8:00pm

January 29
JAZZ STANDARD
w/Nabate Isles
Manhattan, NY
7:00pm

Janauary 30 - February 2
TBA
w/David Sanchez
Medellin and Cartagena, Colombia

Upcoming and Released sideman CDs:

recently released

Rodrigo Agudelo
"Aeronautas"

Roseanna Vitro Wycliff
"Tell Me The Truth"

Jean Chaumont
The Beauty of Differences

Theo Hill Trio
"Interstellar Adventures"

JD Allen Quartet
"Love Stone"

Art Hirahara
"Sunward Bound"

Jon Irabagon Trio
"Dr. Quixotic's Traveling Exotics"

Shamie Royston
"Beautiful Liar"

COMING SOON:

Yuriy Galkin
Carolyn Fitzhugh
Behn Gillese
Farnell Newton
Nick Finzer
Amina Figarova
Noah Primenger
Alexa Tarantino
Art Hirahara
Craig Brann
Mariano Loiacono
---
blog comments powered by

Disqus
JAZZ MANN FEATURES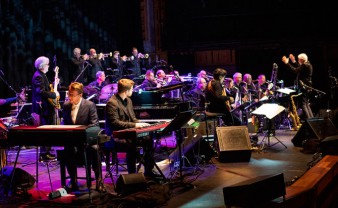 Ian Mann enjoys the final day of the Festival and performances by Flying Machines, the Monty Alexander Trio and Bill Laurance and the WDR Big Band conducted by Bob Mintzer.
---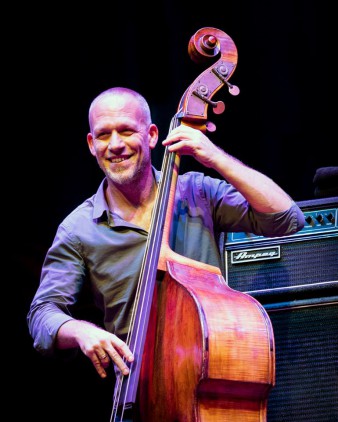 Ian Mann on a diverse day of musical performances including those of Ranjana Ghatak, Hilde Marie Holsen, Ivo Neame / Pete Wareham Duo, Trish Clowes' My Iris and the Avishai Cohen Trio.
---
JAZZ MANN RECOMMENDS
---