NEWS
Rudy Royston, October 2018 Newsletter.
Friday, October 05, 2018
Rudy Royston writes;

Hello all,
I hope this newsletter finds all of you well.

**FLATBED BUGGY is now Available**
I am happy to announce my next CD FLATBED BUGGY, will be released October 26th!!
My third album as a leader on the Greenleaf Music label features John Ellis on bass clarinet and saxes, Gary Versace on accordion, Joe Martin on bass and Hank Roberts on cello, and is IS NOW AVAILABLE FOR PRE-ORDER!!
You can listen to the album's title track on Apple Music and Spotify
If you pre-order at Bandcamp, Itunes, or Amazon you will receive a high quality download of the title track instantly plus the complete album the moment it is released! The download at Bandcamp also includes an exclusive bonus track, "I Wanted To Be Home Soon," from the recording session!

Be sure to visit Dave Douglas and Greenleaf Music's, "A Noise From The Deep," for a special podcast review of the record.

I sincerely hope you enjoy the music!

September was a great month of music. I was a part of a few recording projects and played some great gigs at Smalls with Tim Armacost, the Stone with Michael Blake and the Zinc Bar with Misha Piatagorski. I had a great time at the Monterey Jazz Festival with Bill Frisell Trio and finished off the month with a really awesome time at the "Joy of Jazz" festival in Johannesburg, South Africa with
Amina Figurova and the Thaba Jubala Youth Choir.

I am really looking forward to October. I'll be in Providence, Rhode Island later tonight with guitarist Francisco Pais and vocalist Alicia Olatujia. Saturday I will be playing at Tomi Jazz with the great Craig Brann. I leave later in the month to go to my homeland Denver to play and workshop with the extraordinary students at Denver School of the Arts under the direction of the accomplished Dave Hammond. I come home to a performance at Flushing Town Hall in Queens with the talented Alexa Tarantino followed by a short US tour with the exceptional Ben Allison and his quartet. I end the month off on another gig with Alexa at St. Peter's Church in Manhattan before leaving to Prague for a weeklong tour with the amazing Rudy Linka.
I look forward to playing with these musicians and friends as fellow leaders and sidemen on these gigs: Myron Waldon, Shane Endsley, Steve Cardenas, Yasushi Nakamura, Freddie Hendrix, Nick Morrison, Ethan Herr and more.
Again, it is an honor and blessing to play for you and to perform with these great leaders and all the awesome bandmates with whom I will share the stage.

I hope to see you at these performances.
Love,
God bless
Rudy Royston
Downbeat Magazine 2014 Rising Star - Drums

This Month's Performances
(more scheduled performances HERE)
http://www.rudyroyston.com

October 5
ISENBERG AUDITORIUM
w/Francisco Pais
Providence, RI
8:00pm

October 6
TOMI JAZZ
w/Craig Brann
Manhattan, NY
8pm

October 17, 18
DENVER SCHOOL OF THE ARTS
w/DSA student performers
Denver, CO
7:30pm

October 21
FLUSHING TOWN HALL
w/Alexa Tarantino
Queens, NY
8:00pm

October 22
BUCKNELL UNIVERSITY
w/Ben Allison Think Free
Lewisburg, PA
8:00pm

October 24
VIEUX CARRE COCKTAIL BAR AND JAZZ LOUNGE
w/Ben Allison Think Free
St. Paul, MN
8:00pm

October 26-27
THE GREEN MILL
w/Ben Allison Think Free
Chicago, IL
8:00pm

October 28
ST. PETERS CHURCH
w/Alexa Tarantino
Manhattan, NY
4:00pm

October 29
PRAGUE TOUR
w/Rudy Linka
Prague, Czech Republic
8:00PM

---
blog comments powered by

Disqus
JAZZ MANN FEATURES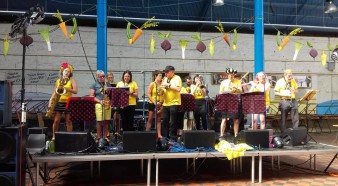 Ian Mann enjoys the Jazz Alley and Charity Swing Party events at the Market Hall with performances by Wonderbrass, Tarion, Rebelinx and The Electric Swing Circus.
---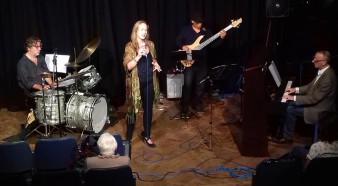 Ian Mann on a day of superb jazz with concert performances from bands led by Daniel Newberry, Alison Rayner, Ben Holder, Rachel Sutton and Tony Kofi plus interval music from Dave Jones and friends.
---
JAZZ MANN RECOMMENDS
---