NEWS
Serious Space Festival, Rich Mix, Shoreditch, London - line up announced.
Tuesday, March 28, 2017
We have received the following press release;

SERIOUS SPACE
Six days of fresh sounds in Shoreditch
MONDAY 15 - SATURDAY 20 MAY 2017

Featuring
Mon 15th May Throes + The Shine
Tues 16th May Maarja Nuut
Weds 17 May Adam Naas
Thurs 18th May Madam Gandhi
Fri 19th May Gilles Peterson & Brownswood present 'Future Bubblers'
Three Body Trio, Revenu, Elsa Hewitt and Congi (DJ set)
Sat 20th May Spoek Mathambo

Serious, producers of the EFG London Jazz Festival and nationwide live events, announce the third edition of Serious Space , a programme of innovative music from some of the world's most exciting emerging artists. Each night will showcase a different performer with a different sound, giving each one a space to experiment and create something new. Based at Rich Mix in Shoreditch, the festival lights up one of London's most vibrant areas with music that will create a spark and blur genre boundaries.
Monday 15 May
Throes + The Shine
Throes + The Shine embody both adventure and vitality. They are in fact the combination of two bands; Throes from Porto, Portugal, and The Shine, from Luanda in Angola. They began mixing both their sounds – Throes' rock 'n 'roll with The Shine's Kuduro (the fast-paced, infectious, pulsating music and dance of Angola) and their fusion now spans genres and influences that are spread out through a multitude of cultures. The band uses every ounce of their creativity to build a steaming live show that combines the energy of Buraka Som Sistema and Skip & Die with the rhythmic madness of Meridian Brothers. Performing music from their latest album Wanga (that features guest appearances from global notables such as Pierre Kwenders, La Yegros, and Da Chick), this show comes with a party guaranteed.

Tuesday 16 May
Maarja Nuut
Maarja Nuut is a singer and fiddle player from Northern Estonia. Traditional Baltic songs and stories are told using live electronics, voice, strings and looped fiddle to create "impressively original, often edgy and unsettling songs" (The Guardian). Intricate layered soundscapes are meditative and engaging. Here, minimalism and experimental music meet the village musical traditions of pre-war Europe.
Nuut's second album Une Meeles , released last summer, explores the boundary between reality and dreams and was named one of last year's top 10 albums of 2016 by fRoots, picked by Songlines for their Top of the World accolade and earned 4*reviews in the Guardian and Independent.

Wednesday 17 May
Adam Naas
Rising star Adam Naas makes a powerful impression. Still in his early 20's, his startlingly distinctive, soul-man voice is a phenomenon. His sombrely romantic, contemporary dark soul style sees him perform his own compelling self-penned set of personal, startlingly sincere soul-pop.
Following a sold out Royal Festival Hall show opening for St Germain at last year's EFG London Jazz Festival and touring with Gregory Porter, he performs songs from his remarkable self-titled EP (out now on Virgin/Mercury). It's an emotional soulful outpouring from the heart, featuring plaintive piano chords and chilled stripped-back beats reminiscent of The XX and James Blake

Thursday 18 May
Madame Gandhi
Having gained recognition as the former drummer for M.I.A. and as the iconic free-bleeding runner combating menstrual stigma at the 2015 London Marathon, Kiran Gandhi aka as Madam Gandhi now creates her own electronic music using her drums and vocals to elevate and celebrate the female voice. Based in LA, Gandhi's musical and political outlook have co-existed since she was a teen. After juggling being a Harvard student and tour drummer for M.I.A the electronic artist and activist formed Madame Gandhi and released her first EP, the explosive, 'Voices'
Madame Gandhi's topical hit 'The Future Is Female' peaked at #8 on the United States Viral 50 chart on Spotify following the Women's March. It also appeared on the Viral Chart in Australia and Canada

Friday 19 May
Gilles Peterson and Brownswood present; Future Bubblers
Searching for the Perfect Beat: Future Bubblers is the new talent discovery and development idea from Brownswood Music. Seeking out and assisting some of the freshest and most innovative music makers from across England, they takeover Rich Mix as part of Serious Space with a night of out-of-the-box musical talent. Featuring four Future Bubblers
THREE BODY TRIO:
A trio out of Nottingham playing groove-based electronic music with the spirit of free jazz. They use a mess of hardware, software and instruments to make beats inspired by the greats of jazz, funk and hip hop. They believe in improvised music that is charged with spontaneity and imperfection, and has the crackle and hiss of cables and machines.
REVENU:
Hull's Revenu is all about sounds and musical ideas that wouldn't normally be put together, soulful, imperfect, outside the box music. This will be the debut performance of his live show.
ELSA HEWITT:
From solo guitar and spoken word, Elsa Hewitt's grown to embrace found sounds, UK dance undercurrents and the endless modulations of an old, beaten up synthesiser. This will be her first performance after the release of her genre-blurring first album Cameras From Mars
CONGI [DJ SET]
A duo from Nottingham, Congi share a common love of early dubstep, hip-hop, grime, jazz and soul. Expect an expansive and free selection, weighted towards the bass end of the spectrum.

Saturday 20 May
Spoek Mathambo
There is little doubt that South Africa is one of the most exciting musical hubs in the world today, and who better as its ambassador than the inimitable Spoek Mathambo, a pioneer of its electronic music scene. Soweto-born Spoek Mathambo is an artist, producer, singer-songwriter rapper and a true music activist, showcasing and stretching the limits of electronic music and hip hop, coining the phrase 'Township Tech' to describe the electronic music he produces.
With two solo albums under his belt (not to mention his collaborative projects Fantasma and Batuk), he presents his new album Mzansi Beat Code. Here he pushes it one step further, abandoning vocals to focus on production, creating a sophisticated yet densely woven landscape which mixes various South African house schools (Bacardi, iGqomu, Sghubu), Classical House, Techno, Rap and folk music Kwazulu Maskandi.
Armed with a Roland sampler and his laptop, Spoek heightens offbeat rhythms to build sound collages where percussion, bouncing guitars, and a bewildering array of samples (excerpts from phone conversations, radio interviews, speeches, sketches, old TV shows etc) intersect.

Serious Space takes place at Rich Mix, London and runs from Monday 15th May – Saturday 20th May

Venue Rich Mix, 35 - 47 Bethnal Green Road, London, E1 6LA
Doors 7pm, show starts 8pm
Tickets £15 + Booking Fee from:
http://www.richmix.org.uk / Tel: 020 7613 7498 or serious.org.uk/SeriousSpace

Serious are one of the UK's leading producers and curators of live jazz, international and new music. Serious produces events that range from major concerts, festivals and national and international tours through to learning and participation programmes, conferences and specially commissioned bespoke events. Alongside its core role as a live music events producer, and programme consultant, it works in artist and rights management. Parallel to this exists the registered charity, Serious Trust, which has been established to support the next generation of artists and audiences through our artist development, learning and participation and commissioning programmes.
http://www.serious.org.uk
---
blog comments powered by

Disqus
JAZZ MANN FEATURES
It's good to see a "cutting edge" festival returning to Birmingham again, especially one that is so supportive of young, up and coming musicians.
---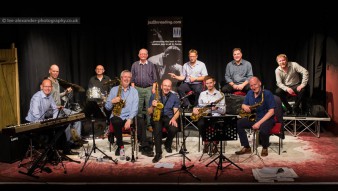 Guest contributor Trevor Bannister on a "a fascinating day spent at a church near Shepperton, where producer Andy Cleyndert was recording Scott Willcox's ten-piece big band for his Trio label".
---
JAZZ MANN RECOMMENDS
---