NEWS
SJZ Collective launch crowdfunding campaign to finance 2019 Asian tour.
Wednesday, August 07, 2019
We have received the following information regarding this campaign;

SJZ COLLECTIVE 2019 ASIA TOUR
This September the SJZ COLLECTIVE embarks on a multi-country Asian tour with performances on some of the most important jazz festivals and clubs in the region.
The group is really excited to be able to showcase the bay area's brand of jazz overseas and connect with the wonderful people and audiences in all these places.
The tour will pass through Japan, Hong Kong, China and Taiwan.

FUNDRAISING CAMPAIGN

The "SJZ Collective" - a formation that showcases some of the leading jazz players and improvisers from the Bay Area and especially San Jose has been invited on a multi-nation tour of Asia and has been selected by San Jose Jazz as jazz ambassadors for the city of San Jose.

The group will be traveling to Japan, Hong Kong, all over China, Macau, and all over Taiwan. It is an amazing 14 days tour where they will have the chance to share what the Bay Area has to offer from its extremely diverse and rich musical and cultural traditions with thousands of people is some of the leading cities and communities in Asia with performances at some of the most important jazz clubs and festivals on the region.
The group will also be conducting some workshops and education events as well.

However, with the hardships of the music industry and business in our modern world it is extremely hard or close to impossible to realize this without further financial support and backing from our community and our friends as the expenses of sending 6 people to a different country and city every day are so big that can never be offset by the compensation that the clubs, festivals, and performance organization in Asia can offer.
San Jose Jazz has started a fundraising campaign for the Collective and with all the mutual help of fans, friends, and family they are trying to raise the remaining funds needed to make this a reality.

Every dollar and any amount counts and will greatly help them reach their goal.
San Jose Jazz is a non profit organization and all donations are also tax deductible.

https://www.indiegogo.com/projects/sjz-collective-asia-tour-2019#/
---
blog comments powered by

Disqus
JAZZ MANN FEATURES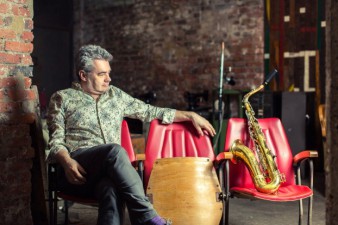 Guest contributor Trevor Bannister previews a performance of saxophonist and composer Mark Lockheart's "Days On Earth" suite at the Wilde Theatre, South Hill Arts Centre, Bracknell on 27/09/2019.
---
Ian Mann on the final day of the Festival, and performances by Ross Stanley, Karen Sharp, Stochelo Rosenberg, Rory Ingham and the Celtic Jazz Quartet. Photography by Bob Meyrick.
---
JAZZ MANN RECOMMENDS
---