NEWS
Surge in Spring II Festival full line up announced -15 performances of new music in one day.
Thursday, April 12, 2018
Sid Peacock has forwarded the following press release;

GROW YOUR OWN PRESENTS
SURGE IN SPRING II FESTIVAL
FULL LINE UP ANNOUNCED, TICKETS ON SALE NOW

ONE DAY UK FESTIVAL CELEBRATING IMPROVISATION, COLLABORATION AND NEW MUSIC FROM ACROSS THE GLOBE TAKES PLACE IN BIRMINGHAM ON SATURDAY 21 APRIL 2018

WORLD PREMIERES FOR SID PEACOCK, JUICE ALEEM & SURGE ORCHESTRA, AND MARK SANDERS & RACHEL MUSSON
- 15 YEARS OF SURGE ORCHESTRA CELEBRATED WITH 15 PERFORMANCES IN ONE DAY
- PART OF THE UNITED NATIONS ENDORSED WORLD CREATIVITY AND INNOVATION WEEK
- 50 ARTISTS AND MUSICIANS FROM 30+ COUNTRIES SET TO PERFORM
- SUPPORTED BY ARTS COUNCIL ENGLAND, BIRMINGHAM CITY UNIVERSITY, PRSF AND MAC

1200 - 2100
SATURDAY 21 APRIL 2018
MIDLANDS ART CENTRE (mac), BIRMINGHAM
TICKETED (THREE MAIN EVENTS) AND FREE (ALL OTHER EVENTS)
TICKETS £10 PER MAIN EVENT

5 performances in one day including two world premieres will feature in the second instalment of Surge In Spring, a one-day UK festival celebrating improvisation, collaboration and new music from across the globe.

Hip hop MC Juice Aleem, jazz drummer Mark Sanders and jazz saxophonist Rachel Musson, clarinettist Mohamed Najem, poet and author Liz Berry along with over 50 other artists and musicians drawn from three continents will perform as part of the event at Midlands Art Centre (mac), Birmingham on Saturday 21 April 2018.

Part of the United Nations-endorsed World Creativity and Innovation Week and celebrating the fifteenth birthday of Surge Orchestra, Surge In Spring II offers a broad programme that mirrors the musical make-up of its host city with collaborations that span jazz, electronica, hip-hop, classical, spoken word, reggae, and folk.

2018 festival audiences will have the opportunity to hear a myriad of international musical influences at play during the day, including Arabic clarinet and ney (wind), Zimbabwean mbira (percussion), Indian tabla (percussion), Congolese vocals, English harmonium (wind), Chinese Erhu (strings) and Dizi (wind), Guinea-Bissau gumbe (percussion).

Produced by artistic director of Surge Orchestra and composer Sid Peacock, in partnership with the Birmingham City University festival industry initiative Grow Your Own led by Professor Nick Gebhardt, Surge in Spring is funded by Arts Council England, PRS For Music Foundation, Birmingham City University and mac Birmingham, and supported by CHIME, Celebrating Sanctuary, Flatpack Film Festival, Jazzlines, TDE Promotions and Room Art.

Speaking ahead of the event, artistic director Sid Peacock said, "Surge in Spring's return to Birmingham in April is driven by a desire to weave music, art, poetry and video from a myriad of communities, genres and eras, and to deliver a powerful listening experience for all audience members."
"We're thrilled to once again present a strong programme of performances from respected and established creators as well as supporting over fifty emerging musicians and artists. We look forward to welcoming fans of all music to the festival, and to continuing our commitment to pushing Birmingham's reputation as a centre for world-class cultural excellence."

Watch a short film documenting the first Surge In Spring festival in 2017 now https://www.youtube.com/watch?v=Z7I0jIWwsSQ

Surge Orchestra was founded by Sid Peacock in Birmingham 2003 with a commission from celebrated and respected musician, poet and storyteller Paul Murphy to mark St Patrick's Day on 17 March that year.
Following rehearsals in the South Birmingham house owned by UB40 member Earl Falconer - also home to regular Bacchanalian 'blues parties' in the early 2000s which brought musicians, artists and creatives of many disciplines together - Surge Orchestra went on to receive a BASCA composer's nomination (2012), broadcast live on BBC Radio 3 (2014) and perform with award-winning jazz musician Django Bates (2015).
Now in their fifteenth year, the ensemble includes a host of world-class musicians each respected in their own fields, including Steve Tromans, Simon King, Jason Huxtable and Ruth Angell, and continues to compose, produce and record in a wide variety of styles.

Sid Peacock is the son of a Belfast shipyard worker. He spent his early years playing in Rock'n'Roll and garage bands and living in London squats in the late 1980s. After teaching himself music theory from library books he pursued a formal music education to PhD level and has worked throughout the world on music projects ranging from producing Chinese pop to composing avant-garde music for Surge Orchestra. He has resided in Birmingham since 2003 and has embraced and engaged with the many diverse musical communities have made this great city their home. Surge in Spring is a reflection of these many relationships.

Tickets for Surge In Spring II at mac Birmingham on Saturday 21 April 2018 are on sale now via the Midlands Arts Centre (mac) website .https://macbirmingham.co.uk/surge-in-spring

Main festival performances;

The internationally acclaimed Birmingham-based hip hop recording artist, author and educator Juice Aleem will join the 22-piece Surge Orchestra led by composer and festival artistic director Sid Peacock, in officially opening the festival with a world premiere of new work Rivers of Love (1 pm, Main Theatre).
Marking 50 years since the world-defining events of 1968, the commission will explore the themes of shared struggles, chaos, complexity and magical realism. In bringing together two boundary-smashing creative forces to explore the edges of intelligent rap over powerful arrangements, Surge in Spring will deliver a memorable happening that comes by ever so rarely.
"Juice Aleem's 2009 classic Jerusaalam Come is one of my favourite hip hop albums by anyone. Ever" - Tom Robinson, BBC Radio 6 Music
"Peacock deranges the senses with a lot of charm" - Mike Butler, Manchester Evening News

In a second world premiere commissioned for the festival by TDE Promotions, Fizzle and Arts Council England, widely-respected jazz improvisation musicians Mark Sanders (drums and percussion) and Rachel Musson (saxophone) will perform new compositions to include spoken word on the theme of New York novelist and social critic James Baldwin - declaimed by Debbie Sanders. (4 pm, Main Theatre)
The duo will play with a band that features a number of Birmingham's brightest and most adventurous musicians: Xhosa Cole (saxophone and flute), Sarah Farmer (violin), Lee Griffiths (alto saxophone), Chris Mapp (bass and electronics), Hannah Marshall (cello) and Debbie Sanders (voice).

Surge in Spring II closes with a one-off concert led by Palestinian composer, clarinettist and ney player Mohamed Najem, along with Clément Prioul (piano), Arthur Penn (double bass) and Baptiste Castets (drums)
(7 pm, Main Theatre).
The hotly tipped Parisian quartet has performed at festivals across France and in Gabon and Qatar, move effortlessly between Arabic music and jazz, retelling the music of the Middle East into a new musical language.
Mohamed Najem - a founding member of the Palestinian National Orchestra in 2011 - embraces inspiration from numerous travels with shades of East Asian, classical, jazz and contemporary flavours, producing a suitably diverse and vibrant sound with which to mark the end of Surge in Spring II.

Festival performances;

BOA Jazz Band and songwriting ensemble, led by Ray Prince, Robbie Moore and Xhosa Cole, will perform a collection of original compositions as well as popular jazz pieces to launch Surge in Spring II (from 12noon, Terrace Gallery, free).

Integra Lab, a Birmingham City University project meshing music with technology, will showcase a selection of electronic and acoustic works featuring Melinda Maxwell (oboe). In Ideas of Noise, Sarah Farmer (violin), Andrew Woodhead (piano) and friends will create a space for families and children of all ages to play with DIY instruments, everyday sounds and electronics. Culture Dub Quartet, spliced from the larger Culture Dub Orchestra, blend tabla, bass, guitar and violin to produce euphoric soundscapes (from 2 pm, Terrace Gallery, free).

Percussionist and dancer Millicent Chapanda and musician and singer-songwriter Chartwell Shorayi Dutiro deliver a masterclass in Zimbabwean mbira playing, followed by the first collaboration of two exceptional Black Country artists: acclaimed poet Liz Berry and esteemed improvisational pianist Steve Tromans. Congolese vocalist Didier Kisala and English folk string quartet The Froe - featuring Helen Lancaster, Ruth Angell, Emma Capp and Charlie Heys collaborate on new and traditional music for another Surge in Spring first (from 2 pm, Hexagon, free).

Guinea-Bissau-Portuguese musician Nifeco De Costa continues the afternoon programme, open to all and followed by the Jazzlines Ensemble - a group of young musicians supported by Town Hall & Symphony Hall Birmingham's Jazz programme. Young vocalist Franki Dodwell explores the relationship with middle eastern and contemporary Jazz music with a quintet featuring Christos Stylianides (trumpet), Steve Tromans (piano), James Owston (bass) and Tymek Jozwiak (drums) (from 5 pm, Terrace Gallery, free).

Tymek Jozwiak, a recipient of the Tony Levin Drum Prize then takes us through freely improvised music next, alongside Alex Bonney (trumpet), Mark Hanslip (tenor saxophone) and Dave Kane (double bass). Highly respected and sought after in their respective fields, Mendi Singh and Jason Huxtable present a sensational combination of Tabla Tarang, marimba and handheld percussion, before the Jasmin Moon Duo of Ling Peng and Max Gittings transport audiences through the music of the Middle Kingdom playing Erhu, Dizi and other Chinese string and wind instruments (from 5 pm, Hexagon, free).

Room Art take-over the Hub space with ongoing arts and performances throughout the day. . Nic Pillai and Birmingham City University's Jazz on BBC TV 1960-1969 project will beam crispy Cold War cathode-ray-tubed music into this specially created living room environment (From 12noon to 9 pm, The Hub, free).

Tickets for Surge In Spring II at mac Birmingham on Saturday 21 April 2018 are on sale now via the Midlands Arts Centre (mac) Birmingham website. https://macbirmingham.co.uk/surge-in-spring

Listings;

1200noon Terrace Gallery, free
BOA Jazz Band

From 1 pm, Main Theatre, £10 / £9.10 concessions
Juice Aleem and Surge Orchestra

From 2 pm Terrace Gallery, free
Integra Lab
Ideas Of Noise
Culture Dub Quartet

2 pm Hexagon, free
Millicent Chapanda & Chartwell Shorayi Dutiro
Liz Berry & Steve Tromans
Didier Kisala & The Froe

4 pm Main Theatre, £10 / £9.10 concessions
Mark Sanders and Rachel Musson

5 pm Terrace Gallery, free
Nifeco De Costa
Jazzline Ensemble
Franki Dodwell Quintet

5 pm Hexagon, free
Tymek Jozwiak's Torso
Tabla Tarang-Marimba
Jasmin Moon Duo

7 pm Main Theatre, £10 / £9.10 concessions
Mohamed Najem and Friends

12noon - 9 pm The Hub, free
Room Art

mac birmingham,Cannon Hill Park, Birmingham, B12 9QH
Sales & Information: 0121 446 3232
---
blog comments powered by

Disqus
JAZZ MANN FEATURES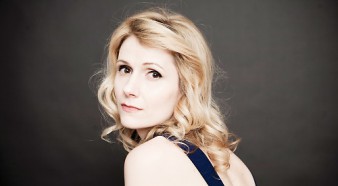 "Jazz club take on Bowie transmits all his wistfulness." Guest contributor Marc Edwards enjoys a party night featuring the contrasting styles of vocalists Rebecca Poole and Fleur Stevenson.
---
Ian Mann witnesses the future of British jazz at the NYJO Jazz Jam and the JazzNewBlood showcase and loses himself in a spectacular Norwegian double bill featuring Sinikka Langeland and Jaga Jazzist.
---
JAZZ MANN RECOMMENDS
---