NEWS
Swanage Jazz Festival 2018 - Final line up announced.
Tuesday, May 01, 2018
We have received the following press release;

PRESS RELEASE

UPDATE AND FINAL LINE UP
Friday 13th July
Ronnie Scott's Jazz Orchestra with support from Claire Martin OBE and Nigel Price,
The Bateman Brothers Jazz Band, Tony Jacobs' Tuxedo Jazz Band, Tony Kofi, Alan Barnes Octet, Jonny Hepbir Trio, Jazz Orchestra at Queen Elizabeth's School Wimborne (JOQE).
Late night jam session with Andy Davies.

Saturday 14th July
Phronesis, Scott Hamilton and Champian Fulton, Echoes Of Ellington ft. Claire Martin OBE, Clark Tracey Quintet, Georgia Mancio, Martin Litton's 'Red Hot Peppers', The Magnificent Seven, The Dixie Strollers, The John Maddocks Jazzmen, Greg Abate with Craig Milverton Trio, Ian Bateman & Simon Spillett / Craig Milverton, Gary Willcox Quartet, Byron Wallen's Four Corners, Simon Spillett, Dom Pipkin, Graham Smith's Jazz Allsorts, Hallam/Roberts Band, Dart Valley Stompers, Alison Rayner Quintet, Mark Crooks/Colin Oxley Quartet, Pete Oxley/Nic Meier Quartet, Terry Quinney's Sound Of BlueNote, Dave Brennan's Jubilee Jazz Band. Late night jam session with Andy Davies.

Sunday 15th July
Jazz Jamaica, Andrew McCormack and Jason Yarde Duo, Julian Siegel Quartet, Fletch's Brew, Dorset Youth Jazz Orchestra, Old Hat Jazz Band, Spats Langham, Dave Brennan's Jubilee Jazz, Keith Nicholl's Blue Devils, Alan Barnes and David Newton Duo, Jazz Repertory Company 'Benny Goodman at Carnegie Hall', Sara Dowling Quartet, Paulus Schäfer Trio, The Jazz Repertory Company 'Jazz at the Philharmonic', Dave Morwood's 'Rascals of Rhythm', Vitality Five, Andy Davies Quartet, Anthony Kerr Quartet, Dave Brennan's Jubilee Jazz Band, Sarah Bolter, Jonny Hepbir Trio.

Swanage Jazz Festival has been an established and much loved event on the jazz calendar for the last twenty–eight years. In 2017, the committee announced that due to various personal reasons, it was to disband and that the festival had come to a close.

Touring jazz musician Nigel Price, unable to stand by and watch another UK jazz festival fold, stepped in. Through a series of innovative fundraising initiatives and sponsorship agreements, he managed to raise enough capital to keep the prospect of a future for the festival alive and has booked an exciting roster of artists to appear in 2018.

A new interactive website is now live and final preparations for the three day programme showcasing the best in UK jazz are underway.

Nigel has been careful to observe sensitivity to the needs of the long established audience and has booked old friends of the festival alongside new and contemporary music, ensuring that this year, there is something for everyone to enjoy – traditional, modern and contemporary with a bit of gypsy jazz and lindy hop thrown in for good measure!

It now remains for festivalgoers, jazz fans and the wider musical community to match Nigel's tireless enthusiasm to ensure that his efforts are rewarded with a successful sell-out festival.

"I've never attempted anything like this before. If I can pull it off it'll be a triumph and no mistake. I won't lie, it's been more work than I ever imagined it would or could be and I've had to learn a lot very quickly. I suppose I've applied the 'build it and they will come' school of thought. Well, I've built it…" – Nigel Price

Web: http://www.swanagejazzfestival.co.uk
FB: @swanagejazzfest
Twitter: @swanagejazzfest
Tickets: https://www.swanagejazzfestival.co.uk/tickets
---
blog comments powered by

Disqus
JAZZ MANN FEATURES
Guest contributor Trevor Bannister's thoughts on a night of jazz & film to celebrate Tubby Hayes with the Simon Spillett Quartet and the acclaimed film documentary "'Tubby Hayes: A Man in a Hurry".
---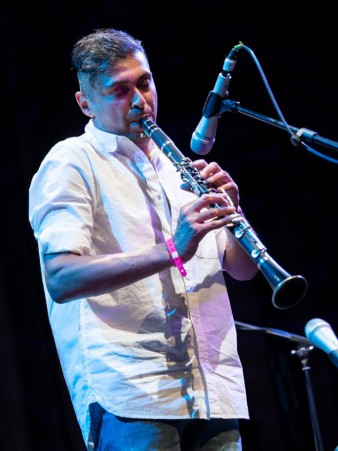 Ian Mann enjoys the penultimate day at Cheltenham and performances by Wolves Are People Too, China Moses, Issie Barratt, Christian McBride, Kamasi Washington, Arun Ghosh and Vein with Stan Sulzmann.
---
JAZZ MANN RECOMMENDS
---