NEWS
The Vortex Jazz Club, Dalston, London - programme for the week ahead.
Friday, June 08, 2018
See what's coming up at the Vortex Jazz Club.

The Vortex Jazz Club brings you London's most exhilarating programme of jazz and improvised music.

8 - 15 June

Greetings Friends and Supporters,

If Greek music is your thing we've got two days of Greek legends Solon Lekkas and Kyriakos Gouvendas taking you on a trip through the ports of Constantinople, Smyrna and Piraeus. Sunday afternoon the LJO bring their big band magic followed by our second fundraiser with John Russell and Thurston Moore in the evening. This will be the second in a series of fundraising events to raise finances to support the club in it programming, development, and survival activities.

Recently added is Enzo Zirilli Zirobop's Saturday 23 June with the launch of their new album followed by a Vortex late night going into the wee hours of the morning with Arabic - Afro-blues - jazz band Seeds of Creation. Look out for Loz Speyer's Inner Space's tour on 26 June: see London Jazz News feature here http://www.londonjazznews.com/2018/05/preview-feature-loz-speyer-inner-space.html about the tour which has Olie Brice, Rachael Musson, Chris Briscoe and Gary Wilcox. .Already selling fast is Aaron Parks and Little Big Monday 2 & 3 July 8pm . The club is delighted to have this top pianist who last graced our Steinway with Matt Garrison and Zhenya Strigalev a couple of years ago.

Don't forget the best way to keep the club going is to come to the fantastic gigs we put on daily…

Hope to see you at the club soon,
The Vortex Team

FRI 8 JUNE
19:00 / £10 -£11-£15 - £22
CONSTANTINOPLE, SMYRNA AND PIRAEUS… THE HARBOURS OF OUR HEARTS
A concert that will take you on a journey through the music that was shared between cultures via the gateways of these famous ports…Constantinople, Smyrna and Piraeus.

SAT 9 JUNE
19:00 / £10 -£11-£15 - £22
CONSTANTINOPLE, SMYRNA AND PIRAEUS… THE HARBOURS OF OUR HEARTS
A concert that will take you on a journey through the music that was shared between cultures via the gateways of these famous ports…Constantinople, Smyrna and Piraeus.

SUN 10 JUNE
15:00 / £10
LONDON JAZZ ORCHESTRA
The LJO Vortex Sessions, 28 years old, is London's longest jazz residency. The band goes from strength to strength.

SUN 10 JUNE
7:00 / £30 / 9pm £30
JOHN RUSSELL AND THURSTON MOORE (A FUNDRAISER FOR THE VORTEX)
The Vortex Jazz Club is delighted to present its second fundraiser in an on-going series, after the success of the first with Dave Holland and Evan Parker. For this concert John and Thurston will be playing on both electric and acoustic instruments in a programme of improvisation sharing their passion for both music and guitars.

MON 11 JUNE
20:00 / £10
Warriors International Present: Freedom
The monthly open-minded Freedom Improv session continues. There's an opening short set from an adhoc ensemble, swiftly followed by constantly shifting sets of soul stirring improv sessions open to all… So tune in and get involved.

TUE 12 JUNE
20:00 / £10
LOCAL YOKELS
James Copus – Trumpet & Flugel
James Allsopp – Tenor
Huw V Williams – Bass
Jay Davis – Drums, Glockenspiel and compositions
Jay Davis has chosen a perfect line-up for his new project.

WED 13 JUNE
20:00 / £12
TALINKA
Tali Atzmon – vocs
Jenny Bliss – viola-da-gamba, violin, flute, vocs
Gilad Atzmon – bass clarinet, accordion,soprano sax, guitar
Yaron Stavi – double bass
Folk, early music, jazz and tango merge into simplicity, harmony and warmth.

THU 14 JUNE
20:00 / £12
PAUL DUNMALL, COREY MWAMBA, SEBASTIAN DESSANAY, JIM BASHFORD
Paul Dunmall – saxophone
Corey Mwamba – vibes
Sebastian Dessanay – bass
Jim Bashford – drums
This is the first time this group has performed together as a quartet.

FRI 15 JUNE
20:00 / £15
INSPIRATION – ALINA BZHEZHINSKA QUARTET
Alina Bzhezhinska – Harp
Tony Kofi – Saxophones
Larry Bartley – Double Bass
Joel Prime – Drums/Percussion
'On Inspiration they bathe deeply in the spirit of Alice and John's majestic, meditative music, yet also use it as a point of departure for new personal directions.' Kevin Le Gendre

THE VORTEX DOWNSTAIRS
EVERY SATURDAY JAZZ2ROCKSTEADY 23.30 / VORTEX DOWNSTAIRS / £FREE ENTRY
EVERY SUNDAY VORTEX SUNDAY SESSIONS 21.30 / VORTEX DOWNSTAIRS £FREE ENTRY
SEE WEBSITE FOR UPDATES

Give a Vortex Jazz Club
T-shirt as a present…

TAKE OUT A MEMBERSHIP
TYPES OF MEMBERSHIPS
SINGLE MEMBERSHIP: £100 per annum
DOUBLE MEMBERSHIP: £140 per annum
CONCESSION MEMBERSHIP: £75 per annum (JSA claimants & pensioners)
STUDENT MEMBERSHIP: £30 per annum
More information here;
http://www.vortexjazz.co.uk/about-us/get-involved/

VORTEX MEMBERSHIP
Why Vortex Membership is good. We are small but one of the UK's leading venues for Jazz music with a worldwide reputation punching above our weight. We also pride ourselves on our ability to spot and nurture emerging talent however, we could not do any of these things without the support of our music-mad community of volunteers, musicians, members and friends. Here's is what we can give you in return.
50% discount on tickets from Sunday to Thursday (with some exceptions).
£2 off gigs on Friday and Saturday
May book in advance and pay at the door
May request seat selection
No booking fees
Invitations to members events
Monthly programme posted out
Free download of specially selected live recordings at the club (once cleared by the musicians concerned).
10% off any Vortex merchandiseMembership Benefits
TO TAKE OUT MEMBERSHIP CALL 0207 254 4097


VOLUNTEERING
Time is as valuable to us as money. Our dedicated team of volunteers are at the heart of the club and its activities. If we didn't have volunteers there'd be no-one to unlock the door for musicians, do the sound or serve at the bar. If you would like to volunteer get in touch.
http://www.vortexjazz.co.uk/about-us/get-involved/

Vortex · 11 Gillett Square · London, N16 8AZ.
020 7254 4097
---
blog comments powered by

Disqus
JAZZ MANN FEATURES
Guest contributor Trevor Bannister's thoughts on a night of jazz & film to celebrate Tubby Hayes with the Simon Spillett Quartet and the acclaimed film documentary "'Tubby Hayes: A Man in a Hurry".
---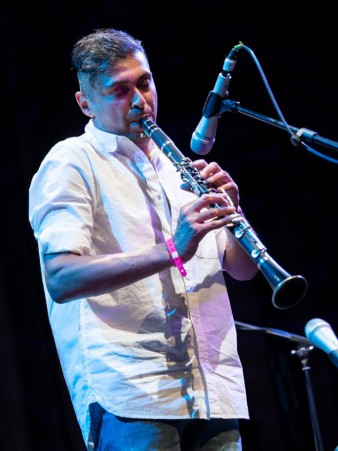 Ian Mann enjoys the penultimate day at Cheltenham and performances by Wolves Are People Too, China Moses, Issie Barratt, Christian McBride, Kamasi Washington, Arun Ghosh and Vein with Stan Sulzmann.
---
JAZZ MANN RECOMMENDS
---