NEWS
The Vortex Jazz Club, Dalston, London - programme for the week ahead.
Friday, March 15, 2019
🎶 🎶 Gilad Atzmon & OHE, MOPOMOSO, Robert Stillman w/ Tom Challenger, from NY Jacob Garchik, Shirley Smart, Blow the Fuse, Floors 🎶

Welcome to…
the Vortex Jazz Club

The weekend sorted…

15 Friday 7.45pm
Gilad Atzmon &The Orient House Ensemble (first night)

16 Saturday 7.45pm
Gilad Atzmon &The Orient House Ensemble (second night)

17 Sunday 2.00pm
MOPOMOSO presents: Afternoon Sessions

17 Sunday 7.15pm
Robert Stillman's Peace on Earth

Doors 7.45pm Monday - Saturday and 7.15pm Sundays.
Seats will only be reserved until 8.15pm for non-members.
Please buy drinks from the upstairs bar as this help to keep the club going.

The coming week…

18 Monday 7.45pm
Jacob Garchik UK Gospel Trombone Choir

19 Tuesday 7.45pm
Shirley Smart Quartet

20 Wednesday 7.45pm
Floors

21 Thu 7.45pm
Blow the Fuse presents:
The Deirdre Cartwright Group 'PLAY'

Coming Up…

Laura Jurd performs with Jessica Radcliffe Friday 22 March 7.45pm and with Jazz Alloy #4 Monday25 March 7.45pm

New Late Night Series: Grass Roots
curated by Jamie Murray with Beat Replacement with Soulsa DJ
Friday 22 March 10.30pm

Ethan Iverson Sunday 24 March 7.15pm

Olly Chalk Trio Wednesday 27 March 7.30pm (first set)
Matt Sulzmann Quintet Wednesday 27 March 7.30pm (second set)

Hire us for your day time rehearsals, meetings, recordings and more…
Us, our programme, our other activities…
http://www.vortexjazz.co.uk/

Vortex · 11 Gillett Square · London, N16 8AZ ·
---
blog comments powered by

Disqus
JAZZ MANN FEATURES
Pending his 2019 Cheltenham Jazz Festival gig with John Surman's Brass Project John talks more about his work with Soft Machine & with Surman, Eberhard Weber & others. He also picks his top ten CDs.
---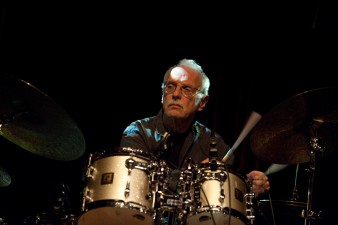 In the second part of his interview with guest contributor Trevor Bannister John establishes himself on the 1960s London jazz and session scene and gets the call from Soft Machine.
---
JAZZ MANN RECOMMENDS
---