NEWS
The Vortex Jazz Club, Dalston, London - programme for the week ahead.
Friday, April 13, 2018
See what's coming up at the Vortex Jazz Club.

The Vortex Jazz Club brings you London's most exhilarating programme of jazz and improvised music.

13 - 20 April 2018

Greetings Friends and supporters,
With spring of to a wobbly start we have an exciting April lined up including this weekend's Andrew Bain's Embodied Hope Quartet launching their latest album on Whirlwind Records Saturday, Sunday is the MOPOMOSO Afternoon Session followed later in the evening by a double bill with Bruno Heinen and Emilia Martensson. Thursday Evan Parker is back with Matt Wright and Hanah Marshall. Looking forward Tuesday 24th is Nels Cline4 - standing room only left. The following day drummer Anton Eger' makes his debut as a band leader with a British line-up of musicians.

This week we launch Vortex Late Nights starting with the band Kefaya, which will feature Afghani singer song writer Elaha Soroor.

For International Jazz Day 30 April, we will be celebrating with a special event that showcases some of the young talented artists in the UK and is supported by the Dave Holland and Evan Parker fund.

You can buy a Vortex T-shirt https://docs.google.com/forms/d/e/1FAIpQLSealVbXz2nTDFaUfyUPTBA1w3mliBxmlcBOCFti86ux7ZfULQ/viewform

and get a free download of the Dave and Evan fundraising track. You can also listen to Unchartered Territories Dave and Evan's new album with Craig Taborn and Ches Smith.
https://open.spotify.com/album/0N0qBhEsWD7XtP2ea54GuU?si=QjZIiMrPSnOuN2Eu34HmAg

Finally, with the requirements of the GDPR, the new data protection law coming into force on May 25, 2018 if you no longer wish to receive the newsletter you may unsubscribe by scrolling down to the end of the email where you can click on the UNSUBSCRIBE link. I should add that we do not share email addresses with anyone. We send out a weekly newsletter and the very occasional special notification about a particular event at the club and no more. We hope you will stay with us.

Support the Vortex by coming to gigs.
See you soon.
The Vortex Team

FRI 13 APRIL
20:00 / £10
GYPSY NIGHT – DUNAJSKA KAPELYE
This is a musical collaboration that never fails to delight and thrill…
"Extreme, virtuoso Balkan Gypsy Jazz" Timeout, "The "Sweetest Gypsy violin in London" Evening Standard "You can't help but leave with a big stupid grin on your face" – Metro

SAT 14 APRIL
20:00 / £15
EMBODIED HOPE QUARTET
Following on from their highly successful 2016 UK tour, drummer/composer/bandleader Andrew Bain's Embodied Hope Quartet return in April 2018 to release his debut album as a leader on Whirlwind Recordings.

SAT 14 APRIL
23:30 / £10
VORTEX LATE NIGHT: KEFAYA PRESENTS – ELAHA SOROOR
laha Soroor is a London based singer / songwriter from Afghanistan. Her music, deeply rooted in the Afghan folk tradition, is a beautiful combination of traditional and modern sounds.

SUN 15 APRIL
14:00 / £8
MOPOMOSO PRESENTS 'THE AFTERNOON SESSIONS'
A continuing programme of monthly concerts dedicated to free improvisation curated by the indefatigable John Russell.
Michael Giaquinto (e.bass) / Chris Hill (clarinet/electronics/amplified objects) / Alec Kronacker (e.guitar) trio

SUN 15 APRIL
19:30 / £10
DOUBLE BILL: BRUNO HEINEN – MR. VERTIGO / EMILIA MARTENSSON
Come join us at the Vortex for this double bill of two great friends.
Sebastian Scotney said of the Mr. Vertigo Kings Place launch concert: "delicate, poised, balanced, and unfolded beautifully." – London Jazz News
Emilia Martensson has developed into one of the leading European vocalists, who has the flare to motivate a band with her dynamic arrangements, compositions and personality.

MON 16 APRIL
20:00 / £10
CALUM GOURLAY BIG BAND
Bassist Calum Gourlay's big band is a band of energy and joy, having developed over the course of over a year at the Vortex. He brings stunning arrangements and a stellar band.

TUE 17 APRIL
20:00 / £FREE
MIDDLESEX BA JAZZ STUDENTS
Join us for an evening of music from our BA Jazz students
The excellent Middlesex BA Jazz student bands led by: Nikki Iles, Stuart Hall, Kate Williams, Dave Pattman who will be playing an exciting and eclectic mix of jazz .

WED 18 APRIL
20:00 / £12
CONSTRUCTION CENTRELINE THEORY
Trish Kelly Clowes (saxophones)
Hilmar Jensson (Guitar /Alasnoaxis TYFT)
Jim Bashford Drums
'Centreline Theory' is the debut release on Leo Records from drummer/composer Jim Bashford's group Construction.

THUR 19 APRIL
20:00 / £12
EVAN PARKER / MATT WRIGHT AKA TRANCE MAP + HANNAH MARSHALL
Evan Parker – soprano saxophone, sample collection, co-composition;
Matthew Wight – live sampling, turntables, co-composition and sound design
Hannah Marshall – cello
Trance Map is part of an ongoing body of work on Psi that includes past releases by Joel Ryan and DJ Sniff, which each used Evan Parker's music as source material to be manipulated to create new works.

FRI 13 APRIL
20:00 / £10
JULIET KELLY/ YAZZ AHMED/ NAADIA SHERIFF
Vocalist Juliet Kelly, trumpeter Yazz Ahmed and pianist Naadia Sherrif get together to explore standards from their diverse perspectives.

COMING SOON:

Zoe Francis Saturday 21 April 8pm

Rob Mazurek Octet
Chicago / London Underground
Sunday 13 May 7.30pm

Downtown New York's Abraham Burton with Lucian Ban Wednesday 23 May 8pm

THE VORTEX DOWNSTAIRS
EVERY SATURDAY JAZZ2ROCKSTEADY 23.30 / VORTEX DOWNSTAIRS / £FREE ENTRY
EVERY SUNDAY VORTEX SUNDAY SESSIONS 21.30 / VORTEX DOWNSTAIRS £FREE ENTRY
SEE WEBSITE FOR UPDATES

Give a Vortex Jazz Club
T-shirt as a present…

TAKE OUT A MEMBERSHIP
TYPES OF MEMBERSHIPS
SINGLE MEMBERSHIP: £100 per annum
DOUBLE MEMBERSHIP: £140 per annum
CONCESSION MEMBERSHIP: £75 per annum (JSA claimants & pensioners)
STUDENT MEMBERSHIP: £30 per annum
More information here;
http://www.vortexjazz.co.uk/about-us/get-involved/

VORTEX MEMBERSHIP
Why Vortex Membership is good. We are small but one of the UK's leading venues for Jazz music with a worldwide reputation punching above our weight. We also pride ourselves on our ability to spot and nurture emerging talent however, we could not do any of these things without the support of our music-mad community of volunteers, musicians, members and friends. Here's is what we can give you in return.
50% discount on tickets from Sunday to Thursday (with some exceptions).
£2 off gigs on Friday and Saturday
May book in advance and pay at the door
May request seat selection
No booking fees
Invitations to members events
Monthly programme posted out
Free download of specially selected live recordings at the club (once cleared by the musicians concerned).
10% off any Vortex merchandiseMembership Benefits
TO TAKE OUT MEMBERSHIP CALL 0207 254 4097


VOLUNTEERING
Time is as valuable to us as money. Our dedicated team of volunteers are at the heart of the club and its activities. If we didn't have volunteers there'd be no-one to unlock the door for musicians, do the sound or serve at the bar. If you would like to volunteer get in touch.
http://www.vortexjazz.co.uk/about-us/get-involved/

Vortex · 11 Gillett Square · London, N16 8AZ.
020 7254 4097
---
blog comments powered by

Disqus
JAZZ MANN FEATURES
Guest contributor Trevor Bannister's thoughts on a night of jazz & film to celebrate Tubby Hayes with the Simon Spillett Quartet and the acclaimed film documentary "'Tubby Hayes: A Man in a Hurry".
---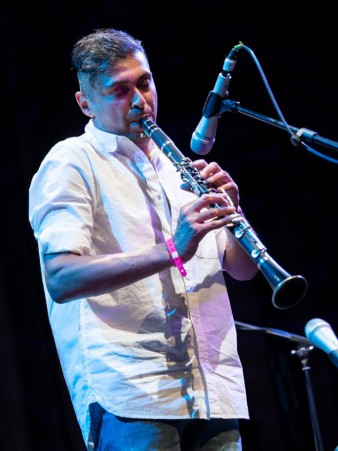 Ian Mann enjoys the penultimate day at Cheltenham and performances by Wolves Are People Too, China Moses, Issie Barratt, Christian McBride, Kamasi Washington, Arun Ghosh and Vein with Stan Sulzmann.
---
JAZZ MANN RECOMMENDS
---