NEWS
The Be-Bop Club, Bristol, programme for February / March 2018.
Sunday, February 04, 2018
From the Be-Bop Club website http://www.thebebopclub.co.uk/

The Be-Bop Club
The Bear, Hotwell Road, Bristol. BS8 4SF

Doors open 8.30pm for 9pm start.

Fri 9th Feb
Ben Waghorn Quartet
£8.00
Saxophonist and flautist Ben Waghorn is one of Bristol's finest and most versatile musicians. January this year saw him off to Singapore to perform with 007 In Concert alongside some of London's top session musicians. But now it's back to the local jazz scene where the big money is. Ben is so busy that he rarely has time to lead his own groups, but when he does it's always a treat since he has written some really engaging original tunes which he combines with a few burning standards. Joining Ben are piano maestro Jim Blomfield, bassist Thad Kelly [best known for his work with jazz supergroup Partisans], and drummer Andy Hague.

Fri 16th Feb
Denny Ilett & Dave Newton Quartet
£9.00
Guitarist Denny Ilett has assembled a genuinely all-star line-up for us tonight. Denny is of course well-known as organiser of Bristol Jazz & Blues Festival, and is one of the few players around able to play convincingly in almost any style. He can be found performing in groups ranging from Gypsy Jazz through to Jimi Hendrix and Led Zeppelin tributes, and along the way has worked extensively with New Orleans vocalist Lillian Boutté and king of funk Pee Wee Ellis. Internationally acclaimed pianist Dave Newton has been voted Best Pianist in the British Jazz Awards no less than ten times, and has long associations with some of the UK's top instrumentalists such as Don Weller and Alan Barnes. His exquisite touch has made him accompanist of choice for vocalists such as Claire Martin and Stacey Kent. Eclectic jazz bass player Riaan Vosloo recently moved from London to Bristol with an impressive reputation established from his long-term membership of Tru Thoughts stalwarts Nostalgia 77 and involvement with Tongue Fu, the super-cool jazz-meets-poetry club night. On drums we have Ian Matthews, best know for playing with stadium rock band Kasabian, despite which he is an excellent jazz drummer who can still play with a lovely light touch. Denny Ilett - guitar, Dave Newton - piano, Riaan Vosloo - bass and Ian Matthews - drums.

Fri 23rd Feb
John Donegan Quintet
£9.00
Originally from Cork in Ireland, John Donegan lived in Bristol in the 90s and was one of the most highly regarded pianists in the area with his hard-swinging style influenced by players such as Wynton Kelly and Bill Evans. Now based in London John plays regularly at St Martin In The Fields alongside players such as trumpeter Steve Fishwick and saxophonist Tommaso Starace. Performing a mixture of original compositions and standards tonight's band is John Donegan - piano, Andy Hague - trumpet, Ben Waghorn - tenor sax, Greg Cordez - bass and Simon Gore - drums.

Fri 2nd March
John Law's Congregation
£9.00
John Law has been described as "one of the UK's most imaginative and versatile jazz pianists." - International Piano 2014. In 2016 John toured to promote his CD These Skies In Which We Rust, and turned in one of the club's most memorable performances of the year. However, he never stays still for long and put together his new Congregation line-up collaborating with Leeds based saxophonist, guitarist and electronics whizz James Mainwaring of Roller Trio. Roller Trio's first CD release in 2012 was nominated for both the Mercury Prize and MOBO's Best Jazz Act, which they followed up with their second acclaimed album Fracture in 2015. On bass is Ashley John Long, a virtuosic player known for his work in both jazz and classical idioms who first came to prominence through his work with Keith Tippett. Drummer Billy Weir is a graduate of Birmingham Conservatoire and winner of the 2014 Tony Levin Drum Prize. The band will recently have returned from their Feb 2018 India Tour, so should be on especially good form.

Fri 9th March
Len Aruliah Quintet
£9.00
Born in the UK, Len Aruliah grew up in Vancouver, Canada, where he graduated from the University of British Columbia School of Music with a Bachelor of Music degree in classical saxophone. In 1993 he attended the Banff Centre for the Arts Jazz Workshop, where he studied with faculty members Hugh Fraser, Kenny Wheeler, Pat LaBarbera, and Don Thompson. Currently Len splits his time between London and Canada. A versatile musician he's toured with Gene Pitney, played in West End theatre productions, world music groups and with the riotous Hackney Colliery Brass Band. In 2017 he released his CD No Complications with his Canadian band, and he has also performed at the Vancouver International Jazz Festival. Now spending more time in Bristol he has formed his first group here sharing the frontline with another recent arrival in the city, trombonist Magnus Dearness. Magnus also played with Hackney Colliery Band and with saxophonist/composer Cath Roberts, and you may have heard him locally with the Dockside Latin Orchestra [who will be headlining Bristol Jazz & Blues Festival]. Combined with the strong rhythm section of Tom Berge - piano, Pasquale Votino - bass and Paolo Adamo - drums, this should be a great band.

Fri 16th March
Bristol Jazz & Blues Festival
No gig at The Bear tonight, get along to Colston Hall for all the action.

Fri 23rd March
Aidan Thorne's Duski
£9.00
Duski is led by bassist Aidan Thorne, one of the finest players across the bridge in South Wales and probably best known for his work with Slowly Rolling Camera alongside Bristol's Ben Waghorn. Guitarist Dan Messore divides his time between London and Cardiff, and has recorded alongside Iain Ballamy and Steve Waterman. Bristol audiences may know him through his work with Jake McMurchie's Michelson Morley project. Saxophonist Greg Sterland is a graduate of the Royal Welsh College, but is now based in Bristol and played a great quartet gig for us in January. The other band members are some of the most forward thinking musicians in South Wales namely pianist Paul Jones (Sweet Baboo/Zervas and Pepper) and drummer Mark O'Connor (Khamira/Burum). Aidan Thorne - bass, Greg Sterland - sax, Dan Messore - guitar, Paul Jones - piano and Mark O'Connor - drums. For more information check out their Facebook page https://www.facebook.com/duskiband/

Coming Soon:
30th March - Sur Ecoute
13th April - Glen Manby
27th April - Nick Malcolm
4th May - George Crowley
11th May - Andy Nowak
25th May - Loz Speyer's Inner Space
1st June - Ben Thomas & Lee Goodall
8th June - Andy Hague Quintet
---
blog comments powered by

Disqus
JAZZ MANN FEATURES
Guest contributor Trevor Bannister's thoughts on a night of jazz & film to celebrate Tubby Hayes with the Simon Spillett Quartet and the acclaimed film documentary "'Tubby Hayes: A Man in a Hurry".
---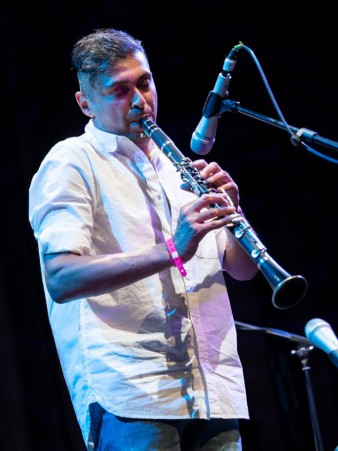 Ian Mann enjoys the penultimate day at Cheltenham and performances by Wolves Are People Too, China Moses, Issie Barratt, Christian McBride, Kamasi Washington, Arun Ghosh and Vein with Stan Sulzmann.
---
JAZZ MANN RECOMMENDS
---