NEWS
The Green Note, Camden Town, London - latest newsletter
Thursday, April 20, 2017
Folk, Country, Jazz, Americana, African, Gypsy and more!

Hi All,
Hope you're doing well and enjoying this lovely spring sunshine!
We've got some very exciting shows lined up over the next few weeks, and we wanted to let you know about a few of them…

Jeff Lang
We're very excited to have one of Australia's most creative and revered guitarists come back to do his first London show in over 4 years! JEFF LANG (Mon 24th April) was originally influenced by several of the great US acoustic blues players and has developed his own individual style of guitar playing encompassing rock, roots, folk, blues and improvisation, accompanied by his dynamic songwriting which is unafraid to tackle any subject with immense compassion and understanding. We guarantee that this show is going to knock your socks off!

Lynne Hanson
We're also looking forward to the Green Note debut of Canadian band LYNNE HANSON AND THE GOOD INTENTIONS (Sun 30th April), known for their hard-living style of music, mixing gritty ballads with driving roots-tinged guitar. Lynne Hanson's deep bluesy croon is pure and full of fortitude, and she's drawn comparisons to Lucinda Williams, with a touch of Gillian Welch thrown in. Touring in support of her brand new release 'Uneven Ground', this will be a great opportunity to check them out.

Octotillo
Another highly recommended show is the special collaboration between innovative UK singer-songwriter KIRSTY MCGEE and US country/blues artist ROBERT GARSON entitled 'Ocotillo' (Thurs 27th April)... we've been big fans of Kirsty's for years and her collaboration with Robert has just taken things to a new level. When they toured the UK together last year, a 5* review of one of their live shows said it best, declaring "The harmonies gel like Gram and Emmylou's; the music, a thieved midget's orchestra of offbeat instrumentation. When the writing's this good, though, the sky's the limit."

Sura Susso
Other upcoming highlights include a night of Gambian music with creative, versatile and talented kora player & percussionist SURA SUSSO (Fri 21st April); a special stripped down show from roots music mavericks WESTERN CENTURIES (Formerly Cahalen Morrison & Country Hammer) (Sat 22nd April); and the BALAGAN CAFE BAND (Sun 23rd April) who present an evening of Parisian and American Jazz, Chaabi music of Algeria, Tango from Argentina, Balkan folk melodies and folk music of Western Europe.

Lots and lots more great gigs coming up of course - far too many to mention here - so make sure you keep an eye on our EVENTS PAGE for all the latest updates.

Hope to see you soon!

Immy & Risa xx

THE NEXT COUPLE OF WEEKS…

Stargazing feat. AK Patterson + Holly Redford Jones + Zander Sharp
Thu 20th April
THE BASEMENT BAR
Expect some unlikely constellations where talent might be the only thing they have in common in this brand new monthly night.
**SOLD OUT**

The Nightjar
Thu 20th April
Stars of the alt-folk underground use close-harmonies, tight-interlocking guitars, deep bass and an intense lead vocal to paint fragile, haunting landscapes.

Vimala Rowe
Fri 21st April
THE BASEMENT BAR
Songs from the 30's and 40's - Ella Fitzgerald, Billie Holiday with a modern vibe of appreciation

Sura Susso
Fri 21st April
Creative, versatile & talented Kora player & Percussionist presents a night of Gambian music.

Big Mamma's Door
Sat 22nd April
THE BASEMENT BAR
An eclectic mix of swinging blues from the 20s-50s… "Excellent band…her smoky/laid-back voice does the risqué blues-with-soul stuff with a vengeance." (Blues in the South)

Western Centuries
Sat 22nd April
Roots Music Mavericks, Western Centuries, (Formerly Cahalen Morrison & Country Hammer), touring in support of new album. Traditional country meets early R&B, beautifully literary songwriting and rocks out!

Balagan Cafe Band
Sun 23rd April
THE BASEMENT BAR
Ranging from Parisian & American Jazz, the Chaabi music of Algeria, Tango from Argentina, Balkan folk melodies through to the early modern & folk music of Western Europe ...this is music for the ears, heart and feet.

The Black Feathers
Sun 23rd April
"...stunning harmonies that were so good it reminded me of seeing Gillian Welch and David Rawlings" No Depression

Ollie King
Mon 24th April
THE BASEMENT BAR
Described as "one of the finest… up and coming young melodeon players in England", Ollie King pushes the boundaries and expectations of the humble squeezebox.

Jeff Lang
Mon 24th April
One of Australia's most creative and revered guitarists returns to Green Note for his first London date in over 4 years!

Open-Mic hosted by Rob Thom
Tue 25th April
Everyone welcome! Whether you're coming along to play or just to chill out in a fun, friendly atmosphere, kick back and enjoy the music…

Doghouse Roses + Joseph Parsons
Tue 25th April
THE BASEMENT BAR
Fantastic double-bill featuring folk and blues and all points in between, from 2 acts, one from each side of the pond…

Tiz McNamara
Wed 26th April
THE BASEMENT BAR
With influences including Foy Vance, Damien Rice and Ben Howard, this singer-songwriter's star is on the rise!
**SOLD OUT**

Luke Tuchscherer + Hannah Rose Platt
Wed 26th April
A special double bill featuring two of the hottest rising stars of the Americana music scene.

Kirsty McGee & Robert Garson present… Ocotillo
Thu 27th April
"The harmonies gel like Gram and Emmylou's; the music, a thieved midget's orchestra of offbeat instrumentation. When the writing's this good, though, the sky's the limit." 5* Review

The FoBo Jug Band
Fri 28th April
THE BASEMENT BAR
A ragtime country-blues outfit sure to get your feet stomping!

Calico The Band + Ted Russell Kamp
Fri 28th April
Special double bill featuring two critically acclaimed US Americana acts…

Chris Corcoran Trio
Sat 29th April
THE BASEMENT BAR
"One of the most exciting, raw and inventive jazz-blues records you'll hear all year" Guitarist Magazine

Porchlight Smoker
Sat 29th April
An exciting blend of roots, folk and Americana from this Sussex-based multi-instrumental band.

Robin Williamson with special guest Bina Williamson
Sun 30th April
2.30pm matinée
Scottish singer, storyteller, harper & cofounder of the Incredible String Band + special guest longtime musical partner, singer & multi-instrumentalist Bina Williamson.

Gypsy Dynamite
Sun 30th April
THE BASEMENT BAR
Classic standard Gypsy Jazz tunes and many popular and modern songs arranged in a unique, energetic and powerful style.

Lynne Hanson & The Good Intentions
Sun 30th April
Drawing comparisons with Lucinda Williams and Gillian Welch, Canadian artist Lynn Hansen is know for her hard-living style of music, mixing gritty ballads with driving roots-tinged guitar.

Dan Walsh
Mon 1st May
Nominated for best musician at this year's BBC Folk Awards and touted as one of the finest banjo players in the UK as well as being a superb singer, songwriter and guitarist

SEN3
Tue 2nd May
THE BASEMENT BAR
Three Jazz heads who have been playing with David Gilmour, Jamie Woon, Jessie Ware, PB underground and PigBag get to together to throw some stuff down… "Cream Filtered through Dilla's SP-1200"

Ehud Banai & Michael Chapman
Tue 2nd May
Special collaboration between Israeli singer-songwriter and English folk-blues legend.
**SOLD OUT**

"Profoundly Blue" ft Adrian Cox (preview show)
Wed 3rd May
THE BASEMENT BAR
A concert celebrating the music of Louisiana born clarinettist Edmond Hall, featuring leading UK clarinet star Adrian Cox + his talented quartet.

Anna Tivel & Jeffrey Martin
Wed 3rd May
Two outstanding artists from Portland, Oregon make their Green Note debut…

Green Note, 106 Parkway, London, NW1 7AN
http://www.GreenNote.co.uk
---
blog comments powered by

Disqus
JAZZ MANN FEATURES
It's good to see a "cutting edge" festival returning to Birmingham again, especially one that is so supportive of young, up and coming musicians.
---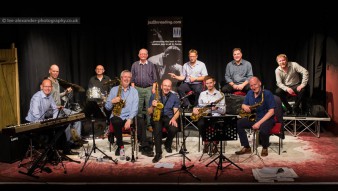 Guest contributor Trevor Bannister on a "a fascinating day spent at a church near Shepperton, where producer Andy Cleyndert was recording Scott Willcox's ten-piece big band for his Trio label".
---
JAZZ MANN RECOMMENDS
---