NEWS
The Jive Aces - UK and US tours, March and April 2019.
Wednesday, March 13, 2019
We have received the following press release;

"These guys know how to entertain and make their music relevant and contemporary. This music is timeless."
Jazz Journal

"True Showmanship!"
Daily Telegraph

"Brilliantly Committed!"
Daily Mirror

"Hugely charismatic performers and consummate showmen."
Edinburgh Spotlight

"Brilliant musicianship combined with a madcap sense of fun on stage. Simply Sensational!"
The Stage

"Rousing and entertaining stuff."
AltBlackpool
THE JIVE ACES - 'SPECTACULAR SHOWMANSHIP'

Renowned worldwide for their high-energy spectacular showmanship, their viral video Bring Me Sunshine and for being the first live band to reach the final rounds of Britain's Got Talent, The Jive Aces have firmly established themselves the UK's No.1 Jive & Swing band.

The live show includes classics like "When You're Smiling,"Mack The Knife" and "Sing, Sing, Sing", plus originals such as â La Dolce Vita taken from their various albums.

The in-demand sextet average 300 shows a year and have worked with Van Morrison, Keely Smith and performed for HM the Queen. They headlined and sold-out the Royal Albert Hall and thousands of festivals, theatres, dance halls, etc, in 35 countries, including Buckingham Palace for the Coronation Festival, Trafalgar Square for the Olympics and major theatre tours in the USA.

The new albums "Diggin' The Roots Vol.1 Rockin' Rhythm & Blues" and "Vol.2: Hot Jazz" are a journey into the two branches of music that makes up the Jive Aces signature sound, proving that vintage music is very much timelessly classic.online. >LISTEN HERE
<
https://soundcloud.com/jiveaces/sets/dtr1-rrb/s-Swya1

The Jive Aces wowed the judges on Britain's Got Talent with their show-stopping version of I Wanna Be Like You, which famously cheered up a grumpy Simon Cowell. Their BGT appearances were seen by over 20 million.

Their most popular music video, Bring Me Sunshine, is a viral hit with nearly 3 million views on Youtube and has won seven film festival awards. It's so uplifting it's actually been prescribed by a doctor!

They've made hundreds of media appearances, including a residency on BBC Radio London and TV shows such as The Alan Titchmarsh Show, Strictly Come Dancing, Children in Need and Good Day Los Angeles.

CORE BAND
Ian Clarkson (Vocals, Trumpet, Ukulele); John Fordham (Tenor Saxophone, Clarinet, Fiddle); Ken Smith (Double Bass); Peter Howell (Drums); Vince Hurley (Piano); and Alex Douglas (Trombone, Washboard, Blues Harp).

LIVE 2019
The Jive Aces Big Beat Revue
MAR 15 @ Brook Theatre, 5 The Brook, Chatham
MAR 17 @ The Forum, Bullamoor Road, Northallerton
MAR 21 @ Elgiva Theatre, St Mary's Way, Chesham, Buckinghamshire
MAR 22 @ Rosehill Theatre, Moresby, Whitehaven, Cumbria
MAR 23 @ Queens Hall Arts Centre, Beaumont Street, Hexham
MAR 28 @ City Varieties, Swan Street, Leeds
MAR 31 @ New Wolsey Theatre, Civic Drive, Ipswich

The Jive Aces US TOUR
APR 4 @ The House of Blues, 225 Decatur St, New Orleans
APR 7 @ Birdland Jazz Club Theatre, 315 West 44th Street, New York
APR 8 @ Birdland Jazz Club Theatre, 315 West 44th Street, New York
APR 12 @ Olympia Center, 222 Columbia St NW, Olympia, WA
APR 17 @ Gallo Centre for the Arts, 1000 I Street, Modesto, CA
APR 19 @ Oviatt Building, 617 S. Olive, Los Angeles, CA
APR 22 @ 7:00PM Gaslight Theatre, 7010 E Broadway Blvd, Tucson, AZ
APR 23 & 24 @ Gaslight Music Hall, (Oro Valley), Tucson, AZ

Teaser video
https://www.youtube.com/watch?v=1M75Z65Z36U&feature=youtu.be
---
blog comments powered by

Disqus
JAZZ MANN FEATURES
Pending his 2019 Cheltenham Jazz Festival gig with John Surman's Brass Project John talks more about his work with Soft Machine & with Surman, Eberhard Weber & others. He also picks his top ten CDs.
---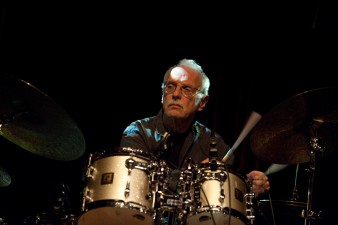 In the second part of his interview with guest contributor Trevor Bannister John establishes himself on the 1960s London jazz and session scene and gets the call from Soft Machine.
---
JAZZ MANN RECOMMENDS
---