NEWS
The Queen's Head, Monmouth, music programme March - November 2018.
Tuesday, March 06, 2018
From the Queen's Head website https://www.queensheadmonmouth.co.uk

All events begin at 8.30 pm.

All free admission but with donations welcomed.

Wednesday 14/3/18 The Noon-Ward
***** Jazz Special *****
Opening the year of 'never heard it before' world class new music we're most pleased to welcome 'The Noon-Ward', a collaboration between multi-instrumentalist, hugely respected composer and improvising wunderbloke, Alex Ward (Guitar and Vocals), aided, abetted and aggravated by a truly original spirit-drummer in the person of Sean Noonan.
Alex is no stranger to the Queens with his band Predicate amongst his projects exploring composition specifically for improvisers (yet to book 'Dead Days Beyond Help' and 'Noise Eating Monsters' but watch this space!). Sean is a drumming enigma where his "wandering folk" theory captures the elusiveness of ever-evolving world music traditions and reorients them through his own distinctive lens, fusing his discoveries with influences from harmolodic jazz, bleeding-edge rock, and avant-garde classical music
Noonan: "Independence might be the ruling concept of this drummer/leader's career. It defines a common relationship not only among his hands, feet, and voice, but between his art and almost everything else in drumland". Modern Drummer Magazine
Ward: [...] one of the most stimulating I've heard all year, an excellent blend of structure and freedom with a uniformly high standard of musicianship and some visceral, fiery, exciting playing. The structured nature of the material does the music no harm at all and the volume and intensity of much of the material should also hold appeal for adventurous rock listeners, fans of Mr Fripp's King Crimson perhaps ... also likely to be appreciated by admirers of the so called "punk jazz" groups. ... Recommended to all adventurous listeners, not just improv die hards. The Jazzmann
Supported by the Plancktone Club

Sunday 18/03/18…..GRUIG

Sunday 25/03/18…..THE HARRISONS

Sunday 01/04/18…..MAYFIELD/BIRTHDAY GIG

Sunday 08/04/18……ALBINO FROGS

Wednesday 11/04/18 Duski
Aidan Thorne's Duski project has grown over the years both in compositional strength and unity as a coherent playing outfit. Thorne's writing certainly does provide a refreshing repertoire which echoes broad and diverse sources. Duski is a young contemporary band, with plenty to say. Well worth listening to, bringing whatever 'jazz music' is, bang up to date!

Sunday 15/04/18……RAGTIME JUG ORCHESTRA

Sunday 22/04/18……NORTH STAR(MATT/TAMZIN)

Sunday 29/04/18…….THE DRIFT

Sunday 06/05/18…….FEDORA CHIC

Sunday 13/05/18……WILL KILLEEN

Wednesday 16/05/18 John Law's Re-Creations project
Alongside jazz tunes by Monk and others, arrangements of tunes including Adele, Daft Punk and Kate Bush, Michael Jackson's Billie Jean, two tunes by Radiohead

Sunday 20/05/18…….BIG HUT NO CATTLE

Sunday 27/05/18…….SP3..PAYNE/HOBDAY/MISKIMMEN

Wednesday 30/05/18
Adam Pultz-Melbye double bass, Simon Rose baritone saxophone, Paul Stapleton sound sculpture. Astonishingly creative gig with Stapleton's home created instrument and Berlin based Rose's sympathetic baritone, under pinned by Pultz-Melbye's sonorious bass playing.

Sunday 03/06/18…….RED RIVER BLUES

Wednesday 06/06/18 TrioHLK
Jazz guitar, contemporary classical piano and masterful percussion.

Sunday 10/06/18…….BELLEVILLE SWING

Sunday 17/06/18……DAN JAMES

Wednesday 11/07/18 Burum
Welsh super group bringing jazz and Welsh folk tunes together as one.

Wednesday 18/7/18 Hiby-Bardon-Hession
***** Jazz Special *****
Having played an astonishingly powerful gig at the Queens in 2016 the Hiby-Bardon-Hession trio return to bring an intense evening of extemporised collective soundscapes.
The combined but restrained focus of their last performance was akin to the darkening and impending thrill of a brewing thunderstorm never quite breaking but bound to at any minute. A delight for the audible senses spilling out to the cliches of hair raising on the arms and neck and of course the unbelievable, near telepathic, understanding of the players drawing you in like a rip-tide on a dark night.
A world class trio from three players with huge international reputations combining Wuppertal and Leeds in a common European understanding.
Hans Peter Hiby - tenor/alto saxophones, Michael Bardon - double bass, Paul Hession - drum set ()

Wednesday 12/09/18 Tassos Spiliotopoulos' Swedish Band
Tassos returns from Stockholm with his quartet.

Wednesday 14/11/18 7Steps - Miles Davis contemporary interpretations
Tomos Williams (Burum) brings his Welsh/Irish band using the breadth of the Miles Davis catalogue.

THE QUEEN'S HEAD
1, St James Street,
Monmouth,
NP25 3DL
01600 712767
---
blog comments powered by

Disqus
JAZZ MANN FEATURES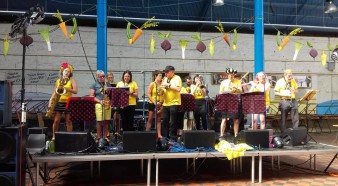 Ian Mann enjoys the Jazz Alley and Charity Swing Party events at the Market Hall with performances by Wonderbrass, Tarion, Rebelinx and The Electric Swing Circus.
---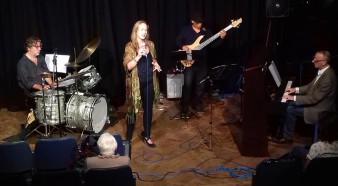 Ian Mann on a day of superb jazz with concert performances from bands led by Daniel Newberry, Alison Rayner, Ben Holder, Rachel Sutton and Tony Kofi plus interval music from Dave Jones and friends.
---
JAZZ MANN RECOMMENDS
---