NEWS
The Vortex Jazz Club, Dalston, London - programme for the week ahead.
Friday, March 24, 2017
Latest Gig News from the Vortex Jazz Club.

The Vortex Jazz Club, Dalston, brings you London's most exhilarating programme of jazz and improvised music.

Gig News
24 - 30 MARCH 2017.

Dear Friends and Supporters,
Glad to see some of you made it over to the HUMAN gig last week to experience some exciting piano from ALEX HAWKINS and superb playing from the rest of the band.
PAUL BILSON BAND has recently been added to the programme for FRI/31/MARCH. Expect a high-energy mix of afro-jazz, high-life and soulful grooves - just the thing for a Friday night out.
The INSTANT COMPOSERS' POOL otherwise known as ICP will be at the Vortex for two—nights 28/MAR and 29/MAR Ahead of their residency ICP member TOBIAS DELIUS and OLIE BRICE perform Downstairs as a warm up to the two-days. ICP lost one of their co-founding members, MISHA MENGLEBERG, who passed away recently. Oliver Weindling pays tribute to an amazing musician here;
http://www.vortexjazz.co.uk/2017/03/08/vaarwell-misha/
Post-bop entertainment from the CLARK TRACEY QUINTET coming up at the weekend SAT/23/MARCH
Need I remind you it's twenty-three days to go before the opening of INTAKT FESTIVAL 2017 - a glorious 12 days of improvised music and what a line up we've got. Check the website for information about who's playing on what night. The SOUTH AFRICAN JAZZ JAM led by ADAM GLASSER returns to the Vortex Downstairs 31/MAR playing the music of Dudu Pukwana, the Blue Notes, Hugh Masakela and other greats.
That's it for this week, hope your weekend goes well. Perhaps we'll see you at the V.
Be careful out there,
The Vortex Team.
FRI 24 MARCH
20:00 / £12.50
FEMI AND THE INRHYTHMS
Femi and The InRhythms, a 7-piece band from Lagos and London, mixes the cerebral musicality of afrobeat with the visceral grooves of funk and underpinned with Yoruba-English vocal styles

SAT 25 MARCH
20:00 / £15
CLARK TRACEY QUINTET
Playing originals and standards with the greatest energy and communication for the post-bop world.

SUN 26 MARCH
20:00 / £10
ANITA WARDELL WORKSHOP BAND
Anita Wardell ends her workshop weekend with a show where the participants show what they have learnt, followed by Anita's magisterial performance with her band.

SUN 26 MARCH
11:00 / £10
MORTEN SCHANTZ'S GODSPEED FT. JAMES MAINWARING, STEFAN PASBORG
LATE NIGHT: THERE WILL BE ONE SET
"Morten Schantz is a European jazz name we're going to get used to hearing." THE GUARDIAN (UK)


MON 27 MARCH
18:30 / £6
TOBIAS DELIUS/OLIE BRICE (DOWNSTAIRS)
The collaboration of Toby Delius, one of the stalwarts of the ICP Orchestra, but also a leading saxophonist of incredible breadth, with bassist Olie Brice, has developed to a high level since they first toured together in 2013. A duo concert tonight both shows the continuation of their musical friendship and acts as a curtain raiser for our two days with the ICP Orchestra.

MON 27 MARCH
20:00 / £10
SAM FRED
SAM FRED (alto/tenor saxophone)
RICHARD AMPADU (keyboards/piano)
TOLU OGUNBAMERU (bass)
GOODNESS JONES (drums)
A distinct and evocative Afro-soul jazz saxophonist SAM FRED made his name as a session man in Nigeria for the likes of Lagbaja and Mike Aremu. He has also featured in concerts by the likes of Hugh Masekela, Judith Sephuma, Najee, Asa and Yolanda Brown.

TUE 28 MARCH
20:00 / £25
ICP ORCHESTRA – 1ST NIGHT OF 2
The exact programme is always a surprise, as the band decides just a few minutes before the performance what they will be playing. From ragtime to swing, bop to free jazz, classical to carnival, the ICP Orchestra continues to be at the forefront of experimental music. Nothing else sounds quite like them and no two gigs are ever alike.

WED 29 MARCH
20:00 / £25
ICP ORCHESTRA – 2ND NIGHT OF 2
Celebrating both 50 years of the group, and Han Bennink's 75th birthday.

THE VORTEX DOWNSTAIRS
EVERY SATURDAY JAZZ2ROCKSTEADY 23.30 / VORTEX DOWNSTAIRS / £FREE ENTRY
EVERY SUNDAY VORTEX SUNDAY SESSIONS 21.30 / VORTEX DOWNSTAIRS £FREE ENTRY
SEE WEBSITE FOR UPDATES

Give a Vortex jazz club
T-shirt as a present…

VORTEX MEMBERSHIP
Why Vortex Membership is good. We are small but one of the UK's leading venues for Jazz music with a worldwide reputation punching above our weight. We also pride ourselves on our ability to spot and nurture emerging talent however, we could not do any of these things without the support of our music-mad community of volunteers, musicians, members and friends. Here's is what we can give you in return.
50% discount on tickets from Sunday to Thursday (with some exceptions).
£2 off gigs on Friday and Saturday
May book in advance and pay at the door
May request seat selection
No booking fees
Invitations to members events
Monthly programme posted out
Free download of specially selected live recordings at the club (once cleared by the musicians concerned).
10% off any Vortex merchandiseMembership Benefits
TO TAKE OUT MEMBERSHIP CALL 0207 254 4097


VOLUNTEERING
Time is as valuable to us as money. Our dedicated team of volunteers are at the heart of the club and its activities. If we didn't have volunteers there'd be no-one to unlock the door for musicians, do the sound or serve at the bar. If you would like to volunteer get in touch.
http://www.vortexjazz.co.uk/about-us/get-involved/

Vortex · 11 Gillett Square · London, N16 8AZ.

---
blog comments powered by

Disqus
JAZZ MANN FEATURES
It's good to see a "cutting edge" festival returning to Birmingham again, especially one that is so supportive of young, up and coming musicians.
---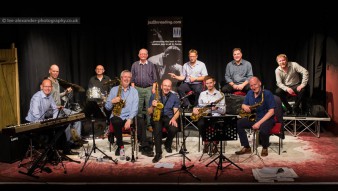 Guest contributor Trevor Bannister on a "a fascinating day spent at a church near Shepperton, where producer Andy Cleyndert was recording Scott Willcox's ten-piece big band for his Trio label".
---
JAZZ MANN RECOMMENDS
---