NEWS
Tom Syson Sextet - debut album and UK tour, June, July and August 2017.
Thursday, May 18, 2017
We have received the following press release;

"Tom Syson is one of the most interesting voices in the emerging generation of improvisers. His broad sphere of musical influence and exceptional instrumental facility means that he is without doubt one to watch" Percy Pursglove

Tom Syson Sextet
Green
(self-released - TSYSCD01)
Release 2 June 2017
Launch 9 June 2017 at The Quarry Theatre, Bedford

From the opening note on his debut album, Green, Tom Syson signals his intent. Here to claim your ears, with a tight sextet of contemporaries, and esteemed guest Lauren Kinsella.
Green is a declaration of place in the UK jazz scene, both musically and geographically, somewhere greener outside the London hub. Tom is heartened and inspired by the expanse of his home territory in Bedford, Green is what is around him. He has written all the material on his debut, including the lyrics that Lauren Kinsella so stunningly interprets on one track - a powerful and passionate statement of kick-off from a young composer and trumpeter leading his own sextet, under the auspicious oversight of producer Percy Pursglove.

The majority of this ensemble met whilst studying at the Birmingham Conservatoire, and was built around the long relationship between Tom and saxophonist Vittorio Mura, who have been playing together since their early teens. The Sextet's first outing in early 2016 on a 5-date UK tour convinced Tom there was room to grow and in August they spent 3 days at Real World Studios.

Along with leading his Sextet and his activities as a promoter in Bedford under Conscia Jazz, Tom Syson is lead trumpet in The Birmingham Jazz Orchestra and holds a chair in the National Youth Jazz Orchestra. Here he has developed his clear confident tone and conviction in the shape of his compositions, which allow each member of his Sextet to stretch. He cites the emotional and aural impact of hearing Ambrose Akinmusire in his late teens at Ronnie Scott's, in helping define his own path.

Tom Syson Sextet go on the road June through August, launching the album in Tom's home town of Bedford, and including dates in both Glasgow and Manchester Jazz Festivals.

Tour dates

Thursday 1 June
7.30pm
Kingston Upon Thames - Ram Jam Club, 46 Richmond Road KT2 5EE
Tickets: £10 (£8, £5) http://www.grey-horse.co.uk

Friday 9 June
7.30pm
Bedford - Quarry Theatre, 26 St Peter's Street MK40 2NN * Album Launch *
Tickets: £10 (£8) http://www.quarrytheatre.org.uk/shows/tom-syson-sextet-album-launch/

Friday 23 June
7.00pm
Glasgow Jazz Festival - Dukes Bar, 41 Old Dumbarton Road, Glasgow, G3, 8RB
Tickets: £10 (£7) http://www.dukes-bar.co.uk

Monday 26 June
7.30pm
Manchester - Wonder Inn, 29 Shudehill, United Kingdom M4 2AF
Tickets: Free https://www.facebook.com/jazzatthewonderinn/

Friday 30 June
5.00pm
Birmingham - Symphony Hall Foyer, The International Convention Centre, Broad St, B1 2EA Tickets: Free https://www.thsh.co.uk

Sunday 2 July
7.00pm
London - Green Note, 106 Parkway, Camden NW1 7AN
Tickets: £8(£5) https://www.facebook.com/groups/greennotejazz/

Sunday 23 July
8.00pm
Southampton Modern Jazz Club - The Talking Heads 16-22 The Polygon SO15 2BN
Tickets: Free http://www.southamptonmodernjazzclub.com

Tuesday 25 July
9.00pm
Birmingham - Spotted Dog, 104 Warwick Street, Digbeth B12 0NH
Tickets: Donation http://jazzatthespotteddog.co.uk

Weds 26 July
8.00pm
Leeds - LS6 café bar, 16 Headingly Lane LS6 2AS
Tickets: Free http://www.ls6cafe.com/upstairs.php

Sunday 6 August
1.00pm
Manchester Jazz Festival - Salon Perdu Spiegeltent, Albert Square M60 2LA
Tickets £8.50 Adv/£10 door http://www.manchesterjazz.com/artist/tom-syson-sextet/

Biographies

Tom Syson – trumpet and compositions
Tom is dedicated to building up from his home territory of Bedfordshire, having returned there after graduating from Birmingham Conservatoire in 2015. He currently plays lead trumpet in Birmingham Jazz Orchestra and holds a chair in the National Youth Jazz Orchestra, as well as having played with other ensembles including the Syd Lawrence Orchestra. He has completed two UK tours, one with his duo with award-winning Berlin-based British pianist Mark Pringle in Feb 2017, and one with his sextet in 2016. He has played with many great musicians including Arnie Somogyi, Hans Koller, Alex Garnett and Jacqui Dankworth. In September 2017, along with producing Conscia Jazz festival in Bedford http://www.conscia.org which this year headlines Snow Poet, Joe Stilgoe and Birmingham Jazz Orchestra featuring Trish Clowes , his duo with Mark Pringle will record at the Berlin Conservatory.

Jonathan Silk drums - Jonathan is a Scottish drummer, composer and band leader now based in Birmingham. Since graduating from the city's Conservatoire in 2011 he has performed at many of the top festivals including Cheltenham, Glasgow and London Jazz Festivals. As a sideman in many projects, he also performs regularly with Trope, Young Pilgrims and, more recently, with Soweto Kinch in his trio touring the UK and Europe. Jonathan has also released two big band albums, most recently 'Fragment' on Stoney Lane Records in 2016.

David Ferris piano and keyboard
Originally from Cornwall, David is now a resident in Birmingham, where he graduated from the Jazz Degree at Birmingham Conservatoire in 2015. David is involved in both performance, education and mentoring work for Birmingham Town Hall and Symphony Hall's Jazzlines department, along with working as a sideman with Simon Spillett, Gareth Lockrane, Julian Siegel and Osian Roberts. He is also gaining recognition for his work with funk band Three Step Manoeuvre, whose debut album Three Step Strut was released in November 2016.

Ben Lee electric guitar - Devon-born Ben is a 2015 graduate of the Birmingham Conservatoire. Tagged in 2015 End of Year Lists in London Jazz News, "Musicians under 35 who have made an impression in 2015" by Tony Dudley-Evans, and in a wish list for a wider audience for his 'States' project, nominated by Peter Bacon, he leads a number of groups including his Quintet. His debut album 'In the Tree' was released on Stoney Lane records and he has worked as a sideman with Arnie Somogyi, Percy Pursglove, Andrew Bain and Simon Spillett. He holds the guitar chair in the Birmingham Jazz Orchestra and helps run a number of regular events in Birmingham.

Pete Hutchison double bass - Originally from Hertford, Pete began playing the double bass aged six. Encouraged to pursue jazz by bassist Neil Charles he studied at the Guildhall School of Music & Drama under Steve Watt, Colin Paris and Geoff Gascoyne. Pete has performed with artists and groups such as Nicola Emmanuelle, Hofesh Shechter Company, Abandoman and NYJO. Pete also works on stage and small screen, including BBC1 'The Outcast', the touring musical 'Mack And Mabel' and in 2017 'The Wild Party' at The Other Palace Theatre.

Vittorio Mura tenor sax
A graduate of Birmingham Conservatoire's Jazz course, Vittorio has studied with Mike Williams, Jean Toussaint and Percy Pursglove, Maria Schneider, Mark Turner and Ben Wendel. Highlights in recent years include organising a series of workshops at the Conservatorio di Musica Vincenzo Bellini, Palermo with Andrew Bain and Percy Pursglove, playing at Cheltenham and Trondheim Jazz festivals with musicians from Norway's Trondheim Conservatory and performing with Dave Holland, Nate Smith and Stan Sulzmann, in Birmingham Conservatoire Jazz Orchestra. Vittorio plays regularly with the Birmingham Jazz Orchestra, appearing on their latest album.
---
blog comments powered by

Disqus
JAZZ MANN FEATURES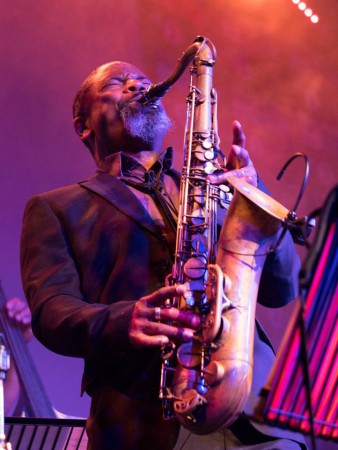 Ian Mann on the final day of the Festival and performances by Hot 8 Brass Band, Sarah Munro, Mode9, Paul Carrack and Denys Baptiste.
---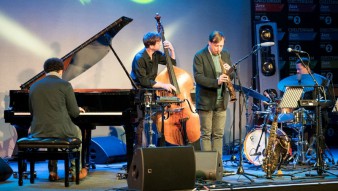 Ian Mann on performances by Monocled Man, Schnellertollermeier, Meshell Ndegeocello, Chick Corea, Chris Potter and Yazz Ahmed.
---
JAZZ MANN RECOMMENDS
---