NEWS
Trinity Buoy Wharf Live! events series launches in East London this May.
Wednesday, May 15, 2019
We have received the following press release;

Trinity Buoy Wharf Live! events series launches in East London this May

Highlights:

Jazz Wednesdays: jazz on the river nights featuring six events throughout the summer, kicking off with Grand Union Orchestra All Stars on Wednesday 22nd of May 2019
Drinks on the Thames: riverside bar overlooking the only Lighthouse in London
New river garden: set up by the Thames, the garden is designed to complement Trinity Buoy Wharf Live! events from June
Jazz on the Summer's Day Festival: taking place at the iconic, Grade 2 listed Chainstore venue on Sunday 23rd of June 2019

The creators of Trinity Buoy Wharf, popular arts neighbourhood in East London, are launching their new events series this May, Trinity Buoy Wharf Live!, featuring Jazz Wednesdays: six jazz nights on the River Thames. Funded by Urban Space Management and Trinity Buoy Wharf Trust, Trinity Buoy Wharf Live! will expand to film screenings and dance performances later in the year, set to become a permanent, ever-evolving, events programme.

Jazz Wednesdays
To start the summer season, Trinity Buoy Wharf Live! kicks off with East London's genre-defying Grand Union Orchestra All Stars on Wednesday 22nd of May 2019 from 6pm to 10pm.
The hallmarks of great jazz are the same today as a century ago, when it emerged from America's Deep South in New Orleans. Uniting musicians of all races, styles and instruments, jazz remains the freshest, most spontaneous and original of musical forms, enjoyed by millions around the world. Likewise, Grand Union Orchestra, from its base in the heart of East London, thrills audiences with the virtuoso talents of professional first-generation migrant musicians, creating a truly pioneering world jazz sound.
For Trinity Buoy Wharf Live! launch event, Grand Union Orchestra is assembling an all-star band from its core roster of improvising musicians under the direction of composer Tony Haynes (piano, trombone) including: Shanti Jayasinha (trumpet, flugelhorn), Louise Elliott (flute, tenor saxophone), Zhu Xiao Meng (gu zheng – Chinese harp),Jyotsna Srikanth (South Indian Carnatic violin), Yousuf Ali Khan (tabla, dholak),Carlos Fuentes (Latin percussion), Gerry Hunt (guitar, violin, soprano sax), Andres Lafone (bass guitar), Paul Clarvis (drums).
"These guys know that what brings people together is something shared.. the Grand Union Orchestra's music makes you feel alive, makes you think and makes you long for a better world" On the Edge World Jazz Festival review
Tickets are on sale now at http://www.trinitybuoywharf.com @ £12.50 per ticket.

GRAND UNION ORCHESTRA
For over 30 years, the Grand Union Orchestra has brought together musicians and singers from all over the world to create spectacular live shows, combining music and theatre, dealing with contemporary issues and reflecting vividly the society we live in today.
Tony Haynes's music for the Orchestra defies definition - neither opera nor musical, nor straight concerts, but a unique kind of lyric theatre, it also features great jazz improvisers alongside some of the finest world musicians and singers of this generation.
With an influential education practice. passing on skills to the next generation. the Grand Union Orchestra is the acknowledged pioneer and leading exponent of cross-cultural music-making in theUK, and continues to blaze a trail unrivalled by any other organisation.
http://www.grandunion.org.uk

Full Jazz Wednesdays line-up:
Jazz Wednesdays will include six performances in total, with tickets going on sale mid- May. The series will feature:
22nd May 2019 Grand Union Orchestra: launch event with all-star world jazz band with a strong Chinese and South Asian flavour
5th of June 2019 Dorance Lorza & Sexteto Café: one of the leading bands in the vibrant and exciting London salsa scene since they formed in 1996
3rd of July 2019 Mishka Adams and Beto Caletti: singer Mishka and singer/guitarist Beto influenced by South America's Afro-Latin rhythmic traditions
7th of August 2019 Grand Union Orchestra All Stars: another opportunity to enjoy a stellar array of musicians from East London's Grand Union Orchestra mixing global music influences
21st of August 2019 O'Higgins and Luft play Monk and Trane: UK jazz giant Dave O'Higgins and award-winning guitarist Rob Luft team up to perform the music of Thelonious Monk and John Coltrane with their quartet
11th of September 2019 Blues and Roots Ensemble: this diverse septet of top international musicians from South Africa to Sicily, India to Cuba, specialises in playing music by the great bandleader/composer, Charles Mingus

Jazz on the Summer's Day Festival
On Sunday 23rd of June 2019, Trinity Buoy Wharf Live! will host its first "Jazz on a Summer's Day" festival with music, street food, bars and workshops. The line-up and ticket info will launch mid-May.

Drinks on the Thames
Each event will feature two bars, including riverside bar overlooking the only Lighthouse in London. Guests will be able to enjoy a glass of wine against the stunning backdrop of Canary Wharf, the O2 and the river. The second, indoor bar at the venue will be open throughout each event.

Riverside Garden
To make the most of the riverside setting of Trinity Buoy Wharf, a new summer garden will be installed on the river terrace from the beginning of June. The garden will feature plenty of seating, deckchairs and green space to provide a pre-gig place to meet, relax, and enjoy a drink or two.

TRINITY BUOY WHARF is a creative neighbourhood in Docklands, developed and managed by Urban Space Management Ltd. Home to London's only Lighthouse, a vibrant creative community, a sculpture park, 2 event venues and 5 Container City™ Buildings.
Since Urban Space Management took over this vacant site in 1998, Trinity Buoy Wharf has seen a stream of artists, photographers, designer- makers, web designers and small businesses settle in its low cost workspaces and studios. Home to a thriving creative community of over 500 people, Trinity Buoy Wharf is a base for Royal Drawing School, MBNA Thames Clippers, English National Opera, Faraday School, Parkour Generations and The Big Draw to name a few.
Trinity Buoy Wharf is committed to the growth of the arts and creative industries and has been hosting a number of art exhibitions and experiences since its beginnings in 1998. For more information about the site, please visit http://www.trinitybuoywharf.com

URBAN SPACE MANAGEMENT
Since 1972 Urban Space Management has specialised in breathing new life into derelict or difficult sites: Camden Lock, a derelict canalside wood yard, was turned by Urban Space Management into one of London's top ten visitor attractions; Gabriel's Wharf in London's South Bank was turned from empty patch of concrete to thriving shopping village; at Wimbledon's Merton Abbey Mills, an abandoned silk printing works, new life as a craft market brought half a million visitors a year; the magnificent old market buildings of Spitalfields and now Smithfield are similar successes.
USM's imaginative, incremental approach to regeneration was the perfect solution for Trinity Buoy Wharf. Appointed by the London Docklands Development Corporation in 1998, USM set about creating a stimulating yet affordable environment for creative people to work, drawing inspiration from its unique Thames-side setting. At the outset, USM promised to restore the historic buildings and add a rich mix of workshops, studios, live-work units, exhibition galleries, events and performance spaces, cinema, museum, cafés and educational facilities, and to open the site to water-transport by installing a pier. All these objectives and many more have been achieved in shorten time frame than expected..
More info on http://www.urbanspace.com

TRINITY BUOY WHARF TRUST
In 1998 London Docklands Development Corporation (LDDC) set up the Trinity Buoy Wharf Trust with a 125-year lease to hold the land and their vision in trust for the people of London, while the freehold was passed to the LB Tower Hamlets. The TBW Trust holds a 125-year lease from LB Tower Hamlets and Urban Space Management in turn has a 124 lease from the Trust. The terms provide for 25% of the Wharf's income to be paid to the Trust to use for promoting arts activity in the area. To date the Trust has supported and funded a wide range of arts projects and organisations.
http://www.trinitybuoywharf.com

Trinity Buoy Wharf
64 Orchard Place
London, E14 0JW
T: 020 7515 7153
---
blog comments powered by

Disqus
JAZZ MANN FEATURES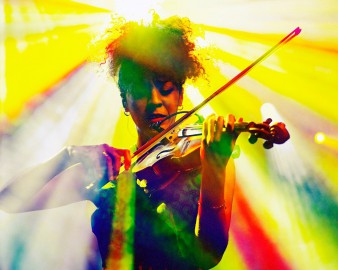 Ian Mann on performances by Vula Viel, Yazz Ahmed, David Sanborn, Hanna Paulsberg, Madeleine Peyroux and two exceptional 'Trios With A Twist', one from Cuba, the other from France.
---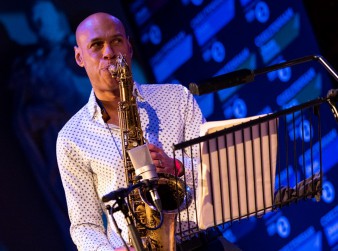 Ian Mann on performances by Paris / Birmingham Jazz Exchange, Alfa Mist, John Surman's Brass Project, Dan Weiss & Starebaby, Abdullah Ibrahim & Ekaya, Vels Trio, Joshua Redman and Michael Formanek.
---
JAZZ MANN RECOMMENDS
---