NEWS
Updated jazz listings for the Flute & Tankard, Cardiff - September and October 2018.
Monday, September 10, 2018
Brenda O'Brien writes;

Wednesday 12th September - Joe Northwood Presents - The John Coltrane Project - Joe (saxes) Tony Boalch (piano)
Aeddan Williams (double bass) and Paolo Adamo (drums). Joe Northwood pays
tribute to the greatest influence on his own concepts as a musician and playing as a
saxophonist. Look forward to hearing many famous Coltrane standards and a few
lesser-known gems.

Tuesday 18th September - Ayo Vincent Trio - Ayo (piano) Aeddan Williams (double bass) Matt Griffiths (drums)
Trio inspired by classic piano trios of Oscar Peterson and Red Garland, play
arrangements of these original recordings and new compositions from its
members.


Wednesday 19th September - ALAIAS - Dan Messore (Guitars/composition) Dan Moore (Hammond Organ and Synths)
Matt Brown (Drums and Percussion) Bring Original Music inspired by surf movie
soundtracks. and the love of improvisation.

Tuesday 25th September - Royal Welsh College of Music and Drama Showcase -
Set 1 Olive Grinter Trio - Olive (vocals) Josh Lascar (Guitar)
Coren Sithers (Tenor Sax) Exploring diversity and intimacy of sound
Set 2 Thom Voyce Quartet - Thom Voyce (trumpet) Michael Blanchfield (Piano)
Alex Goodyear (Drums) - Monk and Mingus - Bring their interpretation
of Charles Mingus and Thelonious Monk


Wednesday 26th September - Brigitte Behara and Barry Green (Babelfish) Duo - .Brigitte (voice) Barry (piano) come to
The Flute and Tankard in the middle of their Babelfish Tour to bring us Joy.
Playing Babelfish material and a few specials for us.

October

Tuesday 2nd October Sam Leak - Adrift - Sam (piano) Simon Read (dble Bass) Will Glaser (Drums). The Band
performs a mixture of Leak's compositions and some lesser played compositions
from their favourite musicans.

Wednesday 3rd October - Alex Woods Quartet - Alex Woods (sax) Billy Test (Piano) Marty Kenney (Bass) and special guest Drummer

Tuesday 9th October - Sam Rapley - Fables and Story Telling - Sam (Sax/Clarinet) Matt Robinson (Piano) Conor Chaplin (bass)
and Will Glaser (drums).Bring this amazing music to the Flute and Tankard.

Wednesday 10th October - Royal Welsh College of Music and Drama Showcase

Tuesday 16th October - Greg Sterland Qartet

Wednesday 17th October - Joe Northwood - Banshee - The trio invite you to bring your instruments and join in. It is a totally open floor. Tending
towards improvisation, but will help all players. A chance to play with a great Trio who are always there
to help.

Tuesday 23rd October - RWCMD Showcase

Wednesday 24th October - Churchfield Trio - This Brilliant Trio - Kumar Chopra (guitar) Michael Blanchfield (organ) and Alex Burch (drums)
Bring you some arranged standards and their wonderful original music.

Tuesday 30th October - Trish Clowes - MY IRIS - This intense and thrilling band represents the front rank of the contemporary UK jazz
scene. Lauded for her imaginative approach to improvisation and composition, Clowes provides
her bandmates Ross Stanley (piano/Hammond organ), Chris Montague (guitar) and
James Maddren (drums) with a unique platform for individual expression, delivering driving grooves
and lingering melodic lines, seamlessly morphing between earthy rstlessness and futuristic
dreamscapes. We are so excited that they are bringing their music to Cardiff for YOU.


Wednesday 31st October - TBa

---
blog comments powered by

Disqus
JAZZ MANN FEATURES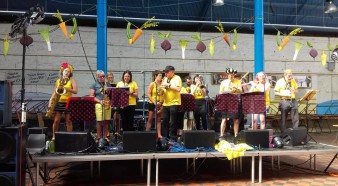 Ian Mann enjoys the Jazz Alley and Charity Swing Party events at the Market Hall with performances by Wonderbrass, Tarion, Rebelinx and The Electric Swing Circus.
---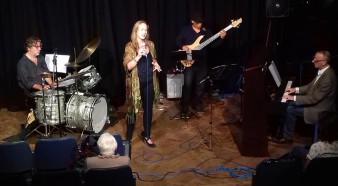 Ian Mann on a day of superb jazz with concert performances from bands led by Daniel Newberry, Alison Rayner, Ben Holder, Rachel Sutton and Tony Kofi plus interval music from Dave Jones and friends.
---
JAZZ MANN RECOMMENDS
---