NEWS
Vijay Iyer Sextet - new album and tour dates.
Tuesday, August 08, 2017
We have received the following press release;

VIJAY IYER'S LATEST ECM RECORD,
FAR FROM OVER,
OUT AUGUST 25TH

Featuring Iyer's Sextet With Mark Shim,
Steve Lehman (saxophones), Graham Haynes (Cornet, Flugelhorn, Electronics), Stefan Crump (Bass), Tyshawn Sorey (drums), with Iyer on piano

"Rambunctious, furiously funky…. [Iyer's sextet offers] the sort of head-bobbing drive and invention that has landed Iyer on multiple best-of lists over the years"
— Los Angeles Times, June 2017

Keyboardist-composer Vijay Iyer's energized sequence of ECM releases has garnered copious international praise. Yet his fifth for the label since 2014 – Far From Over, featuring his dynamically commanding sextet – finds Iyer reaching a new peak, furthering an artistry that led him to be voted DownBeat Artist of the Year in 2012, 2015 and 2016 and for The Guardian to dub his work the "dizzying pinnacle of contemporary jazz multitasking." Far From Over features this sextet of virtuoso improvisers – with horn players Graham Haynes, Steve Lehman and Mark Shim alongside rhythm partners Stephan Crump and Tyshawn Sorey – leveraging a wealth of jazz history even as the group pushes boldly forward. The music ranges from the thrillingly explosive ("Down to the Wire," "Good on the Ground") to the cathartically elegiac ("For Amiri Baraka," "Threnody"), with melodic hooks, entrancing atmosphere, rhythmic muscle and an elemental spirit all part of the allure. "This group has a lot of fire in it, but also a lot of earth, because the tones are so deep, the timbres and textures," Iyer says. "There's also air and water – the music moves."

Iyer's previous ECM releases include A Cosmic Rhythm With Each Stroke, a duet album with iconic trumpeter Wadada Leo Smith from last year; Break Stuff from 2015, featuring his longstanding trio with bassist Stephan Crump and drummer Marcus Gilmore; the ravishing 35-minute score to the 2013 film Radhe Radhe – Rites of Holi, presenting Iyer alongside the International Contemporary Ensemble; and Mutations, Iyer's ECM debut as a leader, showcasing an extended suite for piano, string quartet and electronics. Far From Over found Iyer working in his sextet at New York City's Avatar Studios, with Manfred Eicher producing the album. Throughout, the pianist plays off the melodic-rhythmic possibilities of the material in a characteristically engaging way – witness his solos in the grooving "In Action" and "Nope." His orchestration of the horns is both textural and exciting, but in creating his sextet music, Iyer tends to "build from the rhythm first, from the identity of the groove," he explains. "Many of the rhythms come from folk music – from West African drumming or Indian classical music. 'Good on the Ground' draws on South Indian folk rhythms, with this simple but rugged dance quality, a bounce that makes you feel like you might be at an outdoor festival of some kind."

The member of the sextet with whom Iyer has had the longest relationship is bassist Stephan Crump. "I've played with Stephan since I moved to New York in 1999, contacting him out of the blue when he didn't know me from Adam. Stephan is in my trio but was also in my quartet, so we've made a lot of records together. It's often said that my music is complicated, but Stephan has a way of giving it this lyricism and simplicity, backing off technical details to treat the music as a shape and as a feeling."

Drummer Tyshawn Sorey has long been an alternate member of Iyer's trio, often subbing whenever Gilmore can't make the gig. Iyer and Sorey have also worked together in various other configurations since 2001, including the sessions for Radhe Radhe. "Tyshawn has perfect pitch and total recall, this sort of omniscient listening skill," Iyer says. "There are other drummers like that: Jeff 'Tain' Watts and Jack DeJohnette come to mind. Tony Williams was like that, too – just hyper-aware of everything that's happening in the ensemble. Tyshawn is right in that legacy. He has this total view of music, with an understanding of how form and memory are related and how they work through time. He's a wizard with that. And as a drummer, he has some of the most incredible technical virtuosity, but his groove, his pocket is so deep."

The track "Nope" has a deep funk to it, illustrating Iyer's point about Sorey's grooving abilities. Then there is the rhythm trio's cohesive, high-energy base that the horns fly over ecstatically in "Far From Over," "Good on the Ground" and "Down to the Wire" (the latter of which also includes a long, roiling solo by Sorey). The elegy "For Amiri Baraka" is given a dramatic trio performance, sans horns. Through touring as a trio, Iyer, Crump and Sorey have developed their own discrete character as a rhythm section, having spent much time "in the heat of things, finding ways to make music work," the pianist says. "That's given us a certain unity together. There aren't many words for it, and there's no shortcut to getting there. We've learned over the years how to hold something down and also how to grow something – how to create the arc of an experience for the audience and ourselves."

The three horn players on Far From Over – Graham Haynes (cornet, flugelhorn and electronics), Steve Lehman (alto saxophone) and Mark Shim (tenor sax) – "are some of my favorite musicians," Iyer says. "Each of them has a unique identity, sound and vision." About Shim, whose solo roars through album opener "Poles," Iyer says: "I think Mark is the rare tenor player of his generation to have that depth and size of sound. With him, I hear all these references: Joe Henderson, Billy Harper, Coleman Hawkins. It's like taking a sip of a certain wine, and it can have an association with all these flavors. Each of these guys has a sound that has so many nuances and textures that make me think of a lot of other music. Partly, it's because each of them has had such a long, interesting career. Mark played with Betty Carter and Elvin Jones. He has a lot of wisdom from contact with some of the legends in this music."

Haynes – whose horn pairs sensuously with Iyer's Fender Rhodes in "Poles" (shades of late-'60 Miles Davis) and has extended atmospheric features with electronics in "End of the Tunnel" and "Wake" – enjoyed more than just working contact with jazz icons. "Graham's father is drummer Roy Haynes, a true legend, so Graham comes directly from that musical legacy," Iyer explains. "He has a certain relationship to time that's mysterious. I remember when I had him up as faculty at Banff in Canada a few summers ago, he gave a workshop titled 'Time Does Not Exist.' There's a quality to his playing where you hear that sensibility, in that he has this sense of form that's really expansive. You hear in his improvisations that he takes the long view, and he achieves a lot with sound, where one note can speak volumes."

Iyer has worked with Lehman – who gives an especially stirring, climactic performance in "Threnody" – nearly as long as his rhythm mates. "I met Steve when he was playing in Anthony Braxton's group," the pianist recalls. "Steve turned my head with his sound and his improvisational language. Again, it conjured up a lot of associations: Braxton himself, but also Jackie McLean, with whom he studied. I also heard a compositional wisdom in the way Steve improvised. There's a burning alto-player sound that people are used to hearing, whether it's Cannonball Adderley or Kenny Garrett. Steve can have that quality with his technical fluidity and an acerbic sound that can cut. But the way he puts solos and lines together, there's a lot of other information in there, too. We've worked pretty steadily together for more than a dozen years, including in the trio Fieldwork that we've had with Tyshawn. So, with all of these guys, I have deep history and great admiration."

In his liner note for Far From Over, Iyer hints at the driving, free-minded spirit of the album by quoting Wadada Leo Smith on the ideal function of music, saying that it should "transform" a listener's life if only for an instant, "so that when they go back to the routine part of living, they carry with them a little bit of something else."

Iyer expands on that notion while reflecting on the troubled socio-political climate around the world: "There's a resistance in this music, an insistence on dignity and compassion, a refusal to be silenced. The music can hit hard while also having a searching quality, a yearning – which is basically a blues aesthetic that has been abstracted and then embodied in different ways by the different players in the group. There's a defiance there, though it's balanced by a unity the sextet achieves. Defiance and unity, somehow together – that's the sound this band captures to me. Joy and danger – that spectrum of possibilities is in there, too. There's real exuberance in the playing, though a lot of the music is fiendishly difficult to play. Sometimes we don't know how we're going to make it, which puts us in this vulnerable space. But that vulnerability enables us to access emotion and bring that into the music. It's not about showing off a certain prowess or being 'angry.' It's about being vulnerable – that has to be in the music. When I hear that in somebody else, I feel like it's inviting me in. When you reveal something of yourself in the course of making music, it brings the listener right up close to you. It can make them feel involved in the music, so that it's a shared experience. And that's the idea."

VIJAY IYER TOUR DATES -
September 4 - Detroit, MI - Detroit Jazz Festival
September 17 - Monterey, CA - Monterey Jazz Festival
October 13 - London - Wigmore Hall
October 14 - Stockholm, Sweden - Stockholm Jazz Festival
October 15 - Mannheim, Germany - Enjoy Jazz Festival
October 20 - Brooklyn, NY - BRIC Festival
January 9 – 13 - New York, NY - Birdland
January 19 - San Francisco, CA - SFJAZZ, Miner Auditorium (*Vijay Iyer Trio)
January 20 - San Francisco, CA - SFJAZZ, Miner Auditorium
April 27 - Los Angeles, CA - Disney Hall
May 11 - Appleton, WI - Lawrence Memorial Chapel
*dates all sextet unless indicated
---
blog comments powered by

Disqus
JAZZ MANN FEATURES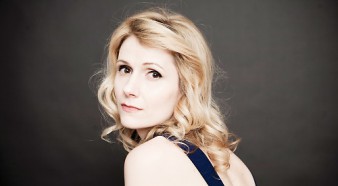 "Jazz club take on Bowie transmits all his wistfulness." Guest contributor Marc Edwards enjoys a party night featuring the contrasting styles of vocalists Rebecca Poole and Fleur Stevenson.
---
Ian Mann witnesses the future of British jazz at the NYJO Jazz Jam and the JazzNewBlood showcase and loses himself in a spectacular Norwegian double bill featuring Sinikka Langeland and Jaga Jazzist.
---
JAZZ MANN RECOMMENDS
---