NEWS
Vitor Pereira - New album, UK tour in November and December and crowdfunding campaign.
Sunday, October 07, 2018
Vitor Pereira writes;

I'm going to have a UK tour in November to release my band's new album. I've decided to put together a crowdfunding campaign to help me out with some costs. The tour will happen either way but this would just help me not get in debt.
Kickstarter link: https://www.kickstarter.com/projects/1285411038/uk-tour-to-promote-the-release-of-my-upcoming-albu

We have also received the following press release;

Vitor Pereira Quintet
- Somewhere in the Middle - Album release tour


8th November in Cardiff at Cafe Jazz http://www.cafejazzcardiff.com
9th November in Bristol at The BeBop Club http://www.thebebopclub.co.uk
10th November in Shrewsbury at The Hive http://www.shrewsburyjazznetwork.co.uk
12th November in Manchester at The Whiskey Jar https://nqjazz.com
16th November in Birmingham at Jazzlines https://www.thsh.co.uk
17th November in Brighton at The Verdict https://verdictjazz.co.uk
18th November in Southampton at Southampton modern jazz club http://www.southamptonmodernjazzclub.com
5th December in London at The Vortex http://www.vortexjazz.co.uk - Official release date

Chris Williams - alto sax
Alam Nathoo - tenor sax
Mick Coady - bass
Adam Teixeira - drums
Vitor Pereira - guitar

Innovative, vigorous or intriguing are impressions left in the hearts and minds of some of the delighted listeners who have been charmed by this band's staggering performances.
Led by Portuguese guitarist Vitor Pereira this quintet has been mentioned as one of the best live contemporary jazz bands in London stunning audiences with their unique and energetic sound marked by interweaving saxophone lines overlaid with full and bold melodic statements.
From the catchy headbanging guitar riffs to more quiet and mesmerising atmospheres they cover a full spectrum of textures unveiling a vast background of musical influences and leading the listener through a very diverse and 'bumpy' journey.
With two studio albums and countless performances and radio plays around the UK and Europe they will be on the road to promote the release of their latest work "Somewhere in the middle".

Vitor Pereira was born in Porto/Portugal where he studied mainly classical music and classical guitar.
His interest in Jazz took him to participate in seminars and private lessons with the likes of Pat Metheny, Jonathan Kreisberg, Gilad Hekselman or Aaron Goldberg to name a few and ultimately led him to London in 2004 to study at the "Middlesex University".
Living in London since then he is an active name in the UK and Europe playing with names like: James Allsopp, Asaf Sirkis, Josh Arcoleo, Binker Goldings, Marc Demuth, etc…

http://www.vitorpereiramusic.com
Youtube: https://youtu.be/jv-yEaiYm4M
Facebook: http://www.facebook.com/vitorpereiraquintet

---
blog comments powered by

Disqus
JAZZ MANN FEATURES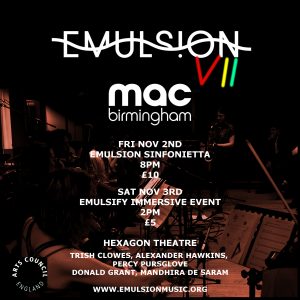 An intriguing evening of music making that once again mixed genres at a whim. Ian Mann on the latest edition of Trish Clowes' Emulsion Festival, w. guest musicians Alexander Hawkins & Percy Pursglove.
---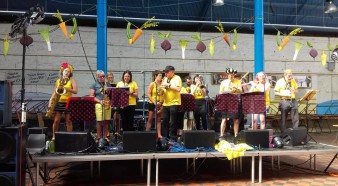 Ian Mann enjoys the Jazz Alley and Charity Swing Party events at the Market Hall with performances by Wonderbrass, Tarion, Rebelinx and The Electric Swing Circus.
---
JAZZ MANN RECOMMENDS
---