LATEST REVIEWS
---
---
---
---
---
---
"Jasmine" -reviewed by Tim Owen
---
"Jasmine"-reviewed by Tom Gray
---
---
---
JAZZ MANN FEATURES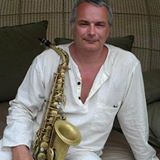 Guest contributor Trevor Bannister interviews alto saxophonist Johnty Wilks and enjoys a live performance of his mellow, meditative music at the South Street Arts Centre, Reading.
---
Three recently rediscovered early reviews by Ian Mann of recordings featuring the versatile London based pianist and composer Dorian Ford.
---
JAZZ MANN NEWS
Friday, April 29, 2016
A stellar line up of British jazz musicians will gather at Perseverance Farm, Henley on Thames in July to raise funds for the Kamuli Mission Hospital in rural Uganda. Press release attached.
Comments (0)
---
Friday, April 29, 2016
New York based trio Thumbscrew will release their new album "Convallaria" on Cuneiform Records on May 20th 2016. They will be touring in the US between May and October. Press release attached.
Comments (0)
---
Thursday, April 28, 2016
The Vortex have forwarded their latest newsletter including details of the programme for the week commencing 28th April 2016.
Comments (0)
---
JAZZ MANN RECOMMENDS
---