REVIEW
Christine Tobin, "Sailing To Byzantium", The Edge Arts Centre, Much Wenlock, Shropshire, 20/10/2012.
Tuesday, October 23, 2012
Reviewed by: Ian Mann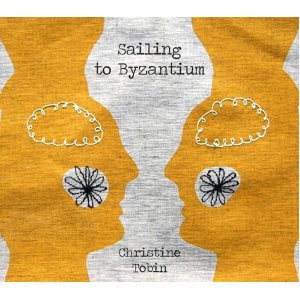 An intriguing and absorbing evening of music and poetry.
Christine Tobin, "Sailing To Byzantium", The Edge Arts Centre, Much Wenlock, Shropshire, 20/10/2012.
Since moving to the UK in the 1980's Irish born vocalist Christine Tobin has become a significant presence on the British music scene. A talented songwriter in her own right Tobin is also a superb interpreter of the songs of others with a particular feel for the music and lyrics of Leonard Cohen.
She first came to prominence as vocalist for the jazz/folk crossover group Lammas, led by saxophonist Tim Garland, before developing a solo career which saw seven critically acclaimed albums being released under her own name on the Babel label between 1995 and 2008. A move to Trail Belle Records first produced "Tapestry Unravelled", her re-interpretation of Carole King's classic 1970 album "Tapestry" in a pared down duo format with pianist Liam Noble. Next came the widely acclaimed "Sailing To Byzantium", Tobin's musical settings of the poet William Butler Yeats (1865-1939).
W.B.Yeats is effectively Ireland's national poet and an annual festival is held in his honour. Tobin was approached to set four of his poems to music for performance at the festival and this eventually evolved into a full length album of thirteen settings with Tobin deploying tonight's band of Phil Robson (guitar), Liam Noble (piano), Kate Shortt (cello) and Dave Whitford (double bass). The recording also features the flutes of Gareth Lockrane and the narration of Irish actor Gabriel Byrne, now a Hollywood star but once Tobin's schoolteacher in Dublin.
The mysterious absence of The Edge's artistic director Alison Vermee entailed that the band were not announced onto the stage as has become customary at this venue. Instead they sauntered on rather uncertainly to a smattering of polite but equally uncertain applause, it wasn't quite the warm welcome that normally greets artists at The Edge. There were other tell tale signs that things were not quite as they should have been including more sound glitches than I've ever known at The Edge with the sound engineer making regular incursions onto the stage. Particularly persistent was a drooping cello mic which Tobin and Shortt laughed off with smirking references to brewer's droop! At half time Phil Robson was wandering around the foyer looking for the loos, obviously nobody on the staff had bothered to tell him where they were. Alison was clearly missed by band and audience alike, let's hope she's back for the performance by The Impossible Gentlemen on 2nd December 2012.
Once the band had settled on-stage Tobin explained that they normally perform the Yeats album as a single entity but that as there was going to be an interval they would also include other material. With this in mind they began with "Closing Time", the only Tobin original on the "Tapestry Unravelled" album and a piece that sits just fine alongside the Carole King material that comprises the rest of the record. Essentially tonight's performance of the song was a duet with the adaptable and versatile Noble.
Gabriel Byrne might not go out on tour with the Tobin band but they do have "Gabriel in a box" and the actor's sampled voice narrated "The Lake Isle Of Innisfree", one of Yeats' most popular and well known poems, accompanied by the sound of lapping waves and almost subliminal piano accompaniment.
This segued into "When You Are Old", the music composed and arranged by Tobin and featuring the rich double bowing of cello and arco bass alongside pithy instrumental solos from Robson and Shortt. As a poet Yeats was mindful of rhythm and meter and his words often seem a natural fit for music yet it's still remarkable just how natural Tobin's settings sound. One could often believe that the words and music were written simultaneously rather than several decades apart.
Yeats' often bucolic poems are frequently imbued with a love of nature and folklore. One such is "The Song Of Wandering Aengus", the Gaelic god of poetic love. This was introduced by a passage of improvised solo cello by Kate Shortt, an unusual but impressive juxtaposition of harsh overtones and atonality and snatches of delicate folk melodies. This was succeeded by Noble's piano motif and Tobin's evocative vocals. Her interpretations are often beautiful but they are never weak or overly prettified.
Similar qualities applied to the "The Wild Swans Of Coole", words written in County Galway in 1919 and movingly sung by Tobin to the sound of bass and cello in arco tandem and with a subsequent solo from Noble at his most lyrical. The pianist's rhythmic, Monkish tendencies were largely reined in in this intimate chamber jazz setting, a tribute to Noble's intelligence and sensitivity.
We also encountered something of Yeats' darker, spiritual side in "The Second Coming", which Tobin described as "apocalyptic". Richly Gothic lyrical biblical imagery was teamed with edgy, staccato arrangements, sometimes wilfully dissonant and with Robson wrenching some downright ugly sounds from his guitar. Tobin's extreme, wordless singing crossed over into Julie Tippetts style territory as she pushed her voice to its limits. In contrast to much of the rest of the evening all of the "passionate intensity" of Yeats' words was here.
It's rare for a Leonard Cohen tune to be described as "light relief" yet this was precisely how "Everybody Knows" came across after the visceral "The Second Coming". Cohen's cynical, world weary masterpiece was brilliantly interpreted by Tobin with the audience taking comfort in the familiarity of the material. Tobin's scat vocal episodes were a timely reminder of her abilities as an improviser while Shortt's cello solo took the instrumental honours.
The first set concluded with a return to the Yeats repertoire and a performance of "Sailing To Byzantium" itself, the piece gradually gaining momentum and authority after the intimate voice and guitar introduction.
It had been an absorbing first half, the music largely quiet, but still intense and focussed.
A return to the Cohen songbook opened up the second half, Tobin's interpretation of "Dance Me To The End Of Love" was darker and weightier than the version by Madeleine Peyroux. The piece was performed by the trio of Tobin, Whitford and Robson with the guitarist giving a reminder of his jazz credentials with an agile, boppish solo.
Yeats' "In Memory of Eva Gore Booth and Constance Markievicz" honoured the Sligo born sisters, born into the landed gentry but who became political and feminist activists. Noble's improvised piano intro saw him reaching into the innards of the instrument and later exchanging avant garde ideas with cellist Kate Shortt. Meanwhile Tobin sang of the sisters "one beautiful, one a gazelle" causing me to wonder if Yeats' lines had been the inspiration for the title of Tobin's 1996 album for Babel "Yell Of The Gazelle".
Another artist upon whom Yeats has had a profound effect is Mike Scott of The Waterboys. The Yeats poem "The Fisherman" informed the title of the Waterboys' hugely popular "Fisherman's Blues" album and in recent years Scott has been working on a Yeats project of his own, the 2011 Waterboys album "An Appointment with Mr. Yeats". Meanwhile Tobin's arrangement of "The Fisherman" was positively bouncy with a buoyant, lively solo from Robson at the guitar.
By way of contrast "What Then", one of Yeats' later poems was more reflective in mood with Noble the featured instrumentalist.
Tobin also has an affinity for the works of Eva Salzman (born 1960) an American poet based in Brooklyn, New York. Salzman in turn has a feel for music and has worked on cross genre projects with singers and dancers. Her "Muse Of Blues" was a hymn of praise to that music with Tobin's nimble scatting and Robson's agile, blues inflected guitar enhancing Salzman's words above Whitford's driving bass pulse.
A second Salzman piece "Bye Bye" was more quirky with Noble again reaching into the piano and Robson's metallic, clanking, but still bluesy guitar reminiscent of the style of Marc Ribot.
It was then back to Yeats for first "Byzantium" and then the haunting and effective "Long Legged Fly" which featured Tobin singing through a megaphone before ending the performance with an inspired passage of solo vocals.
Although frequently challenging Tobin's interpretations of Yeats were very well received by The Edge audience and the group returned (sans cello) for a playful romp through the jazz standard "That Old Devil Moon" with Tobin's scatting paving the way for jazz solos from Robson, Noble and Whitford who all relished the opportunity to cut loose. It was an upbeat way to end an intriguing and absorbing evening of music and poetry. I'm no connoisseur of the latter but I was surprised at just how many of Yeats' lines and phrases I seemed to recognise, some having found their way into common usage, others no doubt buried somewhere in my subconsciousness.
Tonight's performance was staged in conjunction with the Wenlock Poetry Festival which is staged in the town every April. At one point Tobin hinted at a possible return during festival week in a collaboration with the poet Paul Muldoon.
---
blog comments powered by

Disqus
JAZZ MANN FEATURES
The sun shines on the final day of an excellent festival.
---
Ian Mann soaks up the vibes at Cheltenham Jazz Festival.
---
JAZZ MANN RECOMMENDS
---