REVIEW
Tony Levin Memorial Event featuring Sara Colman Quartet, The Edge Arts Centre, Much Wenlock.
Monday, June 18, 2012
Reviewed by: Ian Mann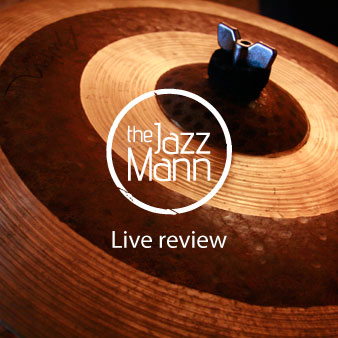 A high degree of musical sophistication from some of the best musicians on the Midlands jazz scene. A real community event and a fitting memorial to the inspiration behind it, Tony Levin.
Tony Levin Memorial Event with the Sara Colman Quartet and Georgie Morris, The Edge Arts Centre, Much Wenlock, Shropshire, 16/06/2012
The Edge has gained an enviable reputation for the quality of its programming with Artistic Director Alison Vermee bringing a stunning variety of contemporary jazz artists to Much Wenlock, musicians with national and international reputations representing the cream of modern UK and European jazz.
However tonight's performance represented something of a return to roots as The Edge honoured the late Tony Levin (1940-2011), one of the UK's most inventive and inspirational jazz drummers. Levin was actually born in Much Wenlock, the son of parents who had moved to the town to escape the worst ravages of war torn Birmingham. Tony eventually moved back to the city and established himself as a drummer on the Birmingham jazz scene before being plucked from comparative obscurity by the late, great Tubby Hayes who hired him for his band in 1965. Levin subsequently worked with many giants of British jazz including pianist John Taylor, saxophonists Joe Harriott and Alan Skidmore and trumpeters Ian Carr and Humphrey Lyttleton. He frequently accompanied visiting American musicians including saxophonists Joe Henderson, Zoot Sims and Al Cohn.
Levin later moved into freer areas of jazz most notably with the long running Mujician quartet featuring pianist Keith Tippett, saxophonist Paul Dunmall and bassist Paul Rogers. He also worked with European musicians such as bassist Ali Haurand, guitarist Philip Catherine and pianist Sophia Domancich.
However Levin never lost touch with his Midlands roots, returning to live in Shropshire and appearing regularly at The Hive Arts Centre in Shrewsbury as well as various venues in Birmingham where he also ran his own TL's Jazz Club and his own record label Rare Music.
Levin was also a great educator and was a tutor on the acclaimed Jazz Course at Birmingham Conservatoire. It was primarily in that capacity that Levin was being honoured tonight with the first winner of the inaugural Tony Levin Memorial Award, fifteen year old singer and multi instrumentalist Georgie Morris joining Colman and her quartet as part of the performance. The importance that Levin placed upon musical education was also reflected by the fact that Colman had spent the day running a vocal workshop at the venue and some of the singers with whom she had worked also made an appearance but more on that later.
Presented as part of the Much Wenlock Fringe Festival Colman's performance was subtitled "The Great Contemporary Songbook". She specialises in taking contemporary pop material and setting it in a jazzy context with songs by Carole King, Stevie Wonder, James Taylor and Paul Simon finding their way into her set alongside a clutch of jazz standards and a couple of originals. I've seen Colman perform a couple of times prior to this evening at the 2010 Harmonic Festival and the 2011 Mostly Jazz Festival, both in Birmingham where Colman is based. These shows revealed her to be a highly classy and professional vocalist and an excellent interpreter of both jazz standards and contemporary songs. Looking back at my reviews of these previous performances it's clear that Colman has an impressively wide range of songs to draw on and tonight's concert was very different from these two previous shows. This is partly due to the fact that Colman's band is now much changed with former bassist and musical director Ben Markland and pianist Chris Taylo having moved on. Their places have been taken by guitarist Steve Banks and bassist Al Gurr with Carl Hemmingsley remaining at the drums. Colman now handles all the piano parts herself, until tonight I'd not really appreciated what a fine pianist she is, with the result that she now sounds more and more like the better known Liane Carroll with whom she worked in the short lived vocal supergroup The Passion which also featured Jacqui Dankworth.
Colman began her performance with James Taylor's "Fire And Rain", her soulful voice capturing the warmth of Taylor's lyrics and with instrumental solos coming from the always cool and tasteful Banks and from the more extrovert Gurr on a distinctive five stringed acoustic bass guitar.
"I Love Being Here With You" featured hipster style vocals and a funky groove courtesy of the snake hipping Gurr. Colman also improvised a series of scat vocal/drum exchanges with the long serving Carl Hemmingsley.
Colman changed the gender in the lyrics for a gospel flavoured rendition of Ray Charles "Hallelujah I Love Him So" with Banks contributing another concise and cogent solo as Gurr switched to an electric six string bass guitar. He stayed with the electric instrument for an unusually bluesy and funky interpretation of the Carole King classic "It's Too Late".
In a set which embraced a wide variety of musical styles an imaginative arrangement of Antonio Carlos Jobim's "One Note Samba" was notable both for another pithy Banks solo and particularly for an unlikely but engrossing dialogue between Colman and Hemmingsley, something far deeper and innately more musical than their previous scat and drum exchange. This was more profound, a genuine musical conversation rather than the mere trading and mimicking of phrases.
Colman's version of the jazz standard "Autumn Leaves" was similarly innovative as she merged the original French lyrics with the more familiar English words on a delightfully tender and languid ballad interpretation of the tune. A lovely solo voice and piano introduction presaged solos from Gurr on acoustic bass and Colman herself at the piano with Hemmingsley offering suitably sympathetic brushed accompaniment. Once again there was an absorbing dialogue between voice and instrument as Colman and Gurr exchanged musical whispers.
The first set concluded with a rousing cover of Paul Simon's "Still Crazy After All These Years" with Colman again demonstrating her instrumental skills alongside Banks' guitar. Colman's soulful, often powerful vocals allied to her considerable piano skills and warm, engaging personality had made for an entertaining and enjoyable first set that also exhibited a high degree of musical sophistication from some of the best musicians on the Midlands jazz scene.
The second set began with Colman alone at the piano. She explained that she had just completed an MA in songwriting and played a song that she had written as part of her studies. I'd heard the piece before when it had just been titled "Happy Song", the result of an exercise in which the students had to write exactly that. Now polished up and given the title "Spend Some Time" Colman acknowledged a debt to the old Carpenters hit "Top Of The World" with regard to the song's structure. Movingly performed it was very well received by The Edge audience, with Colman going on to opine it's definitely more difficult to write happy tunes than sad ones, or certainly to do so convincingly.
Next she called a dozen or so of her "workshopees" to the stage, dubbing the them"Wenlock Festival Singers" for a performance of "Bye Bye Blackbird". The singers were not all youngsters and included one brave mature man among
the ranks of women. With Colman conducting and playing piano they all acquitted themselves well on an arrangement that had only been worked out that day. Each singer enjoyed a brief moment in the spotlight as they performed a few bars of solo wordless vocals in a kind of scatting relay. Many had never improvised before, or certainly not in public, and they all rose to the occasion before a collective acapella coda. It was good natured if inevitably a little ragged and the crowd, many of them friends of the singers, gave them a great reception.
Now it was time for Colman to welcome Georgie Morris to the stage. The fifteen year old farmer's daughter is a student at the William Brooks School where The Edge is based and a worthy first winner of the first Tony Levin Memorial Award. She sings and plays piano, cello and double bass. She began at the piano for a solo performance of the Bob Dylan song "To Make You Feel My Love", a tune that Morris knew from the Adele cover version. She didn't seem to know anything about Bob Dylan which made Colman and most of the audience suddenly feel very old. However she more than did it justice, singing it with a very mature sounding sense of emotion in her voice.
Next she picked up her double bass to accompany the trio in a version of saxophonist Sonny Rollins' "Sonnymoon For Two" with Gurr switching to the piano. Morris had only learned the tune earlier in the day but followed Gurr and Banks' solos with a satisfying feature on the bass. Esperanza who?
Colman rejoined the quartet for the rest of the set beginning in energetic fashion with the Stevie Wonder penned "I Can't Help It", a huge hit for Michael Jackson. With Colman's exuberant vocal and the band's breezy grooves they soon had the audience back in their pocket again.
Composed by the song-writing team of Tommy Boyce and Bobby Hart "Last Train To Clarksville" was a massive pop/rock hit for The Monkees. Colman and her band played it as kind of blues shuffle with Colman's blues/soul vocals and Banks' bluesy guitar solo underpinned by Gurr's bubbling electric bass grooves.
Colman described her own "Yours To Keep" as a "bespoke wedding song", the piece being a gospel flavoured ballad featuring the composer's soulful vocal and piano plus a liquidly lyrical bass solo from Gurr. I was hugely impressed by his contribution, something of a showman he kept the grooves tight all night but showed necessary restraint when required. He's probably better known as a pianist so this is a tribute to the guy's all round musicality.
Colman rounded off the evening with an imaginative arrangement of the jazz standard "I Can't Give You Anything But Love", the quirky voice and piano intro leading to subsequent solos from Banks on guitar and Gurr on electric bass, these punctuated by a finger snapping solo scat interlude from Colman.
The audience loved this and called the quartet back for an encore. A self confessed "huge fan" of Carole King Colman chose to bow out with King's "You've Got A Friend", later a hit for James Taylor. Colman got her "worhshopees" who were still in the audience to sing along with the chorus and with the crowd very much on her side also coaxed the entire audience into joining in. It was an appropriately "feel good" way of signing off a memorable night, a concert that had become a real community event and a fitting memorial to the inspiration behind it, Tony Levin.
Colman is a very polished and sophisticated performer who should really be better known outside her Midlands heartlands. With a strong voice and an effusive personality plus an impressive piano technique it's a surprise that she doesn't have a higher profile. As I've said before what she does is a little too mainstream for my own tastes but I can fully appreciate her abilities and understand her appeal to others. That said I thoroughly enjoyed this evening, a warm vibe was present throughout and everybody went home happy. It would be nice to think that the Tony Levin Memorial Concert might become an annual event.
---
blog comments powered by

Disqus
JAZZ MANN FEATURES
The sun shines on the final day of an excellent festival.
---
Ian Mann soaks up the vibes at Cheltenham Jazz Festival.
---
JAZZ MANN RECOMMENDS
---