REVIEW
Troyka and The Golden Age Of Steam at The Hare & Hounds, Kings Heath, Birmingham, 30/01/2013.
Saturday, February 02, 2013
Reviewed by: Ian Mann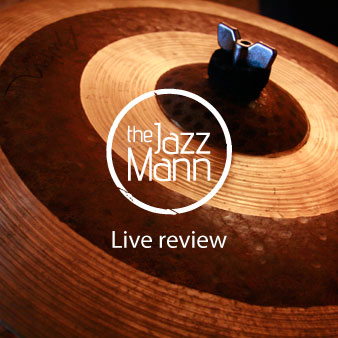 Ian Mann enjoys performances from two of the UK's most exciting young bands.
Troyka / The Golden Age Of Steam, Hare & Hounds, Kings Heath, Birmingham, 30/01/2013.
A reassuringly large crowd crammed into the rather chilly upstairs function room of the Hare & Hounds for this double bill by two of the UK's most exciting young bands. Both Troyka and TGAOS (as they will hitherto be referred) inhabit the shadowy hinterland between jazz and avant rock with keyboard player Kit Downes a further common link. Both bands have also been cited as exhibiting progressive rock tendencies, sometimes these comments have been positive, at other times they have been pejorative. However in the main most of these musicians were, in the words of one of Troyka's tune titles, born in the 80's – they don't come burdened with the baggage and snobbery that became attached to prog rock in the punk and immediate post punk era. For Downes and his colleagues prog is just another treasure chest of musical goodies to be dipped into and inspired by, no less cool than bebop or hard bop.
TROYKA
Troyka took to the stage first with Downes joined by guitarist Chris Montague and drummer Josh Blackmore. I last saw the band perform live in 2009 around the time of the release of their eponymously titled début album for Edition Records. They played a support slot to Acoustic Ladyland at the Globe in Cardiff and although their set showed plenty of promise there were moments when they drifted off into rather aimless noodling. The first Troyka album was very well received and exhibited a huge potential but by the time of 2012's follow up "Moxxy" (also Edition) it was clear that the band were now much more tightly focussed and this was a quality that carried over into tonight's performance. Compared to the 2009edition the 2013 incarnation of Troyka exhibited an even more impressive technical prowess, a sharper, leaner set of compositions and in jazz terms a greater degree of stage presence.
Essentially guitarist Chris Montague is Troyka's leader, he handles the announcements and remains the trio's principle composer. Troyka's tunes are characterised by chunky guitar riffs, unorthodox time signatures and a rich variety of keyboard sounds (organ, electric piano, synth) generated by Downes at the controls of a double rack consisting of a Nord Stage and a Hammond XK3.
Downes' keyboard textures plus Troyka's love of outrageous time signatures ensures that to my old ears they often sound like one of the "Canterbury" bands of my youth – Egg, Gilgamesh, Hatfield and The North, National Health etc. I still love all these bands and feel that their music still stands up really well (I went to see close musical cousins Caravan at the Robin2 in Bilston the other week and thoroughly enjoyed them) so it's no surprise that I like Troyka's music. These groups all had a tendency to merge different tunes together to form "mini suites" (if that's not too pretentious a term) and it's something Troyka appear to have adopted in a live situation. They began with a lengthy segue of "Rarebit" (the opener from "Moxxy"), "Tax Return" from the début and Downes' "Crawler" again sourced from Moxxy. Darting riffs and odd meter grooves abounded with Blackmore looking as if he was having a whale of a time as he slammed out the complex, logic defying rhythms on his kit. Montague described Downes' piece as a "blues" and dedicated it to the group car which had apparently broken down on the A34 en route. Maybe it was originally meant as a tribute to the late Paul Kossoff but in any event it proved the launching point for a searing guitar solo from Montague that soared further into space than David Gilmour ever imagined, Floyd and beyond.
From "Moxxy" the Montague/Blackmore composed "Dropsy" saw Montague making use of live looping techniques, courtesy of a floor mounted effects unit, to loop and layer his sound before launching into the tune's angular riff. A similarly looped outro provided the link into "Rest", by the same song writing team and also from "Moxxy". Here surprisingly delicate guitar and keyboard interplay was accompanied by subtly brushed drum grooves. Later Montague sketched out a delicate guitar melody, his fragile tracery underpinned by Downes' church like organ drone.
The as yet recorded "Ornithophobia" was presaged by Montague's grisly anecdote concerning a childhood encounter with a dead seagull, I was just relieved that the title didn't signify an irrational fear of Charlie Parker records. The music was the familiar Troyka mix of jagged riffs and meter bending rhythms but Downes' "Roman" later offered the night's first real helping of 4/4 with the bonus of a scorching organ solo.
The set closed with "Oedipus" from the "Moxxy" album which Montague retitled "Away Win" in honour of Jazzlines' Tony Dudley Evans who had one eye on how his beloved West Bromwich Albion were doing away at Everton (it didn't work, they lost 2-1). The tune was a mass of distorted guitar and keyboard sounds as Montague and Downes battled for supremacy above Blackmore's drum barrage. Downes' solo combined the Hammond sound with brittle electric piano texture and even a curious glockenspiel like sound.
This had been a sparky and inventive set full of challenging but invigorating riffs, hooks and grooves played with verve and skill by this exciting young band. Troyka have shed the flab and are now a lean machine who play their often complex music with a smile on their collective faces. The interplay between Montague and Downes is both absorbing and exciting with Blackmore's extraordinarily accomplished drumming holding it altogether. The young drummer is certainly a highly versatile musician, last year I saw him make a superb contribution to Hazel O' Connor's touring band.
THE GOLDEN AGE OF STEAM
TGAOS is the brainchild of reeds player and composer James Allsopp. I first encountered the band's music at the 2009 Cheltenham Jazz Festival when they played a set of considerable promise albeit a little sprawling and unfocussed at times. Things had tightened up by the time they recorded their début album "Raspberry Tongue" a couple of months later, a release that is reviewed elsewhere on this site.
At that time the group consisted of a trio featuring Allsopp and his long term musical associate Tim Giles on drums plus Kit Downes on organ. This then new line up was regarded as something of a follow up to Fraud the full on, skronking, incendiary punk jazz outfit co-led by Allsopp and Giles and featuring Norwegian guitarist Stian Westerhus. TGAOS was more whimsical than Fraud but could still pack a powerful punch with Downes' Gothic organ tones reminding this listener of the instrumental sounds of Van Der Graaf Generator.
Fast forward to 2012 and the release of the band's second album "Welcome To Bat Country", the subject of a recent Jazzmann review. The core trio of Allsopp, Giles and Downes remains but with the group sound expanded by the addition of a number of guests among them trumpeter Alex Bonney and electric bass specialist Ruth Goller. Both appeared here tonight and now seem to be fully fledged members of the band with Bonney expanding his role via the use of a lap top and other electronic devices. Also an in demand producer he's as much an electronics artist as a trumpeter and his contributions with the horn tonight were sparse and largely involved with providing colour and texture. However he was constantly employed in his soundscaping role, treating the sounds of the other instruments and also providing samples of speech and other sounds and noises. Giles too added to the electronica courtesy of an effects unit and electronic percussion set up situated at the side of his conventional drum kit. With Downes keyboard set up having expanded and with the addition of Goller on electric bass the sound of TGAOS 2013 is much fuller than that of four years ago.
"Welcome To Bat Country" is a concept album of sorts, its six composition based around the theme of a surreal and rather sinister travelling circus. I had anticipated that the group would present the record in its entirety but instead they cherry picked the best bits and also included the wonderfully titled "For No Raisin" from the previous album plus the as yet unrecorded "Awash". They stretched out at length on these, sometimes linking tunes together to provide three long pieces of music. Despite the strength of Allsopp's themes improvisation has always been at the heart of TGAOS's music and there was certainly plenty of spontaneity here.
They began with "Animal Slices", the opening cut from "Welcome To Bat Country". The album's barrel organ and bell sounds came courtesy of Bonney's lap top with Allsopp's tenor sax later emerging as the dominant voice, honking and fluttering above the backwash of electronica and sampled speech with Goller's powerful bass lines and Giles' off kilter drumming driving the music forward (TGAOS are as fond of Troyka of baffling time signatures).
Giles drum feature provided the segue into new tune "Awash" with Allsopp picking up his baritone sax to create a wall of sound alongside Bonney's one handed trumpet and a swathe of electronica plus Goller's rumbling bass and Giles' thunderous drumming. This was a powerful tour de force that revealed the new five piece TGAOS generating an increasingly individual group sound and perhaps getting closer to the spirit of Fraud, to me the two projects remain inextricably linked.
The title inspired by the puns of Fozzie Bear "For No Raisin" appeared on the group's first album "Raspberry Tongue" and if memory serves may even have been part of the Fraud repertoire. Here it was introduced by the electronic wizardry of Bonney and Giles but essentially the piece is a feature for Allsopp's tenor, his playing gradually developing in intensity first above Downes' electric piano leitmotif, this mutating into swelling, swirling Hammond as Giles' dynamic drumming urged them on, the percussionist also wielding a pair of shakers at one point. Listening back to the recorded version tonight's performance was more intense and substantially different.
They closed with "Bat Country" itself, the title derived from the writings of Hunter S. Thompson. Opening with Bonney's bat noises and other electronica the piece was also scattered with snatches of sampled speech – possibly Hunter S himself. Again the group went for a "wall of sound approach" with Allsopp switching between tenor and baritone and with Goller deploying full chording techniques on her bass and also playing the instrument with a finger slide, innovative and eye-catching. Allsopp's tenor solo saw his sound being treated by the ever vigilant Bonney and Downes' Hammond introduced an element of Gothic grandeur to the mix.
TGAOS's set was less focussed and polished than that of Troyka and to these ears ultimately less satisfying. However it could be argued that theirs was the most adventurous programme with a greater use of improvisational content and a greater willingness to divert from the album versions of Allsopp's tunes. Also TGAOS remains a work in progress as Bonney and Goller settle into their roles within the group; certainly both impressed with their contributions here and both added distinctive elements to an increasingly individual group sound. TGAOS sound a lot less like VDGG than they used to for example. As ever it's fascinating to speculate as to which direction Allsopp will lead this extraordinary band in next.

---
blog comments powered by

Disqus
JAZZ MANN FEATURES
The sun shines on the final day of an excellent festival.
---
Ian Mann soaks up the vibes at Cheltenham Jazz Festival.
---
JAZZ MANN RECOMMENDS
---