FEATURE
EFG London Jazz Festival 2016, Day Nine, Saturday 19th November 2016.
Thursday, December 08, 2016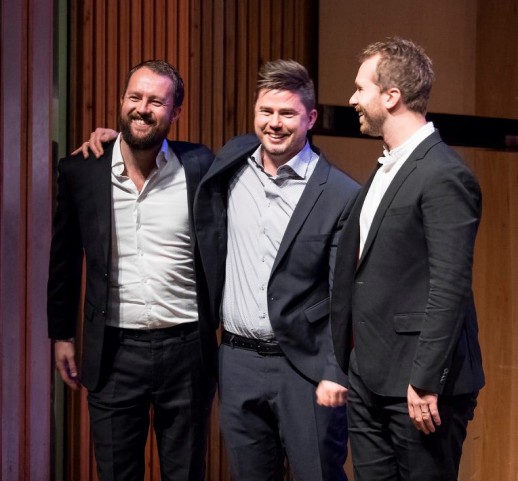 Ian Mann enjoys very different performances by the Steve Fishwick / Alex Garnett Quartet, Dinosaur, Daniel Herskedal, The BBC Concert Orchestra, Chris Sharkey and the Charlie Hunter Band.
Photograph of the Daniel Herskedal Trio by Tim Dickeson

EFG London Jazz Festival 2016
Day Nine, Saturday 19th November 2016
STEVE FISHWCK / ALEX GARNETT QUARTET, THE ELGIN, LADBROKE GROVE
Saturday lunchtime found me a visiting another new venue, The Elgin, a Victorian pub in Ladbroke Grove. The Elgin has a designated music room and a distinguished musical history with a particularly strong punk pedigree.
It still hosts regular musical performances but isn't part of the established London jazz circuit. However once a year it hosts BopFest, a strand of the EFG LJF co-ordinated by the vibraphonist Nat Steele and featuring leading British bebop and mainstream musicians.
I think I noticed that the Elgin has its own grand piano but that wasn't needed today as trumpeter Steve Fishwick and saxophonist Alex Garnett co-led a chordless quartet featuring the New York based musician Mick Karn on double bass and Steve's brother, Matt Fishwick, at the drums.
However things didn't start well. The EFG LJF brochure advertised the gig as starting at 1.00 pm, the BopFest leaflet listed it as beginning at 2.00 pm. In order to give ourselves time to eat before the band started playing we arrived shortly after noon and unexpectedly found ourselves with a lot of time to kill. Still it could have been much worse, we enjoyed our food and then whiled away the time enjoying a pint and watching the Man Utd. V Arsenal match on the telly with the locals. As my other obsessions are beer and football I wasn't too disgruntled about the confusion over the gig scheduling, although it did mean that we could now only stay for the first set. Also with the combined football and jazz crowds the Elgin staff struggled to cope and the service was slow to say the least.
The BopFest promotional leaflet promised music inspired by the now little known hard bop pioneers Kenny Dorham (trumpet) and Ernie Henry (alto sax). The gig was a run up to a planned recording by the quartet at a London studio a few days later. The majority of the material consisted of originals by Steve and Alex in the hard bop style and the first set kicked off with Steve's "It's The Middle Of The Night For Some Of Us", the title acknowledging the irregular working hours of the jazz musician. The piece was a blues in the classic hard bop style with hard hitting solos by Steve Fishwick on trumpet and Garnett on alto with further features for Karn on bass and Matt Fishwick with a series of fiery drum breaks. It was particularly interesting to watch Garnett performing on alto rather than his customary tenor.
Garnett demonstrated his ability on the smaller horn again as he led off his own Latin flavoured "Rio de Rum" with Steve Fishwick following him on trumpet and Karn on the bass. Matt Fishwick enjoyed a further series of drum breaks and we were also treated to a series of fluent exchanges between the co-leaders.
Garnett dedicated his ballad "52nd Street Dream" to the memory of Ronnie Scott, informing us of how of Scott was so inspired by Art Pepper's playing at the 100 Club that he took himself off to New York to witness Charlie Parker in the flesh on 52nd Street. On returning to the UK Scott set up his own modern jazz club with the modern Frith Street premises, where Garnett is a regular performer, becoming his towering legacy. This piece featured the lyrical trumpet playing of Steve Fishwick, sensitively accompanied by brother Matt's brushed drums.
The next piece was unannounced but included a lengthy feature for Karn alongside further solos from Garnett and Steve Fishwick. The quartet then rounded off the first half with the lively "Lickeroo", a contrafact that saw the two horns working both in tandem and separately as they diverged to take their individual solos.
This was an enjoyable set of hard bop featuring some top quality playing from all four musicians although the familiar head/solos/head format did tend to become a little too familiar after a while. In many respects it was the kind of 'meat and potatoes' performance that was perfectly suited to the back room of a pub, even one as elegant and opulent as the Elgin. However the chordless instrumental configuration and the high standard of the musicianship helped to sustain the listener's interest and any subsequent album by this quartet should be well worth hearing. The performance also demonstrated what a fine all round saxophonist Garnett is, as well as being a salty and witty verbal presence on the bandstand.
Before leaving I was honoured to speak briefly with Nat Steele who was to perform at the Elgin with his own sextet (featuring Steve Fishwick and Karn) in the evening.

BBC CONCERT ORCHESTRA with LAURA JURD and DANIEL HERSKEDAL, ROYAL FESTIVAL HALL
The EFG LJF is all about contrasts and I made my way from the backroom of the Elgin to the rather more refined surroundings of the newly refurbished Royal Festival Hall.
The music was to be different too, instead of fiery hard bop we were to hear two new commissions, one by the young British trumpeter and composer Laura Jurd, the other by the Norwegian tuba player Daniel Herskedal, performed by the composers and their groups in conjunction with the BBC Concert Orchestra under the baton of conductor Keith Lockhart and led by Michael Anderson Frank.
As a BBC New Generation Artist it was perhaps not surprising that Jurd was commissioned to write a work for jazz group and orchestra. Introducing her piece "Alt. Punk" she described it as being for "Dinosaur and Orchestra", the quartet Dinosaur also featuring Elliot Galvin (keyboards), Conor Chaplin (electric bass) and Corrie Dick (drums).
Effectively the work resembled a trumpet concerto with Jurd the featured soloist as her group provided rhythmic impetus and the orchestra context, colour and texture. Performed in two movements the piece featured Jurd's clear, fluent, precise trumpet soloing, her playing clearly audible above a rich orchestral arrangement that made particularly effective use of strings and woodwind. Galvin, a band-leader in his own right, was also featured as a soloist on his Nord Electro 3 keyboard.
Dinosaur also got to play a piece on their own, presumably one of the tracks from their acclaimed recent album "Together, As One" (I suspect that it may have been "Living, Breathing"). With Jurd also playing synthesiser the group set up a busy groove featuring sequenced synth plus bass and drums above which Jurd and Galvin executed some dazzling, lightning fast unison melodic phrases. Chaplin was given the chance to shine with a liquid electric bass solo and Dick also impressed with his agile and nimble drumming throughout. This was more reminiscent of the last time that I'd seen Dinosaur – in the backroom of the Spotted Dog pub in Digbeth, Birmingham. Oh yes, it's those contrasts again!
The American born Lockhart (he's also the conductor of the Boston Pops Orchestra), hosted the performance with a confident warmth and a wry wit as he conducted introductory interviews with both Jurd and Heskedal immediately before premièring the new works.
He also put the Orchestra through their paces with renditions of three dance episodes , The Great Lover", "Lonely Town" and "Times Square Ballet" by Leonard Bernstein (1918-90) sourced from the musical "On The Town", Bernstein's collaboration with the choreographer Jerome Roberts.
Reviewing this event for London Jazz News Jon Turney found these Orchestra only pieces decidedly underwhelming citing the Orchestra's inability to 'swing' in the jazz sense. Personally I enjoyed them rather more, finding the first and third pieces to be lively and invigorating and contrasting well with the lush and more reflective mood of the second, which also featured a trumpet soloist from within the ranks of the Orchestra.
Like the previous evening's event at Rich Mix featuring Oddarrang and Slowly Rolling Camera this was effectively another Edition Records double bill with both Dinosaur and Daniel Herskedal also part of the label's roster.
Herskedal is a remarkable musician, a true virtuoso on the tuba, an instrument to which he brings an astonishing range of sounds and an even more amazing emotional depth. He's also a highly skilled composer as evidenced by his two releases for Edition "Neck Of The Woods", an intimate duo set with saxophonist Marius Neset, and the more expansive "Slow East Bound Train".
Herskedal's trio featuring pianist Eyolf Dale and drummer Gerd Nilsson entered the stage suited and booted, fully buying into the classical ethos. The began by plating without the accompaniment of the Orchestra as Herskedal demonstrated his astonishing technique on the tuba producing sounds ranging from deep sonorities to vocalised, multiphonic effects. And if anybody can be said to 'whisper' on such a large and lugubrious instrument it has to be Herskedal. Dale also impressed with a sparkling piano solo underscored by the interlocking rhythms of Nilsson's drums and Herskedal's tuba bass lines.
In his discussion with Lockhart Herskedal informed us that his commission was a piece in four movements and also expressed his love of oriental music, something already made manifest by the album "Slow Eastbound Train". He also explained that he had begun as a classical musician and had played with orchestras before although this was the first time that he had actually written for one.
Again Jon Turney was less than impressed with this section of the concert, but for me Herskedal and his colleagues seemed to integrate more fully with the Orchestra than Dinosaur had done, and not just in the visual sense. That said I'm no expert on classical music – despite the presence of a classical conductor in the family!
Herskedal's new work was untitled, other than "Four Pieces" and the first movement began with a dramatic orchestral intro that included the effective use of dynamic contrasts. Herskedal himself featured on his 'second instrument', the rarely seen bass trumpet and Nilssen's kit drums were supplemented by the sounds of orchestral percussion. An equally dramatic conclusion that replicated the sound of ringing bells which elicited a spontaneous round of applause from what was obviously a predominately jazz audience. Applause at the end of the first movement – shock, horror! It left me musing on the etiquette of clapping and the way it has become so polarised in the classical and jazz traditions.
The second movement featured Dale's flowingly lyrical pianism cushioned by rich, lush orchestral textures. Herskedal's contribution on tuba helped to bring a sense of grandeur to the music before the piece concluded with the same air of lyricism with which it had begun.

The third and fourth movements demonstrated something of the Oriental influence that had informed "Slow Eastbound Train".
Movement three began with a fanfare of brass with Herskedal's tuba augmented by the orchestral brass players. The use of tuned percussion helped to create that Oriental feel before a final section featuring the trio only with Dale soloing to the accompaniment of Herskedal's agile tuba bass lines and Nilsson's crisp drumming. The final movement utilised both pizzicato strings to achieve that Oriental effect.
Once again I had been extremely impressed with Herskedal, as I had been when he led a seven piece ensemble (jazz trio plus string quartet) in a performance of the "Slow Eastbound Train" material at Kings Place as part of the 2015 EFG LJF.
And although it was far from flawless I also enjoyed this afternoon's event and felt that the positives far outweighed the negatives. I certainly seemed to get far more out of it than Jon Turney did and certainly wouldn't be averse to hearing Jurd's and Herskedal's new works again should they ever get to the recording stage.

CHRIS SHARKEY'S MAKE IT / BREAK IT ENSEMBLE, CLORE BALLROOM, ROYAL FESTIVAL HALL
There was more music to be heard in the public space of the Clore Ballroom at the RFH.
As part of the Festival's "Learning & Participation" programme the professional musician Chris Sharkey had been charged with creating a new work to be performed by a large ensemble amateur musicians and singers of all ages, ethnicities and abilities.
The ensemble had only convened that morning and had spent the whole day workshopping prior to this early evening performance.
Sharkey is best known as the guitarist with the bands Trio VD, Acoustic Ladyland, Shiver and others but tonight he largely featured in the conductor's role as he guided his charges through a near 90 minute piece with a theme of tolerance, healing and integration which made effective use of massed vocal chants alongside the ensemble instrumental passages and individual instrumental solos.
Considering the short amount of rehearsal time the performance was admirably cohesive while simultaneously being heart-warming and uplifting. Some of the more experienced protagonists helped Sharkey along the way but overall this event was a triumph for both the composer and his willing band of musicians and vocalists.
At the end it was clear that Sharkey and the Ensemble had definitely "made it" as they got a great reception from a highly supportive audience.

CHARLIE HUNTER BAND, RONNIE SCOTT'S
I have to admit that before witnessing this performance I knew precious little about the American guitarist Charlie Hunter other than that he played unorthodox guitars with either seven or eight strings. However I had heard him on the radio and this was enough to whet my appetite.
Arriving at Ronnie's around 8.00 pm after travelling up from the South Bank I was mildly annoyed to find that I'd missed a support set by a quartet led by British drummer Mark Fletcher and featuring saxophonist Mornington Lockett. I literally caught the last few bars but it did sound good.
However this was quickly forgotten when Hunter and his colleagues took to the stage. Tonight's gig was part of a short British tour promoting Hunter's latest album, the provocatively titled "Everyone Has A Plan Until They Get Punched In The Mouth", a Mike Tyson quote apparently.
The album deploys an unusual instrumental configuration with Hunter specialising on seven string guitar alongside his long term sparring partner Bobby Previte at the drums. It also features a two man horn section with Kirk Knuffke on cornet and Curtis Fowkes on trombone. Tonight Hunter and Previte were joined by the young British pairing of Yelfris Valdes (trumpet) and Kieran McLeod (trombone). Hunter and Previte had never met their young colleagues prior to this tour but Valdes and McLeod immediately got into the spirit of the music and both acquitted themselves brilliantly.
Hunter's sound is like a history of 20th century American music with elements of jazz, blues, rock , funk and soul. With Hunter handling the bass functions on his top strings the opening number embraced taut funkiness and blues harmonies while the twin horns added New Orleans jazz flavourings. Hunter shared the solos with the excellent Valdes but it was the leader's chemistry with Previte that was the most striking aspect of this first number. Set up on stage to face other they were exchanging ideas all night, challenging each other to come up with a response and encouraging Valdes and McLeod to join in the fun. And fun it most certainly was, for all the brilliance of their individual 'chops' Hunter and Previte played with smiles on their faces throughout. Indeed the pair were enjoying themselves so much that tune announcements were rather scant, playing with the enthusiasm of children these two just wanted to get on with making music.
We did get the title of the next piece, "We Don't Want Nobody Sent" which saw McLeod stepping up to the plate alongside Hunter and Previte, his trombone solo packed with bluesy slurs and vocalisations. Hunter sees the current album as being one on which the musicians improvise blues and r'n'b elements rather than jazz harmonies.
Nevertheless there's still plenty of jazz in Hunter's music as was typified by the New Orleans flavourings of the next piece which saw Valdes on stunning high register sharing the solos with McLeod.
Hunter's solo guitar intro to the next piece saw him playing multiple melodic and rhythmic lines in a transfixing display of virtuosity. Valdes and McLeod then added some powerful unison horn lines prior to another bravura solo from Valdes. Hunter's guitar then took flight again, fuelled by the wiry Previte's whip smart drumming.
Next up a slow funk groove with Previte achieving considerable power even with brushes as Hunter added a brief vocal before the music took a bluesier turn with Hunter's guitar heroics matched by the squalling horns in a kind of duel.
Hunter encouraged McLeod to an improvise an intro to the next tune and he responded with some fruity, low register rasping which seemed to satisfy the leader before Hunter and Previte set up a supple funk groove that framed a solo from Valdes that set up a barnstorming solo finale from Previte that featured him on drum kit and tambourine. It was brilliant and totally enthralling and when it was over Hunter made a show of cooling his old friend down by waving a towel at him.
The concluding piece was pure blues and a final demonstration of Hunter's virtuosity. Yet for me, and probably many others, it was Previte who almost stole the show with a brilliant drumming display that mixed power and precision with an impish improviser's instinct and a childlike joy in music making. When they're not on the stand Hunter and Previte spend hours jamming together and their easy but high level rapport was apparent throughout this set. They've just released an album of them jamming around a collection of Christmas songs, I haven't heard it but you just know it's going to be the coolest Yuletide record ever.
Sadly the set was over far too quickly although the band were due to play to the second house later on. But I was hugely impressed by Charlie Hunter, and also by Previte who I saw play an outstanding but more cutting edge set at Cheltenham Jazz Festival in 2008 with his New Bump band. And it was great to see Valdes and McLeod in such great form too, it was an important and hugely successful gig for these two guys who will surely impress a lot of people on this tour.
I watched the show from the bar alongside others on the guest list including the British musician and composer Pete M. Wyer, a personal friend of Bobby Previte. My thanks to Pete and his girlfriend for their company and also for introducing me to Bobby who turned about to be a great guy as well as a phenomenal drummer. And make no mistake in a week of brilliant drum performances – Jeff Williams, Mark Guiliana etc. - this was arguably the best.
It was just a shame that there weren't any copies of "Everybody Has A Plan…" available afterwards.
---
blog comments powered by

Disqus
JAZZ MANN NEWS
Monday, August 19, 2019
American saxophonist Arun Luthra's Konnakol Jazz Project's 2019 U.K. tour starts tonight, August 19th. Details attached.
Comments (0)
---
Sunday, August 18, 2019
Peter Mann of Jazz at The Manor has forwarded details of the programme for September, October and November 2019. Schedule attached.
Comments (0)
---
Sunday, August 18, 2019
Trombonist/bandleader Chris Barber has announced his permanent retirement from full-time music after leading his internationally popular band since 1954. Press release attached.
Comments (0)
---
JAZZ GIGS & EVENTS
Thursday, August 22, 2019 - Monday, August 26, 2019
Thursday, August 22, 2019
Thursday, August 22, 2019
Friday, August 23, 2019
Friday, August 23, 2019
---
JAZZ MANN RECOMMENDS
---