LATEST JAZZ REVIEWS
Steve Fishwick Quintet featuring Grant Stewart, Progress Theatre, Reading, Berkshire, 23/11/2018
"The programme bore the hallmark of classic bebop; frenetic, fast-paced, virtuosic and with a competitive edge that kept everyone on their toes", writes guest contributor Trevor Bannister.
EFG London Jazz Festival, Friday 16th November 2018.
The Two Fridas
---
Vitor Pereira Quintet, The Hive Music & Media Centre, Shrewsbury, 10/11/2018.
In the Corners of Clouds
---
Life I Know
Dirigo Rataplan ll
François Bourassa Quartet, 1000 Trades, Birmingham, 04/11/2018.
Supermood
---
MORE JAZZ REVIEWS...
---
JAZZ MANN FEATURES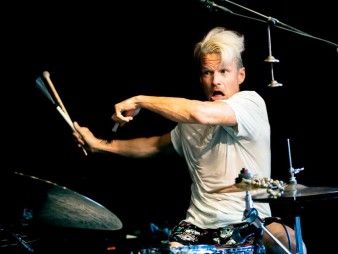 Ian Mann on a day of music dominated by the sounds of Scandinavia including performances by the Thomas Backman Band, the Adam Waldmann Trio, Supersilent and Phronesis.
Ian Mann on a day of international music with performances by the Al MacSween Trio, Liran Donin's 1000 Boats and Scandinavian 'supergroup' Rymden.
JAZZ MANN NEWS
Monday, December 10, 2018
Wandering Monster, the Leeds based quintet led by bassist Sam Quintana will release their eponymous debut album on 25th January 2019. They will be touring extensively in the UK during Jan and Feb.
Comments (0)
---
Thursday, December 06, 2018
Ronnie Scott's has announced its programme for December 2018 and January 2019. Detailed listings attached.
Comments (0)
---
Wednesday, November 14, 2018
With one event remaining in 2018 Black Mountain Jazz has announced its club programme for early 2019. Events take place at The Melville Centre, Abergavenny.
Comments (0)
---
JAZZ GIGS & EVENTS
Tuesday, October 16, 2018 - Monday, December 31, 2018
Thursday, December 13, 2018
Friday, December 14, 2018
Friday, December 14, 2018
Friday, December 14, 2018
---
JAZZ MANN RECOMMENDS
Follow us on Twitter!
---