FEATURE
London Jazz Festival 2011
Wednesday, November 23, 2011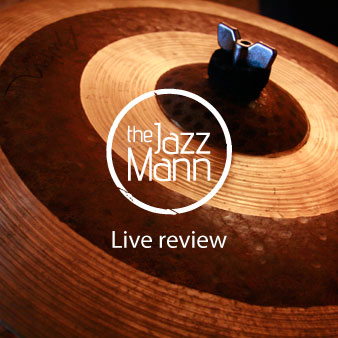 Ian Mann enjoys five days of fantastic music at the 2011 London Jazz Festival.
LONDON JAZZ FESTIVAL 2011.
Once again I was lucky enough to be able to spend a few days at London Jazz Festival. A pretty intense schedule saw me take in a ticketed event on each evening of the five days that I was in London plus a number of the free performances at various locations around the city. My thanks go to John Lyons of AIR MTM and Sally Reeves and Amy Coombe of Serious for organising tickets for my wife and I and also to Paul and Richard for providing our accommodation for the week.
Without further ado on with the music which, in the words of the song, I'll cover "one day at a time".
MONDAY NOVEMBER 14th
ROYAL ACADEMY OF MUSIC BIG BAND / McCORMACK & YARDE DUO / MICHEL PORTAL GROUP, SOUTHBANK CENTRE QUEEN ELIZABETH HALL
ROYAL ACADEMY OF MUSIC BIG BAND
The Southbank remains the hub of the festival and my week got off to a great start with the music of these three very different groups. The Royal Academy Big Band directed by Nick Smart, the Academy's head of jazz, performed for free in the QEH foyer or "Front Room". I've never seen one of these free foyer events so well attended, the place was absolutely rammed and it was standing room only. A predominately young audience seemed to comprise of fellow students, former students and the family and friends of the musicians.
Smart directed this highly accomplished young band through a programme of compositions by noted British jazz composers, all of them alumni of the College. Among those represented were Tom Richards with "The GC" from his Orchestra's "Smoke And Mirrors" album and Gwilym Simcock who had provided a special arrangement of his composition "Little People". Kit Downes and Chris Montague were represented by a segue of tunes originally performed by their organ trio Troyka in the form of "Born In The 80's" and "Noonian Song". Flautist Gareth Lockrane guested with the band on a performance of one of his own pieces, the title of which sadly escaped me.
The most poignant piece of all was a composition by trumpeter and composer Richard Turner who died suddenly earlier this year at a tragically young age. His tune was originally a composition exercise which had been reworked by Smart to bring it to a performable point. Central to the piece was a tenor sax solo played movingly by Turner's friend Mike Chillingworth. Smart acknowledged the presence of Turner's family in the audience and announced that there were plans afoot for a Richard Turner Memorial Concert in 2012.
Despite the sadness associated with the performance of the Turner piece this sophisticated and rapturously received big band performance got my festival off to an excellent start, even it was a bit uncomfortable standing up and peering through a sea of heads for over an hour.

McCORMACK & YARDE DUO
In the main hall pianist Andrew McCormack and saxophonist Jason Yarde filled the "support slot" with a compelling selection of pieces drawn from their recently released second album "Places and Other Spaces" (Edition Records).
McCormack and Yarde have worked regularly in the duo format and exhibit a clear affinity for one another's playing. On a blue lit stage amid swirling dry ice they commenced with McCormack's lyrical "Spanish Princess" featuring Yarde on soprano saxophone.
Yarde's own "Hillwalking On The Tynerside" saw him switching to alto to perform a piece with a true pictorial quality and a real sense of place. Percussive piano and probing, aggressive sax squalls summoned up the sound of inclement weather before a passage of solo piano indicated a return to comparative calm. But the storm had evidently not blown itself out as Yarde produced more tortured sounds from his saxophone as he restlessly prowled the stage.
McCormack's lovely "Antibes" introduced a folkish quality with Yarde's keening soprano sometimes reminiscent of the sound of Jan Garbarek. McCormack's gently rumbling left hand piano figures and occasional dampening of the strings added to the atmospheric feel of the piece, a quality emphasised by Yarde blowing his sax into the body of the piano to generate additional echo.
Their all too brief set concluded with "Dark Too Bright", a tune Yarde originally wrote some twenty years ago for the group J Life. His solo opening fanfare on soprano sax led into a playful composition with the two musicians joyously bouncing ideas off each other.
The pair had triumphed in the exposed duo setting and their brief set was very well received by the QEH crowd. McCormack & Yarde had proved to be a very tasty aperitif before the magnificent main course to come.

MICHEL PORTAL
Although the veteran reeds man Michel Portal is one of France's most respected musicians, straddling the boundaries of jazz and classical music, I must admit that hitherto his name wasn't one that had registered on my radar. However the pre gig publicity plus the presence of a star studded international line up whetted my curiosity and despite it representing something of a leap in the dark this was a gig I decided that I must see.
Playing music drawn from his latest album "Bailador" Portal didn't disappoint as his all star quintet produced a set of intriguing, often brilliant, music. Portal himself appeared on a variety of reeds alongside Paris based Bojan Z on piano and keyboards plus three big name Americans in Ambrose Akinmusire (trumpet), Scott Colley (double bass) and Nasheet Waits (drums), the latter brilliantly replacing the album's Jack DeJohnette. Herbie Hancock guitarist Lionel Loueke was also scheduled to appear but was unavailable. However he only plays on four of the album's eight tracks and given the excellence of the other players his absence was hardly noticed.
Portal's English is somewhat limited and he restricted himself to introducing the band so tune titles were unannounced. It's fair to say that all the pieces were densely written and arranged with all five musicians reading from copiously notated scores. There's a cerebral quality to Portal's music but also a subtle underlying funkiness, a quality that becomes even more apparent on the album itself.
Portal is primarily a bass clarinet specialist and his pieces saw him alternating complex themes and melody lines, often played in unison with Akinmusire , with brilliant solos. Akinmusire is the latest trumpet sensation to emerge from the States and played and featured in a highly acclaimed residency at Ronnie Scott's earlier in the year. His bright, open horn solos were delivered with an incredible clarity and fluency even when he chose to play off mic. This was my first sighting of him and his often fiery playing certainly justified the hype surrounding his seemingly meteoric rise to prominence.
Bojan Z, a fiery soloist in his own groups, seemed content to take a more supportive role here. Deploying both acoustic and electric keyboards, sometimes simultaneously, he was the harmonic glue that held the group together but still found room to make some significant solo contributions of his own.
Scott Colley, the only one of these musicians I'd actually seen live before, played this venue last year as a member of vibraphonist Gary Burton's quartet. One of the most sophisticated bass players around he negotiated the rhythmic complexities of Portal's music with aplomb and also made the most of his brief soloing opportunities.
I was hugely impressed with drummer Nasheet Waits who played with an amazing precision throughout, even in the most incendiary moments. A musician capable of playing with elemental power or with the utmost delicacy his control of dynamics was exceptional and on the occasions when he was allowed to cut loose his technique was just dazzling.
However the Portal group was about so much more than just the component parts. The intelligence and distinctiveness of the writing was highly significant and the interplay between the musicians exceptional. The exchange of ideas between Portal (whether on bass clarinet or the less commonly deployed alto and soprano saxophones) and Akinmusire was exceptional. Portal may be in his seventies but he's thoroughly attuned to contemporary ideas and Bojan Z's use of electronic textures frequently enhanced the music.
Chris Parker's review of this same gig on the London Jazz Blog suggested that Portal's music is unique. It's certainly highly distinctive with Portal's bass clarinet work sometimes reminiscent of Bennie Maupin's but with a palpably French and sometimes Middle Eastern feel. This was music that never stood still, constantly twisting and turning with patterns unfolding like a kaleidoscope.
Like many others in a pleasingly large crowd I was highly impressed and for me Portal represents an exciting new discovery. I'd also like to hear more of Akinmusire too.
After the gig I treated myself to a copy of the consistently excellent "Bailador" plus the 1987 album "Turbulence", another excellent record that wears it's age well and sounds remarkably contemporary. "Turbulence" features a line up that is something of a "who's who" of French jazz (Mino Cinelu, Richard Galliano, J.F. Jenny-Clark, Harry Pepl, Jannick Top and others). Both albums are highly recommended, particularly the current release. I shall also look forward to hearing tonight's concert again when it is transmitted on Radio 3's Jazz on 3 on January 13th 2012.

TUESDAY NOVEMBER 15th
MATT ROBERTS BIG BAND/ ALEX WILSON TRIO / DAVID SANBORN TRIO, SOUTHBANK CENTRE, QUEEN ELIZABETH HALL

MATT ROBERTS BIG BAND
Tonight's free Front Room concert featured another youthful big band (mostly alumni of the jazz courses at Trinity College and Middlesex University) under the baton of composer and sometime trumpeter Matt Roberts. Once again the event drew a very large and appreciative audience but we had learnt our lesson and ensured that we got there early enough to get a seat.
It is the aim of festival promoters Serious to give something back to the jazz community, particularly young up and coming musicians, and this event was presented under the "Young & Serious banner. Roberts and his well drilled and highly talented young band performed five original Roberts compositions, all with a science related theme. Influenced by contemporary jazz composers such as Dave Holland and Kenny Wheeler these were intriguing, richly textured pieces that nevertheless gave plenty of room for featured soloists such as Ben Mallinder (tenor sax), Jonny Griffiths (soprano sax), Tom White (trombone) plus Mike Soper and Laura Jurd (trumpets & flugel) to express themselves. Particularly impressive was the alto sax/drum battle between Will Scott and Mike Clowes on the rollicking Mingus like "Australopithocus", the very title a big hint as to what it sounded like.
The Roberts band also included a couple of more established musicians in the form of Aquarium's Sam Leake on piano and Billy Adamson, once of the Sarah Gillespie Band on guitar. Adamson's rock influenced, FX drenched solo on the closing "New Horizons" helped to bring an excellent set to a rousing climax.

ALEX WILSON TRIO
Once of the Jazz Warriors and Courtney Pine bands Alex Wilson is perhaps best known for his experiments integrating jazz with other genres of music-salsa, African, soul etc.
Many of these have been large scale projects including Wilson's popular, dance floor filling Salsa Orchestra and it was thus something of a surprise, albeit a very pleasant one, to see him going back to his jazz roots with this recently formed acoustic piano trio.
The new group featuring bassist Davide Mantovani and drummer Frank Tontoh has only been together for a couple of months but clearly have the potential to develop into one of the UK's top piano trios. Wilson exhibited a lightness of touch at the piano that may have surprised those only familiar with his more exuberant work as a member of large ensembles. His interplay with drummer Frank Tontoh, a long time stalwart of the British jazz scene, was particularly engrossing. I tend to think of Tontoh as a solid, reliable player, as at home with rock and pop as jazz (he once had a stint as a member of Level 42) but I was both surprised and impressed by his sensitivity here. Davide Mantovani is one of the most musical double bassists around and he helped to hold the trio together with his instinctive and flexible rhythmic sense and dexterous fluent soloing.
Taken as a whole this was an excellent set of pure piano jazz although Wilson's love of other styles subtly manifested itself from time to time, pop on a radically re-harmonised version of Sting's "We Work the Black Seam", a middle eastern influence on Wilson's own "Arab Spring" and African on his arrangement of a Malian Griot tune. Only at the end did he introduce an element of the Latin jazz that has often been his calling card.
Wilson's often delicate and always tasteful support set was very well received by the QEH crowd. The trio is due to record in 2012 and this evening's performance suggested that the results will be well worth waiting for. This is a highly skilled trio with enormous potential.

DAVID SANBORN TRIO
Many jazz fans and critics (I'll include myself here) have often regarded alto saxophonist David Sanborn's music as a bit "lightweight". Born in 1945 Sanborn had played pop, rock, and r'n'b for
ten years before adopting a more jazz orientated direction in the 1970's. His distinctive alto sound has appeared on records by Stevie Wonder, Gil Evans, James Brown, Jaco Pastorius and perhaps most famously the Rolling Stones. Whatever my reservations I was still determined to check out a true legend on one of his rare visits to London.
Appearing in a stripped back trio format with only organist Joey De Francesco and drummer Bryon Langham for company Sanborn exceeded my expectations with a punchy, grooving, good natured performance that featured some excellent playing from all three members of the group. Ross Stanley, arguably Britain's leading jazz organist rates De Francesco as one of the top two in the world (he also cited Larry Goldings) and the big man didn't disappoint.
De Francesco is a larger than life character in every sense and very nearly stole the show. Seated behind his mighty Hammond B3 he almost dwarfed the instrument but proved himself to be an inspired keyboard soloist. As if that wasn't enough he also added atmospheric Miles Davis style muted trumpet to some of the evening's more reflective numbers and a rousing bluesy vocal to the trio's version of "Let The Good Times Roll". All this meant that Sanborn had to be on top of his game to avoid being eclipsed by the big man and he rose to the occasion with a series of biting, marathon alto solos that left one in no doubt as to his abilities as an inspired improviser.
The bluesy, grooving "Comin' Home Baby" quickly staked out the trio's turf with each group member, including drummer Langham, stating their case with some fiery soling as De Francesco's rumbling organ bass lines propelled the group forward.
The Ray Charles tribute "Brother Ray", with De Francesco alternating between organ and trumpet, introduced an element of introspection as Sanborn and De Francesco traded solos. Introducing the song Sanborn mentioned the inspiration he had drawn from Charles' saxophonists Frank Crawford and David "Fathead" Newman. Sanborn's ballad for his grand daughter "Only Everything" slowed the pace yet further with Sanborn's alto solo followed by De Francesco on the trumpet.
The rest of the set was to be a relentless outpouring of energy beginning with Frank Crawford's "The Peeper" which sounded like something off a classic Blue Note organ trio record. Then came Joey's singing on a blazing "Let The Good Times Roll" which saw the audience clapping along.
Sanborn's old hit "Lisa", from his 1998 album "Inside" elicited the biggest cheer of the night with Langham's powerful drumming inspiring the two soloists to dizzying heights. The saxophonist's love of the blues was once more expressed in the closing "Basin Street" blues which was introduced by De Francesco's solo Hammond pyrotechnics before the trio took things storming out.
For the encore Sanborn beckoned the St. Louis based vocalist Denise Todd from the wings to join the trio on a superb version of "Every Day I Have The Blues" with the statuesque singer soulfully belting out the song punctuated by solos from Sanborn and De Francesco. Langham's dynamic feature ended the evening on a suitably energetic note.
Sanborn's blues centred, groove driven music had been very different from Michel Portal's rather more cerebral sounds from the night before but both were equally enjoyable in their own ways. I had been very impressed with Sanborn as a live performer, his solos were hard hitting and inventive and he proved himself to be an amusing and entertaining announcer of tunes. The diverse talents of Joey de Francesco were another exciting discovery and Bryon Langham's assertive, on the money drumming bound the group together.
For me it had proved to be a thoroughly satisfactory second day of the festival.

WEDENESDAY NOVEMBER 16th
GWILYM SIMCOCK, ST.JAMES' CHURCH, PICCADILLY.
This solo piano performance by BBC Radio 3 New Generation Artist Gwilym Simcock was one of three free lunchtime events organised at St. James by Christine Allen of Basho Records. Unfortunately we got to London too late on Monday to take in the inaugural performance by James Allsopp's Golden Age Of Steam trio featuring Kit Downes on organ.
Originally designed by Sir Christopher Wren St. James is a delightfully light and airy performance space which suited Simcock's music well. The prospect of seeing such a major figure of British jazz for next to nothing (there was a suggested donation of £3.50 per person to church funds) attracted a huge crowd and by 1.00 pm when the concert commenced it was standing room only. We had got there at least half an hour before the scheduled start and were seated six or seven pews back but even from there it was impossible to actually see Simcock's finger work at the piano through the forest of heads.
In the main Simcock drew his material from his Mercury Music Prize nominated solo piano album "Good Days At Schloss Elmau" released on ACT Records. Even though we couldn't actually see him Simcock sounded wonderful and there was an air of intense concentration and reverence as the audience listened really intently to the music.
Simcock began with two tunes from the album opening with the beguiling "These Are The Good Days" which saw him utilising the strings and body of the piano as auxiliary percussive devices. Simcock's verbal explanation of the tune "Gripper", basically trying to escape from a bore at a party, offered a valuable insight into the tune's ingenious mix of supreme lyricism and wilful dissonance.
"Little People", from Simcock's previous album "Blues Vignette" deployed an insistent, folkish melody and it was fascinating to compare this solo version of the piece with the big band arrangement we had heard from the Royal Academy Big Band earlier in the week.
Equally at home with classical music Simcock is a "crossover artist" in the best sense of the phrase and he was recently commissioned to perform a solo piano improvisation around the themes of Beethoven's Fifth Symphony for a BBC Radio 3 broadcast. He revisited this here to beautiful effect.
Simcock's admiration for Keith Jarrett is widely acknowledged and from "Good Days.." his "Northern Smiles" was a tribute both to his own Northern roots (does Stoke on Trent count as "The North") and to Jarrett's tune "Southern Smiles". The homage comes out in the "down home" mannerisms of Jarrett's "country blues" style and it could be argued that the piece is highly derivative. Be that as it may it still sounded great.
The set concluded with Simcock's heavily mutated version of the show tune "On Broadway" (also from "Blues Vignette"). He received a tremendous ovation from the audience in the packed church despite the fact that a lot of them couldn't actually have seen all that much.
Simcock is an artist who reaches out beyond the jazz constituency. He's a highly melodic improviser who never loses sight of the structure of a tune and his classically honed technique is frequently astonishing. It also helps that he's thoroughly charming and a witty and urbane introducer of tunes. Nothing ever seems to be too much trouble for him and he was still chatting away to fans and signing albums as we left, promptly adjourning to the Red Lion public house which stands almost next door. Here we discussed Simcock's performance over a pint of London Pride, simultaneously marvelling at the exquisite etched glass of the pub's many mirrors. In it's own way this was as much an architectural gem as the church itself.

OUT OF THE COOL, SOUTHBANK CENTRE, THE FRONT ROOM
A third big band performance in the six o'clock freebie slot featured a celebration of the celebrated Gil Evans album "Out Of The Cool", originally released on Impulse! Records. The Trinity Laban Contemporary Jazz Ensemble performed under the direction of Loose Tubes/Polar Bear saxophonist Mark Lockheart and included a number of musicians who had formed part of the Matt Roberts Big Band the previous evening, among them trumpeters Laura Jurd and Mike Soper, trombonist Emma Bassett and saxophonist Will Scott.
Under Lockheart's baton and with arrangements by Simon Marsh the band performed the entire album, despite varying the track order, plus a couple of other pieces inspired by it. They began with Evans' "La Nevada" with Lockheart and the band ably reproducing Evans'/Marsh's rich textures and voicings and with excellent solos coming from Jurd on trumpet, Bassett on trombone and Scott on tenor sax.
"Sunken Treasure" was a superb ensemble piece with trombones and tuba providing deeply sonorous depths before Mike Soper's trumpet pierced the darkness in the tune's closing stages.
"Bilbao Song" by Bertholdt Brecht and Kurt Weill was a similarly densely arranged ensemble piece.
George Russell's "Stratisfunk" saw the band's guitarist cutting loose (name lost, sorry) and the final piece from the album "Where Flamingos Fly" provided a showcase for the trombone of section leader Adam Tyas.
"Out Of The Cool" was recorded at the studios of the legendary recording engineer Rudy Van Gelder, a common denominator linking the three pieces that followed. Oliver Nelson's 1962 arrangement of St. Louis Blues" featured guest trumpeter Jonny Murray soaring high above a cushion of four muted trombones. Duke Pearson's rollicking "Minor League" again featured the growling trombone of Tyas, the alto of Ben Mallinder plus further solos for baritone and second alto. With things running a little late we had to leave to make our way to the Pizza Express for that evening's ticketed event and departed as bassist Ollie Hopkins played the opening notes to the closing "Song Of The Barracudas".
This third superlative big band performance from yet another collection of supremely talented young musicians suggested that the future of British jazz rests in very good hands indeed.

[ em ] , PIZZA EXPRESS JAZZ CLUB, DEAN STREET, SOHO.
The young German piano trio [ em ] is an outfit I'd been looking forward to seeing for a long, long time. The group have recorded four albums for the ACT label, all of them very different, and with a sound ranging from the deeply lyrical to full on groove. There is also a darkly romantic and distinctively Gothic tinge to their music that derives its origins from pianist Michael Wollny's classical roots and his fascination with horror and film noir. It's a quality that gives [ em ] a unique , and dare I say it, very German, identity that makes them stand out from other piano trios. This combined with their awesome individual techniques places them up there with the best in the business.
Wollny, Eva Kruse (double bass) and Erik Schaefer (drums) made their ACT début way back in 2004 with the hard hitting "Call It [ em ]". The group consolidated their approach with "[ em 2]" before adopting a more lyrical approach for "[em 3]", arguably their most accessible album. Always a little too dark to be the next E.S.T., with whom they actually share many musical characteristics, the trio thought about calling a day as Wollny pursued a parallel solo career but an explosive live performance at the 2010 JazzBaltica Festival, documented on "[ em } Live" galvanised the group and persuaded them to continue.
The tunes from the live album formed the backbone of tonight's two excellent sets in the intimate club atmosphere of the Pizza. Composing duties are spread around the group and the evening began with the "E.S.T." style grooves of Schaefer's "Bluten" (or "Flowers"), a tune that immediately set out the group's credentials, superlative individual techniques, a strong spirit of group interaction and an indefinable trademark intensity. Eva Kruse gave early notice of her considerable abilities with the first of several outstanding bass solos.
Schafer's "Shelley" was a masterclass in dynamics with the group shifting up and down the gears with Kruse's lyrical bass solo juxtaposed with the adrenalin rush of Wollny's pounding, Neil Cowley style piano soloing.
The live favourite "Phlegma Phighter" (from "2"), another Schaefer composition, ratcheted things up even further with Wollny reaching into the piano's innards, Kruse applying extended techniques to her bass and Schaefer augmenting his kit drumming with the deployment of a rack of small cymbals and gongs. An intense passage of solo piano from Wollny embraced both rumbling Gothicism and classical lyricism before the rest of the trio steamed back in to create a formidable groove. Exhausting stuff with the sprightly lullaby "Sov Lilla Alma" written by Kruse for her young daughter then coming as something of a relief. However even here Wollny's use of prepared piano sounds added something of a darker element. But this was nothing compared to the atmospherics of "Kiyoshi", Wollny's dedication to his favourite horror film director and featuring the eerie sound of Schaefer's melodica and percussion, Kruse's rumbling, grainy arco bass and Wollny's juxtaposition of thunderous minor chords and interior piano scrapings.
The first set concluded with the trio's nod to their hugely influential fellow countrymen Kraftwerk with a version of "The Model" with the three young Germans taking the motorik rhythms of vintage Krautrock and making them their own.
The Kraftwerk tune is yet to be recorded and the second set also included newer material including Wollny's impressionistic "White Out" which featured the white keys of the piano only alongside Kruse's bowed bass. The similarly atmospheric "Blank" also featured Kruse's rich, dark arco sound with these two pieces being punctuated by the grooving, Cowley-esque "Wasted And Wanted".
Kruse's driving "In Water" was the last tune get announced as the trio increasingly got their heads down and "went for it". Schafer's lengthy, marvellously idiosyncratic solo drum introduction to the next number (which I suspect was his own "Etude No. 1") combined impressionistic delicacy with rock power. The next piece (probably Schaefer's "Arsene Somnabule") re-introduced a touch lyricism through Kruse's plucked bass solo but with Wollny's avant garde classical flourishes and interior dabblings providing a suitably Gothic edge.
At this point the group left the stand but the enthusiastic reaction of a thus far highly attentive crowd ensured that an encore was inevitable. This was a tumultuous assault on the old live favourite "Gorilla Biscuits" featuring Kruse's flamenco bass strumming, Wollny's increasingly frenzied keyboard hammering and Schaefer's volcanic drumming. Terrific stuff.
The long wait had been worth it. I was hugely impressed by [ em ] with their superb musicianship, control of dynamics and fiercely individualistic writing styles. Although Wollny handled the announcements in English they take a real pride in their German heritage and have developed a unique piano trio style that fuses classically derived techniques with contemporary jazz and rock styles and more. Their music worked superbly in the intimate club setting of the Pizza but one sensed that they would have no trouble adapting their performance for the larger concert stage, a supposition that their live album would appear to confirm.
My thanks to John Lyons and Matt Fripp at AIR for their company at the gig and to the three musicians for speaking to me afterwards. I was also honoured and privileged to meet Siggi Loch, the founder of the ACT record label and a great champion of European jazz. ACT is one of the leading labels in Europe with a hugely impressive catalogue. Siggi told me that the label celebrates its Twentieth Anniversary in 2012 and that a series of special concert events will be taking place in Germany to celebrate this landmark. It's also hoped that something similar can be arranged in the UK.
Meanwhile the trio's new studio album, to be titled "Wasted and Wanted" will be released in the New Year with several live dates already confirmed across Germany. It is hoped that the trio will return to the UK also, possibly for a short tour. Watch this space.

THURSDAY NOVEMBER 17TH
EMILIA MARTENSSON, CAFE CONSORT, ROYAL ALBERT HALL
Today's lunchtime freebie featured Swedish born, London based singer Emilia Martensson in the elegant confines of the Café Consort at the Royal Albert Hall. To date Martensson is probably best known for her guest vocal contributions on the first two albums by Kairos 4tet, "Kairos Moment and "Statement Of Intent". That may all change in February 2012 when Martensson releases her new album "and so it goes" (Babel Records), a series of duets with pianist Barry Green that also features a number of guest appearances from such distinguished musicians as Julian Siegel (reeds) and Ben Davis ( cello).
Joining Martensson and Green for today's concert, part of the "Festival on the Move" strand which had seen Martensson performing at venues across the city, were bassist Sam Lasserson and Kairos drummer Jon Scott. The programme featured a number of vocal/piano duets interspersed by quartet numbers and comprised of a mixture of Swedish folk songs and classy jazz arrangements of intelligent pop songs by writers such as Jacques Brel, James Taylor, Paul Simon, Peter Gabriel, Billy Joel and Martensson's fellow Swede the late Esbjorn Svensson.
Martennson and Green work together her well, her flawless voice superbly complemented by the tasteful and versatile Green, surely one of the UK's most resourceful pianists. Their intimate duets included Brel's "If You Should Go Away", the Swedish folk song translated as "Seasons Came This Year" and Gabriel's "Washing Of The Water", yet another example of Gabriel's fondness for aquatic imagery.
During the quartet pieces Lasserson and Scott offered intelligent, sympathetic support with Scott's drumming as delicately detailed as ever. Green has worked with Lasserson in saxophonist Martin Speake's groups and the pair linked up flawlessly here with Lasserson contributing the occasional lyrical bass solo. The quartet repertoire included James Taylor's "Something", Paul Simon's wittily acerbic "Everything Put Together Falls Apart" and Billy Joel's surprisingly good title track. In both the duo and quartet formats Barry Green's solos were a constant delight, mixing lyricism and inventiveness in equal measure. He is a pianist with the ability to move seamlessly between the mainstream and the contemporary.
Spread over two sets this was a delightful way to spend a lunchtime and a large and attentive crowd listened well and gave Martensson and her colleagues an excellent reception. On the evidence of this performance the forthcoming album should be well worth hearing.

NEIL YATES TRIO, SOUTHBANK CENTRE, THE FRONT ROOM
By way of contrast to the recent slew of excellent big band performances in the Southbank's tea time freebie slot tonight's showcase featured a pared down trio line up under the leadership of trumpeter Neil Yates. A stalwart of the British jazz scene for many years the Manchester born musician's musical interests also include brass band and Irish folk music with the latter strongly represented on his new Edition records release "Five Countries". The title refers to the three musicians' places of birth, places of migration and places of domicile. Joining Yates in an intriguing line up were Hungarian acoustic guitarist Zsolte Bende and Irish percussionist Cormac Byrne. A virtuoso, hard driving bodhran player Byrne is familiar to me from his energetic input into folk/rock groups such as Uiscedwr and the Seth Lakeman Trio.
Tonight's programme drew entirely on the music of the "Five Countries" album beginning with Yates' "Rainy Harbour" inspired by Rhos on Sea in North Wales and featuring his distinctive, breathy flugel horn stylings and judicious use of live looping techniques. With subtle support from Bende and Byrne this richly atmospheric piece set the tone for much of the music to follow.
Yates kept to the flugel for much of the set including "Seventh Sense" (in seven, naturally), a showcase not only for Yates but also for the excellent Bende who contributed a delicately picked guitar solo. Byrne's low key virtuosity on the bodhran provided a beguiling rhythmic undertow. The album version segues into a version of folk flute virtuoso Michael McGoldrick's "Waterman's". Born in Manchester of Irish heritage McGoldrick has been a considerable influence on Yates with the trumpeter's distinctive style having been influenced by some of the techniques of McGoldrick's flute and whistle playing.
If "Rainy Harbour" exuded a tremendous sense of place the same could be said for Bende's "Frozen Forest", a musical account of the hard winters around Budapest. The combination of the composer's cleanly picked guitar lines, Yates' subtly looped flugel and Byrne's tinkling cymbal work evoked a suitably seasonal atmosphere.
The forces of nature also inspired Yates' "Storm On The Irish Sea" with Yates' intro evoking the sound of the wind and subsequently looping it. This formed the backdrop for some of the trio's most obviously "Celtic " playing to date.
"Izabella's Dream", a delightful dedication to the young daughters of both Bende and Yates was suitably playful and possessed a distinct dancing quality. Bende delivered a typically elegant solo and the impish Byrne produced the kind of energetic, jaw dropping bodhran solo that folk fans have already become well accustomed to.
Yates' "Freedom's Lost" was an expressive ballad featuring the composer's rich, rounded flugel tones, a gentle palette cleanser before the closing "set" of tunes "Slipreel/Time & Tide" which saw Yates doubling on flugel and wistful whistle.
Although very different to the big bands we had heard on previous evenings Yates' set was very well received by another pleasingly large crowd. He has developed a highly personal sound on the trumpet/flugel and together with Bende and Byrne he has created a unique trio. The music is still rooted in jazz and is often highly atmospheric but Yates' use of folk elements is very much his own.

MAGNUS OSTROM, C.A.M.P, OLD STREET
Drummer Magnus Ostrom was one third of E.S.T, arguably the most influential European jazz group of the last decade or so. The tragic death of pianist Esbjorn Svensson in 2008 terminated a group that was still very much at the height of its creative powers.
Since then Ostrom and bassist Dan Berglund have both emerged with their own solo projects with Ostrom's ACT release "Thread Of Life" attracting considerable critical acclaim. Both musicians have drawn substantially on their rock backgrounds and both Berglund's Tonbruket and Ostrom's "Thread Of Life" group deploy a very "prog" sound- which is fine by me, like Berglund and Ostrom I grew up with the stuff.
The last time I saw E.S.T. was in the plush surrounds of Birmingham's Symphony Hall on the "Tuesday Wonderland" tour back in 2007 (a show reviewed elsewhere on this site). The contrast between that palatial venue and C.A.M.P (City Arts and Music Project) couldn't have been more stark. C.A.M.P is a grungy, graffiti covered, standing only basement beneath an office block on the City Road, possibly a former bank vault or cold store or some such. However it suited tonight's performance to a "T", make no mistake this was a rock show in a rock venue with Ostrom and his colleagues plugging in and turning up the volume. Album personnel Andreas Hourdakis (guitar) and Thobias Gabrielsson (bass, keyboards) were joined by keyboardist Jonas Ostholm who was deputising for the album's Gustaf Karlof. Electronics were a substantial part of the band's sound with Ostrom deploying an FX unit in addition to a rack of small percussion implements (bells,cymbals etc) plus his conventional drum kit. Hourdakis, Gabrielsson and Ostholm employed plenty of gizmos of their own in a high energy show that fairly crackled with intent.
The bulk of the programme was drawn from the "Thread Of Life" album beginning with "Afilia Mi" which featured the soaring wordless vocals of Ostrom and Hourdakis with the guitarist also producing the first of a series of scorching solos whilst riding Ostrom's supple but powerful drum grooves. When the group played the Pizza Express earlier in the year occasional Jazzmann contributor Mark Albini commented on just how impressive Hourdakis had been.
"Longing" featured a lilting melody and searing Pink Floyd style guitar from Hourdakis cushioned by a bed of rich keyboard textures courtesy of Ostholm and Gabrielsson. The studious looking Ostholm also weighed in with an engaging electric piano solo on his Nord keyboard.
"Ballad For E", Ostrom's moving dedication to his late band mate Esbjorn Svensson represented a particularly poignant moment in the set and Ostrom was perhaps pleased to get it out of the way early on. The album track features both Berglund and Pat Metheny- the American guitarist was a great friend and champion of E.S.T. The trio version here contained moments of genuine beauty with Hourdakis filling Metheny's role with aplomb.
If "Ballad For E" brought with it a kind of tension the next piece (I think it may have been the forbiddingly titled "The Haunted Thoughts And The Endless Fall") came as an explosive release with its thunderous drumming and Hourdakis' wah wah "Shadows on acid" guitar.
There is an air of indefinable Nordic melancholy about much of Ostrom's output and this was typified by "Weight Of Death" with its funereal organ introduction and eerie, echoing guitar with Hourdakis crouching to manipulate his sound via the extensive use of a manually operated, floor mounted FX unit. This eventually segued into a powerful and brilliant improvisation centred around Ostrom's volcanic drum grooves and Hourdakis' gargantuan riffing as the twin keyboards of Ostholm and Gabielsson swirled and pulsed. Everywhere in the crowd heads and bodies were moving, evidence that Ostrom's group are also not afraid to embrace elements of contemporary dance culture. "I don't know where that came from" panted an exhausted Ostrom at the end "but it's our thing". Patrick Hadfield's review on Sebastian Scotney's London Jazz Blog made reference to "house jazz" which summed this little episode up very nicely.
The new tune "Through The Sun" included an extended feature for bassist Thobias Gabrielsson as the others drew breath. To close Ostrom then produced the ace up his sleeve in the form of the outrageously catchy "Piano Break Song", a supercharged piece that embraces both old fashioned jazz fusion and contemporary hip hop grooves by gathering these seemingly disparate elements around a killer hook. Ostrom's drumming was simply stunning in terms of speed, power and technique as Hourdakis once again headed for the stratosphere.
Although the basement was by no means full the enthusiasm of a young, noisy crowd ensured that an encore was inevitable. The new tune "I Think I Love Eternity" was a showcase for Ostrom who both introduced the piece from the drums and later delivered an astonishing solo that climaxed with him hurling his sticks into the crowd in a pure rock gesture. With the other players largely limited to textural roles this was Ostrom's way of saying "I'm in charge".
I thoroughly enjoyed this loud, high energy performance which combined attitude and adrenalin with a high level of technical skill. The basement space proved to be just right for Ostrom's music (apparently the band rehearse in a basement, no wonder they appeared to be so at home). Sadly it wasn't full, which given E.S.T.'s superstar status was surprising, but maybe the venue-and to a certain extent the music-was a little too edgy for many jazz listeners. As for Ostrom he seemed to be more than happy at going back to basics and the group seemed to be a tight knit unit with the potential for plenty more music in them. The presence of a couple of new tunes in the set suggested that a follow up to "Thread Of Life" is sure to follow. It will be interesting to see how this sharply focussed group develops.

FRIDAY NOVEMBER 17th
JULIAN SIEGEL & LIAM NOBLE, ST. JAMES' CHURCH, PICCADILLY.
The third and final concert Basho Music lunchtime concert at St. James' Church featured a delightful series of duets between Julian Siegel on a variety of reeds and Liam Noble on piano. These two are old friends and their collaborations go back a long way. Noble recently appeared on Siegel's latest quartet album, the highly acclaimed "Urban Theme Park" and today's material was largely drawn from that album. I recently saw the quartet perform this music live at Dempsey's in Cardiff ( a show reviewed elsewhere on this site) and it was fascinating to watch Siegel's tunes being performed in a different context yet losing nothing of their inventiveness or dynamism. Together Siegel and Noble distilled these tunes to their essence, it made for fascinating listening.
Having learned our lesson on Wednesday at Gwilym Simcock's solo piano performance we made sure we got there in plenty of time to secure a front pew which meant that we saw everything. Although not as rammed as for the Simcock concert the church was comfortably full by one o' clock and all those present agreed afterwards that Siegel and Noble had served up a lunchtime treat.
It took a while for the duo to get used to the church's slightly boomy acoustic but once they had the music was magnificent. Siegel stuck to tenor for most of a set which opened with Cedar Walton's arresting "Fantasy in D", the only outside tune on the "Urban Theme Park" album. As is often the case with Siegel this was a set short on announcements, he is a musician who just likes to get on with it and play so I decided to empathise and to concentrate on listening and enjoying rather than note taking. However I can report that other highlights included the lovely "Heartsong" with Siegel on clarinet and the coruscating 12/8 "One For J.T." ( a dedication to pianist John Taylor) with Siegel on bass clarinet. They concluded a fine set with "Sandpit", an appropriately playful tune and one that has become a staple of Siegel's live appearances.
Following the McCormack and Yarde duo performance on Monday evening this was the second brilliant piano/reeds duo performance of the week. It was particularly interesting to watch Liam Noble at work as he combined the melodic and rhythmic functions of the piano. Noble has an idiosyncratic, highly percussive style that owes something to Thelonious Monk and is a superb soloist, accompanist and improviser. He exhibited all these skills here yet also brought a lyrical aspect to his playing that is not always so apparent in other contexts. Siegel was as accomplished as ever on his various reeds, his technical mastery of his various instruments is awesome. It was also a tribute to the quality of his writing that his tunes stood up so well in this exposed duo setting. An excellent start to my final day at the festival.

CHRIS MAPP'S GAMBOL / STEVE TROMANS QUARTET, BARBICAN FREESTAGE
The West Midlands took over The Barbican on Friday evening with Birmingham Jazz taking over the Freestage and with Coventry native Jerry Dammers' Spatial A.K.A. Orchestra performing later in the Main Hall.
Birmingham Jazz have been co-hosting their Rush Hour Blues concerts at 5.30 pm on Friday evenings in the foyer of Birmingham Symphony Hall for a number of years now. These popular free events now attract national as well as local names and have done much to spread the jazz gospel in the Second City.
Tonight RHB came to London with Tony Dudley Evans of Birmingham jazz introducing two of the city's leading contemporary jazz groups. Bassist Chris Mapp is one of the joint organisers of Birmingham's adventurous annual Harmonic Festival and also leads his own group Gambol. I saw Gambol perform much of this music at the 2010 Harmonic Festival and a more detailed review of their music can be found in our festival coverage.
Mapp's music for Gambol is largely inspired by the sights and sounds of Birmingham and this set began with "Second Hand Telly", a wry reference to a particularly awful 1960's promotion film for Birmingham voiced by Telly Savalas who had clearly never been anywhere near the place. Solos came from Mapp's Harmonic colleague Percy Pursglove on trumpet, Dan Nicholls on piano and the composer on electric bass.
"Blues Blues" was a reference to Birmingham City's ailing football team and featured Pursglove, young tenor saxophonist Lluis Mather and drummer Jim Bashford. Nicholls switched to electric piano for the quirky "Time's Arrow", featuring as a soloist alongside saxophonist Mather.
Mapp's bass gave much of this music an underlying funkiness and no more so than on "Bill's Mothers", a title borrowed from an old Black Country expression. Here he also deployed looping effects to give a rich rhythmic backdrop to the engrossing horn interplay of Mather and Pursglove with the young tenor man taking the main solo.
To close, the punchy but suitably eclectic "Locals" featured a superb piano/synth solo from Nicholls with the keyboard man doubling on both instruments followed by an extended drum feature from Bashford.
The crowd at the Barbican was a lot smaller than it had been for similar events at the QEH and the audience response was a little muted. Nevertheless I had once again enjoyed Gambol's performance and it would be good if Mapp could get this music documented on record. This was Percy Pursglove's first appearance with the band, taking over from previous incumbent Aaron Diaz, and he acquitted himself well.
Mapp switched to the double bass for a performance by pianist Steve Tromans' quartet. Tromans group explored pieces by Charles Mingus, Wayne Shorter and Thelonious Monk using Tromans' "theme/open changes" method. Tromans, a great musical theorist describes the method thus;
"Theme/open changes' concentrates attention on the melodic aspect of jazz standards' themes, and forgoes strict adherence to the harmonic form in order to collectively explore the wider possibilities of each pieces' melodic thematic character in relation with the complex nature of the music-making of the four musicians in the quartet - individually, and in their capacity considered singularly, as a band. Being a jazz practice, rhythmicity remains to the fore of the music-making. Complex, swinging, melodic interrelation".
No arguments there as Tromans and Mapp plus Mike Fletcher (C Melody sax, alto flute) and Miles Levin (drums) dissected Charles Mingus' "Nostalgia In Times Square" with Tromans dominating with his dense, feverish piano soloing exhibiting a strong debt to Monk and even Cecil Taylor.
A free-wheeling segue of Shorter's "Footprints" and Monk's "Round Midnight" offered space to Fletcher on both flute and saxophone and Mapp on arco bass with a lengthy passage in saxophone trio mode.
Tromans' exhaustive explorations stretch out to a quarter of an hour or so at a time and the set closed with a feverish take on Monk's "Straight No Chaser" with impassioned solos from Fletcher on saxophone and Tromans at the piano.
Tromans interpretations of the jazz greats are intense, often cerebral, affairs but there's also an element of raw power in the quartet's playing that helps to draw in the listener. Tromans is a versatile pianist with an enquiring musical mind and a strong understanding of the tradition. This was interesting, if occasionally difficult, stuff with a good level of musicianship all round. Between them the two bands had demonstrated that there is a strong, capable and adventurous jazz scene flourishing in Birmingham.

JERRY DAMMERS' SPATIAL A.K.A. ORCHESTRA, BARBICAN MAIN HALL
Keyboard player and composer Jerry Dammers is probably still best known for his one time membership of The Specials, one of Britain's most significant "pop" groups ever. A famously spiky character Dammers was effectively frozen out of The Specials' recent highly successful reunion tour and has instead continued to concentrate on his twenty piece plus Spatial A.K.A. Orchestra, the very name a not so veiled reference to his former band.
However the Orchestra takes it's cue not from The Specials but from Sun Ra, the famously eccentric American band leader. Ra died in 1993 but his Arkestra lives on under the guidance of his former saxophonist and lieutenant Marshall Allen and I saw them give a rather disappointing performance at the 2010 Mostly Jazz Festival in Birmingham. Having seen Dammers' outfit on Jools Holland's programme and enjoyed them I was expecting rather more from Dammers and from this aspect he didn't disappoint. The Spatials have moved beyond the "Sun Ra Tribute" template to encompass other strands of music from rock to reggae and more and the line up includes some of the UK's leading jazz soloists thus ensuring some excellent individual contributions.
In the Sun Ra tradition the Spatials show is highly theatrical with colourful Ancient Egypt meets Dan Dare style props, costumes and headdresses- even the photographers crawling around the stage filming the gig had to dress for the part. A series of often stunning film projections came from a variety of sources including Coventry based visual artist George Shaw.
Dammers presented a sprawling set of twenty five songs without an interval which proved rather demanding on the audience. To begin the band processed through the crowd New Orleans style with Jason Yarde belligerently honking his soprano sax at selected audience members. Vocals form a big part of the Spatials experience with vocalist/songwriter/performance poet Anthony Joseph one of the orchestra's two principle vocalists. Joseph recited/sang his "Bleak Midwinter Blues" before being joined on stage by guest singer Edgar Broughton who lent his famously stentorian bellow to the Orchestra's version of "Frownland", Dammers' tribute to the recently deceased Captain Beefheart (the song appears on Beefheart's seminal "Trout Mask Replica"). Broughton's appearance was a delightful surprise, strongly influenced by Beefheart they couldn't have found a better man to pay homage to the good Captain. One of my early rock heroes Broughton originally hails from Warwick, just down the road from Dammers' Coventry.
The Spatials second main singer Francine Luce then performed the gospel tune "A Walk With Thee" with saxophonist Denys Baptiste taking the instrumental honours. Veteran reggae singer Johnny Clarke came on no less than three times to perform "Blood Dunza", "First Victim Of War" and "Peace In The Ghetto", his powerful and energetic performances helping to galvanise the all seated crowd. I was impressed with the charismatic Clarke who proved to be an assured and confident performer.
There was plenty of jazz amongst all this with versions of Duke Ellington's "Blue Pepper" (from his Far East Suite") rubbing shoulders with Andrew Hill's "Illusions", John Coltrane's "Naima" and of course a selection of exotically titled Sun Ra tunes. Here the instrumentalists came into their own with Alcyona Mick (piano), Roger Beaujolais (vibes) , Jason Yarde (soprano) and particularly Nathaniel Facey (alto) delivering fine solos. Joseph's moving and poetic song "Generations" incorporated fine instrumental passages from flautist Finn Peters and saxophonist Shabaka Hutchings.
All the while Dammers was conducting procedures with the air of an eccentric uncle. His Specials past wasn't forgotten with Joseph providing contemporary and spiritual new lyrics to the immortal "Ghost Town", now retitled "Ghost Planet".
The charismatic Francine Luce produced an astonishing display of vocal gymnastics on Ra's "I'll Wait For You" which also included Dammers' only keyboard solo of the night on suitably wonky sci fi sounding organ.
The instrumental "Straight Into Sampson" followed Johnny Clarke's final cameo and kept up the reggae theme with a a skanking rhythm that got some of the audience members to their feet. We were into the home stretch now and Ra's "Soul Vibrations" culminated in a string of solos from saxophonist Larry Stabbins (with a real slash and burn contribution), pianist Alcyona Mick, guitarists Patrick Hatchett and Guy Clarke, acoustic bassist Larry Bartley and drummer Patrick Illingworth.
"It's After The End Of The World" reintroduced all the singers with Broughton looking a little lost and also included a stunning trumpet solo from Robin Hopcraft. At this point the bulk of the band left the stage, exiting as they'd entered by processing through the audience. Luce returned to sing "I Hear A New World" with the small coterie of players who had remained on stage before exiting again to leave lone trombonist Harry Brown playing Dvorak's "New World Symphony" (or the Hovis ad to most of us).
As the lights came up the audience bayed for more but logistics dictated that this wasn't likely to happen. Instead Francine Luce and members of the horn section returned with Luce singing "Space Is The Place". With the vocalist acting as pied piper we were led into the foyer where the party continued with the horns plus percussionists Steve Gibson and Crispin "Spry" Robinson providing the backing to Luce and Joseph. With the tube beckoning I had to leave them there but I'm told that the celebrations went on for quite some time. This seemed to be impromptu but I suspect that the "party in the foyer" may be a regular feature at all Spatials shows.
A performance by the Spatial A.K.A. Orchestra is certainly an experience and it's one that overall I enjoyed. However it seemed to be a collection of great moments rather than the kind of integrated performances I'd seen from smaller musical units over the course of the previous few evenings. Of the five ticketed events I'd seen this was probably the only group I wouldn't go back to see some time in the future as that initial visual impact would be lost and the big band format offers less room for flexibility and development than the small group. Having said that Dammers clearly likes to change things round and react to situations, Broughton's Beefheart tribute was clearly a one off.
Also I'm not sure that The Barbican was the right place for this show. People were reluctant to get to their feet. A venue with some room for dancers may have been more appropriate. Nevertheless the Dammers experience is worth trying out at least once although I think many of his old Specials fans would find it rather perplexing.

OVERVIEW
The 2011 London Jazz festival appeared to be a huge success both artistically and commercially with virtually every event that I attended enjoying very healthy attendances. Only the Magnus Ostrom gig at C.A.M.P attracted a lower crowd than I'd expected. The free events that I went to also drew reassuringly large crowds and hopefully attracted some new listeners to the music. My host Richard (not a jazz fan) commented that the Festival seemed to be much more prominent around London this year with substantial media coverage so hats off to Serious' PR team for a job well done.
Artistically the festival scored with the sheer quality and variety of music on offer at an equally impressive range of venues right across the city. My ticketed events mirrored this with each evening offering a substantially different musical experiences from piano trio to jazz orchestra and with the venues varying from a sweaty basement through a more orthodox jazz club setting to the concert hall. The standard and variety of the free music also impressed and of the many performances I saw I can't say that there was one that I disliked. With regard to the ticketed events I have to say that I chose well, although on many evenings I could have gladly been in several locations at once. Over the course of the first four evenings I couldn't separate the varied talents of Michel Portal, David Sanborn, Michael Wollny and Magnus Ostrom, all very different performances but united by the quality of excellence. I could happily go to see any of these again. Musically I didn't feel that Jerry Dammers quite matched these but his Orchestra's gig was a unique experience and scored high on spectacle with the all star line up producing some memorable moments-and of course I loved the Edgar Broughton cameo. I was sorry not to be able to catch the Henry Threadgill concert on the Saturday but was suitably impressed by the subsequent Radio 3 broadcast.
Overall I'd say the festival was a huge success and it has certainly become a highlight of my personal jazz calendar. With a line up ranging from international stars to young hopefuls and with every style of the music represented plus the extensive range of free events the old cliché "something for everybody" seems particularly apposite. Well done to all concerned.
---
blog comments powered by

Disqus
JAZZ MANN NEWS
Friday, October 21, 2016
Publicist Fiona Fraser has forwarded details of the of the Conservatoire's concert programme for November and December.The schedule includes a number of events likely to be of interest to jazz fans.
Comments (0)
---
Friday, October 21, 2016
Saxophonist, composer and rapper Soweto Kinch is set to launch his new album "Nonagram" with a short series of UK live dates featuring his quartet. Press release attached.
Comments (0)
---
Friday, October 21, 2016
The long running folk rockers Oysterband have forwarded their latest newsletter including details of a forthcoming line up change plus a schedule of live performances to the end of 2016.
Comments (0)
---
JAZZ GIGS & EVENTS
Thursday, September 15, 2016 - Tuesday, October 25, 2016
Sunday, October 23, 2016
Sunday, October 23, 2016
Sunday, October 23, 2016
Monday, October 24, 2016
---
JAZZ MANN RECOMMENDS
---