FEATURE
Monday at Cheltenham Jazz Festival, 04/05/2015.
Monday, May 11, 2015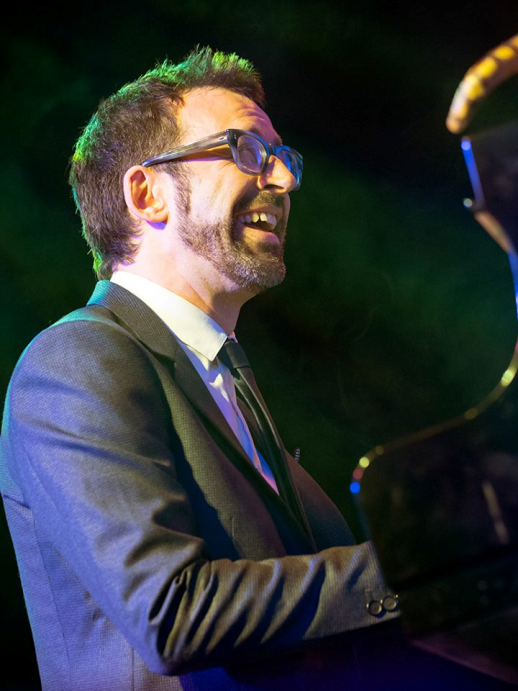 Ian Mann on the final day of the 2015 festival with performances by Hackney Colliery Band, Hattie Briggs, Melissa James and the Neil Cowley Trio.
Photograph of Neil Cowley by Tim Dickeson
MONDAY AT CHELTENHAM JAZZ FESTIVAL 04/05/2015.
The final day of the Festival usually features fewer performances than the Saturday and Sunday but with less going on the artists that do play often get the opportunity to perform to a larger audience than they might otherwise have expected. A case in point were the Hackney Colliery Band, a nine piece group of young musicians based in East London who eagerly seized their opportunity as they played to an audience of eight hundred or so in the Big Top at lunchtime. At one point trumpeter and band spokesman Steve Pretty asked for a show of hands from people who had seen the band before. A solitary arm went up. By the end of their energetic and highly entertaining show the HCB had attracted many new converts to the fold for music that looked to alternative rock and to the influence of American brass bands from New Orleans and Chicago as much as it did to the North of England.
Perhaps the blurb in Festival programme, sourced from the band's own website, was the best summation of HCB's approach; "Hackney isn't known for its mining tradition; this is East London's unique take on the brass band excavating nuggets of funk, hip-hop and high octane rock from the musical coalface and throwing in a few nuggets of Balkan brass, ska and contemporary jazz for good measure. Expect unexpected covers and grooving originals".
The band delivered all this in a musical display that mixed energy, wit and musical precision in a hugely enjoyable show that went down a storm with the lunchtime crowd.
Besides Pretty on trumpet and electronics the band included a couple of familiar faces in the shapes of trombonist Magnus Dearness and percussionist Olly Blackman, both of whom I'd seen previously as members of saxophonist Cath Roberts' Quadraceratops group. Nick Ashwood was on second trumpet, Mike Lesirge on alto sax, Ed Ashby on sousaphone and Luke Christie on a second set of percussion. There were two changes from the programme with former NYJO member Emma Bassett coming in on second trombone plus another female musician, Tamar Osborn, impressing on tenor sax.
First formed in 2008 HCB released their eponymous début album in 2011 with a line up that then featured saxophonists Cath Roberts and Tom Ward, both now of Quadraceratops. It's an effective blend of original composition and inspired covers ranging from Red Hot Chilli Peppers and Kings of Leon to Beady Belle and Toto. The group have also released a number of EPs including one that features a medley of Prodigy tunes. The music is all delivered in the patented HCB house style which mixes an element of post modern irony with an enormous sense of fun.
HCB started their Cheltenham performance with a bang, processing around the crowd led by Pretty on trumpet and with Blackman and Christie banging their sticks together and encouraging the audience to clap along. After gaining the stage they fairly ripped through "Common Decency", their current single, which Pretty described as a "polite protest song".
A cover of a Kanye West song began with a sonorous brass chorale in the Brighouse and Rastrick tradition before exploding into full on skronking contemporary brass band mode with trombonist Dearness quickly establishing himself as one of HCB's leading soloists.
There was no let up in the energy levels as the band ripped through Blackman's composition "Creeping Around After Dark" with Lesirge and Pretty taking the solos. As if the band's music wasn't arresting enough they also have a charismatic front man in Pretty, a bundle of energy who handles the announcements with humour, confidence and enthusiasm. Having worked hard to get the crowd onside he certainly wasn't going to let the advantage slip.
The new tune "Insecurity" brought the band's other trumpeter Nick Ashwood into the spotlight alongside live wire percussionist Luke Christie.
The cheekily titled "It's Normally Bigger" neatly encapsulated HCB's youthful, brash energy and confidence as Ed Ashby's monstrous sousaphone bass lines helped to fuel solos from Dearness on trombone and Osborn on tenor sax.
"Photoshop Handsome", a cover of a song by the Manchester based indie band Everything Everything, was the set's only ballad with Pretty's moody electronically enhanced Nils Petter Molvaer styled trumpeting to the fore as Blackman stepped away from his kit to add electronic percussion to the group's sound palette. We subsequently heard from Dearness and Ashwood as the band segued into another cover, this time of Goldie's "Innercity Life" which culminated in a percussion battle between Blackman and Christie.
The percussionists, particularly Christie, were also particularly active on the following "Dead Dialogue" and again on "Bread And Circuses", the title a nod to the forthcoming election. Here reflective passages featuring Pretty's pretty trumpet were juxtaposed with barrages of noise featuring the twin percussionists and Lesirge's alto sax.
They closed with the Prodigy medley, a merging of "Jericho" and "Out Of Space" featuring the massed voices of the band and even a rap episode from the ebullient Pretty. HCB's massed hordes of 799 new admirers absolutely loved this and the previously unknown band were greeted with a standing ovation with the audience's shouts being rewarded with a sousaphone driven encore from this remarkable young band.
HCB had grabbed their opportunity with both hands and I've no doubt that business in the merchandising tent was extremely brisk. I looked in later and picked up the last remaining copy of their début album and I'm pleased to report that the band's music stands up extremely well on record too. HCB combine youthful humour, energy and attitude with a high degree of musical sophistication and precision. More straightforward and less consciously eclectic than Surnatural Orchestra the previous day they were nevertheless the second of the Festival weekend's big surprise hits as they jolted the lunchtime crowd out of their ennui. A glance at the bands website http://www.hackneycollieryband.co.uk reveals that they have a full festival programme over the summer and this type of event very much seems to be their natural home. I predict a cult following and a regular place on the festival circuit for several years to come.
FRINGE SHOWCASE:
HATTIE BRIGGS / MELISSA JAMES
Sponsored by Local charity The Oldham Foundation the Mondat afternoon Fringe Showcase has become an annual event at Cheltenham Jazz. Each year two of the most popular acts from the previous year's Fringe events are given the opportunity to showcase their music in front of a paying audience at The Jazz Arena.
This year's event, introduced as usual by Foundation chairman John Oldham, featured locally based singer and songwriter Hattie Briggs and the London based vocalist and songwriter Melissa James.
The Oldham Foundation always present the work of a home grown talent and it was young Hattie Briggs from Stroud who took to the stage first accompanied by her equally youthful bandmates Henry Fraser (guitar, backing vocals), Asha McCarthy (cello, backing vocals), Jack Cookson (acoustic & electric bass) and Stuart Lawson (drums).
Still only twenty two Briggs straddles the boundaries between folk and pop. She has already recorded her début album "Red and Gold" and has played to large audiences as support to the folk duo Kathryn Roberts and Sean Lakeman and also on the recent solo acoustic tour undertaken by Feeder frontman Grant Nicholas. In many respects Briggs reminds me of Lisbee Stainton, a singer, musician and songwriter who looks to be in the business of making music for the long haul.
Accompanying herself on acoustic guitar and with the support of her band Briggs dedicated her first song, "A Beautiful Mind" to the memory of Pete Seeger, her lyrics taking their inspiration from Seeger's dictum " I don't write the songs, I only write them down", a phrase that implies that music is out there in the ether, just waiting to be discovered.
The second song, "Old Eyes", was dedicated to the singer's ageing pet dog Panda. A more mature piece of writing than that premise might suggest the song also included the harmony singing of Fraser and McCarthy. Briggs clearly loves working with cellists and has a real affinity for the instrument. Her arrangements featured McCarthy's playing prominently and I was hugely impressed by the playing of the young cellist, also from Stroud, who was by some distance the most distinctive of the instrumentalists. McCarthy's keening cello approximated the role of a steel guitar on the bitter-sweet, country tinged "Happy In Your Arms" combining effectively with Briggs' vocals and Cookson's electric bass.
Briggs moved to the piano for "Share Your Heart" and the anthemic "All About Love". "Pull Me Down" then introduced a darker lyrical element with Briggs' musings on her fears of being stereotyped by the music industry, Simon Cowell and all.
A move back to guitar presaged the only cover version of the set, a haunting take on Sting's "Field Of Gold" inspired by the recorded version by the late Eva Cassidy. Briggs' own recording of the song features a violin solo by Eva's brother Dan Cassidy, a musician who has also worked with singer Deborah Rose. The song itself is a timeless classic, whatever else you may think of him Mr. Sting has written some great tunes.
Briggs ended a mature and confident set with her own "Godspeed", a meditation on nostalgia and the joys of growing up in the Gloucestershire countryside inspired by her brother's recent move to work in the USA.
Although this was far from being a jazz performance I was very impressed with Hattie Briggs who carried herself well and displayed good vocal, instrumental and songwriting skills. This was a very mature presentation of her material and I predict a bright future ahead for an artist with the ability to appeal to music fans across a variety of genres. I note that she is already scheduled to appear at the 2015 Cambridge Folk Festival.
Melissa James was the next artist to take to the stage accompanied by her four piece band featuring Tom Gamble (guitar), Dan Moriyama ( keyboards) , Tim Nugent (bass) and Gareth Huw Davies (drums). Born in London of West Indian origin James' music embraces blues, soul, jazz and pop and her 2012 début album "Day Dawns", which features a number of leading London jazz musicians, gained a four star review from Jazzwise Magazine.
James' soulful, well enunciated vocals featured strongly on the acoustic opening number "Live Again". "Don't Do Yourself Down" then saw her band plugging in with electric guitar and keyboard sounds supporting James' powerful blues drenched message of self assertion.
"Carousel Of Life" was inspired by London' and the Thames and marked a return to acoustic territory and was followed by the slow electric blues of "Love Taking Hold".
James' roots in gospel music were unearthed on "Learn To Fly" which she dedicated to jazz saxophonist Tony Kofi who had played on the album "Day Dawns". This was another acoustic piece and the mood continued into the following "Where Are You Going", a ballad that included a melodic solo from Nugent on acoustic bass.
The affirmative lyrics of "Step By Step" saw James encouraging her audience to sing and clap along although some seemed a little reluctant, it wasn't quite the overwhelming response that the Hackney Colliery Band had enjoyed earlier on in the Big Top.
"Such Beauty" teamed James' rich voice with Nugent's bowed bass and Gamble's acoustic guitar. James and Gamble sometimes perform gigs as a duo in some of London's more intimate venues.
"Get My Nights Back" re-introduced a touch of soul and blues before the show concluded with the earnest "Long Road Travelled" which saw Moriyama doubling on melodica.
James had been billed as a blues singer and from this point of view her performance wasn't quite what I was expecting. I was impressed with the power, clarity and soulfulness of her voice and by her technical abilities as a singer. However I found the performance as a whole rather unfocussed and didn't really like her songs all that much with their proselytising lyrics and general air of earnestness. It was all a bit too preachy for me. I found the band rather too anonymous and self effacing too.
Subsequent comments on social media suggest that other listeners enjoyed this performance more than I and James herself seemed perfectly satisfied with events. All in all a qualified success I'd say and if I were to see either of these artists again it would probably be Briggs.
Despite my reservations about this particular performance I've got a lot of time for the Fringe Showcase and have always enjoyed the event over the years. I suspect that 2016 may feature Herefordshire based gypsy jazz guitarist Remi Harris, a locally based musician I've frequently championed on these web pages. Now it seems that the rest of the jazz world is catching up. Harris and his trio went down a storm at this year's Fringe with Jamie Cullum picking up on Harris' playing and featuring him on his recent programme on Radio 2. Cullum had some very generous words to say about Harris' abilities and this kind of publicity is surely guaranteed to win the young guitar wizard even more admirers.
NEIL COWLEY TRIO
I opted for something tried and tested for my final gig of the Festival. Pianist and composer Neil Cowley has also been a frequent presence on these pages as I've charted his career over numerous albums and live appearances.
Classically trained Cowley embarked on a career as a session musician playing with pop and soul bands (Zero 7, Brand New Heavies) before forming a jazz trio in 2006 and making a big impression with his hook laden début album "Displaced". The subsequent years have seen Cowley honing the trio's approach, the music gradually becoming more nuanced but without ever losing its unique vitality and humour. 2012's "The Face Of Mounthill" even found the trio collaborating with a string quartet and occasionally expanding the ensemble up to orchestral size for selected festival performances. Meanwhile Cowley has continued to pursue a lucrative session career and his involvement on both of Adele's albums has led him to describe himself as "the most listened to pianist on the planet".
Recently Cowley has been paying to tribute to Dudley Moore, his musical and comedic hero, in a one man show that he will be taking to Brecon Jazz Festival later in the year. Humour has always been a vital part of the trio's live performances and today was to prove exception as Cowley steered his trio through a boisterous performance of material from the latest album "Touch And Flee", arguably their most mature work to date, plus a clutch of old favourites from earlier albums.
Cowley was joined at the Jazz Arena by ex pat Aussie bassist Rex Horan and ex pat Kiwi drummer Evan Jenkins. If Cowley was suited and booted then the extravagantly hirsute Horan must have been bearded and weirded. The bassist's percussive bowing joined with Cowley's piano to create intricate morse code patterns on the opening piece, the music building incrementally and relentlessly to induce an almost trance like state.
Elsewhere song like structures combined with catchy hooks on pieces like the perennially popular "Rooster Was A Witness" from the "Mount Molehill" album and the pounding "We Are Hear To Make Plastic".
However these days there is more depth to Cowley's music and the set also included moments of serene balladry, softer classically inspired moments and the kind of smouldering, slow building epics that inspired the following blurb in the Festival programme; "the greatest stadium filling anthems that Coldplay never wrote", a quote sourced from Uncut Magazine.
With his muscular bass grooves, virtuoso pizzicato soling and E.S.T. inspired bowing Horan is a dynamic new presence in the trio line up having joined the group in time for the 2012 "Mount Molehill" recording. He's a striking visual presence too and links up well with Jenkins, an immensely powerful drummer who has also played in rock and blues bands but who also possesses the precision and sophistication required to play contemporary jazz. Meanwhile Cowley's influences range from Chopin to The Clash. The trio are a great team and their live appearances are all about having fun, this was a trio that was bantering with each other all the time and Cowley's tune announcements were often hilarious. His is a waspish and very British wit.
Unusually for a contemporary jazz trio Cowley has a couple of early pieces from his band's repertoire that he considers to be the group's "greatest hits". First up is "His Nibs" from the second recording "Loud, Louder, Stop", the album titled cheekily lifted from a disparaging review. The tune itself is one of Cowley's most catchy and instantly memorable and was played by the band on Jools Holland's show in 2008 in front of a bemused James Taylor as well as featuring in a Guinness advertisement. Today's version incorporated extreme dynamic contrasts and culminated in an explosive Jenkins drum solo.
"She Eats Flies" dates back to the trio's 2006 début "Displaced" and is routinely described by Cowley as being about "a spider that lives at the bottom of our garden that's the size of a cat". By now it must be a very old spider too . Today's enormously expanded version included extended features for both Horan and Jenkins plus Cowley's relentless, trance inducing, almost shamanistic keyboard pounding that left both pianist and audience feeling drained and shattered. Despite a tumultuous reception the lights came up and there was to be no encore.
I've seen the Cowley Trio live on numerous occasions and although there was nothing genuinely new here I still thoroughly enjoyed it. Cowley may have his critics but he's carved out a unique space for himself in contemporary British jazz and remains a popular and dynamic live performer whose albums continue to show signs of gradual artistic growth. Altogether something to be proud of I'd say.

FESTIVAL OVERVIEW

Overall the 2015 Cheltenham Jazz Festival exceeded my expectations. The music that I saw was almost universally excellent with all the big American names -Shepp, Konitz, Douglas, Lovano, Scofield and MMW- delivering the goods. In other years I've sometimes felt that some of the big name headliners have been going through the motions. This time round all of them offered something new, different and exciting.
Surnatural Orchestra, Hackney Colliery Band and Bassekou Kouyate represented exciting new discoveries and perennial favourites such as Phronesis, Kit Downes, Neil Cowley and Julian Arguelles were all as good as expected.
The weather was better than many had dared hope following some gloomy predictions and the festival site was very well attended with thousands of people enjoying music on the free stages. The ticketed events all drew large audiences with many performances selling out.
I still miss the Everyman Theatre but the acoustics within the tented venues continue to improve and overall I feel that Cheltenham is continuing to get the balance right between the popular and the more experimental. Reports that I've heard suggest that the Festival met its financial and attendance targets so all seems set fair for another successful year in 2016.

---
blog comments powered by

Disqus
JAZZ MANN NEWS
Tuesday, July 17, 2018
The New York All-Stars featuring Eric Alexander & Harold Mabern will release a new live recording "Burnin' in London" on September 7th 2018. They will be touring in Europe and the UK in Sept and Nov.
Comments (0)
---
Tuesday, July 17, 2018
Saxophonist and composer Julian Costello will lead his quartet on an "Open Soundcheck" tour in the UK and Europe during the Autumn of 2018. Press release attached.
Comments (0)
---
Saturday, July 14, 2018
Guitarist, composer, bandleader, and producer Al Di Meola has been presented with an Honorary Doctorate at a ceremony held at Berklee College of Music's Valencia Campus. Press release attached.
Comments (0)
---
JAZZ GIGS & EVENTS
Saturday, March 17, 2018 - Saturday, July 21, 2018
Friday, July 13, 2018 - Sunday, July 22, 2018
Thursday, July 19, 2018 - Tuesday, July 24, 2018
Thursday, July 19, 2018 - Saturday, July 21, 2018
Friday, July 20, 2018
---
JAZZ MANN RECOMMENDS
---