FEATURE
Saturday at Lichfield Real Ale, Jazz and Blues Festival 2009
Thursday, July 02, 2009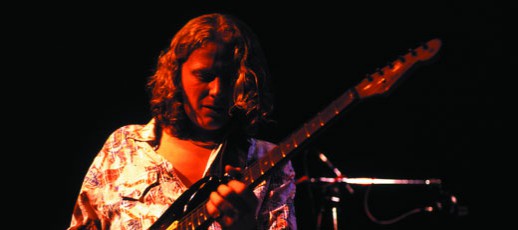 The Lichfield RAJB organised by Lichfield Arts just goes from strength to strength. The music on offer this year was of a consistently high standard
Saturday at Lichfield Real Ale, Jazz and Blues Festival 2009
Lichfield Real Ale, Jazz and Blues Festival
Lichfield Rugby Club Saturday 27th June 2009
The Lichfield RAJB organised by Lichfield Arts just goes from strength to strength. The music on offer this year was, of a consistently high standard and this combined with warm weather and a bumper attendance, particularly on the Saturday made this year's festival a candidate for the best ever.
I was only able to attend the festival at the weekend and missed the r'n'b/blues veteran Chris Farlowe (of "Out Of Time" fame) on the Thursday and harpist Erroll Linton's Blues Vibe on Friday.
The music I did hear more than made up for this with every band over the weekend rising to the occasion to deliver a series of memorable sets embracing a variety of musical styles. As ever the format was of two sets from each act punctuated by a lengthy interim while other artists took the stage. The stage and sound crews certainly earn their corn at Lichfield and do an excellent job with the many turn rounds.
The Lichfield arrangement is certainly unusual but the musicians seem to like it, taking the chance to relax and hang out between sets. In their different ways pianist Steve "Big Man" Clayton and Partisans drummer Gene Calderazzo reflected on the dangers of the practice of "giving musicians a three hour break when there's all that beer around". Steve delivered this observation in fluent Brummie, Gene in his best New York drawl but without exception every act returned to deliver a second set that surpassed the first, and most of the opening sets had been pretty damn impressive.
ZOO
Saturday's proceedings commenced with Zoo, a quintet of Midlands based musicians centred on the Derby area. Their music is based around the song writing axis of Karen Clegg (voice,keyboards,melodica), Reg Clegg (guitars and bass) and Paul Biggins (guitars, keyboards and bass). This core trio are now complemented by the highly accomplished saxophonist John Sanderson and the versatile drummer Ian Beestin.
The festival brochure described Zoo's music as "nu-fusion" but it's a description that does them something of a disservice. At first hearing Zoo's music might sound inconsequential, a little bland even but there is an element of grit in their writing that makes them far more interesting than their smooth exterior might suggest. Fundamentally this is a song based band and those songs are intelligent and well crafted with a welcome touch of both bile and whimsy in the lyrics. That is not to say that the group lack instrumental expertise. The husband and wife team of Reg and Karen Clegg plus songwriting colleague Biggins are all talented multi-instrumentalists and Sanderson an inspired soloist on the moments when he cuts loose. Drummer Beestin offers flexible and sympathetic support in a thoroughly dependable manner.
Zoo are nothing if not prolific. Their new album "End Of The Telegraph Wires" (which will be reviewed on this site in due course) follows swiftly on the heels of "Endangered Species" (2006) and "Greenhouse" (2008).
Unfortunately I missed the start of their first set but arrived in time to hear the reflective "Could've" with Karen's rueful lyrics and vocals complemented by a fine tenor solo from Sanderson. Many of the group's songs are about relationships gone wrong but they avoid all the clichés and the lyrics have a bitter-sweet, poetic edge. "That's It" from "Endangered Species" falls into this category and here boasted an intriguing arrangement for twin guitars (Reg Clegg and Paul Biggins) with Clegg's solo making good use of effects to produce ghostly scratchings and scrapings that were wholly in line with the arrangement and subject matter. The first set closed with Biggins' "Leave It All Behind" a more optimistic song of escape featuring Sanderson on soprano.
Their second set included "Life In A Day" featuring Reg on slide guitar and Sanderson on tenor.
"Big Red Bus" combined a story "about someone's life" with a reference to the tragedy of 9/11 and saw Reg on bass with Sanderson on soprano.
A new song "December" saw Karen demonstrating her keyboard skills with an electric piano solo. She had already amply demonstrated her vocal abilities with an assured, controlled performance throughout. Sanderson weighed in with another fine soprano solo. He is very much the band's star instrumentalist and his addition to the permanent line up has given the group a considerable boost.
The ethereal"Walking Not Running" saw him switch to bass clarinet with Reg adding guitar atmospherics and Beestin deploying finger cymbals for a novel but effective touch.
The insistent "Changes", another of Biggins songs about the nature of reality and the escape from it was based around a shuffling beat with Sanderson's tenor solo taking the instrumental honours.
Finally came "Disguise" another Biggins song based around Karen's semi spoken vocal and keyboard solo. This was an effective and fun way to end the set.
Zoo have a lot going from them and show considerable vocal and instrumental talent. They're not really a jazz act although they use a lot of jazzy chords and ideas, a touch of Norma Winstone here, a dash of Brazilian jazz stylings there. Ultimately they're rather difficult to pigeon hole which may count against them and as performers they should perhaps project themselves a little more. But having said that I was very pleasantly surprised by Zoo (who are all very nice people by the way ) making this a very enjoyable way to start the day.
MATT SCHOFIELD BAND
The brilliant young blues guitarist and vocalist Matt Schofield is somewhat easier to categorise. I first saw him play with a trio at Burnley Blues Festival in 2007 and was highly impressed. I was certainly looking forward to seeing him again albeit with a different line up.
At Burnley Schofield had deployed an unusual instrumental line up, certainly in blues terms. The C3 Hammond organ of Jonny Henderson proved a novel and effective foil to Schofield's quicksilver guitar and the line up was completed by the versatile New Zealand born drummer Evan Jenkins, also of the Neil Cowley Trio.
With Jenkins now working with Cowley full time his place has been taken by hard hitting drummer Arin Baudry from Bordeaux, France via New Orleans, Louisiana. Henderson remains as Schofield's co-pilot and long time associate bassist Jeff "The Funk" Walker has been added to the line up moving between a distinctive upright electric bass and more conventional bass guitar.
Schofield proved to be one of the festival's biggest draws and arguably the most popular act over the two days. Several people had come to see him after hearing him on Paul Jones' BBC radio show and there were certainly a good number of hard core blues fans out in force.
It was immediately easy to see why Schofield is considered one of the rising stars of British blues. He is a fluent and fiery guitar soloist with all the chops, a soulful vocalist and a charismatic stage performer. Albums like "Sifting Through Ashes" and the recent "Heads Tails & Aces" recorded with his current line up also reveal him to be a talented songwriter in the blues genre. In short Schofield is the full package.
Most of the songs heard at Lichfield saw Schofield trading blistering solos with Henderson's Hammond, the guitar and organ duelling reminding several listeners of Ritchie Blackmore's jousts with Jon Lord in the prime time Deep Purple line up. Speaking to Schofield afterwards he revealed that Purple weren't really an influence, he was more influenced by more hard core blues guys like Elmore James and Freddie King but had played in bands with Henderson since they were thirteen. It would seem that their relationship offstage is certainly a lot less combustible than Lord and Blackmore's.
Henderson's Hammond ensures that the Schofield band sounds very different to some of the more pedestrian acts on the blues circuit. The organist adds a distinctive touch and his feverish soloing keeps Schofield very much on his toes. It's a thrilling combination ably supported by a solid and dependable rhythm section.
The group concentrated on material drawn from "Heads, Tails & Aces" , an album that will be reviewed in full on this site in due course. It's an impressive record that covers a range of blues styles and manages to bring something of the excitement of Schofield's live shows to your front room.
The first set included covers of numbers associated with Schofield's blues heroes as well as a handful of originals. Schofield's own tunes included the blues funk of "Live Wire" with Baudry's "second line drum groove" and Henderson on funky Wurlitzer electric piano. "Lay It Down" was a slow blues featuring the Wurlitzer plus Schofield's wailing, stratospheric guitar.
The guitarist's best playing in the first set came on a storming version of Freddie King's "Woman Across The River". Elmore James' "Stranger Blues" rounded the first set off in incendiary fashion and drew the first standing ovation of the day. The packed crowd clearly loved young Mr. Schofield and his band.
The second set was even better with more dazzling playing from Schofield and Henderson on an equally impressive range of material. We had flat out Chicago style electric blues, funk/soul blues, classic slowburning blues and a final blues boogie with all the members of the band taking a solo.
Schofield wasn't much into announcing tunes, this was a band that that just wanted to get their collective heads down and play but the playing was fantastic. "Ear To The Ground" was one title I remember and another number paid tribute to the great Albert Collins.
Once again the band were greeted with a standing ovation, even more fervent than before. In many ways the Schofield band were the perfect choice for a jazz and blues festival. Schofield's playing, singing and writing embodies all the traditional blues virtues but there is a jazzy, improvisational element about the dazzling soloing of Schofield and Henderson to keep the jazzers happy. Matt Schofield is a dynamic live act and I'd urge every music fan to check him out not just hard core blues buffs. It's almost impossible not to be impressed and his albums stand up pretty damn well too. There was a time when Schofield would have been a major league mainstream guitar hero but with the blues now rather marginalised he has to be content with being the best in his field. There can't be many better blues artists in the UK than this guy, he deserves to acquire an international reputation.
DAVE STAPLETON QUINTET
Pianist and composer Dave Stapleton had the unenviable task of following Schofield but did so with considerable aplomb. The DSQ as Stapleton likes to refer to them are essentially a contemporary jazz group but there are elements of blues in their music, mainly through the playing of trumpeter Jonny Bruce, alongside the classic bebop/hard bop virtues plus a smattering of more contemporary elements.
Stapleton has come up with a distinctive group sound, his punchy but always interesting compositions often based around a persistent piano motif that provides the platform for fiery soloing from Bruce and saxophonist Ben Waghorn. The experienced bassist Paula Gardiner and drummer Elliot Bennett form a powerful but flexible rhythm section with space given to Gardiner to demonstrate her fluency as a soloist. This is a highly cohesive working band with two excellent albums under it's belt,"When Life Was In Black And White" (2005) and "The House Always Wins" (2007). Stapleton is also a partner of the increasingly influential Cardiff based Edition label and although the pianist now lives in Wiltshire DSQ originally had it's genesis in Cardiff.
The group's two enjoyable sets drew on material sourced from both albums. "When Life Was In Black And White" featured Bruce's growling, bluesy cup muted trumpet sounding for all the world like a modern day King Oliver or Bubber Miley. Later he produced some piercing high register playing and there were also quality solos from Waghorn on tenor and Gardiner at the bass.
"Dedication Song" from "House" featured staccato riffing based around Stapleton's piano. Solos came from Waghorn on tenor and Bruce on trumpet, his bluesy smears adding an element of sly humour to the music. The composer himself also featured as a soloist accompanied only by Bennett's percussion before the band came steaming back in. Like many of Stapleton's compositions this piece made skilful use of the building and releasing of tension.
The more lyrical "Images" began with the leader's piano and understated unison horn lines. Stapleton soloed first at the piano before Waghorn delivered a brilliant solo on the tenor. Whilst the music was going on in the marquee a sizeable audience had gathered to watch the epic British Lions v South Africa match in the main bar. In a moment of unscripted synchronicity Waghorn climaxed his solo as a mighty roar went up from the rugby fans. Waghorn bowed exaggeratedly as the rest of the band nearly cracked up laughing. Priceless.
With composure restored the quintet played an unannounced item featuring another bluesy cup mute solo from Bruce, wilfully dissonant piano from Stapleton and an incisive solo from Waghorn on soprano.
To round off the first set the marvellously titled "Zonk"( from "House") came with a tenor/drum intro leading into a major solo from Waghorn. Dynamics are at the heart of Stapleton's writing and a contrasting central section featured Stapleton's doomy piano figures and Gardiner's grainy bass solo.
Bruce's bluesy trumpet growls led into the next part of the tune followed by a powerful solo from Stapleton. The trumpeter was later featured playing the open horn with Waghorn switching to soprano on a lively Latin flavoured closing section. This was typical Stapleton covering a wide range of moods styles in the course of a single composition.
It had been an impressive set and was well received by the Lichfield crowd. If DSQ's jazz did not quite have the visceral impact of Schofield's blues it was nevertheless music with a high degree of both accessibility and intelligence. Check the quintet's albums out, both are excellent and make highly rewarding listening.
The quintet's second set was similarly well received but slightly truncated due to earlier delays. The material included "Second Life", "Out Of Focus" and a reprise of "Images" from the first set. As before we witnessed some fine soloing, particularly from the two horn men and some excellent ensemble playing. DSQ are a consistently reliable live act and recommended to just about everybody. There's an urgency and brightness about the band's playing that should hold appeal to all lovers of good music.
STEVE "BIG MAN" CLAYTON
The grand piano remained in place for a solo performance from pianist and vocalist Steve Clayton. Born in Birmingham but now resident in Germany Clayton is still a respected figure on the Midlands music scene and a regular performer at Lichfield.
It wasn't easy for a solo performer to follow bands of the calibre we had seen but with his blend of songs, humour and a dazzling piano technique Clayton did it with a flourish. He's a huge man with a personality to go with it and his two sets gave us a guided tour of boogie and blues piano plus a shot of early rock'n'roll.
With his walkin' stalkin' left hand rhythmic figures and dazzling right hand pyrotechnics Clayton is the consummate boogie pianist. His vocal versions of blues numbers are pretty convincing too but it was the excursions into early rock in the second set that the audience really loved. By this time Clayton was clearly in party mood (he was perspiring profusely and may just have had a few beers) and was positively encouraging audience participation. Thus we had "Sweet Little Sixteen" and an audience singalong of the fats Domino classic "Blueberry Hill".
Humour is a vital part of Clayton's act and he threw in a quote from "Billie Jean" in the first half as a reference to the recently deceased Michael Jackson. The second half included his vocal imitations of a steam locomotive on what my notes describe as a "Train Boogie" plus a wonderful cod classical introduction to a lascivious "Whole Lotta Shakin' Goin' On". This combined with Clayton's humorous verbal banter made for a hugely entertaining show which was very much appreciated by the crowd.
Clayton is very good at what he does, let there be no doubt about that, and he is a highly talented pianist and raconteur. Live he is great fun but I don't think I'd particularly want to listen to him at home. On balance Clayton was my least favourite act of the day but he was hugely enjoyable for all that.
WONDERBRASS
Party time is also what Wonderbrass are all about. This twenty five piece community big band from the South Wales valleys have been a popular fixture at the Brecon Jazz Festival for years and will even be returning to 2009's truncated festival. They've played Lichfield before too and were back by popular demand.
Although Wonderbrass are regarded as a "party band" there is a high degree of intelligence and musical skill at work in their arrangements and there is plenty here for the more serious listener to enjoy. The band's musical director/conductor/MC is saxophonist Rob Smith, also a mainstay of Wonderbrass' close musical relatives the Heavy Quartet themselves perennial festival favourites.
Smith is one of Wonderbrass' principal soloists but at some point during the evening virtually everybody gets a go on a mind boggling range of instruments. There was every member of the saxophone family (including a bass sax which incredibly I don't think I've ever seen before), trumpets, trombone, several flutes, guitar, bass, drums and- wait for it- sousaphone! Everybody sounded good, a tribute to Smith's arranging skills and the hard work the band clearly put in behind the good time façade.
The band play an eclectic repertoire that encompasses jazz and pop and various types of world music including both cover versions and original compositions. Thus we heard a piece by the great Brazilian eccentric Hermeto Pascoal followed by two items by King Django a former collaborator of the band from New York City. These were "Buccaneer Bay" and "Frind" with the lyrics of the latter translated into Welsh and delivered with gusto by two of the several attractive young ladies in the Wonderbrass line up.
"Midnight Sun" packed a mighty "bottom end groove" courtesy of the miscellaneous bass instruments in the band and by the time of "Groovin' with The Aztecs" a good proportion of the crowd were indeed groovin' down at the front.
A remarkable horn driven version of the Beatles "Day Tripper" powered by the baritone sax of Jenny Bradley had the audience singing along and Bradley, one of the band's main soloists also featured on a version of the Dirty Dozen Brass Band's "Remember When".Another of the band's principal soloists is a huge guy who looks as if he should be in the Lions' second row in South Africa. He plays the flute whilst the dainty Jenny blows the hell out of a hulking great baritone. It just goes to show you can't judge by appearances.
A skanking "Phoenix City" and a rip roaring version of the old Heavy Quartet favourite "Tao Driving" (written by Smith) saw some of the band's female members coming down from the stage to dance with the audience and leading the moves. A ragged but good natured version of the old reggae classic "The Liquidator" sent everybody home happy. Great fun, I guess you had to be there.
I seem to remember somebody once describing a Wonderbrass gig as being an "uplifting experience". There's no answer to that!
What a wonderful day of music, sounds to make you think, laugh and finally dance. And the beer wasn't bad either.
---
blog comments powered by

Disqus
JAZZ MANN NEWS
Friday, May 24, 2019
The Vortex has forwarded details of its schedule for the week commencing 24th May 2019.
Comments (0)
---
Friday, May 24, 2019
Saxophonist YolanDa Brown will join fellow speakers Jimmy Rotherham, Chris Sharkey & Helena Summerfield at the Jazz North Education Conference on 12th June at the University of Huddersfield.
Comments (0)
---
Friday, May 24, 2019
Laura Thorne of the 606 has forwarded details of the club's programme for the month of June 2019. Fully detailed schedule attached.
Comments (0)
---
JAZZ GIGS & EVENTS
Thursday, May 23, 2019 - Monday, May 27, 2019
Friday, May 24, 2019 - Monday, May 27, 2019
Saturday, May 25, 2019
Saturday, May 25, 2019
Saturday, May 25, 2019
---
JAZZ MANN RECOMMENDS
---