REVIEW
Greyish Quartet / Sons Of Kemet, The Hare & Hounds, Kings Heath, Birmingham, 06/06/2012.
Thursday, June 07, 2012
Reviewed by: Ian Mann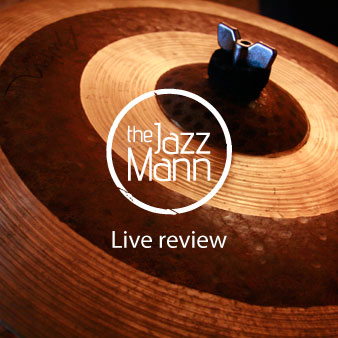 Ian Mann enjoys Sons Of Kemet's first appearance outside London, a triumphant homecoming for leader Shabaka Hutchings.
Greyish Quartet / Shabaka Hutchings' Sons Of Kemet, The Hare & Hounds, Kings Heath, Birmingham, 06/06/2012
This "Jazz Club" event, promoted by the new Jazzlines partnership recently formed by Tony Dudley Evans and Mary Wakelam, formerly of Birmingham Jazz, and the Town Hall/Symphony Hall organisation marked my first visit to the Hare & Hounds in Kings Heath. The pub is a huge Edwardian edifice, an alehouse with impressive period pub décor including etched glass and ceramic tiles - plus the very welcome bonus of locally brewed real ales from the Warwickshire based Purity Brewery. More importantly it also possesses an excellent upstairs function room which plays host to many other varieties of music from folk to indie and heavy rock. A plaque outside the pub honours UB40's first ever gig back in 1979. More recently the venue has established close ties with the Mostly Jazz Funk & Soul Festival, hosting the after show parties once the open air events held in the splendid setting of Moseley Park have finished for the day.

GREYISH QUARTET
The evening began with Greyish Quartet led by pianist and composer David Austin Grey and featuring young Birmingham based musicians Sam Wooster (trumpet), Nick Jurd (double bass) and James Bashford (drums). All are current or former students of the acclaimed Jazz Course at Birmingham Conservatoire.
I'd seen the group briefly once before when they played a short set in the bar area of the Midlands Arts Centre as part of the 2011 Harmonic Festival. Although this wasn't the most sympathetic of environments in which to see them it was clear that they had some potential, something confirmed more recently when Jez Nelson played "You're Like Kryptonite To Me", a track from their début album "The Dark Red Room" on his "Jazz on 3" programme on BBC Radio 3. It sounded good and not at all out of place among some of the better known names that featured on the programme that evening.
Largely written by Grey the album is an ambitious project that draws its inspiration from the world of photography and film. With guest appearances from alto saxophonist Soweto Kinch plus a number of vocalists and MC's the album isn't afraid to cross genre boundaries. It's clearly the work of a young band and shows much promise.
Kinch had originally been down to guest with the band tonight but other commitments prevented him from doing so. Nonetheless the core quartet delivered an enjoyable and interesting set of tunes from the album and beyond. With no acoustic piano at the venue Grey was restricted to his Roland RD-300NX keyboard but as this also features extensively on the album this didn't present too much of a problem. The quartet has already developed a distinctive ensemble sound and a strong group identity.
They commenced with "Resolution",not the John Coltrane tune but a new Grey original that featured solos from Grey, Jurd and fiery young trumpeter Sam Wooster, a key soloist as a member of The Destroyers and leader of his own punk jazz outfit Husk.
Wooster also featured strongly on the following "Frames", a tune sourced from the album and one which features a guest appearance from Kinch. No doubt he was initially supposed to have featured here too but the resourceful Wooster stepped in to the breach, building upon the grooves established by Jurd and Bashford.
"24 Bars For Joe" was a dedication to Japanese film composer Joe Hisaichi who has written the music for many Japanese animated films including "Spirited Away". One of Grey's strongest tunes the piece featured the pianist at length, his chunky, percussive keyboard solo adding an element of promised funk to the proceedings. His contribution was sandwiched between two further statements from the impressive Wooster.
"Why So Negative?" featured a lengthy solo keyboard intro which saw the bass notes causing Seb Rochford's unplayed drum kit to resonate in sympathy (Bashford was borrowing Tom Skinner's set up). Another of the album's stronger tracks this featured later solos from Grey and Wooster.
In a short support set the quartet left their best shot until last with " You're Like Kryptonite To Me" concluding the set. Wooster's lengthy trumpet solo moved between freedom and structure but was always fluent and fiery. Grey coaxed suitably alien sounds from his keyboards as Jurd and Bashford supplied sturdy rhythmic accompaniment. The young quartet was given a good response by a supportive Birmingham crowd.

SONS OF KEMET
I'd been keen to see saxophonist and clarinettist Shabaka Hutchings' exciting new Sons Of Kemet group for some time after hearing their broadcasts on BBC Radio Three's "Jazz on 3" programme hosted by Jez Nelson. The group's instrumental line up must surely be unique with Hutchings on reeds joined by the extraordinary Oren Marshall on tuba plus the twin drum attack of Tom Skinner and Sebastian Rochford. Chordless line ups in jazz are nothing new but surely there's never been anything quite like this. With Marshall capable of producing astonishingly nimble bass lines on the tuba Sons Of Kemet is a highly rhythmic group, the interlocking patterns allowing Hutchings the freedom to roar and soar on both tenor sax and clarinet. As the band's name suggests there's a strong element of Middle Eastern or North African music in the melodic content and despite its apparent limitations the group's sound is never less than interesting. With the two drum kits and with Marshall standing to play (his tuba was supported on a floor mounted stand) the group is also visually arresting with the tall figure of Hutchings standing centre stage. The music is loud (with Hutchings' reeds miked up to compete with the volume of the drums),energetic,exciting and often visceral but not lacking in subtlety as Hutchings and his colleagues also ensured that there were more contemplative moments too.
A few years ago I saw Hutchings perform with his other group Zed U (with Skinner and bassist Neil Charles) at The Drum in Aston and hardly anybody turned up. Tonight was pleasingly different with the room almost full, albeit with cabaret style seating, and the audience probably numbered around one hundred. Although he has been based in London for a number of years Hutchings once lived in Birmingham and a number of family members had turned out to offer their support. Incredibly this was Sons Of Kemet's first performance outside London and the sense of both warmth and anticipation was palpable.
The Sons hit the ground running with the fizzling "Burn", introduced by Skinner's drums and with Hutchings' tenor sax "pecking" erupting into a full blooded solo above the interlocking rhythms of his colleagues. Hutchings has explained that in his choice of two drummers he was looking for something "tribal" or West African and in Rochford and Skinner he has musicians with the technical ability to put his ideas into effective action. Hutchings has collaborated with both in the past but teaming them together is an inspired choice. The pair complement each other superbly and interact rather than getting in one another's way, they don't double up but mesh together superbly with the listener easily able to delineate each one's contribution. Marshall,meanwhile, contributes so much more than just bass lines. He's the most inventive player of his instrument that I've seen and never fails to both amaze and impress. Hutchings has stated that he likes to give him a full musical rein and in this role Marshall provides counter melodies, distinctive breath generated sound effects plus walloping but astonishingly agile bass lines.
"The Godfather" saw Hutchings switching to clarinet, he was a classical student on the instrument but here adopted a far more Middle Eastern / North African approach to the instrument. Marshall meanwhile first used the metal of his instrument as an auxiliary form of percussion before going on to produce a mind boggling array of vocalised sounds from the tuba, a remarkable display of the use of the sound of human breath as a form of music. Of course the tuba can't entirely escape its potential for the comic and Marshall sometimes plays up to the image, my wife nudged me and whispered "he sounds like Donald Duck!"
A passage of solo clarinet provided the bridge into "Going Home" with Hutchings retaining the North African feel as Marshall established a propulsive tuba bass line behind him augmented by Rochford's crisp hi-hat groove and the polyrhythmic rumble of Skinner's soft head mallets.
Hutchings lived in Barbados as a child and the influence of the Caribbean also infuses his music. "Inner Babylon" cleverly referenced the title of Max Romeo's reggae classic "War Ina Babylon" but of course sounded nothing like it despite Marshall's tuba sometimes simulating a reggae groove beneath Hutchings' arresting tenor sax hook. Eventually both horn players took a step back as Skinner and Rochford embarked on an energetic but always absorbing drum battle. This was followed by a duet between Hutchings and Marshall, the leader's breathy sax wrapped up in Marshall's didgeridoo like tuba drone. With subtle percussive embellishments from Rochford and Skinner the piece developed to embrace a kind of woozy impressionism, this second half of the segue being a dedication to one of Hutchings' favourite authors the Portugese writer Fernando Pessoa (1888-1935).
The powerful "Beware" began with solo tuba and with Rochford ("left drum"- as per Hutchings' intro) and Skinner ("right drum") entering in turn. The "left" and "right" related to the players' positions relative to Hutchings rather than the view of the audience. The noise of the two drummers working in tandem almost gave a "surround sound" effect as Hutchings delivered one of his most accessible tenor sax solos above the chatter and clatter of the twin percussionists and Marshall's hefty tuba bass lines.
An all too short set closed with "Itis", one of the group's most dramatic pieces with it's staccato sax riffing and growling, skronky tuba lines, the latter punctuated by Marshall's chanted, wordless incantations. The piece boasts a killer hook which the group returned to between bouts of tenor sax shrieks, tuba bellows and harrumphs and a furious all out double drum assault. This was thrillingly powerful stuff, reminiscent of times of Acoustic Ladyland, and I felt drained just watching them. Not surprisingly the audience loved it.
Tony Dudley Evans persuaded the group to perform another number, the choice of encore coming as a total surprise as Hutchings tentatively picked out the melody of "Rivers Of Babylon" on solo tenor sax, subsequently duetting with Marshall whose tuba approximated the languid, liquid sound of a fretless electric bass. Perhaps Hutchings picked the tune as an acknowledgement of his Caribbean roots, a particularly apposite choice with his mother and other family members present (his Mum got a cheer from the audience too). One tends to forget what a beautiful, poignant and resonant song it is, the hideous Boney M disco hit robbed it of much of its dignity. Tonight Hutchings reclaimed it and gave it back some of its gravitas with the clipped rhythms of Rochford and Skinner adding to the individuality of the interpretation. This was an unexpectedly lovely way to conclude an excellent evening of music making.
2012 is shaping up to be quite a year for Shabaka Hutchings. Speaking to him after the gig he informed me that the début Sons Of Kemet album has recently been recorded and passed to Rochford for mixing. Provisionally titled "Burn" it should be released toward the end of the year. There seems to be quite a buzz about the group at the moment with the band scheduled to appear again at The Vortex (June 9th 2012) and at Marsden Jazz Festival (13th October). The energy of the music seems to hold considerable appeal to younger jazz listeners. In addition to this Shabaka Hutchings is a BBC Radio 3 New Generations artist and as such has been commissioned to write a new work for the London Jazz Festival in November. This will feature Sons Of Kemet together with the BBC Concert Orchestra and will be premièred at the Queen Elizabeth Hall on November 13th.
Meanwhile I can't wait for the appearance of the album. It promises to be one of the major UK jazz releases of 2012. Bring it on!

---
blog comments powered by

Disqus
JAZZ MANN FEATURES
Ian Mann on the final day of the 2016 Wall2Wall Jazz Festival featuring performances by KoGo Project, The Singing Club, Baraka and the Red Stripe Band.
---
Ian Mann enjoys a day of 'Wall2Wall' jazz with nine different performances including five ticketed concert events.
---
JAZZ MANN RECOMMENDS
---