JAZZ GIGS & EVENTS
La Linea Latin Music Festival, various venues, London.
Tuesday, April 18, 2017 - Saturday, April 29, 2017
Featuring: Various Artists
Website: http://www.comono.co.uk/la-linea/
---
More details
For full details please visit Festival website.
Jazz related highlights include;

TELAJETA - Future Latin Sounds:
Thursday 20 April – Concrete E1
Winner of The Alternative Act of the Year at the 2017 LUKAS, Telajeta brings together musicians from Norway, Australia, England and Latin America to forge a fresh approach to the rich tapestry of Venezuelan music. Band leader and Venezuelan percussionist Ernesto Marichales is the go-to man for number-one charting British DJ/producer, Sigala and also a LUKAS 2017 Musician of the Year. Rearranging and reshaping traditional folk compositions of his native land Marichales presents a jazzy mesmerising sound. Featuring the enchanting vocals of Åshild Bjørkeng Haugen (Norwegian, singing in Spanish), and acclaimed musicians Greg Gottlieb on bass, Greg Sanders on guitar and Joseph Costi on piano.

ANTÓNIO ZAMBUJO sings Chico Buarque
Friday 21 April – Cadogan Hall
A welcome return to London for António Zambujo, the biggest star in Portugal's contemporary music firmament. Zambujo is a singer and musician with a singular ability to captivate his audience and has carved out a musical career by steering a unique path that lies between Fado and the traditional polyphonic Cante Alentejano from Southern Portugal. The rhythmic influence of Brazilian popular music, embedded in the beat of his creations, has played an increasingly key role in his six previous albums. His latest offering, Até Pensei Que Fosse Minha (I Even Thought She Was Mine) is a tribute to the songs of Chico Buarque, one of Brazil's greatest singer-songwriters, and was recorded there under the guiding hand of the virtuoso himself. He will be bringing the Chico Buarque songbook to London for the first time.
"To my ears, Zambujo is one of the best singers in the world today." Caetano Veloso

ELIANE CORREA & EN EL AIRE PROJECT
+ London Lucumi Choir
Saturday 29 April – Rich Mix
Eliane Correa is a Cuban pianist, composer and bandleader. Tipped by BBC 6Music's Gilles Peterson as one of the freshest new sounds to come out of Havana, her music is a genre-defying melting pot of sounds. The strong presence of Afro-Cuban roots and folk music with batá drumming and rumba rhythms is complemented by the newest grooves of contemporary soul and funk, bringing a fresh take on what is "Latin" and what is "jazz". Having carved out her career as writer and performer in the global urban music collective Wara, Eliane released her debut album Rumba Con Flores in 2016. Recorded in Havana and London with over thirty contributing musicians including an assortment of vocalists, the album of entirely original material showcases Eliane's deep devotion to jazz and the Afro Cuban tradition and her ability to take these cherished forms and create wonderfully fluid music that pays tribute to the past and present sounds of neo-soul, R&B and urban Latino music.
---
---
blog comments powered by

Disqus
JAZZ MANN FEATURES
It's good to see a "cutting edge" festival returning to Birmingham again, especially one that is so supportive of young, up and coming musicians.
---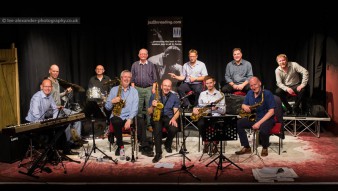 Guest contributor Trevor Bannister on a "a fascinating day spent at a church near Shepperton, where producer Andy Cleyndert was recording Scott Willcox's ten-piece big band for his Trio label".
---
JAZZ MANN RECOMMENDS
---