JAZZ GIGS & EVENTS
Ronnie Scott's International Piano Trio Festival at Ronnie Scott's Jazz Club, Soho, London.
Monday, August 21, 2017 - Saturday, August 26, 2017
Featuring: Various Artists

---
Venue
Ronnie Scott's, London
47 Frith Street
Soho, London
W1D 4HT
Venue telephone: 020 7439 0747
Venue website: http://www.ronniescotts.co.uk
---
More details
We have received the following press release regarding this event;

Ronnie Scott's presents
International Piano Trio Festival 2017
Monday 21st – Saturday 26th August
Mon 21 Aug Piano Trio Festival Pianothon


Tues 22 Aug Marialy Pacheco Trio (Cuba)
Tin Men and the Telephone (Netherlands/UK,France/Bulgaria)
Weds 23 Aug Trio ELF (Germany)
Tin Men and the Telephone
Thurs 24 Aug Peter Beets Trio; 'Chopin meets the Blues' (Netherlands)
Tord Gustavsen Trio
Fri 25 Aug Cygnus Flare (UK)
Tord Gustavsen Trio (Norway)
Sat 26 Aug Jacob Karlzon Trio (Sweden)
ELEW (USA)
Plus a special programme of Late Late Shows to be announced
Now in its fourth year, the Ronnie Scott's International Piano Trio Festival announces the line up for its week- long extravaganza devoted to the jazz piano trio. Now a much anticipated feature of the international jazz calendar, the festival celebrates the piano trio both as a driving force in jazz innovation and keeper of the jazz tradition. Featuring jazz heavyweights and rising stars from around the world, it aims to represent the depth and breadth of the piano scene. Modern mavericks, mainstream stars and freewheeling trailblazers sit side by side in a series of dynamic double-bill pairings and a special set of Late Late Shows that keep things smouldering to the wee hours with sessions from some of the UK's best piano trios.
The breadth of this year's festival is illustrated so well by trailblazers Tin Men and the Telephone who augment their jazz improv with live electronics and technology to create a unique multimedia experience, while American star Eric Lewis (ELEW) brings hearty swing from the jazz traditions laced with a contemporary rock ethos. Heavyweight Norwegian Tord Gustavsen slows down the pace with a reflective set of lyrical beauty, while virtuoso Cuban pianist Marialy Pacheco blends lightning speed and thrilling cadenzas with hushed lullaby passages.
Ronnie Scott's International Piano Trio Festival 2017
Programme
Mon 21st August
FESTIVAL PIANOTHON
Four of the UK's leading jazz pianists come together to open the festival with aplomb! For one night only, they perform an exhilarating extravaganza of piano brilliance - each trio performs their own shorter set culminating in an explosive get-together bluesathon to round off the evening.
Featuring pianists Andrea Vicari, James Pearson, Lyle Barton and Gary Husband
Tuesday 22nd August
MARIALY PACHECO TRIO
At the age of 18, Cuban pianist Marialy Pacheco won a piano competition judged by Chucho Valdes who described her as "the greatest of young piano talents". Twelve years later, having moved to Germany, toured through Europe and become the first female winner of the Montreux Jazz Festival Solo Piano Competition, Corea, asked Pacheco, who had been sitting in the audience during his solo concert, to join him on stage for a duet, thus cementing her growing international profile and reputation as an extraordinary talent. Pacheco has released several solo albums during her recording career that highlight her obvious virtuosity, but it is with her trio and the evident simpatico between them that result in some serious grooves. Latin, Cuban folk, jazz and classical tradition meet to create a uniquely dynamic sound. Rhythmically, she covers considerable territory; striding rock vibes and minimalist romantic solos are framed by pounding vamps and high speed displacements. Whether performing her own breathtaking compositions or fresh, imaginative arrangements of standards and Cuban classics, Pacheco plays with passion and drama. Expect a captivating performance of music from across her catalogue as well as tracks from this year's release, 'Duets'.
TIN MEN and the TELEPHONE
Tin Men and the Telephone is a trio of Amsterdam-based musicians that employs live electronics, projected visuals and audience participation, in combination with jazz and improvised music to create a one of a kind multimedia experience. Reaching beyond their primary sources of inspiration - the rich harmonies of classical music and modern jazz, or the visceral rhythms of hip hop and Balkan traditions - Tin Men look for the music in the sounds of everyday life, finding melodies in things that normally go unnoticed such as directions from car navigation devices, ring tones, the abrasive squelch of traffic noise or animal sounds. Through the subtle use of new techniques, music and ambient sound are interwoven so closely that novel experiences emerge. Seductive, funny, challenging, wicked, but always with great musical depth and strong rhythms, this is for those who want to hear and see something new!
Line up: Tony Roe (piano), Pat Cleaver (bass) Bobby Petrov (drums)
Wednesday 23rd August
TRIO ELF
Winners of last year's Bremen Jazz Award, German group Trio ELF use drum 'n' bass, dubstep and hip-hop grooves as a jumping off point for improvisation with their warm acoustic sound, enhanced by the creative use of electronics. Trio ELF's musical ease stems from melodies of an almost hymnic quality, dazzling rhythms und surprising dynamic shifts, with critics both in Europe and Japan hailing their inspired interplay. Gerwin Eisenhauer's virtuoso drumming sounds like a drum machine come alive. He freely improvises with drum'n'bass or hip-hop grooves like any legend of jazz drumming would do with the swing rhythm. Walter Lang is one of Europe's most prestigious pianists and a celebrated star in Japan, his lyrically expressive melodies and energetic chords testify to his enormous musical versatility and creative spark. Bass player Peter Cudek is internationally acclaimed for his unique virtuoso style, effortlessly shifting from melodious counterpoint to deep synth-like grooves in the low register.
LINEUP: Walter Lang (piano), Gerwin Eisenhauer (drums), Peter Cudek (acoustic bass)
TIN MEN AND THE TELEPHONE
As above
Thursday 24th August
PETER BEETS TRIO: CHOPIN MEETS THE BLUES
Dutch pianist Peter Beets began his jazz career as a young teenager performing in a jazz band with his brothers. He went on to win a string of awards before releasing his first trio album, the remarkable, 'First Date' that put him firmly on the international map and saw him share stages with the likes of Chick Corea, Wynton Marsalis, Dee Dee Bridgwater, Elvin Jones, Benny Golson, Johnny Griffin and many more American heavyweights. A virtuoso pianist with a breezy, bluesy style,
Beets signed to the renowned Criss Cross label in 2001 and as testament to his talent and reputation recorded 5 albums as leader with American musicians including Rodney Whitaker,Willie Jones III, Larry Grenadier and Reginald Veal. For Beets' debut Piano Festival performance he returns to his 2010 recording, 'Chopin Meets the Blues' (released as a live version in 2015 receiving a Dutch Grammy nomination.) When speaking about his Chopin project, Beets avoids the word 'jazz' pointing out that the heavily chromatic nature of Chopin's piano writing includes passages that suggest what came to be known as blue notes. With the music emphasizing Chopin's fondness for repeating a melodic figure, Beets uses Chopin melodies as a basis for jazz improvisation. This is an utterly enjoyable set and a must for lovers of classical-jazz fusions.
TORD GUSTAVSEN TRIO
Someone once said that if there were an award for the quietest band in the world, this Norwegian trio would win hands down. Technical flamboyance has almost no role to play in Gustavsen's sound-world: restraint is one of his music's hallmarks. An important figure on the Norwegian jazz scene before going solo, his playing formed the cornerstone of many projects featuring some of Norway's finest singers including Solveig Slettahjell and Silje Nergaard. His skill in melding jazz with the reflective quality so often found in Nordic music as well as a lyrical beauty marks him out as one of the most intriguing pianists on today's jazz scene. He appears here with a relatively new trio and the first since the tragic death of his bassist Harald Johnsen in 2011, with Sigurd Hole taking on his role. The new material takes another step forward in musical openness and inventiveness, while at the same time connecting to the quietness and grounded sensuality of Tord's earlier trio albums. There's a fresh approach to the paradoxically full- sounding simplicity of the 'Nordic Blues' that so many people came to love in Gustavsen's debut album, along with traces of open, Impressionist harmonic landscapes, lending a clear overall hymnal and meditative feel. Expect dazzling playing and a spellbinding show.
LINEUP: Tord Gustavsen (piano), Sigurd Hole (double bass), Jarle Vespestad (drums)

Friday 25th August
CYGNUS FLARE
London-based trio Cygnus Flare feature Armenian pianist Arman Vardanyan, bassist David Horler and drummer Caroline Scott. Formed with a shared passion for jazz, Latin, fusion and classical music, and heavily influenced by Chick Corea's Elektric Band and Tigran Hamasyan, they have come together to fuse their vast musical influences into a fresh new sound. This young and exciting trio have been busy composing their own unique flavour of progressive latin-jazz, influenced by such diverse styles as Armenian folk music and grunge-rock.
LINE-UP: Arman Vardanyan (piano), David Horler bass), Caroline Scott (drums)
TORD GUSTAVSEN TRIO
As above
Saturday 26th August
JACOB KARLZON TRIO
Swedish pianist Jacob Karlzon's music exists in a place where Scandinavian expressions such as space, melancholy and sensitivity, blend with heat and passion. He can be electrifying in his rhythmical attack but at the same time the most delicate purveyor of beautiful melodies. Metal and electro have their place in his music as well as Swedish folksongs, so from wonderfully turned simple folkloric ballads, edgy beat-based rhythms, and spontaneous jazz - he plays them all. Karlzon has been compared to such luminaries as Keith Jarrett, Bill Evans and Sweden's own legendary pianist Jan Johansson, his playing style demonstrating technical brilliance, rhythmic and harmonic complexity and a perfect feeling for form. His technique and sensibility has made him a popular sideman and he is probably most widely known as piano partner to singer Viktoria Tolstoy.
ELEW
A virtuoso performer with oodles of on-stage personality, American pianist Eric Lewis began his career under the apprenticeship of Wynton Marsalis, Roy Hargrove and Elvin Jones before winning the Thelonious Monk International Piano Competition in the 90's. When a record deal failed to materialise, Lewis publicly shunned the jazz world and re-emerged as ELEW with a new project he called 'rockjazz'. Reinterpreting contemporary rock songs by the likes of Nirvana and Radiohead his intense explorations of rock music combined heady rock wig outs with delicate improvisations and fiery, take-no-prisoners jazz piano. Eschewing the piano stool, his boldly flamboyant stage persona took him to sold-out concert halls and earned him a host of celebrity fans that included President Barak Obama, Hugh Jackman and Leo DiCaprio. Yet despite his crossover success, this bona fide jazz pianist returned in 2016 with a new recording, 'And to the Republic' featuring bassist Reginald Veal and drummer Jeff Tain Watts. ELEW'S return to jazz presents a striking showcase of the trio dynamic featuring hearty swing, harmonic and rhythmic invention, thundering crescendos, plenty of soul and a heavy backbeat. The ELEW trio does it all quite impressively. This jazz rocks.

Tickets from £20 - £50
For more information visit http://www.ronniescotts.co.uk
Reservations; http://www.ronniescotts.co.uk | 020 7439 0747
Ronnie Scott's 47 Frith Street, Soho, London W1D 4HT..
---
---
blog comments powered by

Disqus
JAZZ MANN FEATURES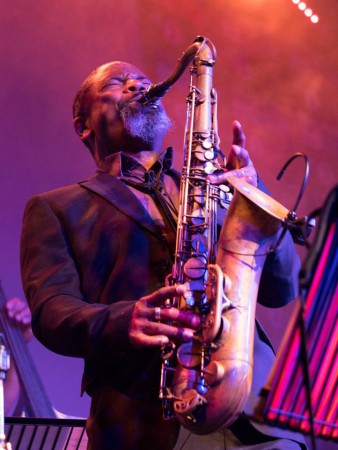 Ian Mann on the final day of the Festival and performances by Hot 8 Brass Band, Sarah Munro, Mode9, Paul Carrack and Denys Baptiste.
---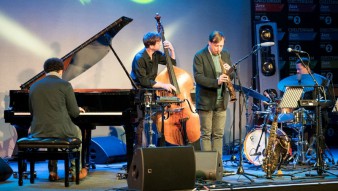 Ian Mann on performances by Monocled Man, Schnellertollermeier, Meshell Ndegeocello, Chick Corea, Chris Potter and Yazz Ahmed.
---
JAZZ MANN RECOMMENDS
---