JAZZ MANN NEWS
Sunday, April 04, 2010
Berklee's student run label Jazz Revelation Records (JRR) celebrates the release of its seventh compilation CD, Birds of a Feather, with a concert at the Berklee Performance Center on Thurs, April 22
---
Monday, March 29, 2010
The Jazzmann's friend, singer Becky Brine has advised us of an exciting programme of Sunday afternoon jazz events at this picturesque Devon inn.
---
Sunday, March 28, 2010
Links from Facebook, Twitter and Myspace are now working again
---
Wednesday, March 24, 2010
The British trumpeter, now based in Berlin, has emailed us with details of upcoming gigs and broadcasts
---
Saturday, March 20, 2010
Eddie Fowler is launching a new blues venue in Thame featuring some top bands.
---
Thursday, February 18, 2010
Phronesis, the excellent trio led by Danish bassist Jasper Hoiby are about to emabark on a UK tour during the course of which they will be recording a live album to be released on Edition Records
---
Wednesday, February 17, 2010
Acclaimed vocalist Gwyneth Herbert is to voice the soundtrack to a screening of the silent film "The Patsy" showing at the National Film Theatre 10/03/2010 as part of the Bird's Eye View Film Festival
---
Monday, February 15, 2010
The Neil Cowley Trio will release their third album "Radio Silence" on the Naim label on April 19th 2010 and will subsequently embark on a May/June UK tour
---
Wednesday, February 10, 2010
Ian Mann's thoughts on the loss of one of British jazz's father figures.
---
Thursday, December 24, 2009
Tonbruket, the new band formed by former e.s.t. bassist Dan Berglund are due to tour in the UK in sprong 2010. The release of the group's eponymous debut album on ACT will co-incide with the tour.
---
JAZZ MANN FEATURES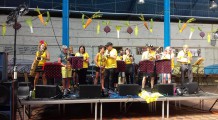 Ian Mann enjoys the Jazz Alley and Charity Swing Party events at the Market Hall with performances by Wonderbrass, Tarion, Rebelinx and The Electric Swing Circus.
---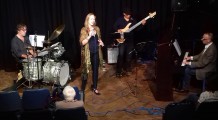 Ian Mann on a day of superb jazz with concert performances from bands led by Daniel Newberry, Alison Rayner, Ben Holder, Rachel Sutton and Tony Kofi plus interval music from Dave Jones and friends.
---
JAZZ MANN NEWS
Thursday, October 18, 2018
Vocalist and composer Jessica Radcliffe will release her debut album "Remembrance" on Ubuntu Music on 30th November 2018. She will be touring in the UK with her band in March 2019. Press release att.
Comments (0)
---
Thursday, October 18, 2018
The Barbican Centre has announced its full programme of events for the forthcoming EFG London Jazz Festival which will take place from 16th to 25th November 2018.
Comments (0)
---
Wednesday, October 17, 2018
The cross-genre project that brings together aspiring and established musicians in the London borough of Croydon to write and perform new tunes together will present performances in Nov and Dec.
Comments (0)
---
JAZZ MANN RECOMMENDS
---