JAZZ MANN NEWS
Thursday, July 23, 2009
Jazz Mann favourites Led Bib have been shortlisted for the 2009 Barclaycard Mercury Music Prize. Congratulations to the guys in the band and the best of luck.
---
Saturday, July 18, 2009
co-led by virtuoso Malian musicians Madou Sidiki Diabaté and Ahmed Fofana
---
Tuesday, July 14, 2009
Following last years successful jazz course, Cardiff Jazz Society is again providing an educational project that will enable young people of school/college age, to improve their musical ability...
---
Tuesday, June 30, 2009
Trumpeter Tom Arthurs has sent us a load of upcoming dates
---
Tuesday, June 16, 2009
Bassist/bandleader and Director of Tomorrow's Warriors Ltd and The Dune Music Company, Gary Crosby has been awarded an OBE (Officer of the Order Of The British Empire) for Services To Music
---
Monday, June 15, 2009
Harrison Smith Quartet are playing in Cardiff in June
---
Friday, May 29, 2009
Asaf Sirkis Trio gig at Swansea Jazzland club is now available online from the BBC website
---
Thursday, May 28, 2009
Celebrate with two free downloads Graham Collier's new book and new double CD ...
---
Thursday, May 28, 2009
Ronnie Scott's is pleased to announce an incredible month of world class music ...
---
Thursday, May 14, 2009
The Necks are currently touring Europe and commence their UK tour at Dean Clough on 21st May 09
---
JAZZ MANN FEATURES
Ian Mann enjoys the final day of the Festival and performances by Flying Machines, the Monty Alexander Trio and Bill Laurance and the WDR Big Band conducted by Bob Mintzer.
---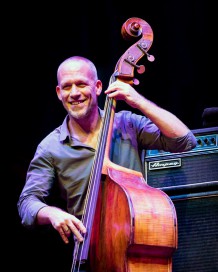 Ian Mann on a diverse day of musical performances including those of Ranjana Ghatak, Hilde Marie Holsen, Ivo Neame / Pete Wareham Duo, Trish Clowes' My Iris and the Avishai Cohen Trio.
---
JAZZ MANN NEWS
Wednesday, January 23, 2019
Acclaimed vocalist Barb Jungr will release her new album "Bob, Brel & Me - Without Borders" in September 2019. In the meantime she has a number of live dates scheduled commencing on January 26th 2019.
Comments (0)
---
Wednesday, January 23, 2019
American singer-songwriter Jackson Browne will tour the South East of the US in March and April 2019 with a quartet including multi-instrumentalist Greg Leisz. Details attached.
Comments (0)
---
Wednesday, January 23, 2019
Folk rock titans Oysterband have forwarded their latest newsletter including details of imminent live dates in Denmark and Germany and UK and European summer festival appearances.
Comments (0)
---
JAZZ MANN RECOMMENDS
---