JAZZ MANN NEWS
Friday, September 25, 2009
Musician Chris Flegg is fast building himself a reputation as a fine guitar player on the professional music circuit
---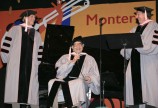 Monday, September 21, 2009
Jazz legend Dave Brubeck delivers a personal rejoinder after receiving the honorary doctor of music degree from Berklee College of Music at the 52nd Annual Monterey Jazz Festival on September 20th
---
Thursday, September 17, 2009
Legendary Jazz Guitarist John Etheridge is performing at The Eight Bells, Saffron
---
Tuesday, September 08, 2009
Now in its 7th year, the Victoires du jazz has awarded its prizes in 2009 to, amongst others, guitarist Marc Ducret, the Orchestre National de jazz and the Emile Parisien Quartet
---
Thursday, August 20, 2009
Only two months away from its historic 50th anniversary, Ronnie Scott's Club has announced an incredibly eclectic programme for September
---
Wednesday, August 05, 2009
The Jazz Mann was sad to hear of the recent deaths of two great jazz figures, composer and bandleader George Russell (1923-2009) and saxophonist Charlie Mariano also 1923-2009
---
Saturday, August 01, 2009
Joining Led Bib on the list of nominees for the 2009 Barclaycard Mercury Music Prize are London based trio The Invisible with their eponymous début album
---
Tuesday, July 28, 2009
Postcards from Pushkin Tom Arthurs [flügel] and Richard Fairhurst [piano] concert from the City of London Festival a couple of weeks ago.
---
Friday, July 24, 2009
Can you help identify one jazz venue in Britain that has been the crucible of a number of seminal live performances during the past century; played host to some of the greatest legends?
---
Thursday, July 23, 2009
Jazz Mann favourites Led Bib have been shortlisted for the 2009 Barclaycard Mercury Music Prize. Congratulations to the guys in the band and the best of luck.
---
JAZZ MANN FEATURES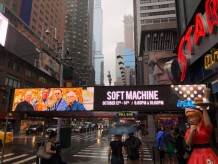 Pending his 2019 Cheltenham Jazz Festival gig with John Surman's Brass Project John talks more about his work with Soft Machine & with Surman, Eberhard Weber & others. He also picks his top ten CDs.
---
In the second part of his interview with guest contributor Trevor Bannister John establishes himself on the 1960s London jazz and session scene and gets the call from Soft Machine.
---
JAZZ MANN NEWS
Thursday, March 21, 2019
Composer and pianist Philip Clouts will be touring the UK with his quartet in April and May 2019. Press release attached
Comments (0)
---
Thursday, March 21, 2019
The first shows have been announced for the 2019 EFG London Jazz Festival which will run from 15th to 24th November. Artists include Jan Garbarek, Makaya McCraven, Lars Danielsson, Eliane Elias.
Comments (0)
---
Thursday, March 21, 2019
The ACT recording artist, singer, pianist and songwriter Laila Biali has received the Juno Award, Canada's most important, cross-genre music prize for her self-titled 2018 debut album.
Comments (0)
---
JAZZ MANN RECOMMENDS
---