JAZZ MANN NEWS
Monday, October 06, 2008
The exciting new Kings Place development in St. Pancras is a significant addition to London's cultural scene.
---
Tuesday, August 26, 2008
Jazzmann favourites the Jones O'Connor Group are breaking out of their South Wales heartland to embark on a national tour.
---
Friday, August 22, 2008
As bad as the weather was, it couldn't spoil what was an excellent weekend of Jazz at Brecon.
---
Tuesday, August 05, 2008
Hello and a very warm welcome from The Jazz Mann.
---
JAZZ MANN FEATURES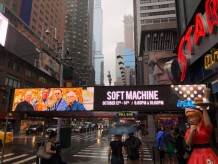 Pending his 2019 Cheltenham Jazz Festival gig with John Surman's Brass Project John talks more about his work with Soft Machine & with Surman, Eberhard Weber & others. He also picks his top ten CDs.
---
In the second part of his interview with guest contributor Trevor Bannister John establishes himself on the 1960s London jazz and session scene and gets the call from Soft Machine.
---
JAZZ MANN NEWS
Tuesday, March 26, 2019
Vocalist Georgia Mancio will release her latest album "Finding Home", a collaboration with pianist Kate Williams and her Four Plus Three group on June 1st 2019, with tour dates commencing in April.
Comments (0)
---
Tuesday, March 26, 2019
Jazz and TV history will be made in May when the iconic 1960's BBC show Jazz 625 returns for one night only on BBC Four, broadcasting live from the 2019 Cheltenham Jazz Festival.Press release attached
Comments (0)
---
Friday, March 22, 2019
The film "Just One Of Those Things" , the story of Ella Fitzgerald's life and career, will be in British cinemas from May 6th 2019. Press release attached.
Comments (0)
---
JAZZ MANN RECOMMENDS
---