NEWS
Bruno Heinen - new album and UK tour March / April 2018.
Wednesday, January 10, 2018
We have received the following release;

Bruno Heinen
Mr. Vertigo
(BB Records / Babel Label Cat. No. BBDV18151)
RELEASE: 23 March, 2018
LAUNCH: 29 March, 2018 – King Place, London

Mr Vertigo is a bold, diverse exploration of solo piano counterpoint by Bruno Heinen, and his sixth album on the progressive Babel Label.

Heinen has established pedigree in both classical and jazz worlds, in his various collaborations with jazz players in London and Italy, and his recent role in the piano chair in Bernstein's Wonderful Town with the London Symphony Orchestra and Sir Simon Rattle at the Barbican.

On Mr Vertigo Heinen approaches the instrument from a new standpoint, without a prescribed attitude to improvisation or preoccupation with genre distinctions in his compositions or selections. Instead he focuses in on the contrapuntal identity of each piece – using each one to explore a particular aspect of the rich relationships between parts in solo performance. The result is a record that resists traditional categorisation.

"Erudition, eclectic studies and a jazz sensibility make Heinen the kind of newcomer who repositions the goalposts " The Guardian

Part of Mr Vertigo's project is technical and investigative, a kind of research: Mirage explores space and atonality using subtle overdubs and post-production techniques; Virgo is a 'duet' with an original Stockhausen music box; Forgotten Images weaves a rare Debussy theme into an original Heinen composition; Daydreamer draws on Wayne Shorter's Night Dreamer to investigate the relationship between two time signatures.

Each piece of music also has a very human point of origin, a story being expressed by each contrapuntal approach. The title track, based on a Paul Auster novel, describes the traumatic experience of a boy learning to fly. 'Hommage à Kurtág', played with only the two index fingers, is based on the instinctive moves of children arriving at a piano to play for the first time. In Kochi Heinen draws on a Vagadhibhusani South Indian Carnatic scale he learned while travelling through India.

The pianist's ability with counterpoint has always been evident: in his approach to solo building, his Tierkries Sextet writing, and in his current studies with renowned pianist Fred Hersch. Mr Vertigo shows him engaging with the full range of its possibilities.


LISTEN HERE: https://soundcloud.com/bruno-heinen/sets/bruno-heinen-mr-vertigo/s-5mCuz

Tour dates;
Tuesday 6 March
7:30pm
SHEFFIELD – Firth Hall, University of Sheffield, Western Bank, S3 7RD
£14.50 advance / £16 door /various discounts https://concerts.sheffield.ac.uk/whats-on/bruno-heinen-mr-vertigo

Sunday 18 March
3.30pm
- Children's Concert -
LONDON - Sutton House (Hackney, London)
Tickets: £10 Child £6 Adult https://www.nationaltrust.org.uk/sutton-house-and-breakers-yard

Weds. 21 March
10.00pm
MANCHESTER – Royal Northern College of Music – Carole Cash Recital Room, 124 Oxford Road M13 9RD - Part of the RNCM Debussy Perspectives Festival Free http://tickets.rncm.ac.uk/single/SelectSeating.aspx?p=13424

24 March
Milan, Italy - Live performance & Interview on Rai 3 National Radio

25 March
Milan, Italy - Invite only - House Concert in Busto Arzizio

Thurs. 29 March
8.00pm
LONDON - Kings Place, Hall 2, 90 York Way, N1 9AG * ALBUM LAUNCH*
£12.50/ £9.50 http://www.kingsplace.co.uk/whats-on/music/bruno-heinen-mr-vertigo-album-launch#.Wil9g2SMjZ

Sunday 1 April
8.00pm
ASHBURTON - St. Laurence Chapel, 21 St Lawrence Ln, Newton Abbot TQ13 7DD £13 or £6 https://www.facebook.com/ashburtonlive/

Weds. 4 April
8.30pm
CARDIFF - Flute and Tankard, 4 Windsor Place £7 http://thefluteandtankard.com/

Sunday 15 April
8.15pm
LONDON – Vortex Jazz Club, Gillet Square N16 £10 http://www.vortexjazz.co.uk/

Track listing
1. Forgotten Images – B. Heinen 2. Hommage à Kurtág – B. Heinen
3. Daydreamer – B. Heinen 4. Virgo – Karlheinz Stockhausen Arr. B. Heinen
5. The Peacocks – Jimmy Rowles Arr. B. Heinen 6. Mirage – B. Heinen
7. International Blues – B. Heinen 8. Mr. Vertigo – B. Heinen
9. In Kochi – B. Heinen 10. Fire and Rain – James Taylor Arr. B. Heinen
Biography
Bruno Heinen is a contemporary improvising pianist, composer, researcher and educator whose London base is a springboard to his adopted second country in Italy, where he has made strong musical relationships with players like Antonio Fusco and Fulvio Sigurta.
Mr. Vertigo will be his sixth album under his own name on the Babel Label: Twinkle Twinkle (Dialogues Trio 2012), Tierkries (Bruno Heinen Sextet 2013), Postcard to Bill Evans (Bruno Heinen/Kristian Borring 2015), Changing of the Seasons (Bruno Heinen/Camerata Alma Viva String Ensemble 2017),Common Spaces (New Simplicity Trio 2017).
Bruno's current projects include his long-standing musical partnership with Palestinian singer Reem Kelani, New Simplicity Trio with Henrik Jensen and Antonio Fusco, his duo with Emilia Martensson, and most recently taking the piano chair in Bernstein's Wonderful Town with the London Symphony Orchestra and Sir Simon Rattle at the Barbican.
He is also currently undertaking a practice-based AHRC–Funded PhD at the Royal Northern College of Music: "Counterpoint in Jazz Piano with specific relation to the solo work of Fred Hersch". Upcoming are a number of workshops including at RNCM, to coincide with his solo at the Debussy Perspectives Festival, on how to use existing sources to compose new material.
Bruno studied classical piano at the Royal College of music with the then Head of Keyboard Andrew Ball and went on to win prizes from the Musicians Benevolent Fund and the Countess of Munster Trust to take his Jazz Masters at the Guildhall School of Music and Drama where he studied under the late, inspirational pianist John Taylor. Bruno was asked to stay on at the Guildhall as a Junior Fellow where he completed a Masters of Musical Performance under the guidance of the great Pete Saberton.
He has collaborated with musicians such as Julian Siegel, Jean Toussaint, Julian Arguelles, Pete Saberton, Fulvio Sigurta, Rachael Cohen and Heidi Vogel amongst others, and performed both in prestigious UK venues and festivals, through Europe and further afield with Reem Kelani, from concert halls, festivals to live broadcasts.
As a composer, Bruno has written for groups ranging from sextet to two piano's and percussion (for a project with the late Pete Saberton), and from big band to classical string ensemble (for a commission from the Camerata Alma Viva). In 2009, Bruno was nominated for the prestigious Paul Hamlyn Composers Award.

"Bruno Heinen plays with notable clarity and poise." The Observer

Heinen is a cool-headed and resourceful improviser with a beguiling touch. London Jazz
---
blog comments powered by

Disqus
JAZZ MANN FEATURES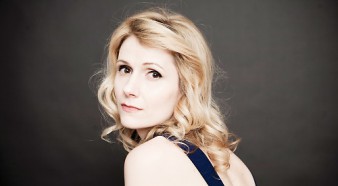 "Jazz club take on Bowie transmits all his wistfulness." Guest contributor Marc Edwards enjoys a party night featuring the contrasting styles of vocalists Rebecca Poole and Fleur Stevenson.
---
Ian Mann witnesses the future of British jazz at the NYJO Jazz Jam and the JazzNewBlood showcase and loses himself in a spectacular Norwegian double bill featuring Sinikka Langeland and Jaga Jazzist.
---
JAZZ MANN RECOMMENDS
---