NEWS
Colchester Arts Centre Jazz Club - Programme, October 2017 to January 2018.
Sunday, September 10, 2017
From the Colchester Arts Centre Jazz Club website
http://www.colchesterartscentrejazzclub.com

ColchesterArts Centre Jazz Club at
Colchester Arts Centre, Church Street, Colchester
Box Office: 01206 500900 (Monday-Saturday, 10.30am-5.30pm) Online: http://www.colchesterartscentre.com

STUDENTS: 2-for-1 Offer on all jazz club events!
If booking online, select 2 Student tickets, then enter the promo code JAZZSTUDENT
NOTE: ID required when presenting e-tickets, buying tickets on the night or in advance from the box office.

JAZZ EXPRESS OFFER: BOOK FOR 3 OR MORE EVENTS AND GET TICKETS FOR JUST £10!!*
*Restrictions apply

LISTINGS:

Matt Ridley Quartet
Sunday, October 1st, 2017
Our contribution to this year's Roman River Music Festival is a band fronted by a superb young bass player - Matt Ridley.
An imaginative soloist with a brace of albums to his credit, Matt also roots his band with strength and simplicity, his gently melodic but rhythmically sophisticated themes providing ideal vehicles for some superb group interplay and inspired individual soloing.
While deeply rooted in the jazz tradition, Matt prefers to create a unique sound-world. At the heart of each composition is a strong, melodic theme, incorporating classical, groove-based styles and World Music, while the outstanding improvisational skills of each member make for absorbing and entertaining listening.
Apart from fronting his own group, Matt is also an in-demand sideman, performing in a wide variety of genres encompassing jazz, folk and World Music with artists such as Darius Brubeck (here in July), and folk guitarist and songsmith Sam Carter on his 'How The City Sings' UK tour.
​Jason Yarde started out with the Jazz Warriors and went on to MD this landmark orchestra, becoming one of its principal writers. He has been twice-nominated for a BBC Jazz award for Innovation and has performed with the big bands of McCoy Tyner, Andrew Hill, Hermeto Pascoal, Sam Rivers and Manu Dibango. He has also composed for and performed with the London Symphony Orchestra.
John Turville is a creative, versatile, imaginative, mutli-award winning pianist, who has recorded two acclaimed CDs under his own name, while George Hart has worked and recorded with Phil Donkin, Ivo Neame, Brigitte Beraha and Solstice. More recently, he has been touring and recording with Swing Out Sister.
Matt Ridley (Double Bass), Jason Yarde (Soprano/Alto Saxophones), John Turville (Piano), George Hart (Drums).
Tickets £14 / £12 Concessions
Doors: 7.00pm. 1st Set: 7.30pm

Charlie Wood Band
Sunday, October 22nd, 2017
Memphis' Finest: Charlie Wood & His Band
with Special Guest Chris Allard
Gregory Porter, Jamie Cullum, Curtis Stigers - all household names and high profile performers. Then there's unsung artists such as Memphis bluesman Charlie Wood, who many critics feel deserves an equally high profile. When Paloma Faith shared the stage with him, she said of Charlie: "He's the essence of soul and blues."
A musician whose eclectic musical style incorporates elements of jazz, blues, soul, traditional R&B and popular music, Charlie sent the audience into raptures when he guested with Chris Allard in January - and now he's back for an evening of originals and covers with his own stellar seven-piece, who between them have performed with such luminaries as Bill Withers, Mose Allison, Mark Knopfler, Cedar Walton, Amy Winehouse, Gregory Porter, Paloma Faith, Sting and Steely Dan.
In his early 20s, Charlie toured with legendary blues guitarist Albert King, before securing a long-term residency on Beale Street with his Hammond organ trio. He so impressed touring musicians such as B.B. King, Georgie Fame, Joey DeFrancesco and Mulgrew Miller, that they asked to sit in with him.
An accomplished and prolific singer/songwriter, Charlie's albums have received stellar 4-star reviews, while one of his original compositions won first prize in the jazz category of 2015 American Songwriting Competition, and another, Never Gonna Stop New Orleans, was recorded by soul great Irma Thomas.
When first reviewing one of Charlie's gigs, Jazz Times said he had "the growl and moan of Eric Burdon, the otherworldly lilt of Donald Fagen and the scorched majesty of Kurt Elling," while R2 Magazine opined that his well-honed, literate lyrics are "written with the technical precision and linguistic flair of a classic from the Great American Songbook."
Charlie Wood (Piano/Keyboard/Vocals), Chris Allard (Electric Guitar), Ben Castle (Tenor Saxophone), Tom Walsh (Trumpet), Mark Nightingale (Trombone), Dudley Philips (Double Bass), Nic France (Drums).
Tickets £15 / £13 Concessions
Sorry, no Jazz Express Offer on this concert
Doors: 7.00pm. 1st Set: 7.30pm

Theatralia presents Monk Misterioso
Sunday, November 5th, 2017
A Journey into the Silence of Thelonius Monk
Perhaps the most enigmatic talent to have emerged from the maelstrom of bebop in the 1940s, Thelonious Monk continues to exert a powerful influence on the jazz world, both as a pianist and composer, and as an individual force of nature, who had the courage to go against the racism of his era.
​The subtitle, A Journey Into the Silence of Thelonious Monk, is taken from the enigmatic pianist's last seven years of his at times turbulent life, when he stopped talking and playing, totally isolating himself from the world.
Written by Stefano Benni and directed by Theatralia's Filomena Campus, Monk Misterioso movingly explores Monk's extraordinary seven-year creative and personal silence in response to McCarthyism at the end of his life.
Award-winning vocalist Cleveland Watkiss and pianist Pat Thomas will embody the great jazz pianist to mark the centenary of his birth in 2017, joined by narrator and vocalist Filomena Campus, MD Rowland Sutherland (Flute), Orphy Robinson (Vibes), and Dudley Phillips (Double Bass).
Come and celebrate the legendary composer of Misterioso for what promises to be a provocative jazz show.
Tickets £14
£12 Concessions
Doors: 7.00pm. Performance: 7.30pm

Martin Taylor & Alison Burns: 100 Years of Ella Fitzgerald
Sunday, November 12th, 2017
When you think of legendary singer Ella Fitzgerald, some of the greatest music ever performed comes to mind. 2017 marks a very special year, as one of the most loved entertainers of all time will be celebrated worldwide with a series of commemorative centennial events.
As part of these celebrations, multi-award winning guitarist Martin Taylor and Scottish-Canadian jazz singer Alison Burns are touring the UK for a series ofconcerts highlighting the Grammy-award winning collaboration between Ella and jazz guitarist Joe Pass.
Martin and Alison will present a concert inspired by Ella and Joe's intimate 1960s recordings, combinining repertoire from The Great American Songbook and contemporary material by Stevie Wonder.
​Here last October, Martin Taylor's collaborations with artists including Jeff Beck, Tommy Emmanuel, Jamie Cullum and Bill Wyman, have seen him garner two honorary doctorates, a BBC Lifetime Achievement award, Top 10 albums in both the USA and Europe, and a record 14 British Jazz Awards, while in 2002 he was appointed MBE 'For Services to Jazz Music'.
Widely considered to be the world's foremost exponent of solo jazz and finger-style guitar playing, Martin possesses an inimitable style that has earned him global acclaim from fellow musicians, fans and critics alike.
There are singers and there are jazz singers. There are jazz singers and there are a few artists who bring more to the microphone – their life, love, heartaches and joy. Alison Burns is one of those artists. Her debut CD, Kissing Bug, was received with universal acclaim and became the first album by a Scottish jazz singer to reach the Jazz Top 10.
Tickets £17 / £15 Concessions
Sorry, no Jazz Express Offer on this concert
Doors: 7.00pm. 1st Set: 7.30pm

Tommy Smith & Brian Kellock
Sunday, November 19th, 2017
Two of Scotland's finest jazz artists, saxophonist Tommy Smith and pianist Brian Kellock, have teamed up to bring appreciative audiences some of the most beautiful, haunting and iconic pieces in the jazz repertoire.
Tommy's prolific career began in earnest when, aged just 16, he recorded his first album. He was subsequently rewarded with a scholarship to Berklee College of Music, an experience that has shaped his affirmative approach to jazz. Since then, he has cut 27 solo albums as a leader for Blue Note, Linn and his own label, Spartacus Records.
Brian Kellock is widely regarded as one of the UK's finest jazz pianists. Stylistically, he aligns himself with iconic figures such as Oscar Peterson or Monty Alexander, but he is a player who is equally at home in mainstream and contemporary jazz styles. His talents have seen him work with American jazz luminaries such as Red Rodney, Sheila Jordan, Art Farmer, Stanley Turrentine and Herb Geller.
Two of the most respected and best loved artists in contemporary jazz, the duo's most recent release, The Whispering of the Stars, revisited many cherished standards drawn from a deep well of understanding and affection. The carefully chosen melodies are treated with due reverence, but they are also delivered with tremendous interpretive flair.
Tommy and Brian offer great insights into the collective jazz memory, but the music (and the way they play it) admits the audience to something more profound – jazz as a shared experience.
Supporting are the Michael Spearman Trio: Michael Spearman (Guitar), Rob Palmer (Double Bass), Tom Jiggins (Drums & Percussion).
Tickets £15 / £13 Concessions
Sorry, no Jazz Express Offer on this concert
Doors: 7.00pm. 1st Set: 7.30pm

The Oxley/Meier Guitar Project
Sunday, December 3rd, 2017
"Don't fall into the trap of assuming that this is something exclusively for guitar buffs, or even jazz buffs. These are two masterly guitarists. If you love music of any kind, you'll probably fall for this."
This praise from The Observer of Pete Oxley and Nicolas Meier's 2015 Chasing Tales CD was one of many ★★★★ reviews the album garnered. Others included Mojo, The London Evening Standard, The Telegraph and Jazz Views.
​Pete cites among his influences Pat Metheny and music from Turkey, Bohemia and Java, while Nicolas draws on Turkish, Eastern & Middle Eastern music, Flamenco, Tango and jazz.
Nicolas recently finished a long stint as a member of fellow guitarist Jeff Beck's band and recently recorded a new album, Infinity, featuring veteran Yellowjackets bassist Jimmy Haslip, and one of the world's great drummers, Vinnie Colaiuta.
Pete and Nicolas' latest offering, The Colours of Time, was released in February, to coincide with yet another extensive UK tour. Their most ambitious project to date, the double CD showcases them in duo and quartet formats and continues to focus on their favourite sources – Pat Methenyesque songs, Hot Club swing, Latin cool and Turkish music, with Indian influences also present.
​In his ★★★★ review of The Colours Of Time, The Observer's jazz critic, Dave Gelly, said: "When it comes to empathy, this duet of guitar virtuosi comes close to perfection. Their roots lie in jazz, but they cover a whole bunch of genres in the course of this double album – Latin, Middle Eastern, English pastoral and their own brand of simply music."
​So, expect a dazzling display of contemporary fare, ranging from Turkish panache to soundscapes of Latin America to English pastoralism. And hear this played on nylon string, steel string, electric, 12-string, fretless, slide, guitar-synth, glissentar guitars and more!
Completing the line-up are Raph Mizraki (Double Bass), Paul Cavaciuti (Drums), whose credentials include working with, among others, John Etheridge, Jamie Cullum, Jim Mullen, Tina May, Jacqui Dankworth, Cayenne, Roberto Pla and the Gail Thompson Big Band.
Tickets £14 / £12 Concessions
Doors: 7.00pm. 1st Set: 7.30pm

A Charlie Brown Christmas
Sunday, December 17th, 2017
Jason Frederick Cinematic Trio
A Charlie Brown Christmas:
The Music of Vince Guaraldi
Start the holidays with this extra special evening of Christmas music, along with some seasonal treats and multimedia, performed by film and TV animation composer Jason Frederick.
Anyone who watched the Peanuts TV series in the 60s and 70s will be familiar with the jazz soundtrack that always accompanied the classic cartoons. The pint-sized pianist that was Vince Guaraldi, who scored more than a dozen Peanuts TV specials, is probably most famous for pulling off the ultimate musical sleight of hand - he made parents and kids bob their heads and tap their feet along to jazz without knowing they were even listening to it.
On the night of its TV premiere, A Charlie Brown Christmas was seen by almost half of the American population - something like 15 million homes - on its way into the holiday canon. It also made Snoopy one of the most visible and beloved characters in American popular culture.
Paying homage to both the genius of composer Vince Guaraldi (also notable for penning the Grammy-winning Cast Your Fate To The Wind) and creator Charles M. Schulz, the evening features the full performance of the music from the classic 1965 animated television special, plus other festive favourites in the style of the Vince Guaraldi Trio.
An absolute must for jazz lovers and fans of Peanuts, no matter what your age!
Jason Frederick (Piano), Scott Wheeler (Double Bass) and Dan Mullins (Drums).
Tickets £14 / £12 Concessions. Family Ticket only £10! (2 adults/2 children)
Doors open 7.00pm. 1st Set 7.30pm

Sunday, January 7th 2018
Brubecks Play Brubeck
Exclusive Eastern Region date
As The Guardian's jazz critic John Fordham once wrote, "Few jazz musicians make it into the pop charts, even fewer for instrumental music of such coolly labyrinthine grooves that audiences could barely shake a leg to it." But in the 50s and 60s, the late California-born pianist and composer, Dave Brubeck, did just that with his 1959 LP Time Out, and what would later become the biggest-selling jazz single, Take 5, which in 1961 reached No 25 on the Billboard chart.
Brubecks Play Brubeck, which features Darius, Chris and Dan Brubeck, plus the outstanding UK sax star, Dave O'Higgins, perform material created by one of American music's all-time greats - a visionary who made the music speak to millions without selling its fearless spirit down the river.
​While they perform the repertoire and rhythms of their father's legendary quartet, sheltering under his 'musical umbrella' is by no means all his sons do.
The group was originally formed in 2010 for a one-off tour to coincide with their father's 90th birthday and the broadcast of a Clint Eastwood produced film about his career, In His Own Sweet Way.
However, such was the response and enthusiasm that the quartet released a live CD in 2011, and continue to perform annually and internationally, notably appearing in such famous venues as the Brubeck Festival at Jazz at Lincoln Center in New York, Ronnie Scott's - and now here at the jazz club in what is their only date in the Eastern region.
​Critics and audiences alike respond to the personal involvement, musical interplay and joy on stage as the group showcase Dave's adroitness at producing tunes for the head, heart and body.
​Pianist Darius, the eldest Brubeck son, is also a composer and academic, while Chris is known as a composer of symphonic works performed by leading orchestras around the world, and also excels as an electric bass and trombone player in jazz, rock and folk music.
Together, Chris and Dan form the nucleus of their US group, The Brubeck Brothers Quartet, while Dan also leads his own band in Vancouver and is a Grammy-nominated percussionist, with past credits that range from Gerry Mulligan to Larry Coryell.
Dave O'Higgins first came to national attention in the UK as a member of the National Youth Jazz Orchestra, and since then has toured worldwide and recorded 14 albums as leader of groups ranging from quartets to big bands. He initially performed with John Dankworth and Cleo Laine and later played with Ray Charles, Frank Sinatra, Jimmy Smith and Ronnie Scott's Allstars. He also tours with the BBC Big Band and was a long-standing member of groups led by Kyle Eastwood and Jamie Cullum.
"Darius, Chris and Dan, augmented by British saxist Dave O'Higgins, are rekindling the old magic. The four cantered affectionately through the hit list, but shrewdly didn't try to clone the original sound."
- John Fordham, The Guardian
"Darius and his brothers cued in the audience's handclaps on Unsquare Dance. More than half a century after their father invited listeners to start counting in odd numbers, the music has lost none of its poise." - Clive Davis, The Times
Tickets £20 / £18 Concessions
Sorry, no Jazz Express Offer on this concert
Doors: 7.00pm. 1st Set: 7.30pm
---
blog comments powered by

Disqus
JAZZ MANN FEATURES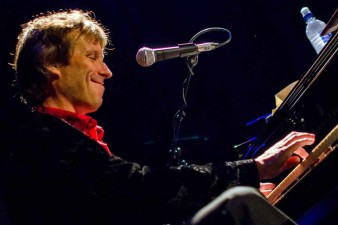 Ian Mann on the final, family friendly day of the Festival with performances by Samba Galez, Budapest Ragtime Band, Chris Moreton, Kitty & The Purramours and the Red Stripe Band.
---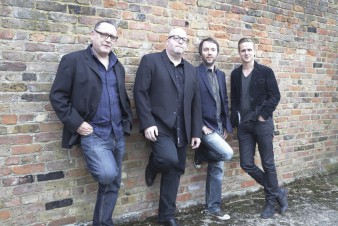 Ian Mann enjoys a day of wall to music including performances by three of the great entertainers of British jazz, vocalist Ian Shaw, saxophonist Gilad Atzmon and electric bass specialist Shez Raja.
---
JAZZ MANN RECOMMENDS
---