NEWS
Croydon Composers and Shri Sriram - live performances in November and December 2018.
Wednesday, October 17, 2018
We have received the following press release;

Croydon Composers and Shri Sriram - dates in November and December.

T'S BACK! AND THIS YEAR IT'S BIGGER!

CROYDON COMPOSERS
The cross-genre project that brings together aspiring and established musicians in the London borough of Croydon to write and perform new tunes together at:

November 3rd – Oval Tavern, 131 Oval Rd, Croydon CR0 6BR at 8pm

December 2nd – Boxpark Croydon, 99 George St, Croydon CR0 1LD at 4pm

http://www.croydoncomposers.co.uk

Croydon Composers made its debut at Croydon International Mela in 2017 – the cross culture, cross genre musical collaborations which featured ten Croydon-based musicians paired into five duos was so popular that its production company, Drum the Bass, co-founder and project manager Shirin Sriram, music business affairs consultant Michael Fuller and co-founder and Artistic Director Shri Sriram have decided to expand the project and present 16 musicians – in 9 duo collaborations – live at the Oval Tavern and Boxpark Croydon.

Says Drum the Bass producer, legendary bassist and award-winning composer Shri Sriram: "This year we've decided to expand the project and I'm absolutely thrilled that we're going to stage Croydon Composers at Boxpark in December. Boxpark is a brilliant venue and has done wonders for the going out scene in Croydon since it opened in 2016. Oval Tavern has a great audience for live music; they've been responsible for programming some fantastic artists and building a great live scene for musicians.

"We've spent an inspiring few months listening to musicians, singers, composers and instrumentalists – all of whom are based in Croydon. It's fantastic to discover Croydon as a creative hub for musicians and I'm really proud that our project reflects this. The 2018 line-up features a lot of new names and a few fantastic names who worked with us last year.

"Croydon Composers enables musicians to work in partnership with another musician or composer whom they wouldn't necessarily meet in their day to day lives. The composition they ultimately write together will be performed at Oval Tavern and Boxpark.
THE PERFORMERS – 16 musicians in 9 collaborative pairs:

1. Indian classical singer/songwriter Rajesh Raman with Togolese singer/songwriter Dédé Davi
2. Turkish drummer Tansay Omar and British jazz/blues singer/songwriter Gill Manly – who were part of and did separate collaborations in Croydon Composers 2017.
3. Indian classical percussionist Prathap Ramachandra with a Croydon Composers 2017 returning artist, Guyanese spoken word/poet/songwriter Amen Noir.
4. Afro beats keyboard player/singer/songwriter Silvastone with Croydon Composers producer and Indian bassist/flautist/percussionist/songwriter Shri Sriram.
5. Trinidadian/Canadian singer/guitarist/songwriter Thomas Thomas with Indian classical singer Prachi Ranade.
6. English folk/choral singer/songwriter Katie Rose, a Croydon Composers 2017 artist, returns to collaborate with Indian classical singer/guitarist/pianist Mithun Mohan.
7. Iranian jazz singer/songwriter Mitra Djalili collaborates with another Croydon Composers 2017 returning artist, Angolan rapper/singer/songwriter Unorthodox Kings.
8. British dancehall/reggae rapper Stush with Shri Sriram
9. Hiphop/soul singer/rapper Cyan with Shri Sriram

BOXPARK opened in London's Shoreditch in 2011 fusing the concepts of modern street food and fashion to create a unique shopping and dining destination. In 2016 Boxpark opened its first food and beverage and live events site next to East Croydon and became an instant hit. Bigger than its Shoreditch sibling, with a supersized dining area, the venue features excellent food and drink vendors and hosts regular music nights and art exhibitions. It's become Croydon's most popular hangout.

OVAL TAVERN is a cosy, family-friendly venue with a real community atmosphere just a short stroll from East Croydon station. Passionate about live music the venue's programme encompasses a broad range of genres – from folk to jazz to ska to rock.

CROYDON COMPOSERS will perform to well over 1,000 people on December 2nd – a stage will be constructed at one end of Boxpark and entry is with free tickets from Eventbrite which can be found on the Boxpark website https://www.boxpark.co.uk/events

SHRI SRIRAM is a BASCA British Composer Award 2016 winner for his critically acclaimed brass band project 'Just A Vibration'. He pioneered the Asian underground scene with his electronic/triphop duo Badmarsh & Shri and has composed and produced music for theatre, dance, and films including the promo tune for Ang Lee's 'Life of Pi'. Shri is working on a bass-led album produced by the legendary Norwegian jazz musician and composer Bugge Wesseltoft.

---
blog comments powered by

Disqus
JAZZ MANN FEATURES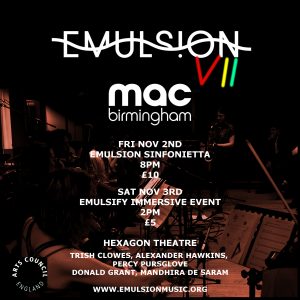 An intriguing evening of music making that once again mixed genres at a whim. Ian Mann on the latest edition of Trish Clowes' Emulsion Festival, w. guest musicians Alexander Hawkins & Percy Pursglove.
---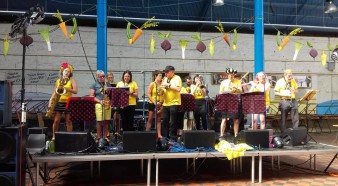 Ian Mann enjoys the Jazz Alley and Charity Swing Party events at the Market Hall with performances by Wonderbrass, Tarion, Rebelinx and The Electric Swing Circus.
---
JAZZ MANN RECOMMENDS
---