NEWS
Keiji Haino & Charles Hayward - new album and UK live dates, June 2019.
Friday, June 07, 2019
We have received the following press release;

Japanese psychedelic underground pioneer Keiji Haino teams up with British drummer Charles Hayward on a live album release via 33-33

Keiji Haino & Charles Hayward
A loss permitted to open its eyes for but three hours
And there glimpsed, finally in focus a mystery
That begs earnestly, "ask me nothing"
Now, once more the problem is yours alone
3時間だけ 目を開けることを 許された喪失
そこで垣間見られるやっと焦点の合った 謎が
「何も尋ねないでくれ」と悲願している
さあまた ただ君自身の問題だ
TTTT004

Release Date: 21/06/2019

Pre-orders here; https://cargorecordsdirect.co.uk/collections/thirty-three-thirty-three/products/keiji-haino-charles-hayward-a-loss-permitted

Release Tour Dates;
17/06 | The Trades Club | Hebden Bridge
18/06 | Cre8 Studio | London
19.06 | | Exchange | Bristol

Experimental music pioneer Keiji Haino, one of the most mysterious and influential figures to emerge from the Japanese psychedelic underground, teams up with Charles Hayward, British drummer and founding member of This Heat and Camberwell Now, on a new live album released on 33-33.

A loss permitted… (the full title of the record is the above poem in its entirety) comprises a live recording of the duo's improvised performance at the Copeland Gallery in London in July 2016, presented as part of 33-33's performance series Japan: London. The result is fascinating: a mix of air synths, distortions, improvised Japanese poetry and warped guitar sounds. Sedate harmonica and guitar sections give way to cosmic din or an equally unnerving silence, in a performance ALL ABOUT JAZZ described as having 'no sense of logic, only silence where the tension seemed to build, then finally release'.

It's not the first time Haino and Hayward have worked together – Hayward's rare album Double Agent(s) documents their improvisational sparring live in Japan in 1998. Both are restless collaborators: Haino has played with Derek Bailey, Tony Conrad, Jim O'Rourke, Pan Sonic and Stephen O'Malley, as well as in his own groups Fushitsusha, Nazoranai and Nijiumu, among others; while Hayward's collaborators have included Fred Frith, Thurston Moore and Laura Cannell. A loss permitted… sees these two visionary musicians revisit their partnership, creating a sound that is at turns contemplative and ferocious – and always completely compelling.

"At once mesmerizing and shocking ... dynamic and explosive, reminiscent of European and American free jazz." ALL ABOUT JAZZ review of Keiji Haino and Charles Hayward at the Copeland Gallery, London in July 2016, by Jack Gold-Molina

"[Haino is] a noted noise music pioneer, a keystone in the bridge between free jazz and noise rock, and a champion of performance over craft." THE QUIETUS

"The black hole music of Keiji Haino has defined the Japanese psychedelic underground for more than 40 years." THE WIRE

About 33-33

Website: https://33-33.co/label/
Twitter - @3333label
Instagram – @3333label

This June sees the eagerly awaited launch of Thirty Three Thirty Three's (33-33) self-titled record label. Three years in the making since Ryuichi Sakamoto & Taylor Duepree's inaugural release​ Live in London​ LP, the label sets out to exist as an extension of the innovative work and reputation of 33-33 as one of London's pioneering creative producers.

The published outputs of the label are symbiotic with 33-33's output as a producer and commissioning body, conceptualising unique live experiences in close collaboration with pioneering artists and musicians. 33-33 Records launches in June 2019 with three initial releases and a series of accompanying album release concerts in London:

TTTT006 - ​Don't Give Your Life
Ben Vince
Release date: 14.06.2019
Album release concert: Thursday 27th June, The Victoria, Dalston E8

TTTT004 - ​A Loss Permitted, to open one's eyes…
Keiji Haino a​ nd​ Charles Hayward
Release date: 21.06.2019

TTTT002 - ​Oglon Day
Oren Amabarchi, Mark Fell, Sam Shalabi ​and​ Will Guthrie
Release date: 28.06.2019

Pre-order links: ​https://cargorecordsdirect.co.uk/collections/thirty-three-thirty-three

Artists ​Keren Cytter,​ J​ochen Lempert​, ​Julien Nguyen​ and S​tudio for Propositional Cinema among others have been commissioned by 33-33's curatorial advisor ​Matt Williams ​(co-founder of NOVEL and former Chief Curator at the Institute of Contemporary Arts, London) to capture the complex relationships between sonic and visual material. This is translated and illustrated in the label's identity which has been designed in conversation with G​areth Horner​ to mirror 33-33's approach to live producing.

33-33 is a co-operative founded in 2016 to promote exploratory and experimental music and arts around the globe, engaging with the rapidly changing social and material conditions of contemporary culture.

As an organisation, 33-33 grew out of the events series St John Sessions, a series of concerts taking place in a dilapidated church in East London since 2014. Internationally, they've programmed and produced events in Ghana, Tokyo, Beirut and Cairo, where in 2016 they established Masåfåt, an open-ended international platform fostering artistic and professional exchange between independent artists and arts professionals across the Arab world and the UK.

In 2018, 33-33 launched MODE​, an annual series of events, staged in collaboration with multiple organisations in different venues across London, featuring a diverse mix of music, visual art, performance and film. The inaugural MODE programme was curated by Japanese composer, pianist and electronic pioneer Ryuichi Sakamoto.​

"I first worked with 33-33 when I performed at an event of theirs in Peckham, which was being live-streamed by Dommune back to Japan. Having always been attentive to my movements and to nurturing new artists, I was really excited to hear they were creating a label, which is why I chose them above other interested parties also because I feel their distinct programming of live shows over the last few years proved they could be the most responsive to my needs as well as bringing amazing artists together that rarely perform in the UK. The diversity and breadth of style in the upcoming releases that is tied together with an experimental focus is really something special that the world deserves to hear."
Ben Vince
---
blog comments powered by

Disqus
JAZZ MANN FEATURES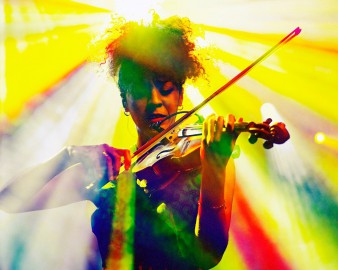 Ian Mann on performances by Vula Viel, Yazz Ahmed, David Sanborn, Hanna Paulsberg, Madeleine Peyroux and two exceptional 'Trios With A Twist', one from Cuba, the other from France.
---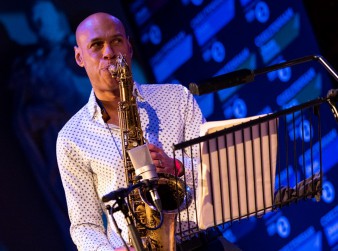 Ian Mann on performances by Paris / Birmingham Jazz Exchange, Alfa Mist, John Surman's Brass Project, Dan Weiss & Starebaby, Abdullah Ibrahim & Ekaya, Vels Trio, Joshua Redman and Michael Formanek.
---
JAZZ MANN RECOMMENDS
---