NEWS
Klemens Marktl latest newsletter.
Friday, January 05, 2018
Klemens Marktl writes;

January News 2018.

What a start into the new year!! There are 3 new recordings available I was invited to play on. You can read about in this letter ... In the meantime I wish you a happy new year!!

CD Release Tour with Ghost Trio
With Morten Ramsbøl (bass) and Klemens Marktl (drums) there are two European top-musicians in Herwig Gradischnigs (sax) new Ghost Trio. Ramsbol can be called No.1 bassist of Denmark, Marktl plays and records for years with the hottest musicians of the New Yorke jazz scene. Gradischnig, long standing member of the wellknown Vienna Art Orchestra is the mastermind of the Trio. Dont miss their Release Tour!

Out Now: Roadmaps from Jan Sturiale
Also available is the new CD from Jan Sturiale recorded at the Bunker Studios in New York. Besides Sturiale and Marktl there are Jure Pukl, Marko Churnchetz und Miha Koren in the group.

LIVE Vinyl Release with Martin Sasse Trio
CD Cover

Martin Sasse and his new Trio inspire with variable Bebop- and Blues creations. Mostly the German piano man points the direction which evolves into improvisations between Piano, Bass and Drums. Klemens Marktl persuades with an extensive hit-and-run style drum-solo!!

Tour Dates

Sunday, January, 7th 2018St Moritz
Hibla Gerzmava & Yakov Okun Trio @ Dracula Jazzclub, St. Moritz (CH)

Wednesday, January, 10th 2018, 8pm
Klemens M.ittwochs´ @ Cafe Lustgarten, Klagenfurt
Klemens Marktl - drums
Gregor Ftičar - piano
Philipp Zarfl - bass

Thursday, January 11th 2018
"Brecker Project" @ SOHO Ljubljana (SLO)
Brecker TributeLenart Krecic - sax
Tomaz Gajst - trumpet
Jani Moder - guitar
Tonč Feinig - hammond organ
Klemens Marktl - drums

Saturday, January 13th 2018, 8pm
Thiemo Kirberg Trio @ ZWE, Vienna

Tuesday, January 16th 2018
Kons Profs on stage @ Jazzclub Kammerlichtspiele, Klagenfurt

January 22nd - 28th 2018Ghost Trio
LIVE Vinyl (LP) Release Tour "GHOST TRIO"
Herwig Gradischnig - sax
Morten Ramsbøl - bass
Klemens Marktl - drums
Monday, January 22nd @ raj, Klagenfurt
Tuesday, January 23rd @ Porgy & Bess, Vienna
Wednesday, January 24th @ Kunst im Glaushaus, Baumgartenberg
Thursday, January 25th @ Forstschule, Bruck/Mur
Friday, January 26th @ Stockwerk, Graz
Saturday, January 27th @ Kulturhofkeller, Villach

Sunday, January 28th 2018, 7pm
Mike Ievtushenko Trio @ Castle Ligist
---
blog comments powered by

Disqus
JAZZ MANN FEATURES
Ian Mann witnesses the future of British jazz at the NYJO Jazz Jam and the JazzNewBlood showcase and loses himself in a spectacular Norwegian double bill featuring Sinikka Langeland and Jaga Jazzist.
---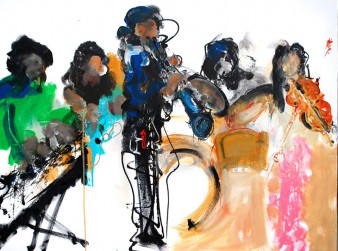 Eclectic, Iklectik, Elektrik - Ian Mann on the penultimate day of the EFG London Jazz Festival.
---
JAZZ MANN RECOMMENDS
---