NEWS
Klemens Marktl - latest newsletter.
Tuesday, April 04, 2017
Klemens Marktl writes;

Highlights: Markt(l)Xperiment. This time we play a "Tribute to the great Roy Haynes" whom I just met at his 92nd birthday concert at Blue Note Jazzclub at Vienna. Haynes is now already a Jazz legend! !!!
Highlight of the year: Carinthian Summer!!!

Markt(l)Xperiment (A/Slo/Serb)
Tribute to the great Roy Haynes
monday, april 3rd, 8:30pm @raj, Klagenfurt
The Xperimental – Xplosive – Xclusive and no longer more an experiment …
Mastermind and name giver of this extraordinary band is the Carinthian exceptional drummer Klemens Marktl. Once a month he acts together with musicians from Austria and Slovenia – preferably as Quartet/Quintet – in front of an excited audience.
The project was started at the culture club "raj" in Klagenfurt. Marktl always presents fresh swinging Jazz with a lot of own compositions and self-arranged standards. So it might happen that you are attending live the making of a new song or beat. Furthermore he introduces special guests from all over the world, like Larry Coryell, Jasper Blom, Rotem Sivan, Renato Chicco or Melissa Aldana.
So it´s not surprising that the Markt(l)Xperiment is a highlight and "must-see" in the domestic scene – and for sure also in a lot of other places around the country. With other words: "The Xperiment succeeded". extemporize.
Jaka Kopač (Slo) - alt sax
Jani Moder (Slo) - guitar
Milan Nikolić (Serb) - bass
Klemens Marktl (A) - drums & mastermind

Klemens Marktl Sextet plays the song "Elveen" at Smalls Jazzclub, NYC.
John Ellis – sax
Tim Armacost – sax
Joseph Doubleday – vibraphone
Dave Kikoski – piano
Boris Kozlov – bass
Klemens Marktl – drums & composition

+++ Tour Dates+++

Monday, April 3rd, 8:30pm
Markt(l)Xperiment "Tribute to the great Roy Haynes" @ raj, Klagenfurt
Jaka Kopač - sax
Jani Moder - guitar
Milan Nikolić - bass
Klemens Marktl - drums & mastermind

Monday, April 10th
Klemen Smolej Trio @ Zoo Ljubljana (Slo)

Thursday, April 13th
Lajos Toth Trio @ ZWE Vienna

Saturday, April 22nd
Alpen Adria CD & Fotobuchpräsentation @raj, Klagenfurt
Tonč Feinig - piano
Stefan Thaler - bass
Thomas Käfel - drums
Klemens Marktl - drums

Tuesday, April 25th
Art Of Trio @ Jazzclub Kammerlichtspiele
Gregor Ftičar - piano
Stefan "Pista" Bartus - bass
Klemens Marktl - drums

Tuesday, April 27th
HOLLOTRIO @Hermagor
Klemens Pliem - sax
Wolfram Derschmidt - bass
Klemens Marktl - drums

Friday, April 28th
HOLLOTRIO @ Schärding

Sunday, April 30th
Moderation at "International Jazz Day" @ radio AGORA 105,5

http://www.klemensmarktl.com
---
blog comments powered by

Disqus
JAZZ MANN FEATURES
It's good to see a "cutting edge" festival returning to Birmingham again, especially one that is so supportive of young, up and coming musicians.
---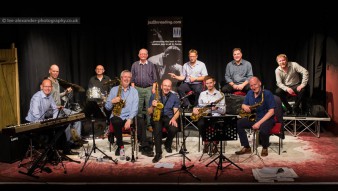 Guest contributor Trevor Bannister on a "a fascinating day spent at a church near Shepperton, where producer Andy Cleyndert was recording Scott Willcox's ten-piece big band for his Trio label".
---
JAZZ MANN RECOMMENDS
---