NEWS
Loz Speyer's Inner Space, UK tour dates April / May/ June 2018.
Tuesday, April 10, 2018
We have received the following press release;

Loz Speyer's Inner Space take their 2017 album "Life on the Edge" on the road, along with new compositions and collectively composed music, for an 11 date tour of the UK – starting at the Verdict Brighton on 12 April, and finishing at the Vortex London on 26 June 2018 – with Arts Council support.

Loz Speyer's Inner Space
touring 2017 album Life on the Edge
(Leo Records Cat. No. LR CD 782 released 01.02.2017)
and new music collectively composed by
Loz Speyer - trumpet and flugelhorn, Chris Biscoe - alto sax and alto clarinet, Rachel Musson - tenor & soprano sax, Olie Brice - double bass, Gary Willcox - drums

Inner Space plays jazz of a rare warmth and immediacy. Combining rhythmic changes with references that synthesize New Orleans, Bebop and Free Jazz, each piece of music evolves its own form, its own balance of structure and freedom, its own atmosphere. There are audible echoes of Mingus, Monk, Ornette and beyond - but as is always vital in jazz, the key is live, in the immediacy of these five highly distinctive musicians, working it all out in the here and now.

**** "the integrity they bring to the emerging free jazz push-pull structure of 'Space Music' pilots the musicians further towards destinations unknown." Philip Clark, Jazzwise

For the new music commissioned for the tour, Loz Speyer is writing a series of "portraits" dedicated to particular Jazz innovators - John Stevens, Steve Lacy, Sun Ra; and, in a new direction for Inner Space, there will be music collectively composed by the whole band, with fragments by different band members assembled and developed in rehearsal and evolving during the tour.

One year after the 2017 album launch at the Vortex, Inner Space returns to the Vortex, with music from the album as it has developed since that time and on the road, and with new music collectively cultivated.

TOUR DATES;

Fri 13 April
7:00pm for 8.00
Brighton - Verdict Jazz, 159 Edward St, Brighton, BN2 0JB
£15/£12 students 01273 674847 http://www.verdictjazz.co.uk

Wed 23 May
7.30pm for 8.00
Barnstaple - Broomhill Art Hotel, Muddiford, North Devon EX31 4EX
£12.50 inc. buffet, £7.50/£5 music only. 01271 850262 http://www.broomhillart.co.uk/jazz

Thu 24 May
8.15pm
Poole - Soundcellar, The Blue Boar, 29 Market Close, Dorset, BH15 1NE
£10 http://soundcellar.moonfruit.com

Fri 25 May
8.30 for 9.00
Bristol - Bebop Club, The Bear, Hotwell Road, Bristol BS8 4SF
£9 http://www.thebebopclub.co.uk

Sat 2 June
7.30pm for 8.30
London - POSK, Polish Social & Cultural Association, 238-246 King Street W6 0RF
£10/£5 students 07415 892 436 http://www.jazzcafeposk.org

Tue 5 June
9.00pm
Birmingham - Jazz at the Spotted Dog, 104 Warwick Street Digbeth B12 0NH
£5 (suggested donation) 0121 772 3822 http://jazzatthespotteddog.co.uk

Wed 6 June
8.15pm for 8.45
Sheffield - Jazz at the Lescar, Sharrowvale Road, Sheffield S11 8ZF
£7 http://www.jazzatthelescar.com

Thu 7 June
6.00pm for 9.00
Manchester - Matt and Phreds, 64 Tib Street, Northern Quarter, M4 1LW
-free- 0161 831 7002 http://www.mattandphreds.com/

Fri 8 June
7.15pm for 8.30
Wakefield - Wakefield Jazz, Wakefield (College Grove) Sports Club, Eastmoor Road, WF1 3RR
£15 01977 680542 http://www.wakefieldjazz.org/

Sat 9 June
8.30pm
Ambleside - Zeffirelli's, Compston Rd, Ambleside LA22 9DJ
-free- 01539 433845 http://www.zeffirellis.com/livemusic

Tue 26 June
8pm for 8.30
London - Vortex Jazz Club, 11 Gillett Square, Dalston, London N16 8AZ
£10 020 7254 4097 http://www.vortexjazz.co.uk/events

**** "superb outing, that effectively highlights the leader's jarring and perceptively constructed compositions." Glen Astarita, AllAboutJazz (USA)

"Upon listening, I was hooked… the contrapuntal moments when the horns venture just over the edge make me think that if ODJB had arrived 100 years later they may have sounded like this."
BebopSpokenHere

"No one writes music quite like Loz Speyer, and he has long deserved a bigger stage and the resources to match." John Fordham, the Guardian

Biography

Loz Speyer has been leading bands and composing for them since the late 80s, with a Jazz focus broad enough to range from Cuban music to free improvisation. His two main groups since 2003, with 2 albums released by each - Time Zone a "deep fusion" of traditional Cuban music and Jazz, born in extended periods in Santiago de Cuba and a family life spanning Anglo-Cuban culture – and Inner Space.
His other projects fill out a similar broad range – free improv trio Tumbatareco, Loz Speyer Quartet; traditional Cuban music with Bombo Arts; London Improvisers Orchestra; improvising groups led by David Leahy and Ged Barry; arranging music by Sun Ra for Merseyside Improvisers Orchestra; arranged music by Malcolm Jarvis for a 10 piece for forthcoming film about Clifford Jarvis (who himself initiated this project with Speyer in 1997).
Speyer has worked with Yann Tiersen (la Route du Rock 2010), Test Department, Sarah-Jane Morris, Tony Bianco, Amancio daSilva, John Bennett Band, Trevor Warren's Disassembler, Alex Maguire, Tony Marsh, Hugh Metcalfe, Bollywood Brass Band, the Happy End, poet and author Michael Rosen, Rare Mix and in Cuba with Orquesta Chepín-Chovén, Inaudis Paisán, Marcos Fernandez, Proyecto Evocación, a collaboration with master percussionist Rafael Cisneros, at Festival del Caribe, Santiago de Cuba 2009, and the album "Roots en Route".

Chris Biscoe is a major figure on the UK jazz scene, Chris' CV reads like a history of Jazz in Europe and beyond over three decades. He has worked with Mike Westbrook, George Russell, Andy Sheppard, Grand Union, Chris McGregor, Didier Levallet, and toured with Hermeto Pascoal, Dewey Redman, Harry Becket, Kenny Wheeler, New York Composers Orchestra, Graham Collier, Keith Tippett, Dedication Orchestra and leads his Profiles Quartet. Chris has played in Inner Space almost since its start in 2003.

Rachel Musson joined Inner Space in 2010, bringing in a strong new improvisational voice, anchoring the ensemble, and increasing the harmonic possibilities. Rachel has trios with Julie Kjaer and Hannah Marshall, and Liam Noble and Mark Sanders. Her debut quintet CD (F-ire 2010) led to a Jazz On 3 sponsored feature at Cheltenham Jazz Festival. She has also performed with Paul Dunmall, Mary Halvorsen, Alcyona Mick, Sarah-Gail Brand, Sebastian Rochford, Steve Beresford, Black Top.

Olie Brice, a member of Inner Space since 2008, also has his own quintet with 2 albums on Babel, 2014 and 2017. He has played in Riverloam Trio with Mikolaj Trzaska and Mark Sanders; with Achim Kaufmann, James Allsopp, Ingrid Laubrock, Alex Ward, Nick Malcolm Quartet, Dee Byrne's Entropi. He plays internationally with artists including Paul Dunmall, Louis Moholo-Moholo, Evan Parker, Ken Vandermark, Lol Coxhill, Axel Dorner.

Gary Willcox joined the band in 2015 and has worked with Jazz artists such as Stan Sultzmann, Jim Mullen, Ian Shaw, Chris Batchelor, Chris Biscoe, Iain Ballamy; and Dele Sosimi's Afrobeat, Pinise Saul and dance label Nuphonic. His own band, with saxophonist Steve Main, appears regularly at Ronnie Scott's and 606 Club. He is a member of the musicians' collective Way Out West, along with Kate Williams, Chris Biscoe, Tim Whitehead.

http://www.lozspeyer.com/innerspace
Album tracks: https://soundcloud.com/loz-speyer/sets/innerspace-life-on-the-edge

Videos (live/ studio): http://www.youtube.com/lozspeyer
Facebook: http://www.facebook.com/sphericalrecords.lozspeyer
---
blog comments powered by

Disqus
JAZZ MANN FEATURES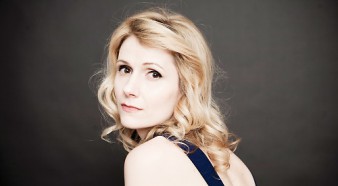 "Jazz club take on Bowie transmits all his wistfulness." Guest contributor Marc Edwards enjoys a party night featuring the contrasting styles of vocalists Rebecca Poole and Fleur Stevenson.
---
Ian Mann witnesses the future of British jazz at the NYJO Jazz Jam and the JazzNewBlood showcase and loses himself in a spectacular Norwegian double bill featuring Sinikka Langeland and Jaga Jazzist.
---
JAZZ MANN RECOMMENDS
---