NEWS
New Scottish Jazz Weekend announced, October 2019.
Thursday, September 12, 2019
Gallus – The Scottish Jazz Weekend

Edinburgh Jazz & Blues Festival is delighted to continue its support for the burgeoning young Scottish jazz scene by presenting a weekend of Scottish Jazz: "Gallus".

Offering a snapshot of the state of jazz in Scotland though the lens of guest programmer: Fergus McCreadie.

Pianist McCreadie is the shooting star of Scottish jazz. Still aged only 22, he has won numerous awards, massive critical and audience acclaim and is in demand for concerts all over Europe.
He says: "To simply be a part of this scene is an absolute privilege, so I'm sure you'll understand the great joy I've had in selecting a line-up that broadly represents Scottish Jazz as it stands today … a wide array of angles are presented in this programme, from new innovations to established projects, a younger vanguard of players rising up to sit alongside some of Scotland's finest jazz exports". 

Entitled "Gallus" which means bold and daring, the Scottish Jazz Weekend and Fergus's programme reflects the excitement around the current jazz scene, as the Economist explains "The relative youth of the Scottish jazz scene may explain this experimentation. London and New York have a century of convention that musicians must learn and respect; Scotland has only offered formal training in jazz for a decade". 

Running from Thursday 17 th to Sunday 20 th October, "Gallus" presents fourteen bands who honour the tradition, present fresh visions or expand the boundaries of the music. Opening the weekend stellar saxophonist Tommy Smith's Quartet salute the music of John Coltrane, whilst trumpeter Colin Steele closes the programme paying homage to that other icon of jazz: Miles Davis.

In between, "Gallus" showcases new compositions from guitarist Ben MacDonald and bassist Mark Hendry. MacDonald shapes new sounds out of the old worlds of Scofield, Frisell and Metheny. Aged just 21 Hendry shows a scarcely believable maturity writing brilliantly; creating absorbing, impactful, and exciting new music that appeals to a wide- range of audiences marrying Jazz, Classical, Folk and Rock worlds.

Paul Towndrow and Matt Carmichael showcase the most iconic jazz instrument, the saxophone. From Towndrow's contemporary take on the tradition to the extraordinary facility of Matt Carmichael who is already a major force, despite still studying at the RCS.

"Gallus" also showcases three singers who are making waves: Georgia Cecile, Luca Manning and Anoushka Nanguy. All mix stunning interpretation, with beautiful songs.

Mezcla and STRATA play late night at The Jazz Bar – delivering energetic, fiery sounds in the classic basement jazz club setting. From infectious world grooves to distillation of
contemporary jazz with minimalism with progressive rock.

Concerts take place at the Queen's Hall, St Brides Centre and The Jazz Bar – full listings can
be found on https://www.edinburghjazzfestival.com/autumn/themes/scottish-jazz-weekend-2019.html

'Gallus' is promoted by Edinburgh Jazz& Blues Festival and is supported by The PLACE programme, funded by the Scottish Government and City of Edinburgh Council
Ticket information;
Tickets are available from:
Online at http://www.edinburghjazzfestival.com
By phone on 0131 467 5200

http://www.facebook.com/edinburghjazzbluesfestival
---
blog comments powered by

Disqus
JAZZ MANN FEATURES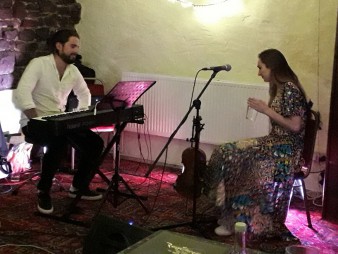 The final day of the Festival and performances from Tango Jazz Quartet, Renewal Choir and Claire Victoria Duo.
---
Ian Mann on live performances by the Alex Goodyear Bop Septet, Chube with Dennis Rollins, and the Sarah Gillespie Sextet, plus a screening of the Chet Baker biopic "Born To Be Blue".
---
JAZZ MANN RECOMMENDS
---