NEWS
The Green Note, Camden Town, London - latest newsletter.
Tuesday, April 10, 2018
Some very exciting new shows announced here first!

Hi everyone,
Hope you're all doing well!

We have lots of news to share with you today, as we've recently confirmed a bunch of new shows, so there are lots of new listings on our website if you feel like checking it out. We'll give you a sneak peak at a few of them here though…

First, due to popular demand, we have added a second show with MOLLY TUTTLE & RACHEL BAIMAN, which will take place on Mon 9th May at Water Rats in Kings Cross, the night before their sold out show at Green Note. Tickets are now on sale, so any of you who who missed out on the show first time around, now is your chance! This is a special show featuring two of the rising stars of bluegrass. We first discovered Molly Tuttle a couple of years ago when she played Green Note with her family band, The Tuttles, who blew us all away. But recently Molly's been making a massive impact in her own right. A virtuoso multi-instrumentalist and award winning songwriter with a distinctive voice, she began performing on stage when she was 11, and recorded her first album at age 13. Since then, she's appeared on A Prairie Home Companion and at Hardly Strictly Bluegrass, was featured on the cover of Flatpicking Guitar Magazine, won first place in the prestigious Chris Austin Songwriting Competition at Merlefest, as well as receiving a Momentum Award from the International Bluegrass Music Association in the instrumentalist category. She has also received more than two million views on YouTube! Sharing the bill with Molly, is fellow rising star Rachel Baiman, a fiddle/banjo player, specialising in Old Time, Bluegrass, Scottish, and Folk music. Highly recommended!

Green Note hits the Road…
We've also got some great shows coming up over the next few months as part of our 'Green Note hits the Road' series.
We've just announced two shows for this summer that we're really excited about, both of which will take place at the Lexington in Islington. The first is Nashville country artist KELLY WILLIS, who is due to release a new album next month and will be playing on Tues 24th July. It's the first time we'll be putting on a show with Kelly, but we've been fans of hers for a long time, so we're really looking forward to this one. The other show is EILEN JEWELL, who we've put on many times before, and continues to be one of our favourite live acts.

Speaking of favourites, we're also very excited about our show with one of our all time favourite bands, BIRDS OF CHICAGO, which will take place on 14th May, also at the Lexington. Tickets are now available for all these shows and already going fast!

We've also got some other great shows coming up at the Lexington this month. Rising start of country music WHITNEY ROSE, on Sunday 29th April, sizzling Californian roots band MARTY O'REILLY & THE OLD SOUL ORCHESTRA on Mon 30th April, and of course this coming Monday (16th April), we have the "mighty impressive" (Chris Hawkins, BBC6) ROXANNE DE BASTION, who will be playing a full-band show in order to celebrate the launch of her first book, 'Tales From The Rails'.

And closer to home…
Peanut Shuffle ClubWe also have our usual exciting and eclectic programme of music at our home base Green Note. The next couple of weeks sees the return of the godfather of UK country, HANK WANGFORD (Fri 13th April), an intimate basement show from THE FRAN MCGILLIVRAY BAND (Fri 13th April), sweet and nutty pop songs from the 30s and 40s from PEANUT SHUFFLE CLUB (Fri 20th April) and an album launch from acclaimed bassist DARWISH (Weds 25th April).

We're also really looking forward to the return of "the hottest new band out of Northern Ireland" (Chicago Irish American News), CONNLA, playing tomorrow (Wednesday 11th April. And just a little heads up that we still have a handful of tickets left for a special fundraiser for fRoots Magazine - an intimate talk and Q&A with legendary record producer JOE BOYD. This is a real one off so don't miss out on the chance to be part of it!

There are lots more recently announced shows that are most definitely worth checking out, so check out the events page of our website, where you can also buy tickets for all the shows mentioned here.

And if you don't yet have plans for tonight (Tues 10th), we highly recommend checking out the album launch of bluegrass supergroup CARDBOARD FOX. Their first album won best the Spiral Earth Award for Best Debut in 2015 so their next one is highly anticipated!

Hope to see you soon!
Lots of love,
Immy & Risa xx

THE NEXT COUPLE OF WEEKS…

Cardboard Fox
Tue 10th April
Winners of the 2015 Spiral Earth Award for Best Debut… a unique and powerful combo of dexterous instrumental playing, memorable songwriting and energetic live shows, with roots in bluegrass but collective influences reaching much further…

Connla
Wed 11th April
"The Hottest New Group out of Northern Ireland" Chicago Irish American News

The Undercover Hippy
Thu 12th April
Politically driven acoustic roots reggae folk-hop, with feel good vibes and a sly sense of humour.
**SOLD OUT**

Fran McGillivray Band
Fri 13th April
THE BASEMENT BAR
Rootsy and rhythmic original songs, Blues and Americana

The Wangford Bass Combo
Fri 13th April
Hank Wangford, the godfather of British alt-country, presents his bass combo - twin bass guitars drilling their way through sad songs of lost love, breakups and betrayal…

Dom Pipkin
Sat 14th April
THE BASEMENT BAR
Widely accepted one of the best interpreters of New Orleans piano in the UK!

Kat & Co
Sat 14th April
A smoky, sassy sound, preserving the tradition of the Blues, whilst also bringing it into the modern age…

Girls To The Front
Sun 15th April
A night celebrating women in music by bringing the finest crop of rising female music artists to the forefront. Featuring… Sophia Marshall, Rhiannon Scutt, Gitta de Ridder, Lyla Foy, RoseRed & The Butterflies + MIRI

Roxanne De Bastion
Mon 16th April
THE LEXINGTON
...deep and delicate songs that dance between left-of-the-middle pop and 60's inspired rock.

Dipper Malkin
Mon 16th April
Traditional music elevated to new heights of sturdy beauty and sophistication.

An Evening with Joe Boyd
Tue 17th April
fRoots Magazine presents a special intimate talk and Q&A with legendary record producer JOE BOYD… "Folk Rock from Newport to Fairport"

Rebetiko Carnival presents… Sto Cafe Aman with Çiğdem Aslan
Wed 18th April
A musical journey into the cafe amans (taverns) of Istanbul, Smyrna and Thessaloniki

Dai & The Ramblers
Thu 19th April
Cajun & New Orleans inspired folk-soul/blues from Dai & The Ramblers featuring members of Paul McCartney, Van Morrison & Loudon Wainwright's 's bands

Vimala Rowe
Fri 20th April
THE BASEMENT BAR
Songs from the 30's and 40's - Ella Fitzgerald, Billie Holiday with a modern vibe of appreciation

Peanut Shuffle Club
Fri 20th April
Sweet and nutty pop songs from the 30s and 40s - old-timey swing tunes to fill your boots with dances and your heart with gladness…

Errol Linton's Blues Trio
Sat 21st April
THE BASEMENT BAR
Combining 50s Chicago blues with gentle Jamaican reggae rhythms
**SOLD OUT**

Jaywalkers
Sat 21st April
One of the most exciting, virtuosic and entertaining young bands working on the British Folk scene… taking influence from Folk, Bluegrass, Country and Western Swing!

Patrick Naylor Trio
Sun 22nd April
THE BASEMENT BAR
Guitarist Patrick Naylor plays songs from his Daily Telegraph Best of 2015 album 'Days of Blue'... "Virtuoso guitar" Time Out

The Lowest Pair
Sun 22nd April
"Voices just born to sing bluegrass and old-time" Fatea magazine

The Dovetail Trio
Mon 23rd April
Presenting England's traditional songs with a bold and fresh approach, The Dovetail Trio explores familiar narratives and modern themes with infectious energy and a passion for musical heritage.

Open-Mic hosted by Rob Thom
Tue 24th April
Everyone welcome! Whether you're coming along to play or just to chill out in a fun, friendly atmosphere, kick back and enjoy the music…

Stargazing feat… Tilly Dent + Joss Malcomson
Tue 24th April
THE BASEMENT BAR
Expect some unlikely constellations where talent might be the only thing they have in common in this monthly showcase night.

The Remedy Club
Wed 25th April
THE BASEMENT BAR
Irish Americana/Roots duo known for their tight vocal harmonies and intelligent songwriting

Darwish
Wed 25th April
Highly accomplished bassist and songwriter who has has played for the likes of Sting, Imelda May and Newton Faulkner. delivers his debut solo album 'Reclamation'.

Michele & Romeo Stodart present…..
Thu 26th April
A special monthly residency hosted by The Magic Numbers' siblings Romeo and Michele Stodart presenting acts they admire…

Lucy Orme & guests
Fri 27th April
THE BASEMENT BAR
A trio performing numbers reminiscent of the golden era of jazz, covering uptempo dance hall tunes from the 1920's to the 1950's in addition to some well known ballads.

Ma Polaine's Great Decline
Fri 27th April
Taking inspiration from the 1940's jazz of Billie, the blues grit of the Wolf, and the genre sidestepping of Waits… broken down roots music!

The Washboard Resonators
Sat 28th April
THE BASEMENT BAR
Vaudevillian blues, jazz and folk music with guitars, banjos and a washboard.

Väsen
Sat 28th April
"Quite simply one of the finest musical ensembles playing today" – Mary Ann Kennedy, BBC Radio 3
**SOLD OUT**

Robin Williamson with special guest Bina Williamson
Sun 29th April
2.30pm matinée
Scottish singer, storyteller, harper & cofounder of the Incredible String Band + special guest longtime musical partner, singer & multi-instrumentalist Bina Williamson.

Whitney Rose
Sun 29th April
THE LEXINGTON
"Playfully croons through tales of love and mischief with girlish breath and devilish twang." Rolling Stone

The Hot Club of Jupiter
Sun 29th April
THE BASEMENT BAR
A unique brand of gypsy swing, hot jazz & songs of middle-class angst & caddish behaviour.

Martin Callingham + Green Apple Sea (Solo) + Louis Brennan
Sun 29th April
A special bill curated by Folklore…

Marty O'Reilly & the Old Soul Orchestra
Mon 30th April
THE LEXINGTON
"Raw musical excellence… guitar, fiddle and double bass played to within an inch of their inanimate lives." - 4000 Miles to Nashville / "Definitely on the top of the Americana list penned by any serious connoisseur of roots music this year." - Portland Tribune

Paperface
Mon 30th April
THE BASEMENT BAR
"A gorgeously rich slice of crystalline pop that evokes classic records by the Walker Brothers, Love, and Burt Bacharach…" (The Big Issue)

Windborne
Mon 30th April
Songs from Corsica, the Republic of Georgia, Bulgaria, Quebec, and Basque country, as well as traditional and original American folk music

Green Note, 106 Parkway, London, NW1 7AN
---
blog comments powered by

Disqus
JAZZ MANN FEATURES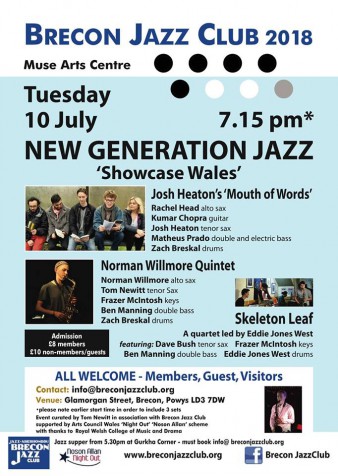 Ian Mann enjoys an evening of original music played by students of the RWCMD in Cardiff with sets from Josh Heaton's Mouth of Words, Skeleton Leaf and the Norman Willmore Quintet.
---

Ian Mann enjoys this cross genre Festival founded by saxophonist Trish Clowes and featuring newly commissioned music from Nikki Iles and Robert Mitchell.
---
JAZZ MANN RECOMMENDS
---