NEWS
The Jazz Standard, New York City - programme for September 2017.
Tuesday, August 01, 2017
We have received the following press release;

September At Jazz Standard
Featuring
Cyrus Chestnut Trio
Jeff "Tain" Watts Celebrates Elvin Jones
Antonio Sanchez Group
Donald Harrison Jr. Quintet

New York City, NY — JAZZ STANDARD, one of the nation's premier jazz clubs, offers another im­pressive month of music with jazz legends and rising stars throughout September. From September 1–3, pianist Cyrus Chestnut will perform with bassist Buster Williams and drummer Lenny White, followed by Jeff "Tain" Watts leading a 90th birthday tribute to the late great Elvin Jones. Antonio Sanchez, who composed the original score for the Oscar–winning film Birdman, will lead an all–star quartet from September 15–17; and New Orleans legend Donald Harrison will lead his quintet from September 21–24. Our "Mingus Mon­day" series will contin­ue in September with the GRAMMY Award–winning Mingus Big Band appearing 9/4, 9/11, 9/18, and 9/25. Be­low is a com­plete sched­ule of September per­form­ances at Jazz Standard, along with infor­ma­tion on the musicians. For every­thing else, visit http://www.jazzstandard.com.

THE SMOKESTACK
Enjoy weekly Sunday brunch | Sets: 11:30 a.m. + 1:30 p.m.
(doors open @ 11:00 a.m. + 1:00 p.m. respectively) |
Tickets: $10 music charge/$35 all-inclusive/Free admission for kids under 12

ALL SHOW TIMES: 7:30 & 9:30 PM
Jazz Standard is located at 116 East 27th Street between Lexington and Park Avenues | Train No. 6 to East 28th Street
NEVER A MINIMUM
Student Discounts restrictions apply
Enjoy "NYC's Best Barbecue" (Time Out New York) from BLUE SMOKE
And an extensive wine, beer and cocktail list
For reservations call Jazz Standard at 212.576.2232 or visit http://www.ticketweb.com
Artists and schedules are subject to change

SEPTEMBER 2017 SCHEDULE;

9/1 – 9/3 Cyrus Chestnut Trio featuring Buster Williams and Lenny White CD RELEASE
Cyrus Chestnut – piano
Buster Williams – bass
Lenny White – drums
"I believe the ability to play music is a gift from God and every time I play, I'm thankful," Cyrus Chestnut told DownBeat. "Every time I sit down to play, for me, is worship and expression." This week at Jazz Standard, the prodigiously gifted pianist will reconvene the superb trio he led on our stage in May 2016 and with which he recorded one of his best albums, Natural Essence (High Note, 2016). The group features bassist Buster Williams, whose path to the role of bandleader and recording artist took him through the groups of Miles Davis, Art Blakey, and Herbie Mann; and drummer Lenny White, a founding member of Return To Forever who has released 11 albums as a leader. Cyrus returns to our stage to release his follow-up trio record: There's a Sweet, Sweet Spirit. "Cyrus Chestnut balances his lithe technical skill with a robust, soulful style that speaks to his deep gospel roots and love of swinging hard bop." (AllMusic) Music Charge: $35

9/4 Jazz Standard Closed For Labor Day

9/5 – 9/10 Jeff "Tain" Watts: An Elvin Jones 90th Birthday Celebration
Made immortal for his role in the classic John Coltrane Quartet (1960–1965), Elvin Jones was "one of the all–time great drummers," wrote Scott Yanow at AllMusic, "bridging the gap between advanced hard bop and the avant–garde." The younger brother of pianist Hank Jones and trumpeter Thad Jones, Elvin led his own stellar small groups for decades until his death in 2004. This week, "Tain" will lead a 90th birthday tribute to the late great Elvin Jones – and he'll be joined by some of the latter's former sidemen in what promises to be one of the high points of the New York jazz fall season.

9/5 – 9/7 Jeff "Tain" Watts' Elvin Jones Alumni Band
Jeff "Tain" Watts – drums
Nicholas Payton – trumpet
Robin Eubanks – trombone
Ravi Coltrane – tenor saxophone [9/5 only]
Dave Liebman – tenor saxophone [9/6 only]
Sonny Fortune – alto saxophone [9/7 only]
Eric Lewis – piano
Neil Caine – bass
In Elvin's later small groups, the amazing lineups included such jazz notables as Frank Foster, Joe Farrell, Dave Liebman, and Sonny Fortune; and he nurtured the careers of "young lions" like trumpeter Nicholas Payton and pianist Eric Lewis. Jeff "Tain" Watts is a true disciple of Elvin Jones, a percussionist of immense power and unstoppable drive with a panoramic musical knowledge. To begin the 90th birthday celebration, Watts has assembled the finest alumni from those bands—all front men in their own right—for an all-star tribute to the master. Joining the core band for one day each will be three saxophonists with a deep connection to Elvin's music, Dave Liebman and Sonny Fortune who played with Elvin, and Ravi Coltrane, son of the legendary John Coltrane, unanimously considered Elvin's closest musical compatriot. Music Charge: $30

9/8 – 9/10 Jeff "Tain" Watts' Electric Elvin Band
Jeff "Tain" Watts – drums
Kevin Eubanks – guitar
Charnett Moffett – bass
Tain here focuses on the legacy of Elvin's electric bands. On albums like Time Capsule (1977), Elvin's bands included electric guitar and electric piano; he played explosively on guitarist Sonny Sharrock's 1991 album Ask The Ages, working alongside bassist Charnett Moffett and saxophonist Pharoah Sanders. Charnett will be on the stand this week with "Tain" and the great guitarist Kevin Eubanks. Joining Watts will be the bassist from the original record, Charnett Moffett, and guitarist Kevin Eubanks. Although many know Eubanks primarily from playing foil to Jay Leno on the Tonight Show, he remains one of the modern titans of jazz guitar, and is well equipped to assume the role, adding his own considerable talents to the music. Sparks will fly, so make your reservations now! Music Charge: $35

9/11 Mingus Big Band
Our popular "Mingus Monday" residency resumes tonight with two blazing sets by the Mingus Big Band. "…A wonder and an anomaly. The band has taken a musical legacy and transformed it into a creative force that generates a contemporary originality and vitality all its own. They are an important part of the current jazz scene and a constant re­minder that jazz—big band jazz, at that—is not merely entertainment but a powerful art form and means of expression." (Victor Schermer, AllAbout­Jazz.com) Music Charge: $25

9/12 Ethan Iverson Trio featuring Ron Carter and Billy Hart
Ethan Iverson – piano
Ron Carter – bass
Billy Hart – drums
Earlier this year, Ethan Iverson announced his impending departure from The Bad Plus, the long–running improvisational trio that he co–founded in 2000 (with bassist Reid Anderson and drummer Dave King). The former musical director for the Mark Morris Dance Group, Iverson has gigged and/or recorded with Kurt Rosenwinkel, Tim Berne, Lee Konitz, and Paul Motian, to name but a few. In October, Ethan will co–curate [email protected]: A Century of Genius," a landmark concert series in Durham, North Carolina, commemorating the centennial of Thelonious Monk. Tonight, Jazz Standard offers a taste of things to come from this gifted pianist, composer, and prose writer as he joins forces with a rare meeting of two legends of the rhythm section, bassist Ron Carter and drummer Billy Hart. Music Charge: $25

9/13 Tim Berne's Snakeoil CD RELEASE
Tim Berne – alto sax
David Torn – guitar
Oscar Noriega – bass clarinet
Matt Mitchell – piano
Ches Smith – drums
The compositions of iconic saxophonist/bandleader Tim Berne have earned renown for their intensely kinetic, dizzyingly intricate quality as performed around the world by his various groups over the past four decades. His tenure with the fabled ECM label began in 2012 with the self–titled debut of his group Snakeoil and continued through two further acclaimed albums, Shadow Man (2013) and You've Been Watching Me (2015), the latter hailed by Karl Ackermann in All About Jazz as "a high point of his compositional achievements to date." This special Jazz Standard one–nighter heralds the September 8 release of Incidentals, the fourth Snakeoil CD. The music is characteristically action–packed in the Berne tradition – powerful, dynamic, often fast–moving – yet also very clear in all its teeming detail. Music Charge: $25

9/14 Camille Bertault
Camille Bertault – vocals
Michael Leonhart – trumpet
Dan Tepfer – piano
Matt Penman – bass
French jazz vocalist Camille Bertault – conservatory trained in Paris and Nice – became an Internet sen­sation in 2015 with a YouTube video of her performance of John Coltrane's "Giant Steps," for which Bertault had written new French lyrics. As Thomas Cunniffe wrote at Jazz History Online, "viewers around the world were amazed with the uncanny accuracy with which she scatted Coltrane's blinding–fast solo." Since then, Camille has been at the helm of a promising jazz career with her Sunnyside release En Vie, and crossing the Atlantic to share her art with captive audiences including at Jazz Standard. She returns now to our stage by popular demand. Cuniffe: "In sharing her development with a global audience, Camille Bertault has made it clear that she has a phenomenal talent . . . she is ready for gradu­ate studies on the world stage." Music Charge: $25

9/15 – 9/17 Antonio Sanchez Group
Antonio Sanchez – drums
Chris Potter – tenor saxophone
Donny McCaslin – tenor saxophone
Matt Brewer – bass
Since arriving in New York City in the late 1990s, Antonio Sanchez has become not only a most in–demand accompanist for such artists as Chick Corea, Michael Brecker, Gary Burton, and Pat Metheny, but also a "spectacularly virtuosic leader" and "a hypnotic performer." (John Fordham, The Guardian, 9.23.2010) Extracting an incredible array of colors from the drums, Sanchez deploys extraordinary dynamic shifts, subtle colorations, metric super-impositions, and streamlined clave patterns – all of which could be heard on his original soundtrack for the Academy Award "Best Picture" winner Birdman. This week, Antonio Sanchez will lead a thrilling new quartet featuring bassist Matt Brewer and perhaps the two most celebrated saxophonists of their generation, Chris Potter and Donny McCaslin – don't miss it! Music Charge: $30

9/18 Mingus Big Band
"One of those relatively few jazz figures who has inexorably accumulated a wholly singular body of work – like Duke and Monk and Miles and Trane…All of Mingus' music is a symphony fused from the parts of his life, like a book." – Nat Hentoff, from his liner notes to The Art of Charles Mingus: The Atlantic Years (Atlantic SD 2–302). Music Charge: $25

9/19 – 9/20 Matt Wilson's Honey & Salt: Music Inspired By The Poetry of Carl Sandburg CD RELEASE
Matt Wilson – drums
Ron Miles – cornet
Jeff Lederer – tenor & soprano saxophones
Dawn Thompson – guitar & vocals
Martin Wind – bass
Plus special guest spoken word (Sandburg Poetry)
When Carl Sandburg died in 1967, President Lyndon B. Johnson hailed the famed poet as "more than the voice of America, more than the poet of its strength and genius. He was America." 50 years after Sandburg's passing, Matt Wilson's Honey And Salt pays tribute to the Pulitzer Prize–winning "poet of the people," with whom drummer/composer Wilson shares both Midwestern roots and a passion for communicating lofty art to a broad and diverse audience. For the long–awaited album Honey And Salt (out 8/25 on Palmetto Records), Matt Wilson enlisted a stellar list of jazz greats – including Christian McBride, John Scofield, Carla Bley, and Rufus Reid – whose spoken voices are as expressive and elo­quent as their better–known instrumental voices, as well as actor/comedian/ musician Jack Black. These recitations are set to ensemble arrangements composed expressly for guitarist/vocalist Dawn Thomson, cornetist Ron Miles, multi–reedist Jeff Lederer, and bassist Martin Wind, along with Wilson's jubilant and spirited drumming. Honey And Salt, wrote Jim Macnie in his five–star review for DownBeat, "reminds us not only how whimsical a poet the master truly was, but also how gifted a drummer and arranger Wilson is…The program shifts and shifts, but each turn introduces a genuinely discrete approach to the verse at hand." Music Charge: $25

9/21 – 9/24 Donald Harrison Quintet with special guest Brian Lynch
Donald Harrison – alto saxophone
Brian Lynch – trumpet
Detroit Brooks – guitar
Zaccai Curtis – piano
Jasen Weaver – bass
Darryl Staves – drums
It is not for nothing that Donald Harrison Jr. is called "The King of Nouveau Swing." "I love music that swings and has a certain pulse to it," he told the San Diego Union Tribune. "So instead of playing a straight reggae beat or a straight hip–hop beat, we merged it with a swing beat. That's the concept of nouveau swing — it's swinging, but with new things added in to it." No matter the musical context – bebop, hard bop, Mardi Gras Indian chant songs or Crescent City–rooted funk – Harrison's tone on alto sax is imme­diately recognizable and his style is uniquely personal. In the course of a career spanning more than three decades, he's performed and recorded with artists and ensembles ranging from Lena Horne and Art Blakey's Jazz Messengers to the Chicago Symphony Orchestra and the Louisiana Philharmonic. As an evacuee/survivor of Hurricane Katrina, Harrison had a prominent role in Spike Lee's HBO documentary "When the Levees Broke." For the 2005 Jonathan Demme film Rachel Getting Married, starring Anne Hathaway and Debra Winger, Harrison appeared as himself and co–composed the soundtrack; Harrison appeared (again as himself) in 11 episodes of David Simon's groundbreaking HBO series, "Treme." Music Charge: $30

9/25 Mingus Big Band
"By using his band like an artist uses color in his palette, treating it like a complex instrument and using it to think with, Mingus resembled the man he admired the most, Duke Ellington. The bassist brought back to modern jazz the right texture and variety of sound that had been so eroded by the rather predictable formula of bebop…Despite his fierce emotions, or perhaps because of them, Mingus created a more complex structure as a way of controlling feeling." – From Jazz Greats by David Perry (1996, Phaidon Press Ltd.) Music Charge: $25

9/26 Eli Degibri Quartet
Eli Degibri – tenor & soprano saxophones
Tom Oren – piano
Tamir Shmerling – bass
Eviatar Slivnik – drums
As an instrumentalist, composer, and bandleader, Eli Degibri boasts a seemingly bottomless fount of artistry. "An exceptionally melodic improviser with a big, bold tenor tone" (Bill Milkowski, Jazz Times), he's been recording and performing extensively for two decades as both a leader and as an MVP sideman with the groups of two jazz legends, Herbie Hancock (1999–2002) and Al Foster (2002–2011). It is rare in our time to hear a tenor saxophonist exploring such a wide range of expression: alternately sharp and mellow, funky or caressing, sometimes on the verge of bursting with the urgency of his playing. That's why Herbie Hancock unequivocally states that Eli Degibri "has the potential to be a formidable force in the evolution of jazz." Don't miss this rare New York appearance by a future giant of jazz! Music Charge: $25

9/27 Thana Alexa
Thana Alexa – voice
Antonio Sanchez – drums
Ben Williams – bass
Carmen Staaf – piano & keyboards
Jordan Peters – guitar
Nicole Zuraitis – background vocals
Jo Lawry – background vocals
As the 2016 DownBeat Critics Poll "Rising Star" Female Vocalist and a runner–up in the 2014 "Made In New York" Jazz Competition, Thana Alexa is at the forefront of an auspicious group of young jazz singer/composers. Her debut album Ode to Heroes (Harmonia Mundi, 2015) featured her striking original compositions and vocal arrangements, along with her vibrant takes on jazz standards like Wayne Shorter's "Footprints" and Charles Mingus' "Goodbye Pork Pie Hat." Most importantly, the album showcased the artist's ability to engage in rewarding and illuminating musical conversation with some of the music's most renowned and forward–thinking players. Thana Alexa is an active member of drummer Antonio Sanchez's touring ensemble Migration and has recorded two critically acclaimed albums with the group, New Life and The Meridian Suite; she also appears on three recordings by guitarist Gene Ess. "Such a personal and strong approach to singing, arranging and composing…That's what we need; that's what jazz needs." – Luciana Souza Music Charge: $25

9/28 – 10/1 Freddy Cole
Freddy Cole – piano & vocals
Randy Napoleon – guitar
Elias Bailey – bass
Quentin Baxter – drums
Last October, it was our pleasure to host an 85th birthday celebration for the captivating singer/pianist Freddy Cole – and now we're equally pleased to welcome him back for what promises to be a memorable return engagement. Born in Chicago in 1931, the younger brother of the late great Nat King Cole, Freddy Cole earned degrees from Juilliard and the New England Conservatory. He paid his dues on the New York scene, but built a more significant and successful career outside the U.S. The artist's perseverance paid off when he began working with NEA Jazz Master and producer Todd Barkan to create such acclaimed albums as I'm Not My Brother, I'm Me (High Note, 1990) and A Circle Of Love (Fantasy, 1996). "Taking nary a breath be­tween songs, Cole dispatched more than a dozen compositions in his first set, some purely instrumental, some with vocals, all offered with a degree of authority that comes only with long decades before the public." (Chicago Tribune) Music Charge: $30
---
blog comments powered by

Disqus
JAZZ MANN FEATURES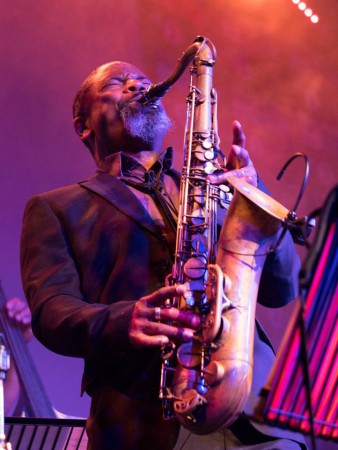 Ian Mann on the final day of the Festival and performances by Hot 8 Brass Band, Sarah Munro, Mode9, Paul Carrack and Denys Baptiste.
---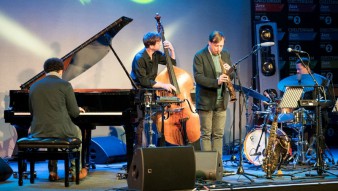 Ian Mann on performances by Monocled Man, Schnellertollermeier, Meshell Ndegeocello, Chick Corea, Chris Potter and Yazz Ahmed.
---
JAZZ MANN RECOMMENDS
---