NEWS
Vein - new album and UK live dates April 2019.
Friday, March 15, 2019
We have received the following press release;

VEIN
Symphonic Bop
feat. Norrbotten Big Band
Released 15 March 2019
On Double Moon Records

VEIN Live
CARDIFF The Flute & Tankard 3 April
BRISTOL St. Georges (with Andy Sheppard) 4 April.
LONDON Vortex 26 April

"just stunning…. (The Chamber Music Effect) may well count among my Albums of the Year" (Jazzwise)

Elegant hipster stylings… startling angles…, fun-filled.. airy, lovely" (The Evening Standard)

"Sophisticated, ... viscerally powerful .... Vein go from strength to strength." (The Guardian)

Never ones to stand still, Swiss trio Vein, once again, push their own personal envelope. We've heard them present their sophisticated, passionate, often leftfield compositions in both trio and quartet formats (with invited guests Greg Osby , Dave Liebman and Andy Sheppard) and apply their masterful interplay in both contemporary and classical settings. Always innovative, always exciting.

For Vein's new release, twins, drummer, Florian Arbenz and pianist Michael Arbenz with bassist Thomas Lähns expand their range beyond the crystalline precision and intimacy of the small ensemble to the awesome power and depth of an internationally acclaimed jazz orchestra. Enlisting the multiple Grammy-nominated Swedish Norrbotten Big Band under artistic director Joakim Milde they present their thirteenth recording, 'Symphonic Bop'. It's like seeing your favourite movie on a bigger screen.

What makes this work stand out among other works for jazz orchestra, is that although it uses the orchestra's power to the full, Vein's small-group heritage and identity ensure that the delicacy and texture of individual instrumental colours and lines are never obscured by the full weight of it.

Michael Arbenz, who arranged and orchestrated all six tracks, explains: "The big band is an extension, or an orchestration of the trio, which adds all the colours of a big band without losing the flexibility and the interaction of the trio." The atmosphere of the orchestra can also be heard through the arrangements: "The inspiration for the arrangements comes more from the symphonic tradition than the big band," he says. The result is an album with the rhythmical subtlety, the melodic invention, and the sensational ensemble playing of Vein's trio albums, but with the heft and depth of an orchestra. Truly the best of both worlds.

The outstanding feature of Symphonic Bop is its diversity of style and mood. All members of Vein contributed new pieces. Florian's composition, Boarding the Beat is a fifteen-minute suite exploring the colours of the orchestra in exquisite depth and detail. A delicate opener, it showcases the orchestra's subtler textures and yields to passages of luminous brass harmonies; sinuous tenor saxophone melodies, and indignant soprano while flute insinuates its way irresistibly through the instrumental lines.

Thomas Lähns' composition Willi's Pool is a mind-warping fantasy of outrageous glissandi and distorted resonance. A highly inventive piece, Lähns' bass, plucked and bowed, combines with virtuosic trombones to challenge the limits of the acoustic sound-world with humour and poise.

Florian's Fast Lane is a trio piece, a stream of lightning interactions so assured the individual instruments blur into an exhilarating haze, accelerated to warp speed.

Michael Arbenz's tune Under Construction is a masterclass in how the rapid-fire trio dynamic can set a whole orchestra alight, while he changes the dynamic completely with Passacaglia, an atmospheric chamber piece in which gossamer piano chords delicate bass, saxophone and wind become an instrumental chorus of transcendent, contemplative tranquility.

Finally, Florian Arbenz's funk workout, Groove Conductor features driving brass melodies and bassline, with a through-the-floor electric bass solo that would not be out of place in a drum n' bass club night.

Symphonic Bop is a deceptively simple title for an album that, in six compositions, covers avant-garde jazz to contemporary chamber music, and the ground in between, offering an important statement of jazz and its centrality in contemporary musical culture

VEIN
Michael Arbenz: piano | Thomas Lähns: bass | Florian Arbenz: drums

Norrbotten Big Band
Joakim Milder: conductor Bo Strandberg: trumpet Jacek Onuszkiewicz: trumpet
Dan Johansson: trumpet Elin Andersson: trumpet Andrea Andreoli: trombone
Michal Tomaszczyk: trombone Arvid Ingerg: trombone Petter Olofsson: electric bass
Björn Hängsel: bass-trombone Hakan Broström: soprano sax, alto sax Mats Garberg: tenor sax, flute
Robert Nordmark: tenor sax, flute Per Moberg: baritone sax, flute
Jan Thelin: alto sax, clarinet, bassclarinet, contrabass clarinet

TRACKISTING
1. Boarding the beat (Florian Arbenz) , soprano sax solo: Hakan Broström

2.Willi's Pool (Thomas Lähns), trombone solos: Andrea Andreoli, Arvid Ingberg

3.Fast Lane (Florian Arbenz)

4.Under Construction (Michael Arbenz), trombone solo: Arvid Ingberg

5.Passacaglia (Michael Arbenz)

6.Groove Conductor (Florian Arbenz), trumpet solo: Dan Johansson

All arrangements by Michael Arbenz. Recorded October 16/17 2018 at NOSPR Katovice

'Symphonic Bop' is released on Double Moon Records on 15 March 2019 (Cat No DMCHR 71355)
---
blog comments powered by

Disqus
JAZZ MANN FEATURES
Pending his 2019 Cheltenham Jazz Festival gig with John Surman's Brass Project John talks more about his work with Soft Machine & with Surman, Eberhard Weber & others. He also picks his top ten CDs.
---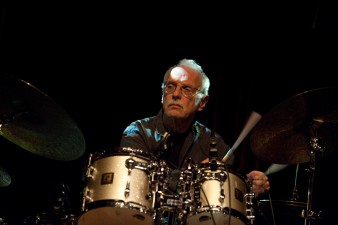 In the second part of his interview with guest contributor Trevor Bannister John establishes himself on the 1960s London jazz and session scene and gets the call from Soft Machine.
---
JAZZ MANN RECOMMENDS
---