NEWS
Zoe Rahman wins Jazz category at 2012 MOBO awards.
Friday, November 09, 2012
Zoe Rahman WINS MOBO in Jazz Category for 'Kindred Spirits'!!
At a star-studded 'blingy' event at Liverpool Echo Arena Zoe Rahman beat back tough competition from other nominees - the Mercury-nominated Roller Trio, cellist Ayanna Witter-Johnson, singer Zara McFarlane and guitarist Femi Temowo - to win the MOBO Jazz Award, a gong that has taken on a much greater significance with the axing of the BBC Jazz Award in 2009. Known for her individual style, powerful technique and exuberant performance, and having played sell-out shows this year with her Kindred Spirits album Zoe is a highly sought-after musician, working with the likes of Courtney Pine, George Mraz, Martha Wainwright and Jerry Dammers' Spatial AKA. Her 2006 album, Melting Pot, was nominated for the Mercury Music Prize and her critically acclaimed Where Rivers Meet found her and her brother Idris Rahman exploring the music of their Bengali heritage in a brilliant fusion of jazz and world music. Zoe toured Italy, Ireland, Sweden and Bangladesh in 2011 and has played in many countries previously including France, USA, Barbados, Norway, Estonia, Australia, Japan, Venezuela, Algeria, India and Holland (North Sea Jazz Festival).

Released in January 2012 Kindred Spirits, her fifth album on her own Manushi imprint, draws on all her many influences. The music is a powerful and fresh portrait of her combined English, Irish and Bengali heritage and features her brother Idris Rahman on clarinet alongside Courtney Pine and her regular jazz trio partners Gene Calderazzo and bassist Oli Hayhurst. In Zoe's own words "We recorded this album after touring Ireland in 2011, a year that happened to coincide with the 150th birth anniversary of Bengali writer, musician, artist and Nobel Laureate Rabindranath Tagore. These two events account, in part, for my choice of music. Mostly though, it's a collection of my own compositions from the past couple of years and tunes that I love playing."
QUOTES
'her best recording yet…a superb vehicle for the effervescent and exuberant Zoe Rahman' Irish Examiner - 4 Stars
'a brilliant cd and in every way a five star rating' ukjazzradio.com- 5 Stars
'one of the best albums of the last couple of years' Jazzwise - 4 Stars
'this could be the Rahmans' – sister and brother both – masterpiece'
Manchester Evening News - 4 Stars
'a wonderfully coherent and highly personal style. This sibling collaboration is one of the most joyous in British jazz' thejazzbreakfast.com
'fantastic and compelling music' International Piano Magazine
'groundbreaking…thrilling astral jazz' UNCUT magazine - 4 Stars

Kindred Spirits, opens with the burning Down To Earth, a hard-grooving number that illustrates perfectly the powerful empathy of Zoe's trio. Conversation with Nellie features Courtney Pine with whom Zoe so regularly tours. Maya is named for Zoe's first niece who was born while she was touring Ireland. Mana Na Manili points to the interesting artistic connections that Tagore enjoyed with Ireland and is based on the Irish melody Go Where Glory Waits Thee. Elsewhere Outside In finds Zoe drawing her band into different territory, opening with an open improvised section before Zoe and co improvise against a drum loop created by Gene. The result is both beautiful and intriguing, pointing to the deep empathy between Zoe and her band as well as the relationships she creates between all her many musical passions – her Kindred Spirits!

MORE QUOTES;
"classy pianist Zoe Rahman cranks up the McCoy Tyner-like energy at every turn" John Fordham, Guardian
'Fantastic….she's such an important and unique artist, she deserves to be celebrated'
Jamie Cullum Radio 2
'Rahman is a total star' Independent on Sunday
'Holy soul food, Batman! It feels good to listen to a musician who plays from the heart' allaboutjazz.com
'a formidable jazz pianist' Guardian

LIVE GIGS |
LONDON JAZZ FESTIVAL Wednesday 14th November: 606 Jazz Club, 90 Lots Road, London, SW10 OQD
With quartet (Idris Rahman, clarinet; Gene Calderazzo, drums; Alec Dankworth, bass) as part of a double bill, opposite pianist Nikki Iles as part of the LONDON JAZZ FESTIVAL. Tickets | + 44 (0)20 7352 5953. Click here for Info

SOUTHBANK CENTRE Saturday 17th November
with Larry Stabbins at the South Bank Centre at 4pm (recording for Jazz Line-Up) and 6pm
---
blog comments powered by

Disqus
JAZZ MANN FEATURES
Pending his 2019 Cheltenham Jazz Festival gig with John Surman's Brass Project John talks more about his work with Soft Machine & with Surman, Eberhard Weber & others. He also picks his top ten CDs.
---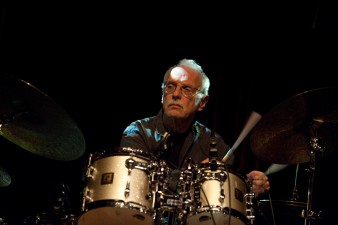 In the second part of his interview with guest contributor Trevor Bannister John establishes himself on the 1960s London jazz and session scene and gets the call from Soft Machine.
---
JAZZ MANN RECOMMENDS
---